WOLF DESIGN REVIEW. 15th September 2017
A Wolf design review is a study from a present-day WOLF perspective. While the brief requirements, technology and fashion of an era can influence design, and are to be taken into consideration, a design idea can transcend eras to be timeless.
Interesting and factual information may be provided, but our review aims to deliver insight from the perspective of a designer's mind and eyes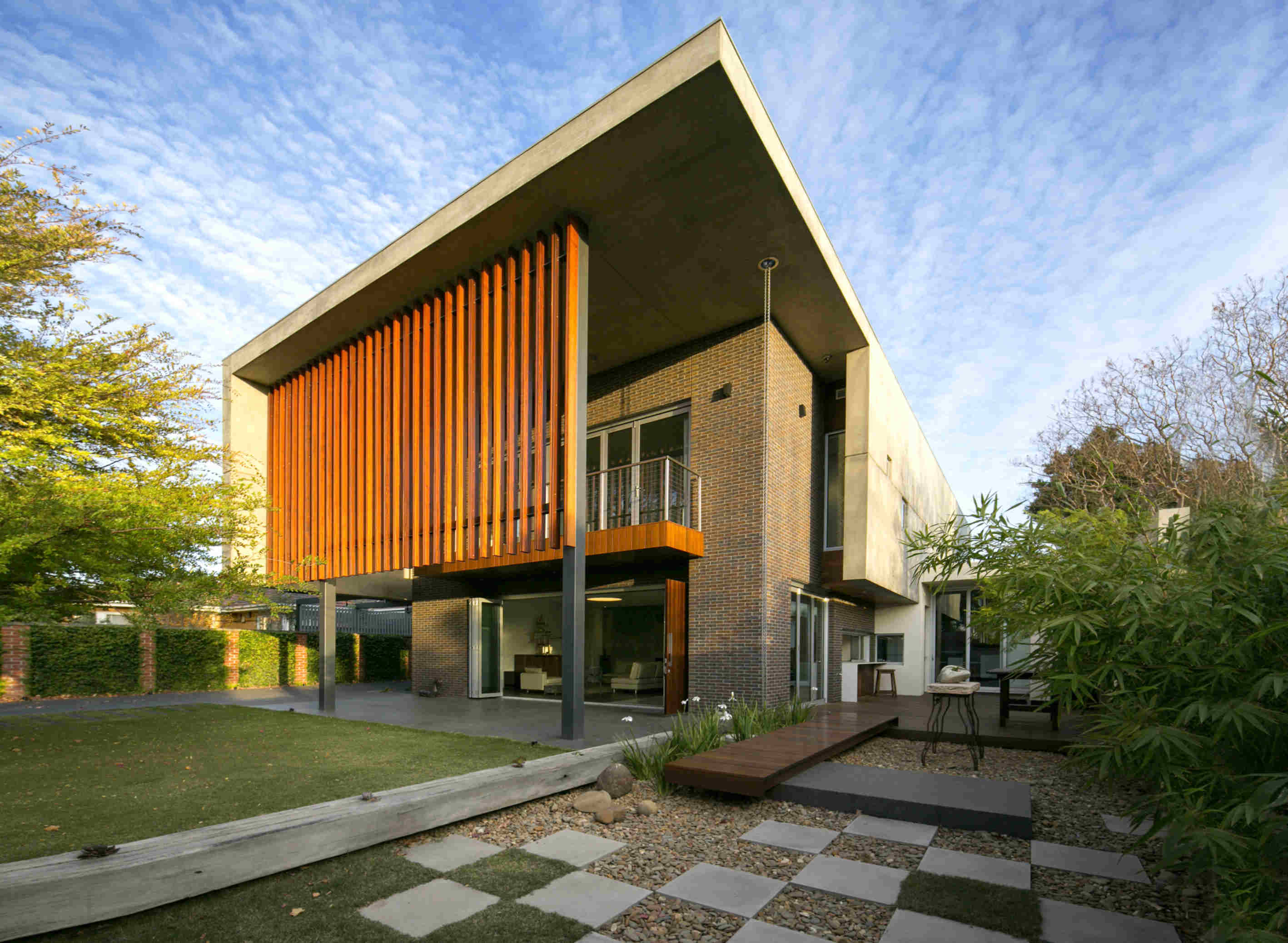 When visited by Renown Australian architect Karl Fender he described it as being "An extremely sensitive suburban intervention"
INTRODUCTION
Product description
The Wolf house was completed in 2012 and is an award-winning home designed by Melbourne based architect TARAS WOLF and built by TOEBELMANN CONSTRUCTIONS. The 445SM house is sited on a flat rectangular block in suburban Melbourne, Australia.
There are 5 bed bedrooms, 5 bathrooms, 4 living spaces, and parking for 6+ cars. The result is a very energy efficient 8 Star home that has received much publicity.
Project Brief/ CONCEPT.
A very detailed brief resulted in a concept that was best described as "many ideas at once". Primarily there is an "East meets West" theme for a Young family of 5 with Asian heritage. An open plan home with views and vistas throughout, yet still private with clearly defined zones that are playful, flexible, energy efficient, and light filled. A house to make or preserve memories with ample storage and display space for collections and art pieces.
A home based architectural practice is also required with separate entrance and amenities. Then there are also the 5 classic cars to consider.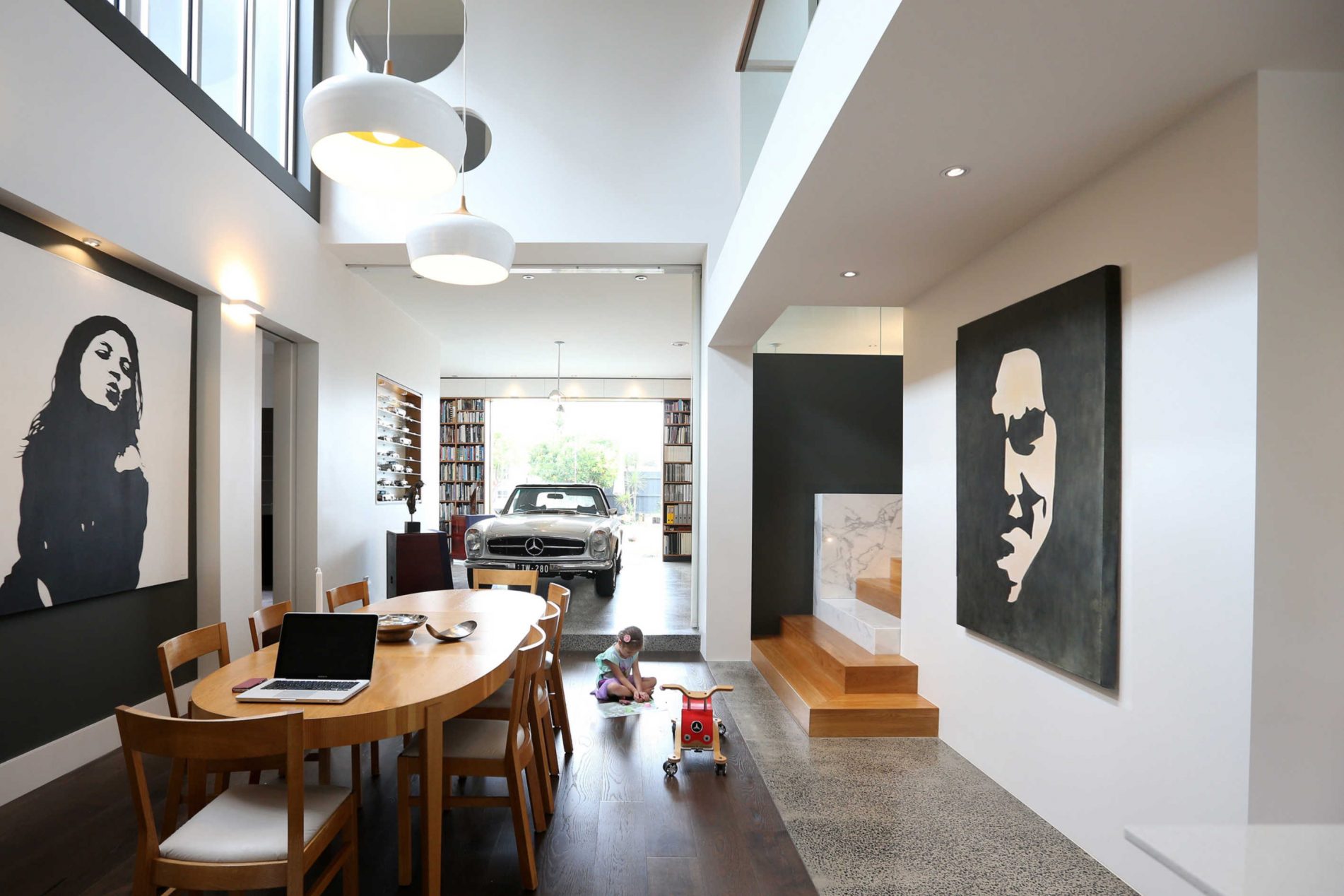 Additional information
The Wolf house received many awards upon completion and continues to be regularly published and featured on design TV shows both locally and internationally. It was the first house the architect designed with interior and landscaping design processes integrated into the architecture from the onset.
REVIEW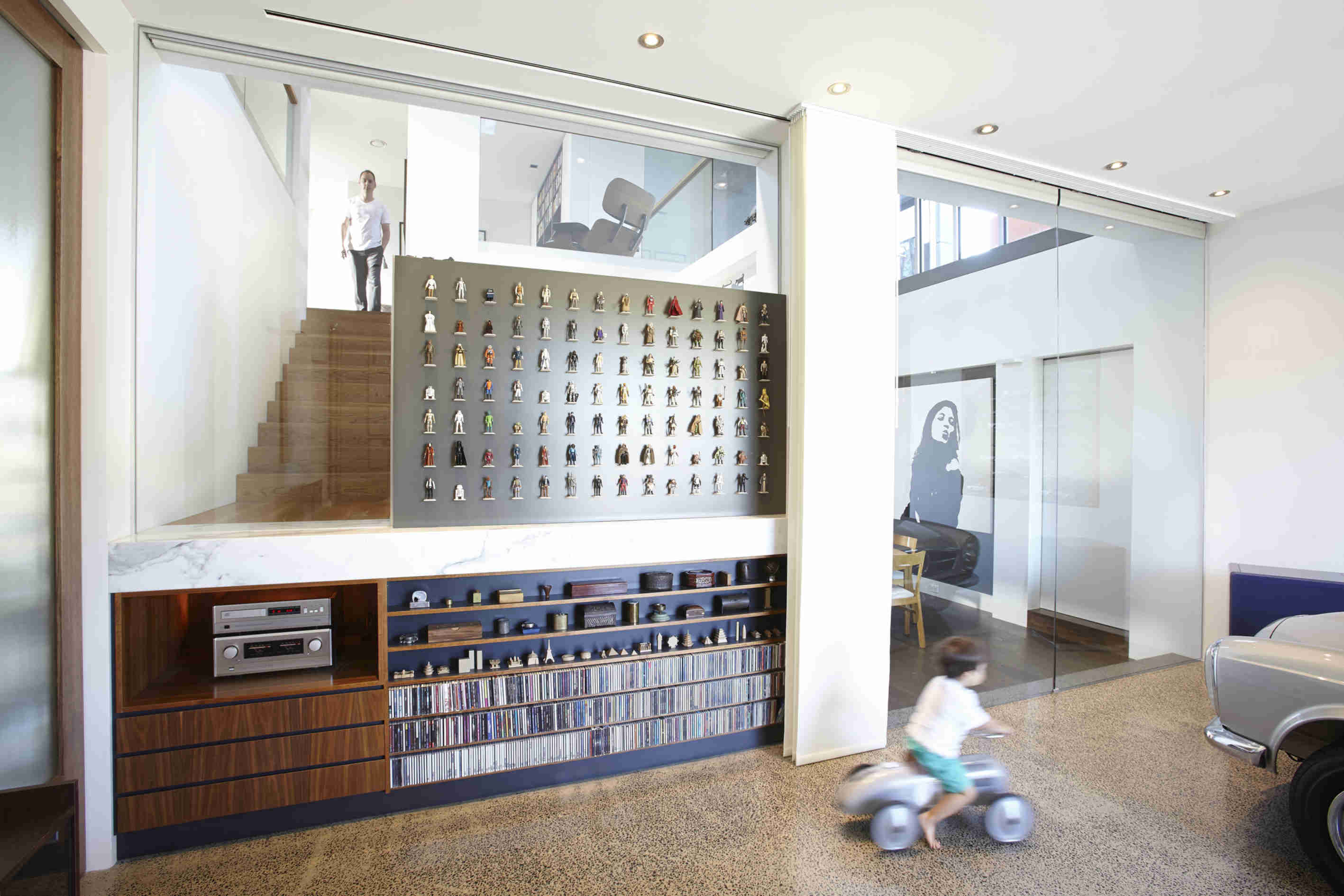 First impressions / Delight
The house comes as a surprise being in a very suburban context. It is very modern, contemporary and there is nothing quite like it in the entire neighbourhood. Our first impression is that it's a very brave and bold statement. Architectural masterpieces are more common in affluent areas, or on unique sites, so it's refreshing to find such a contemporary home breaking new ground in suburbia.
Following on from the contemporary Chinese garden in the entry there is a sense of anticipation for what lies within.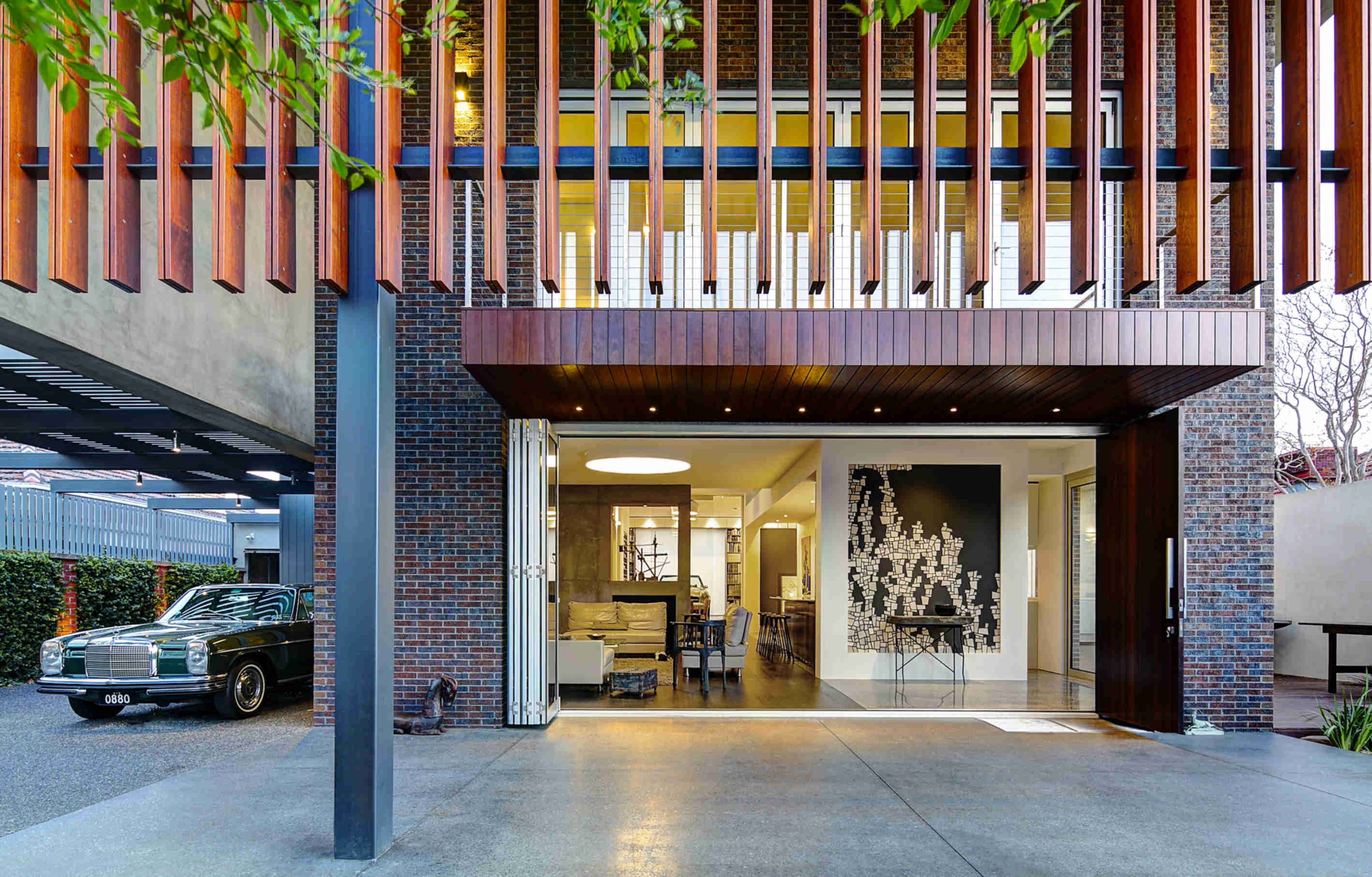 When visited by Renown Australian architect Karl Fender he described it as being "An extremely sensitive suburban intervention"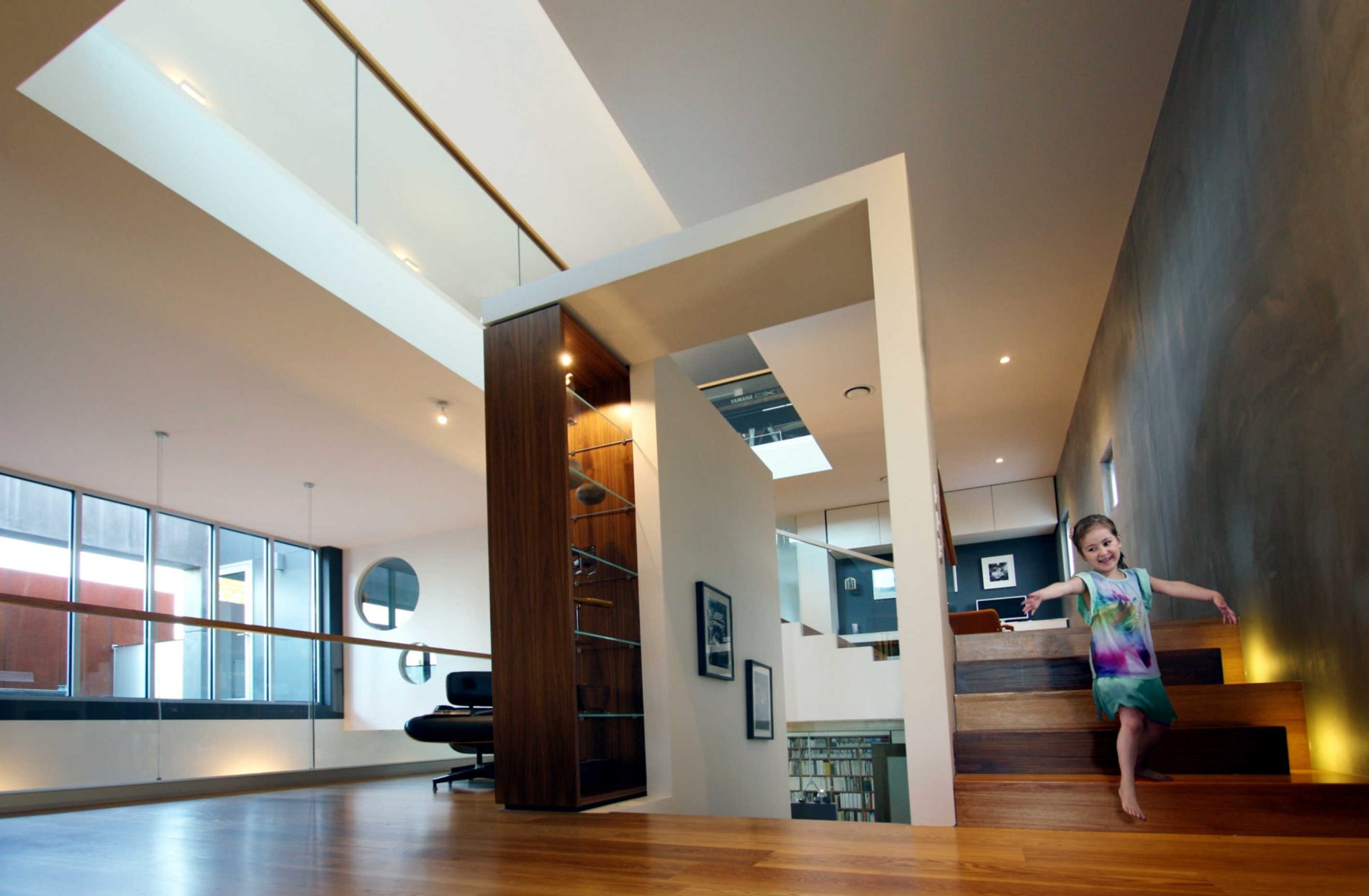 Exterior Design Review
The external form appears as a concrete shell or sleeve over an inner structure. There is a sense of strength, presence and stability. The double heighted porchway adds grandeur but also the feeling of security and at the time of this review there were children and dogs playing with great fun in this space. The overall rectangular form of the exterior is well proportioned and hard to fault. It looks firm, crisp and powerful but softened at the same time by more delicate elements of timber, glass and steel.
The other dominant feature is the timber privacy screen that is practical and further serves to enhance the connection between house and garden.
The general material pallet is earthy, durable and low in maintenance. We particularly like the texture and colour of the brickwork as it compliments the feature timber materials and landscaping. It feels almost like the weaving of traditional basketwork.
In our opinion, the house would be at another level if the two steel columns supporting the entry porch were removed. However, we also appreciate the tremendous engineering challenges and costs that would have demanded.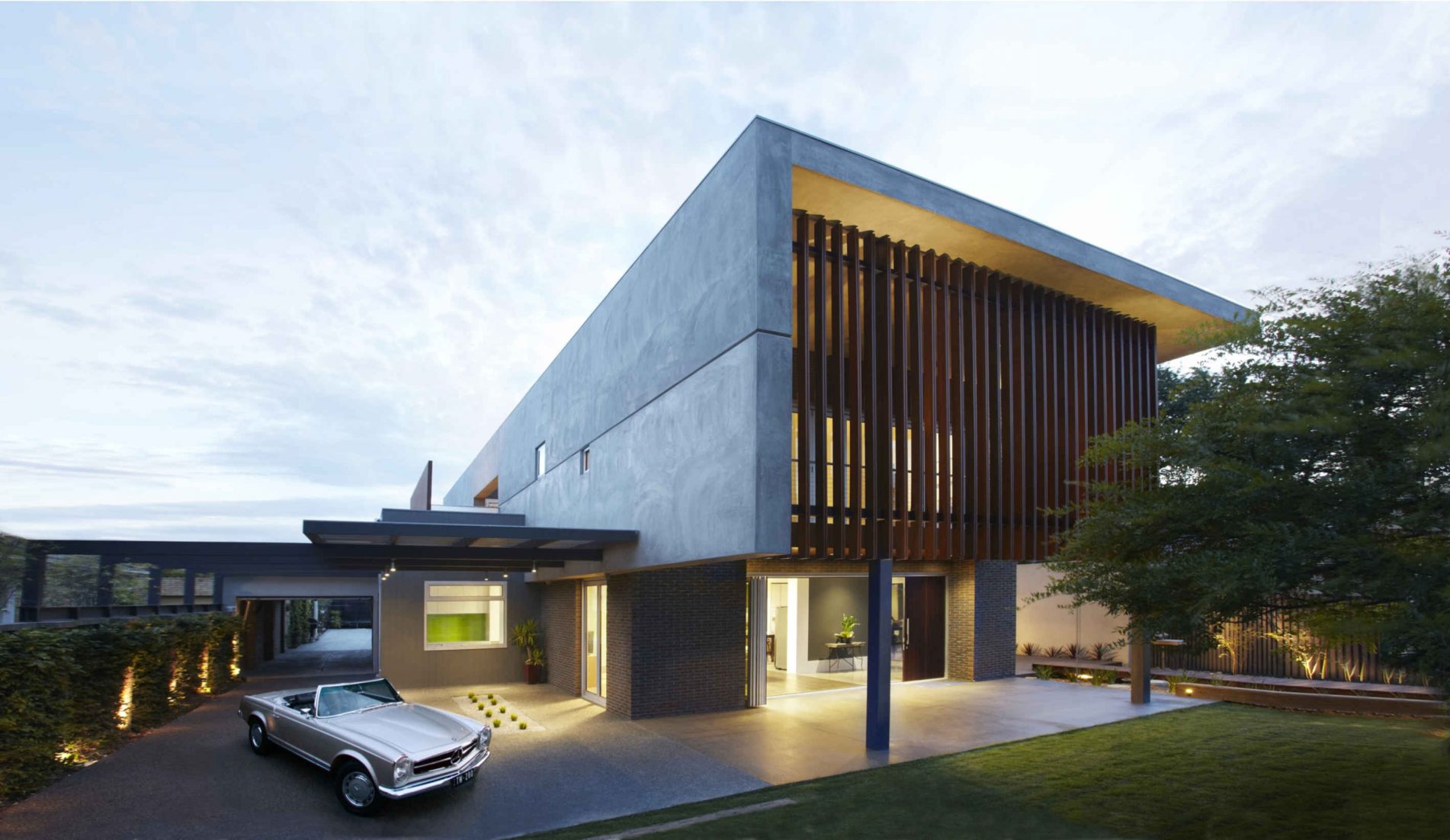 Interior Design Review
The house expands as you progress from the entry and invites you to explore. Architect Taras Wolf describes his open plan designs as spaces that that flow from one to the next, rather than separate rooms. This home contains no fewer than 28 spaces that interconnect over 10 level changes. Each access natural lighting and prospect from several directions. Voids connect and expand internal volumes, material continuity leads the eyes (and feet) from one space to the next, and an eclectic collection of art and furnishings animate the home.
With warmth from the hydronic floor heating and abundance of natural light you feel relaxed yet aware of an environment that is innovative and unconventional. The Kitchen is almost the first space upon entry yet makes perfect sense as our modern Kitchen is often a space for gathering and socializing.
A carefully conceived staircase for good Fung Shui winds up to the roof top studio. Together with an open void space forms a vertical corridor through the centre of the house to create zones that separate public from private, and parents from children. At the same time, the views and vistas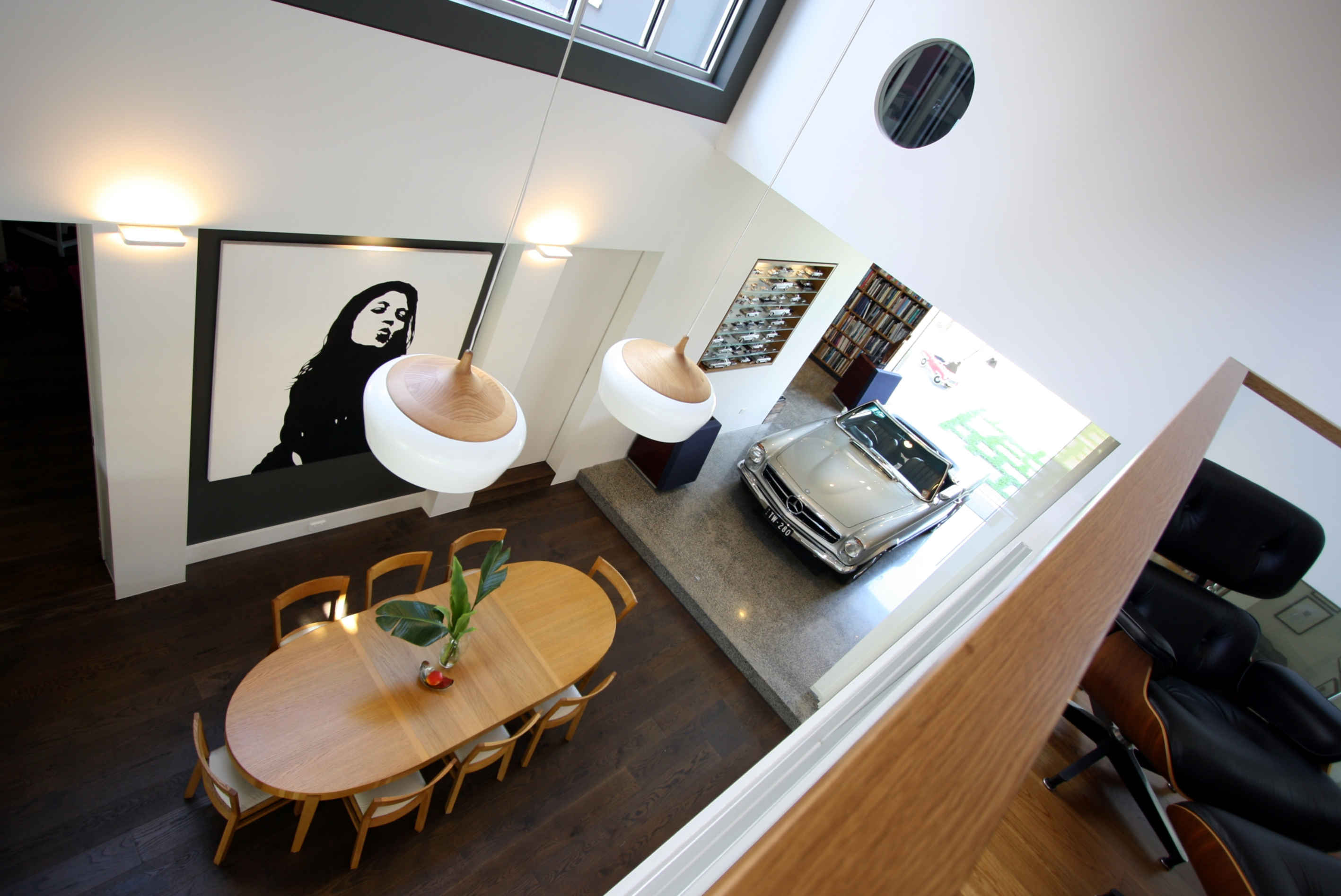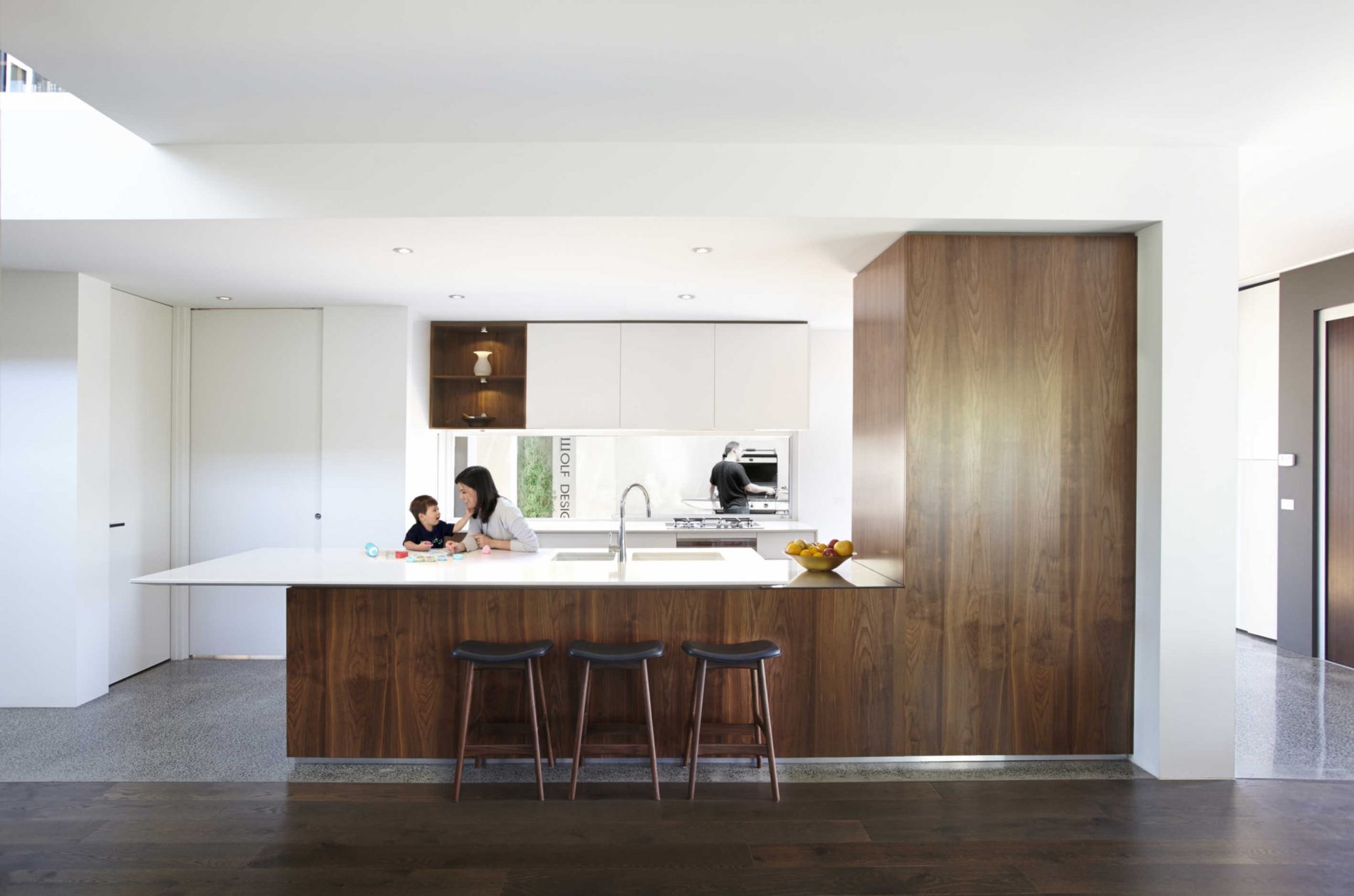 Craftmanship.
The craftsmanship is excellent as you would expect from the home that won the 1st place award for best built house in Victoria (2012). There is detail in every corner of this house and the finish achieved is impressive against a limited budget. At the time of this review the house was already 5 years old but still felt mint out of box. That is not only testament to the maintenance but to the build quality and durability of the materials. The brickwork particularly deserves special mention as they were done by Master builder David Toebelmann himself and is second to none. With good brick work becoming increasingly hard to find and Daniel Robertson bricks ever increasing in price the exterior is sure to age gracefully.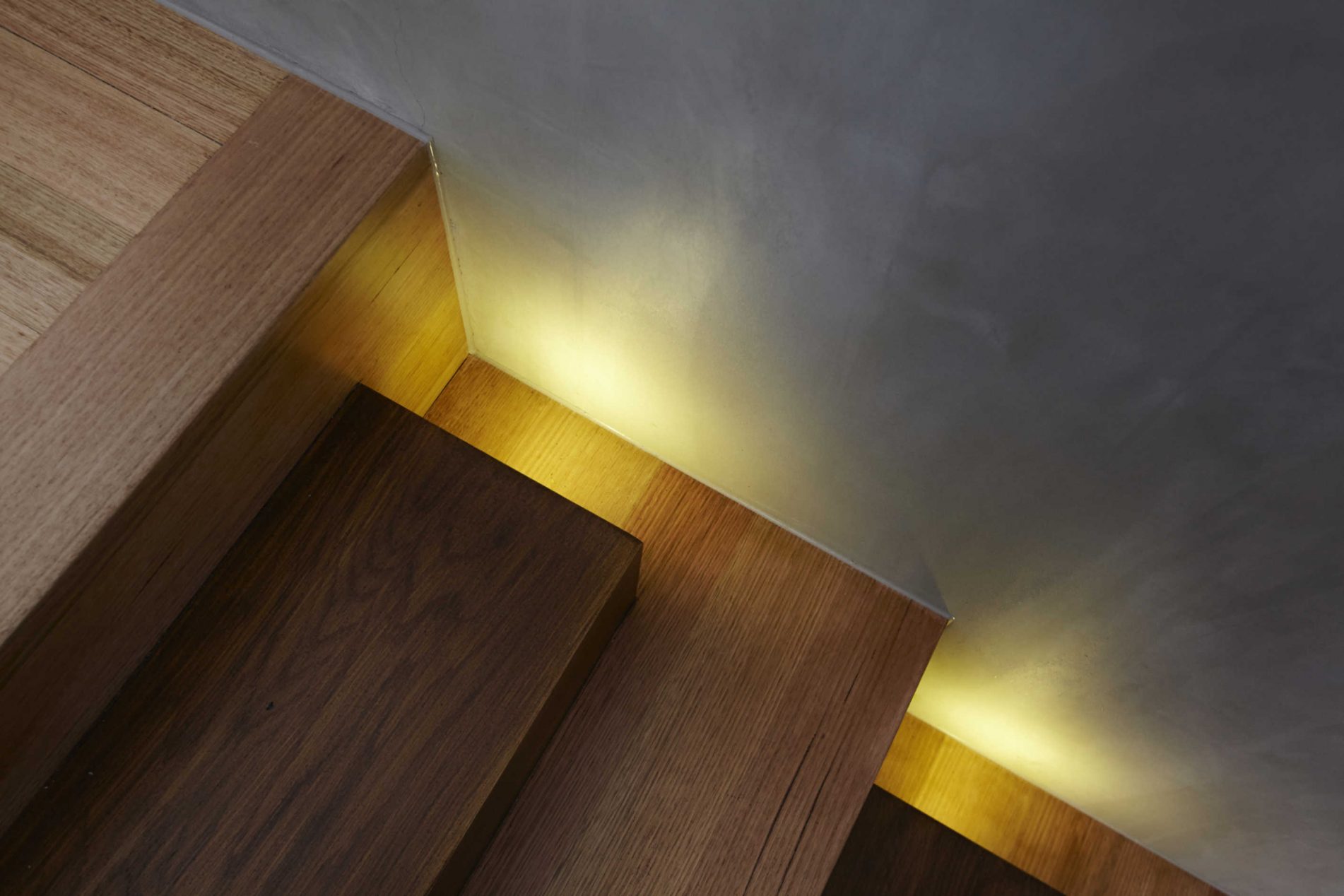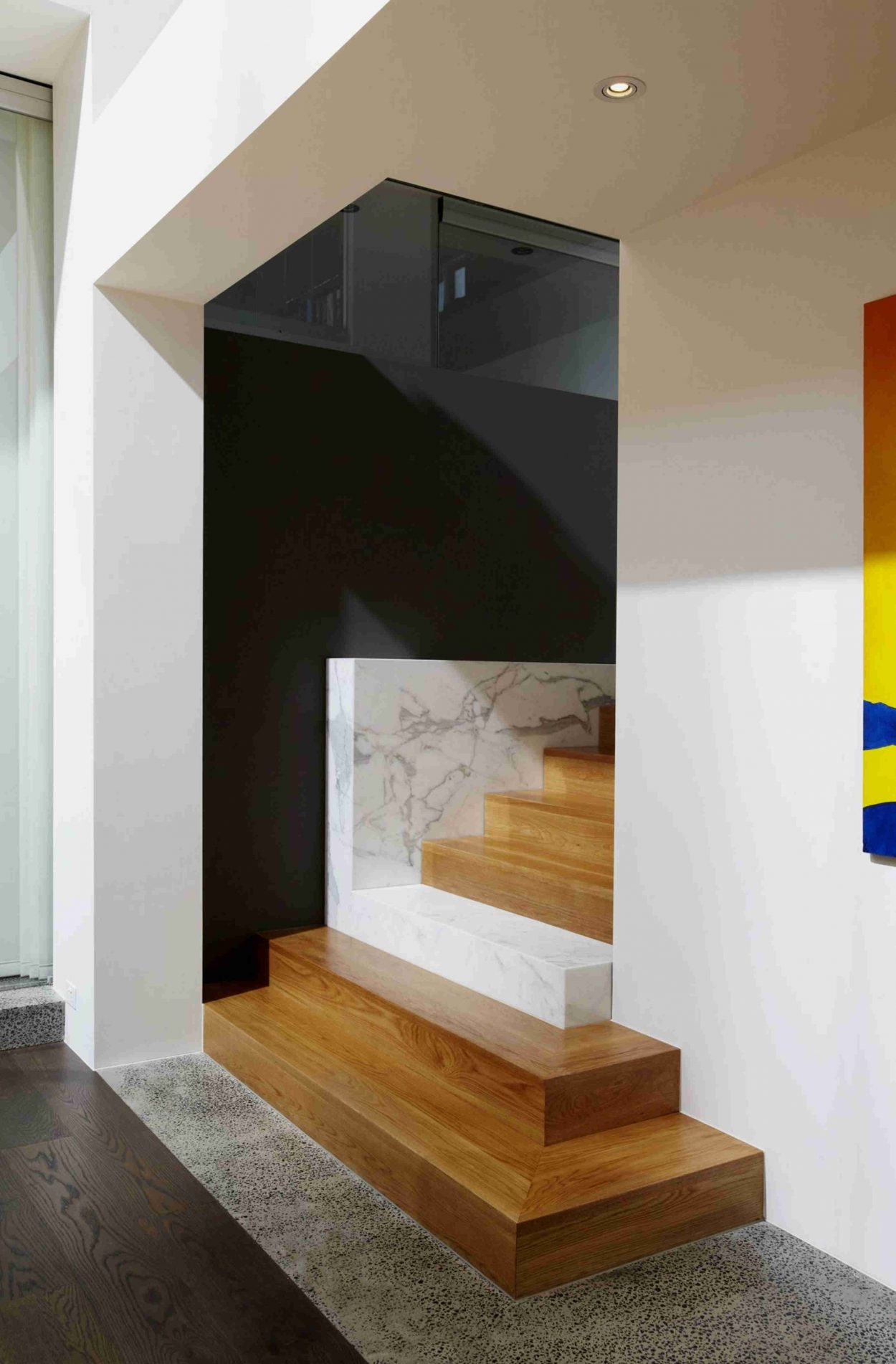 FUNCTION- Experience.
If a home can be measured by the happiness of its users then this house is a success in every respect. While highly complex to conceive the architecture does not overpower or overwhelm the user. Instead it invites you to explore and visit again and again and experience something new with each moment. Light enters the home from several directions at once allowing the home to changes with time of day and season of year.
While the WOLF house is often renowned for its awards and as an architectural showpiece the owners remind us that it was built primarily as a family home. It must work both on an emotional level as well as a practical one. The house is practical from not only an everyday living perspective but also from long-term maintenance. At 5 years of age it still looks new and the external timbers have only been resealed once.
Emotionally the house also continues to inspire after 5 years. Not only does it embody memories of the previous house on the same site but has created new everlasting memories. It is a memory box as well as a platform and stage by which the family can live efficiently and comfortably.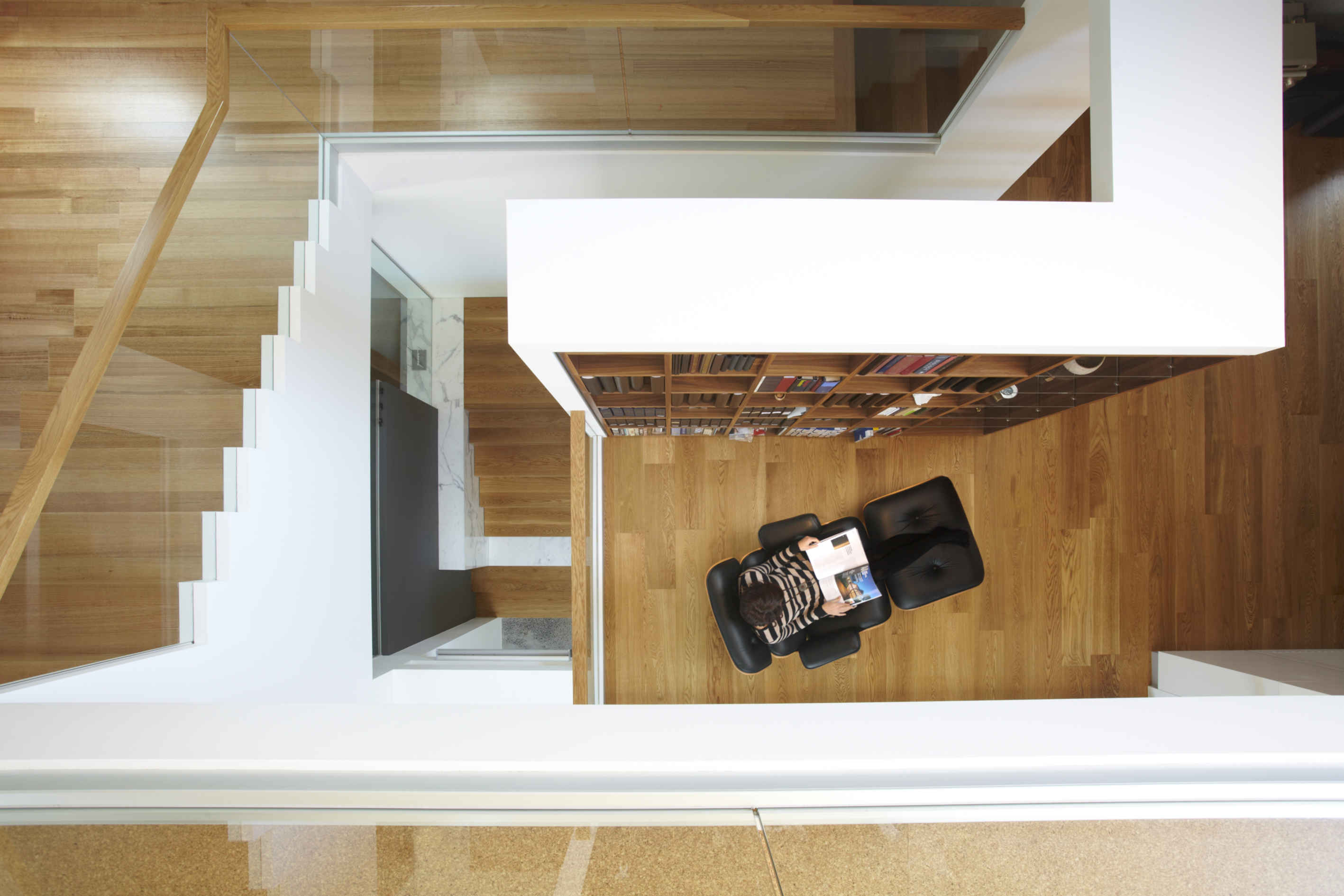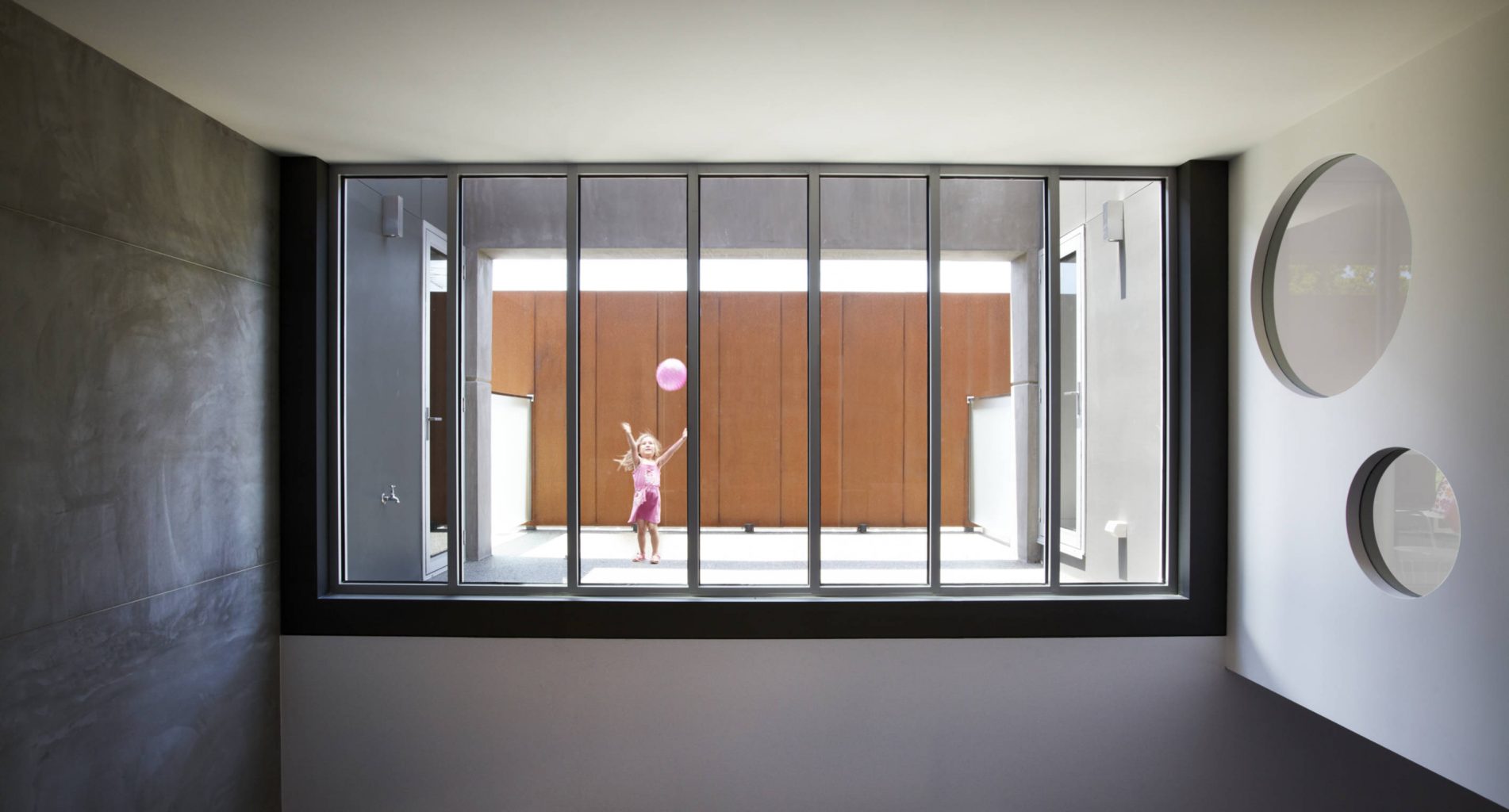 Desirability
A house of this caliber is rare for its location and we have no doubt that should it come on the market, it would break all records. There is nothing quite like it and that makes it extremely rare and unique. With a trend of subdividing and squeezing as many dwellings onto a site as possible such well-conceived homes of generous proportions are only going to appreciate.
Further to being a very functional and practical family home this building is bold and beautiful. There has been much thought into place making on human habitation as dwelling, combined with an energetic architectural practice. It is at the same time a proactive gesture that works toward redefining suburbia as a place where the cultivated and delightfully enigmatic undertaking can enrich the built environment. Influenced by childhood memories from South East Asia the house suggests how contemporary Australian Architecture can evolve as foreign migrants continue to live, expand and develop suburbia.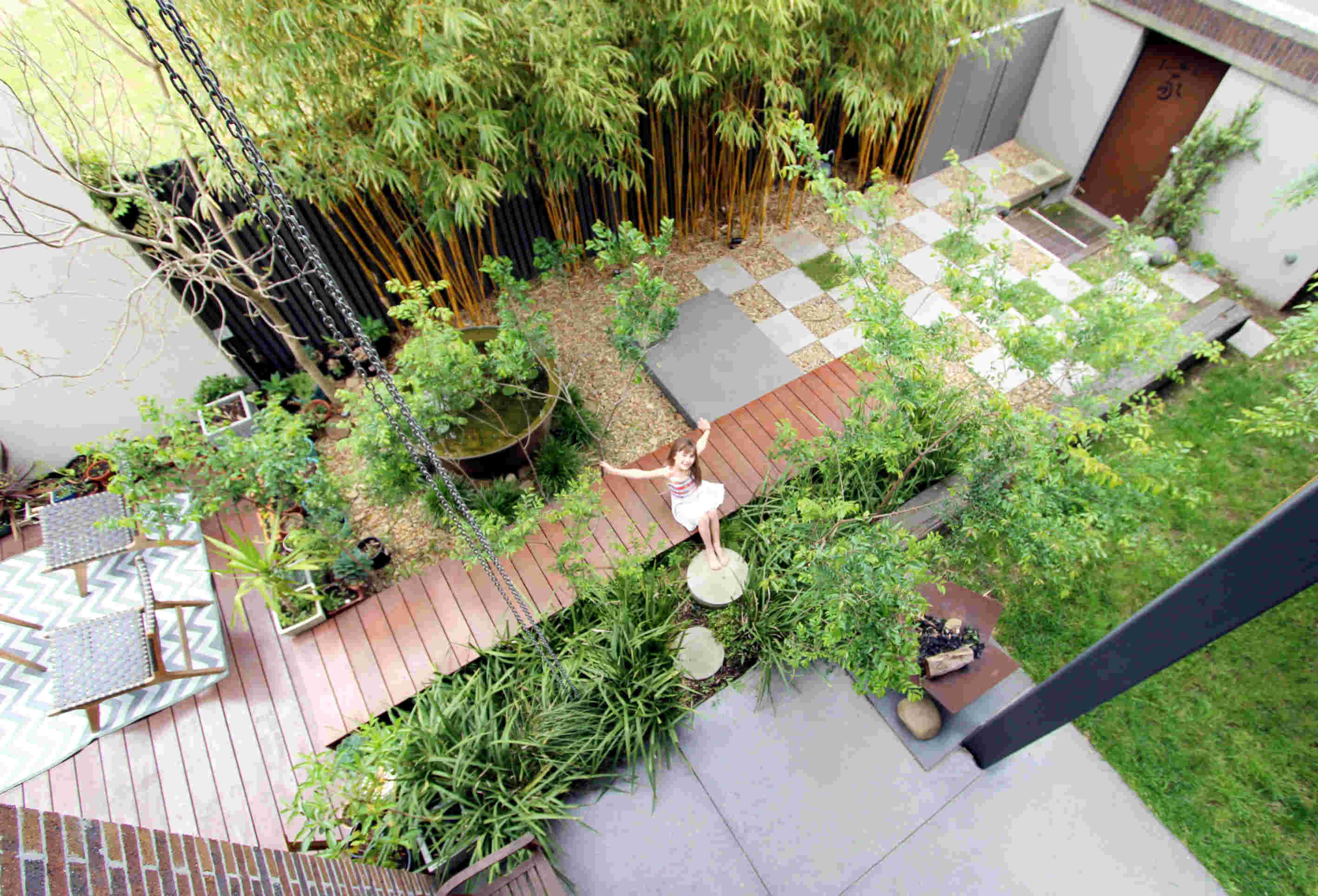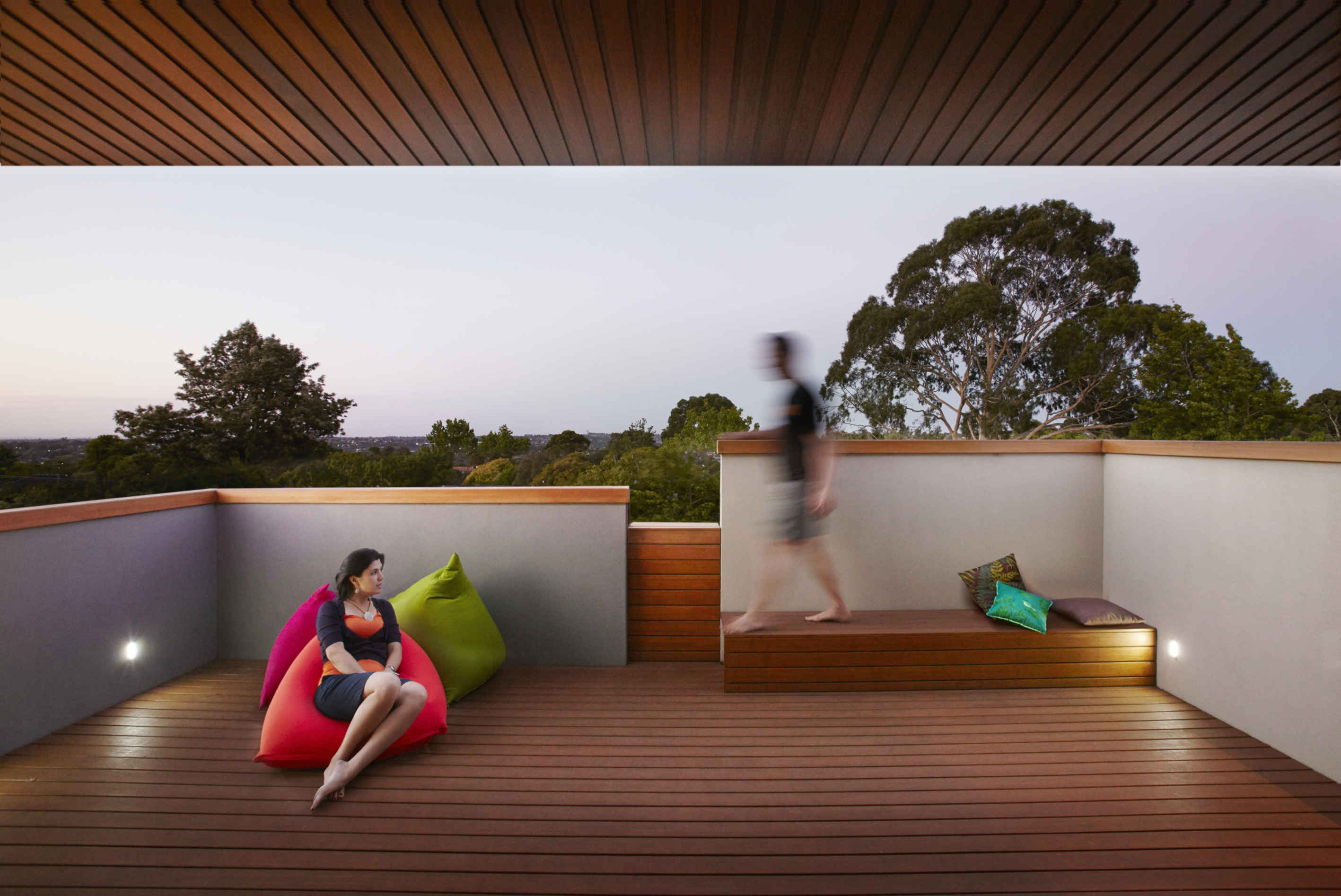 WORD OF THE WOLF
Architects designing their own homes can frequently tumble down the rabbit-hole of obsessively redrafting their plans to the point where the initial concept is diluted and garbled. Luckily, this was not the case for Taras Wolf. As with most of his projects a firm budget and brief provides clarity to vision.
There were challenges with creating a home for a growing family with ever changing needs while catering to a home based architectural practice. The long list of requirements and collections to be accommodated would be exhaustive to most architects but the final result is testimony that many ideas in one home is possible. As if the project wasn't challenging enough, the house incorporates elements of the pre-existing brick house – "for sentimental reasons" – as the family had lived there for seven years.
The design is a testament to intelligent architectural experience, and commitment to creating beautiful common-sense architecture. With every detail carefully designed, drawn and overseen in construction by Taras Wolf personally this home is without doubt a labor of love.  It is the embodiment of Taras' passion for his craft, and best described in his own words as "a collection of carefully researched ideas formulated in a deeply disciplined laboratory of thought…. the house works like a well-honed and crafted instrument."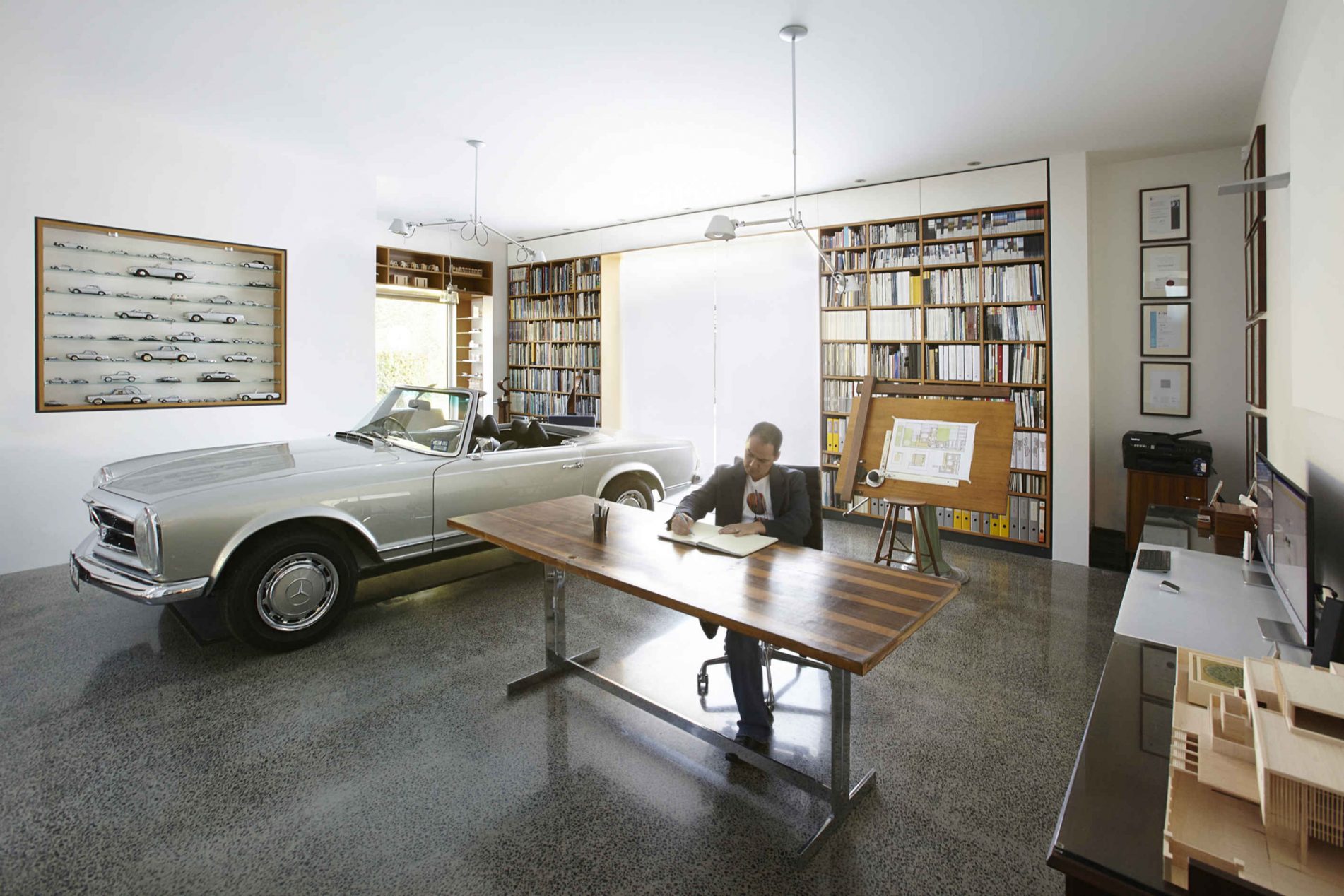 WOLF DESIGN EXCELLENCE SCORE = 8.1
Disclaimer
The information in this review is intended for informational or educational purposes to provide readers an understanding of how something may be seen from a certain design perspective. In this case it is from the view point of WOLF DESIGNS. As design is subjective this review should only be considered as an independent opinion. Information further to being of an opinion is provided to the best of our knowledge based on our own research at the time of doing the review. We cannot be held responsible for any inaccuracies or inconsistencies and reserve the right to change or update any content as appropriate.
The final responsibility of the design resides with the original manufacturer.