WOLF retro DESIGN REVIEW. 13th January 2018
A retro review looks at products that are at least over ten years old from a present-day WOLF design perspective. While the technology and fashion of the period influence design, and are taken into consideration, great design ideas will transcend their eras to be timeless.
Interesting and factual information may be provided, but our review aims to deliver insight from the perspective of a designer's mind and eyes.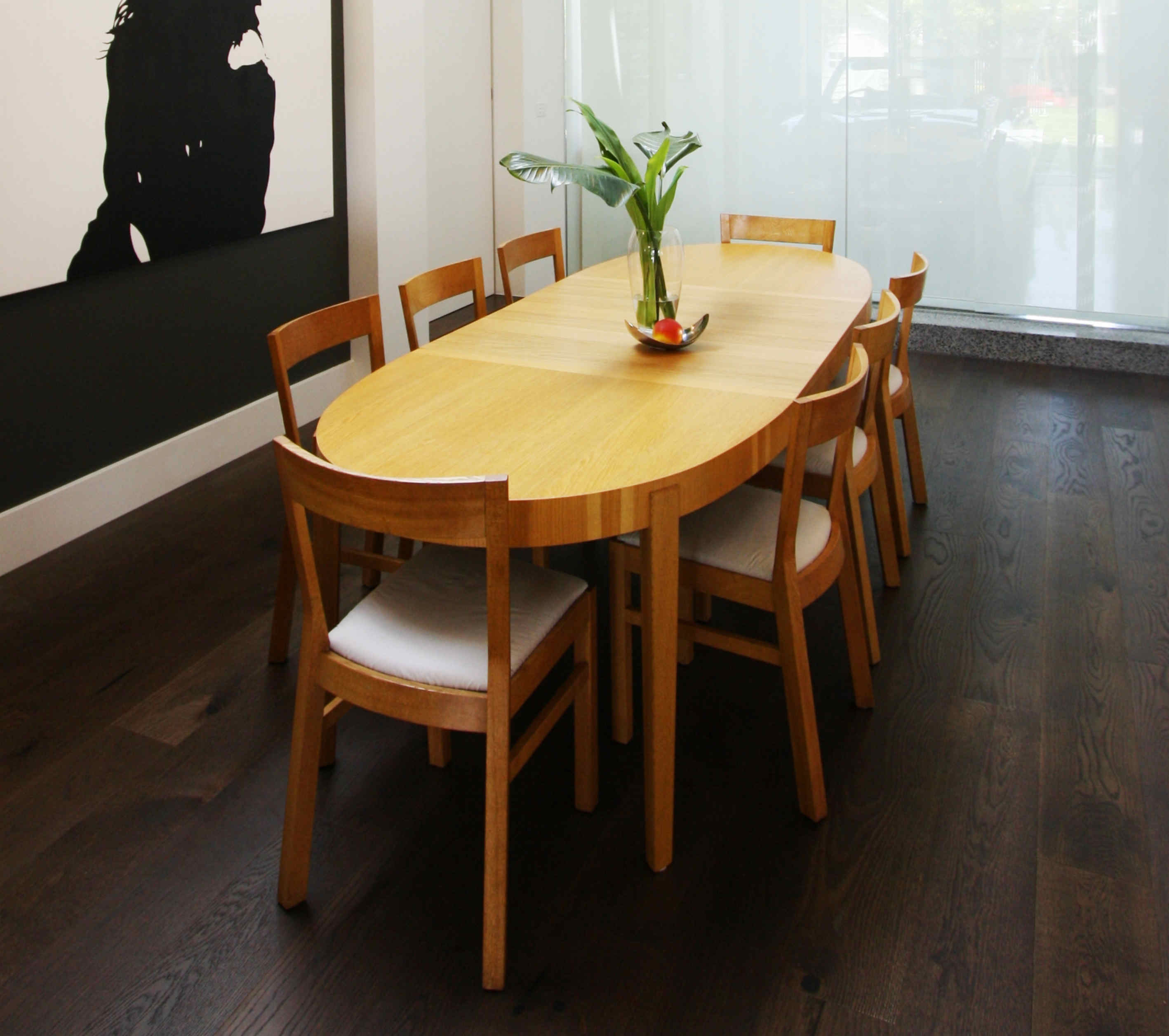 INTRODUCTION
Product description.
Product description
The Stensund was an extendable dining designed exclusively for IKEA by Thomas Jelinek around the year 2000. It has two extension panels that conveniently store under the table top when not in use. These panels allow the table to have 3 different lengths- 165cm, 212cm and 258 cm. Respectively it can accommodate 6, 8 and 10 seats.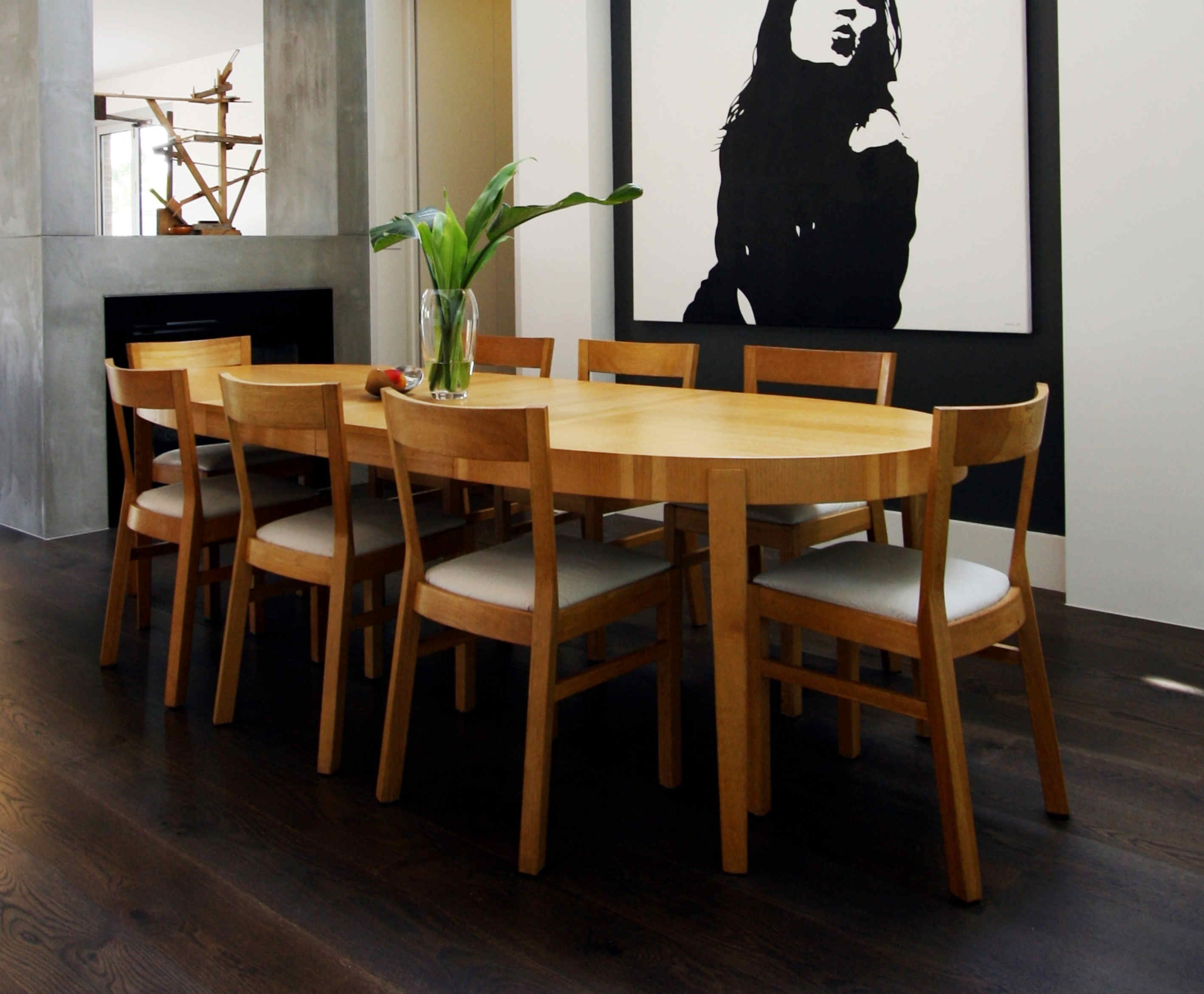 Price and Availability.
These tables were last seen in Melbourne around 2003 in IKEAS's bargain section. They are now almost 20 years old and ones in good condition are becoming harder to find. At the time of this review a second hand one can be found for under $400.
Additional information
Available around the early 2000s this table was built in Sweden in the days before everything came out of China. It is best complimented by IKEA's Roger chairs which are made with the same Oak wood and have curved backs that match the curves of the Stensund.
REVIEW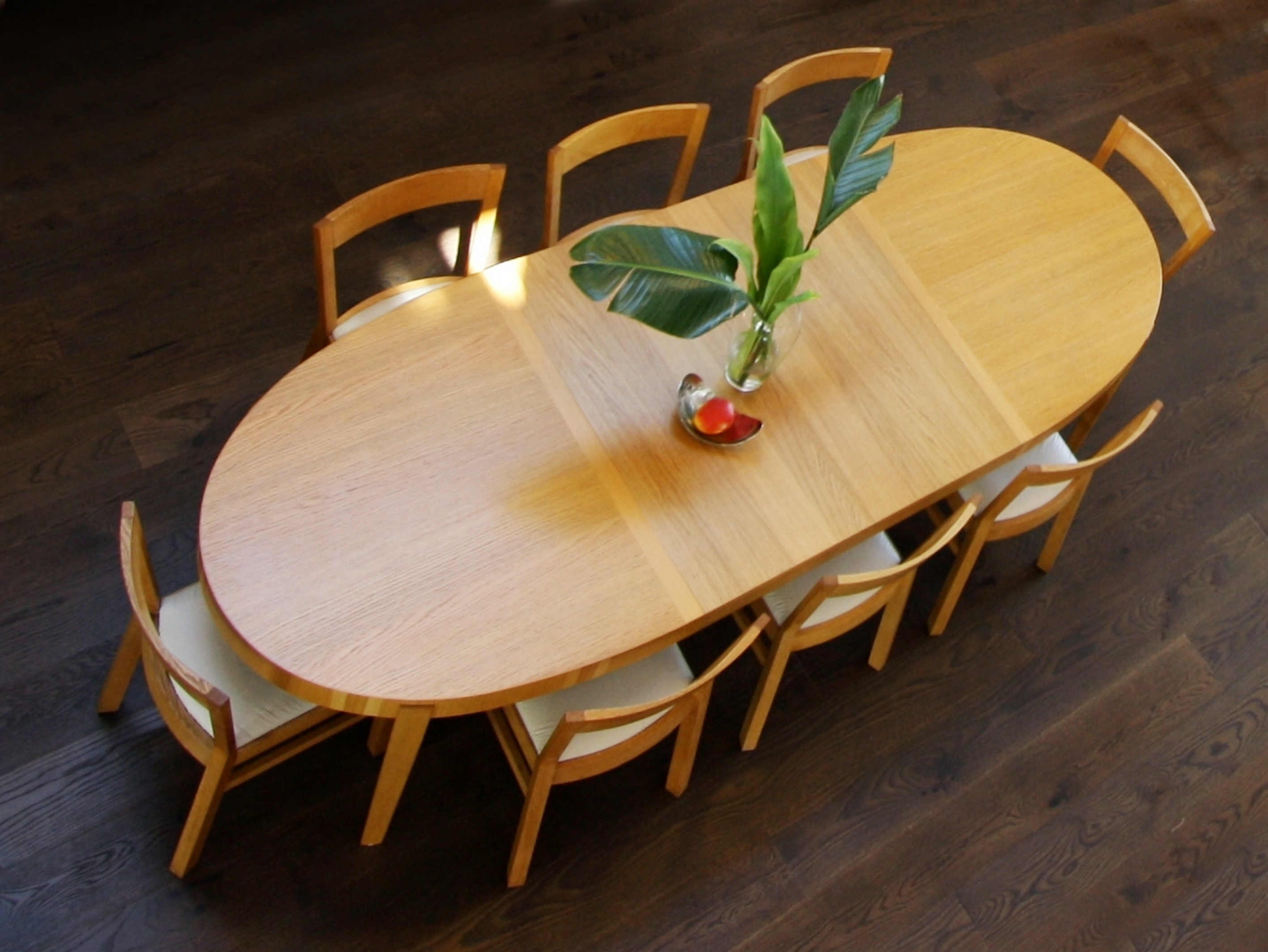 First Impressions.
This table looks quite retro, even back when it was new. The curved ends and detailing to its legs give it a slight Art-Deco feel. The Oak tones are warm and you sense that this table brings homeliness to any dining room.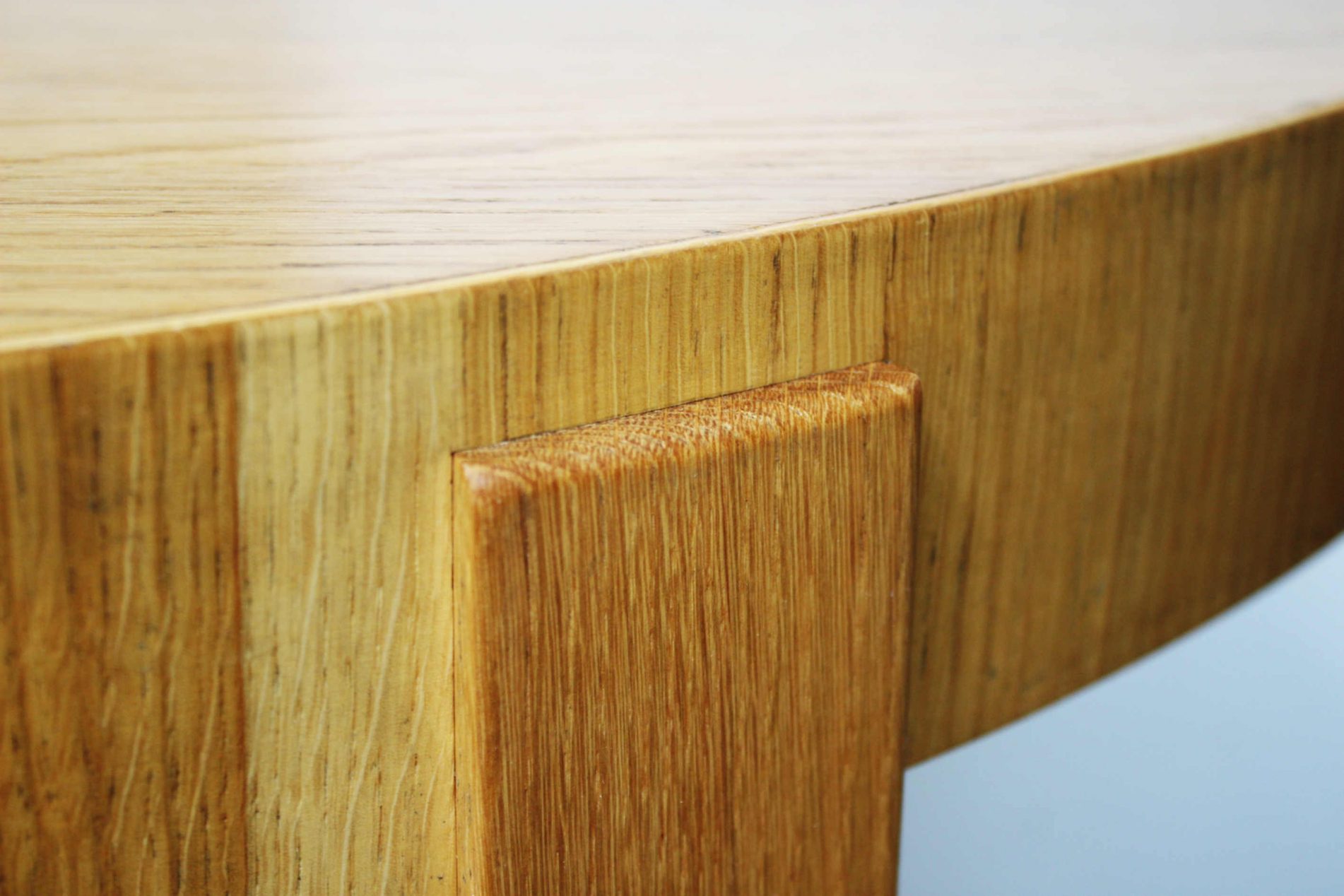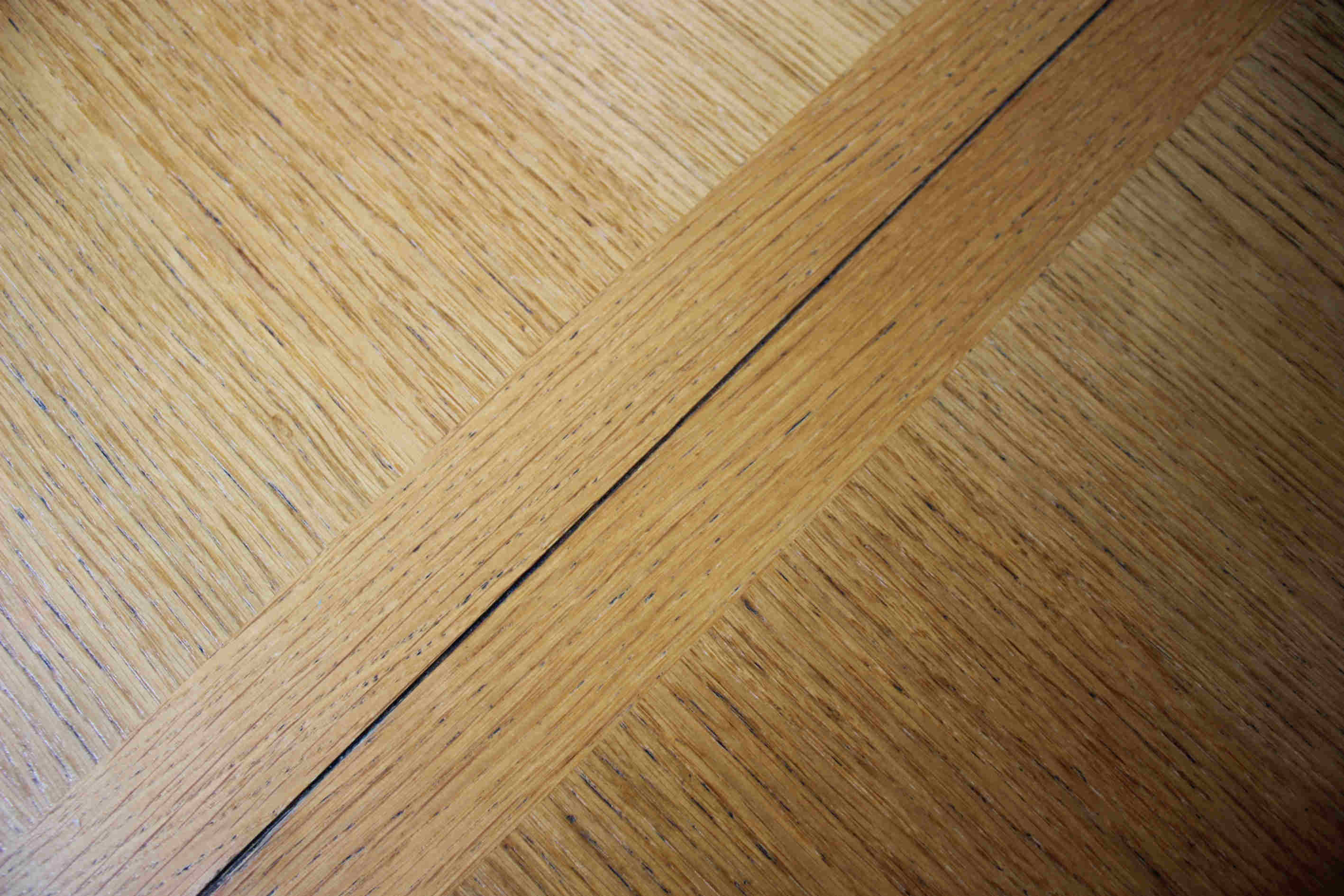 Product Design & Craftsmanship.
In its closed and smallest position, the table is almost a perfect oval and it is in this position that we feel it looks most unique. However even in its longest position it still seems well proportioned. Extendable Oval tables are in fact something from the past and quite rare to find today.
The clear-lacquered oak veneered table top has an 85mm thick edge which is one of the reasons the table still looks proportionate in its longest position. It's quite unusual to find tables with such a thick edge which visually is further highlighted by the direction of the wood grain.
The solid oak legs taper elegantly towards the floor. They are an important part of the design as they intersect with the table top with a slight protrusion. It a clever detail which adds to the overall substantial look and feel of the table.
While Ikea is often considered as an average economical product with good design this table does not look typically Ikea and is well built. The veneer is real oak wood, clear- lacquered and thick enough to last. The table in this review was used daily for almost 2 decades and is still in excellent shape.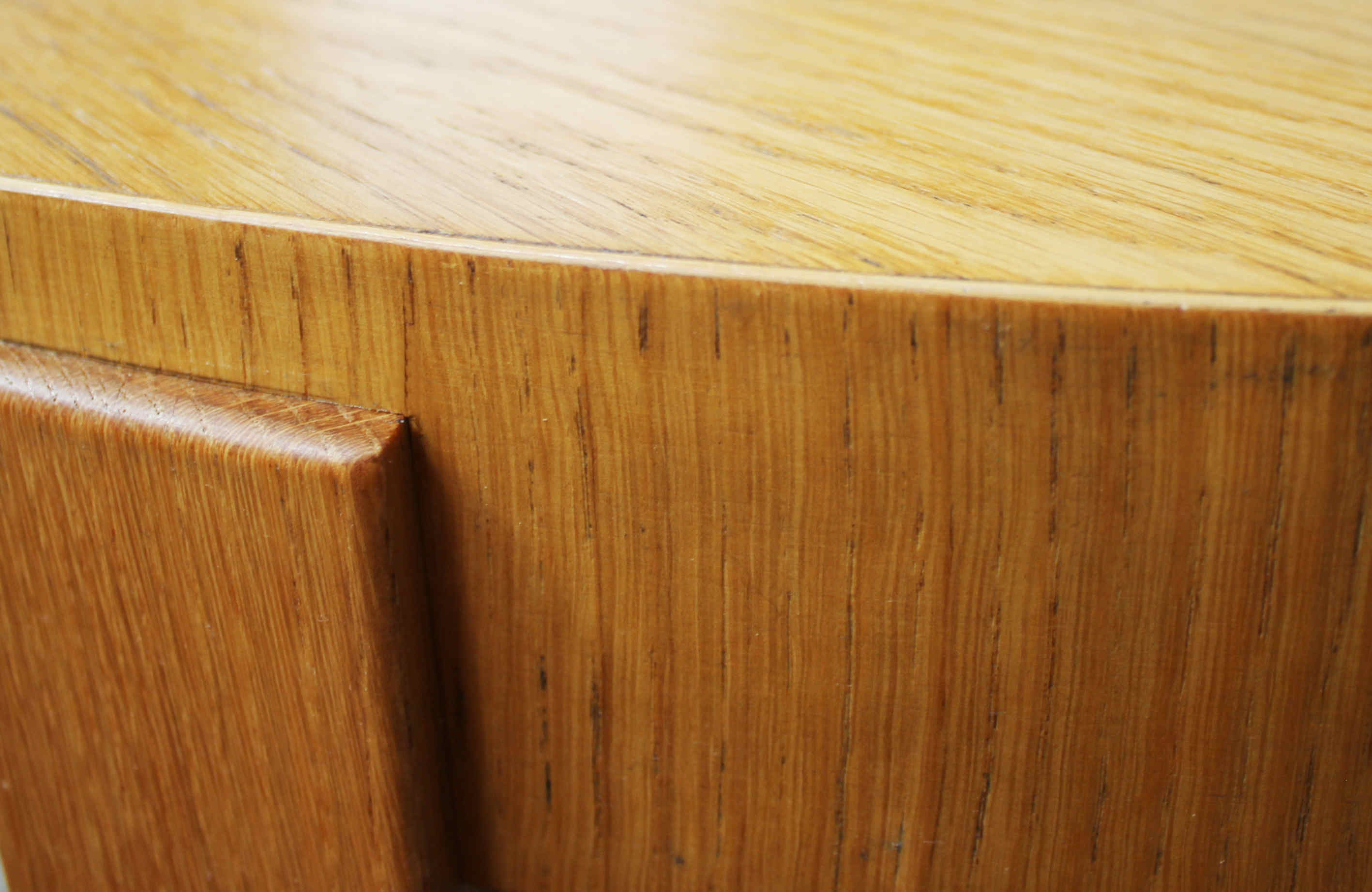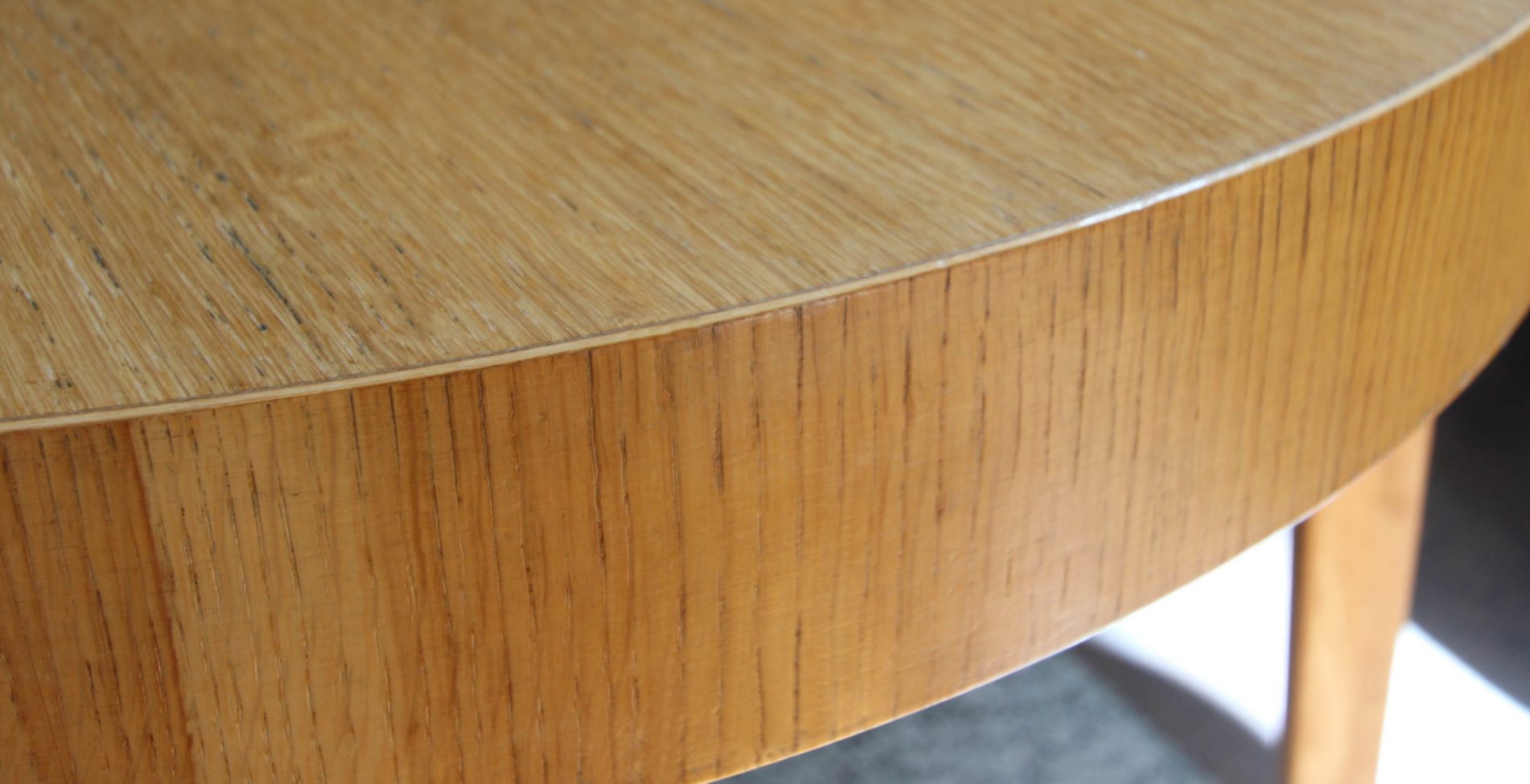 Function – Experience
The flexibility to expand from being a 6 to 10-seater, while always looking good is a bonus. Further to that each table leg is secured to the table top by a single bolt making this table very easy to dismantle and convenient to store away.
In its smallest size its oval shape is cute and won't take up a lot of space. It could alternatively be used as a small conference table.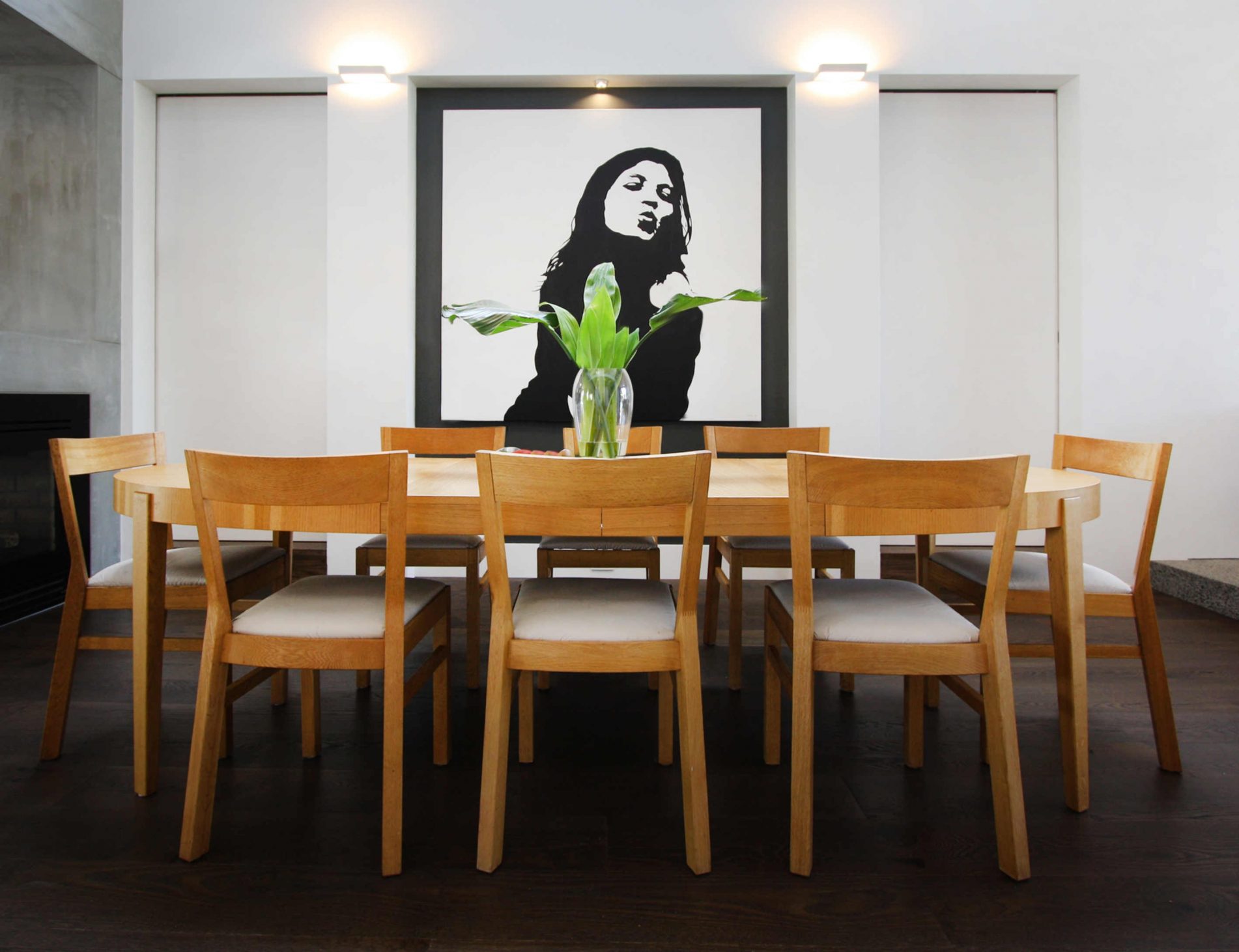 Desirability / Value for money.
This table is good value for money if you find one in good shape. It looks a lot older that it is because of its Art-Deco character, however it does not feel dated. The challenge would be in finding the right chairs to match. We think IKEA's Roger chairs work best because of the styling and price tag. Unfortunately, these too are around two decades old and could be hard to source.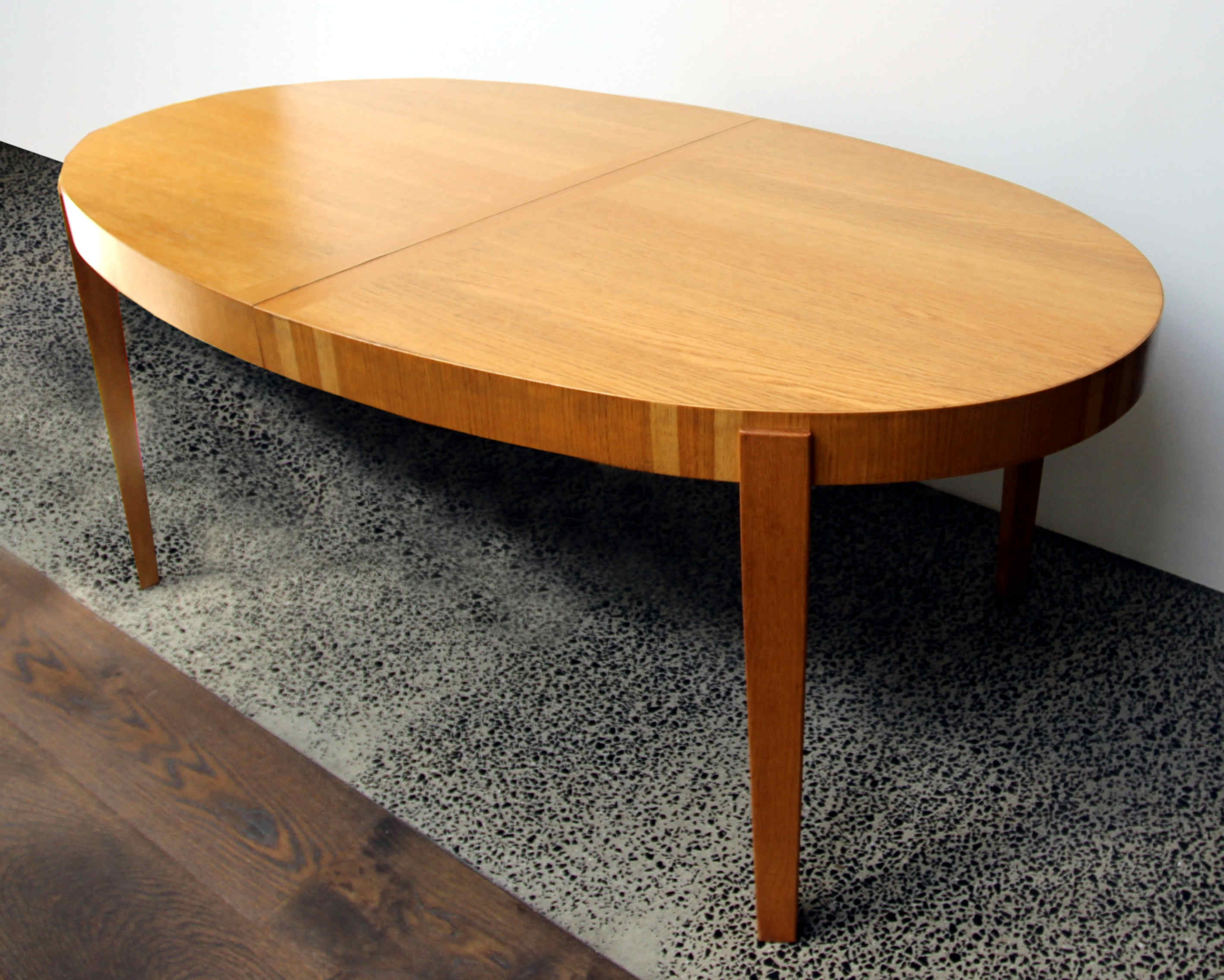 THE WOLF STENSUND DINING TABLE
The WOLF Stensund Dining table was purchased in IKEA's bargain section in 2003. It was Wolf family's main dining table for a period of 15 years. From 2012 to 2018 it lived in the WOLF house, an award-winning residence in Melbourne designed by Architect Taras Wolf. Photographed extensively, there were many enquiries as to where the dining tables origins, with all enquirers rather surprised when informed that the table was an IKEA product- good design does not always have to be expensive.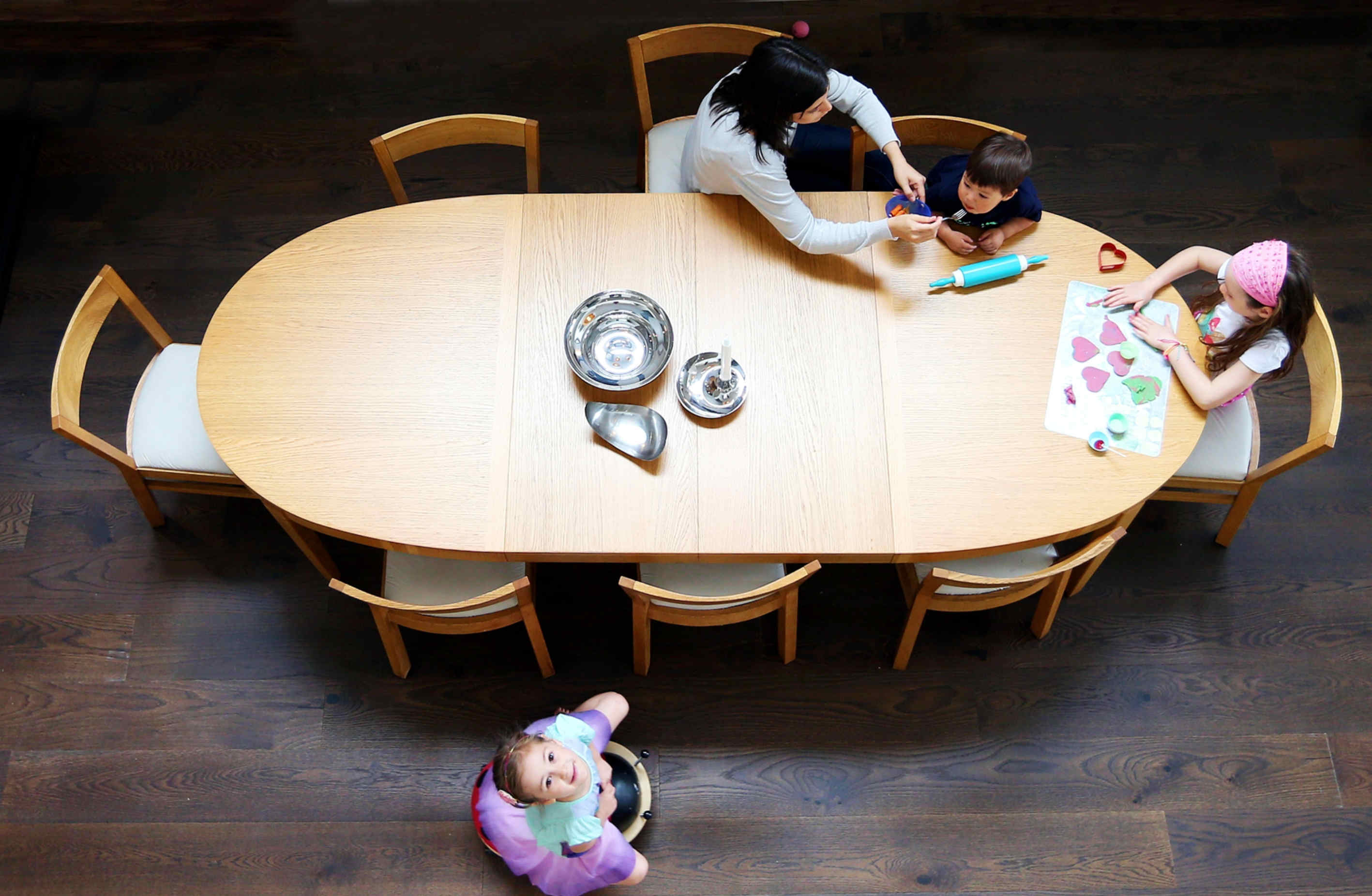 WORD OF THE WOLF.
The base piece from which each leg extends is really quite a remarkable piece of design and engineering. The spider stand is a clever stand and worth having for those with many synthesizers. However if you were to only have one stand for a keyboard or two we wouldn't say it's a slam dunk winner. There are now a number of single column type stands that are cheaper and able to do just about everything the Spider does though perhaps not as elegantly. The Spider Pro which superseded this stand made small but effective improvements such as extendable support arms and an upper bracket at an angle that makes the keyboard easier to use. Silver is definitely our choice for colour as it looks cleaner and doesn't show up scratches like the black ones do.
With a higher than average price tag it is a luxury high end product. It lacks an industrial feel and while that's not necessarily a terrible thing we don't think it lends itself to looking better with scratches and dents from gigs. It's more of a studio showpiece.
WOLF DESIGN EXCELLENCE SCORE = 6.6
Disclaimer
The information in this review is intended for informational or educational purposes to provide readers an understanding of how something may be seen from a certain design perspective. In this case it is from the view point of WOLF DESIGNS. As design is subjective this review should only be considered as an independent opinion. Information further to being of an opinion is provided to the best of our knowledge based on our own research at the time of doing the review. We cannot be held responsible for any inaccuracies or inconsistencies and reserve the right to change or update any content as appropriate.
The final responsibility of the design resides with the original manufacturer.