WOLF DESIGN  REVIEW. 17th June 2020
A Wolf design review is a study from a present-day WOLF perspective. While the brief requirements, technology and fashion of an era can influence design, and are to be taken into consideration, a design idea can transcend eras to be timeless.
Interesting and factual information may be provided, but our review aims to deliver insight from the perspective of a designer's mind and eyes.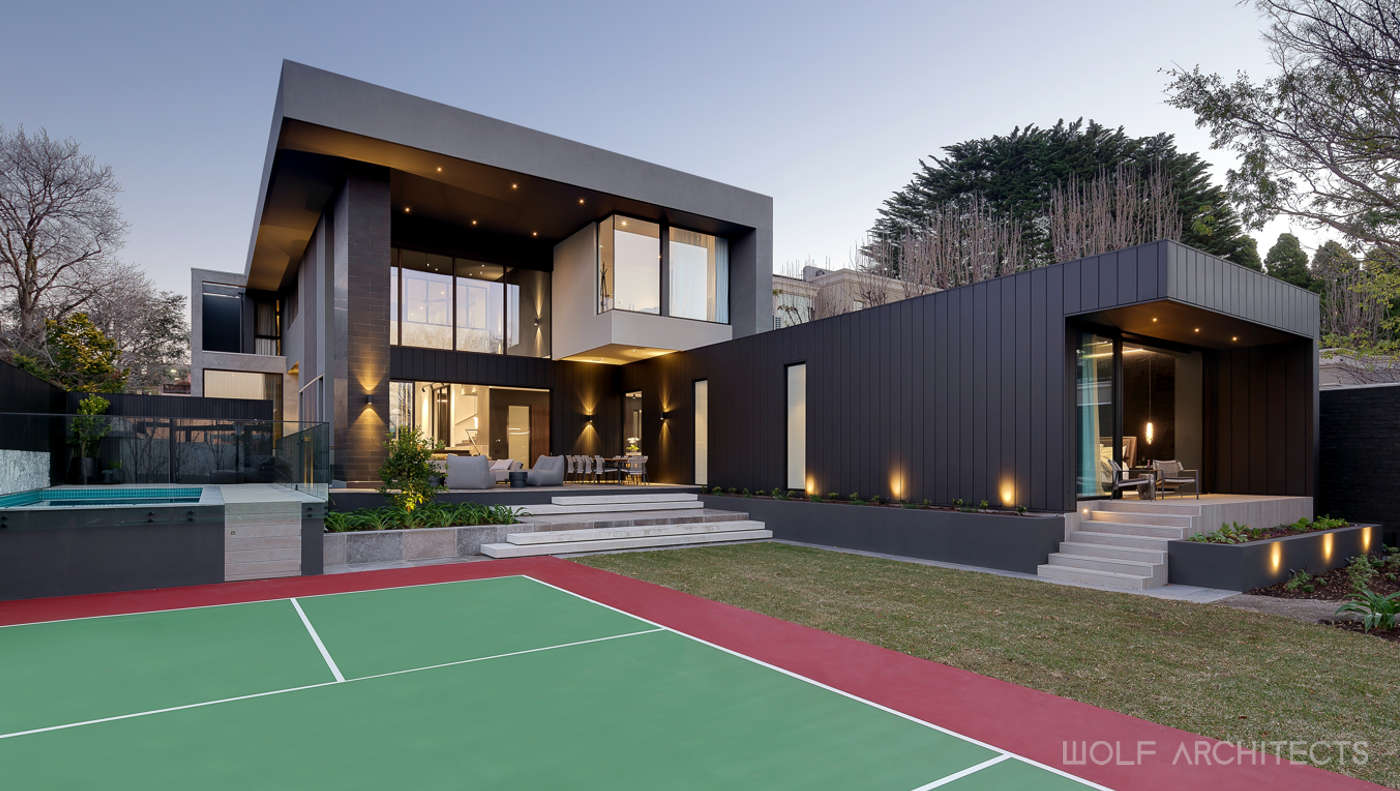 Introduction
Product description
The Allis House was completed in 2019 and is an award-winning home designed by Melbourne based architects- WOLF ARCHITECTS. This generous house sits on a sloping rectangular block in Melbourne, Australia.
There are 6 bed bedrooms, 5 bathrooms + Powder room, 4 living spaces, 2 studies and basement parking for 5+ cars. The result is a very comfortable home that received much publicity.
Project Brief/ CONCEPT.
Further to the aforementioned rooms are a swimming pool with Spa, compact Tennis court and a Gym. The three levels are further connected by a lift. There was also a group of mature Chinese Elm trees that had to be preserved and considered in the design.
The Concept was about creating a home that felt warm, inviting, and luxurious without being ostentatious. This was to be the primary residence of the Allis family, and therefore had to also be relatively durable and able to adapt to their families growing needs.
Additional information
Janine Allis is the founder of the Boost Juice Franchise and could have selected any architect in the World to design her dream home. It was therefore with great honour that she entrusted a local boutique firm to fulfill her dream. In her own words:
" loved working with Taras and his team. He understood the brief and even more importantly our budget. He created a dream house for us, that we love to live in."
Review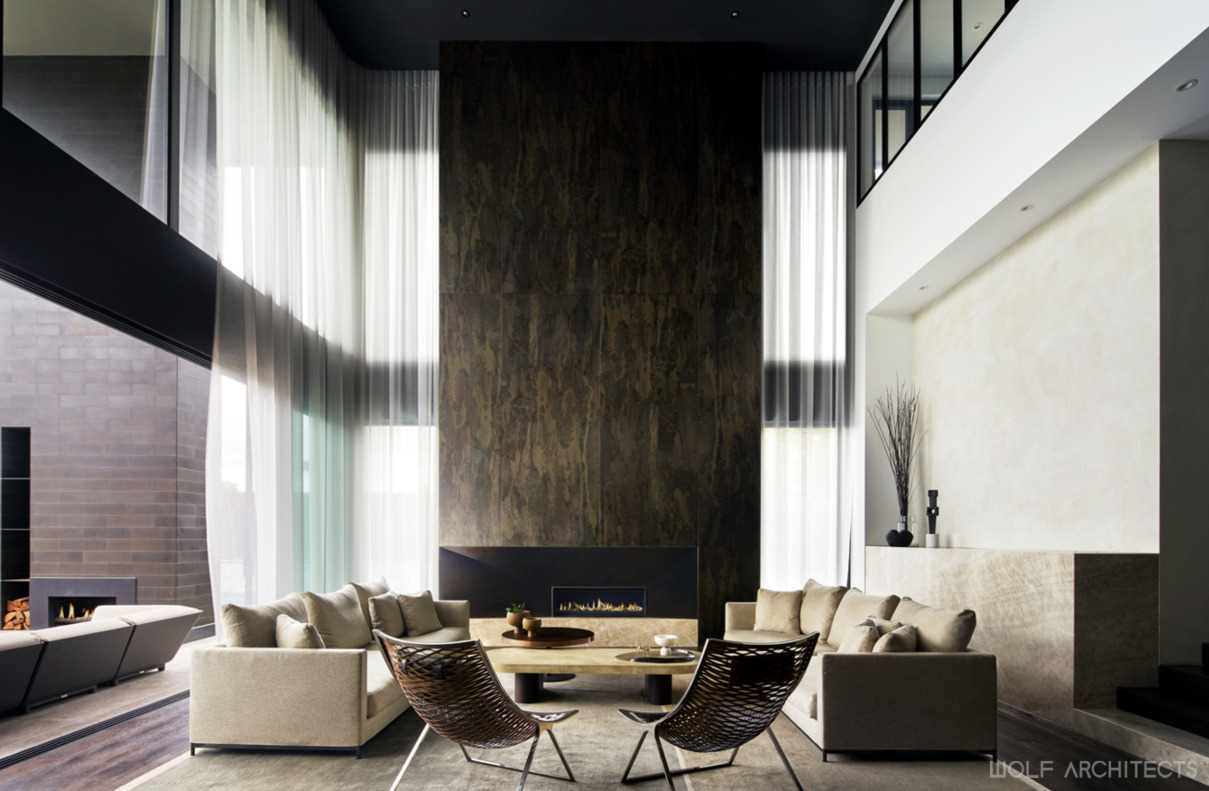 First impressions / Delight
Despite being a luxury home, the external architecture demonstrates restraint. More focus was places on the interior which was inspired by how Janine wanted to feel in her home. There is an instant sense of class and timeless elegance that continues throughout as you circulate through the spaces.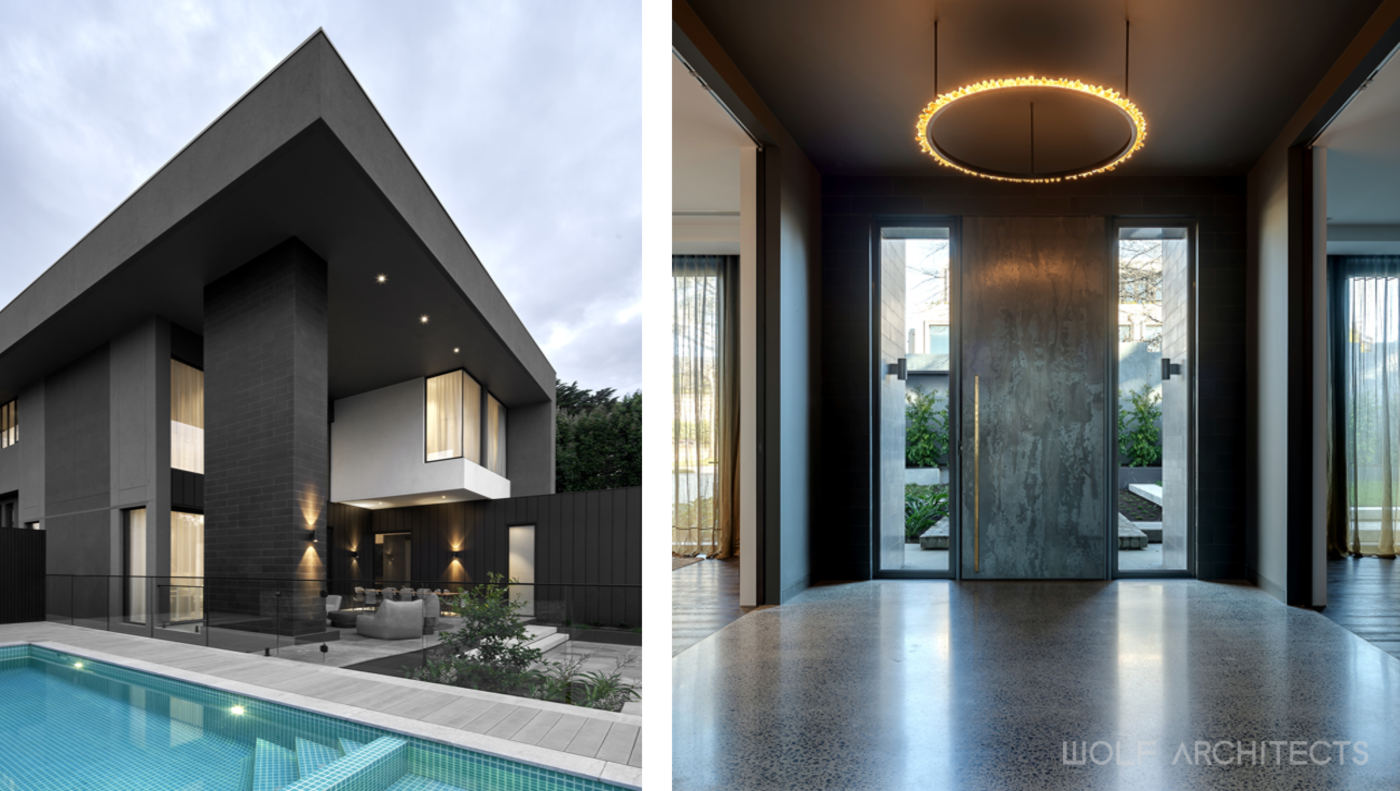 Exterior Design Review
The Façade cannot be featured in this review for the purposes of privacy to the client who has a celebrity status in Australia. We can say however that it was designed to be contemporary but still connect to the context of the area which is dominated by neo-classical designs. From that perspective the design solution is very successful.
The rear of the home opens to a Northerly view and it is here that the architecture loosens to be more playful. The challenge however was not to wonder too far away from its more conservative façade and we think the balance is excellent.
The general material pallet is earthy, durable and low in maintenance. The darker masculine colour tones were of the client's preference and blend well with the natural brightness of the landscaping and swimming pool. The circulation between the outdoor spaces are very intelligent and from the pool you can even access the light filled basement areas where there is also a bathroom.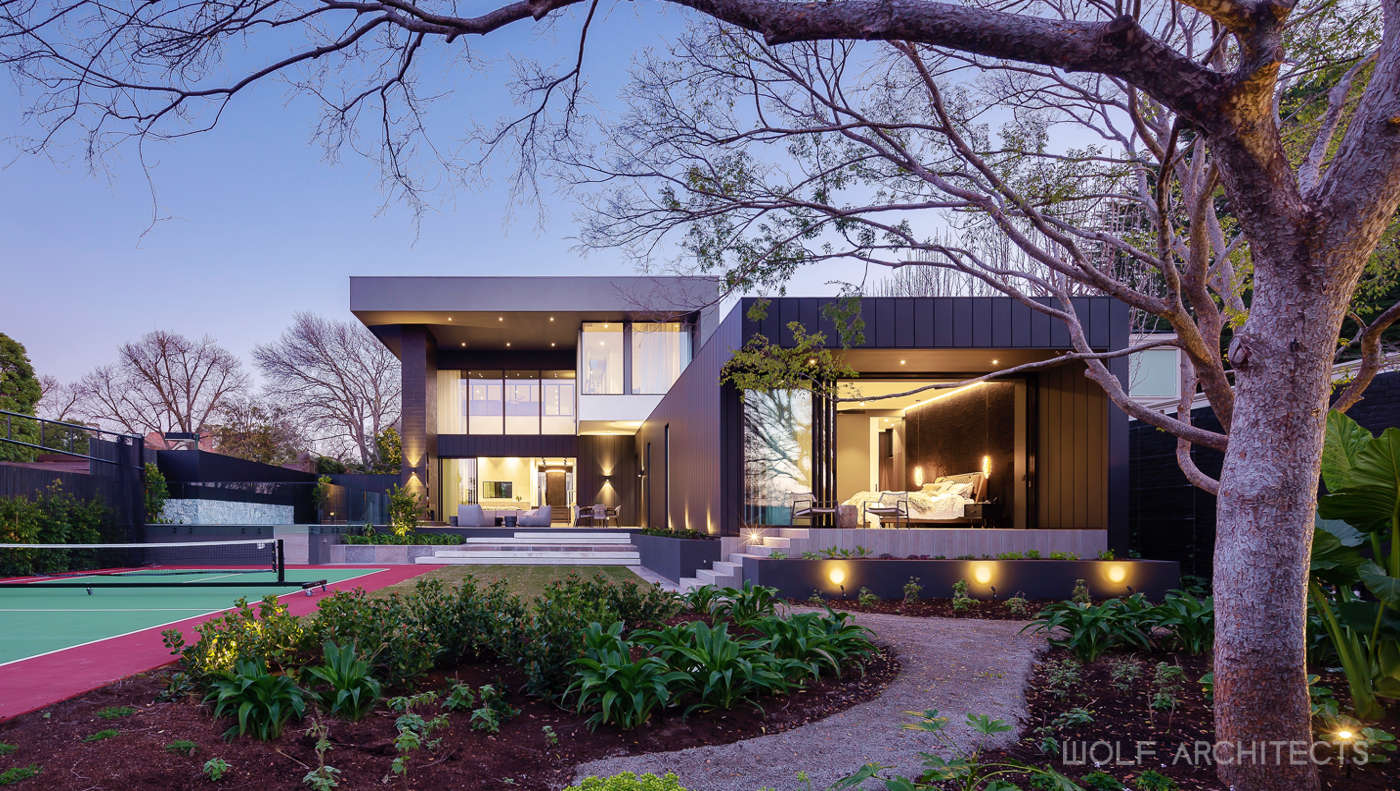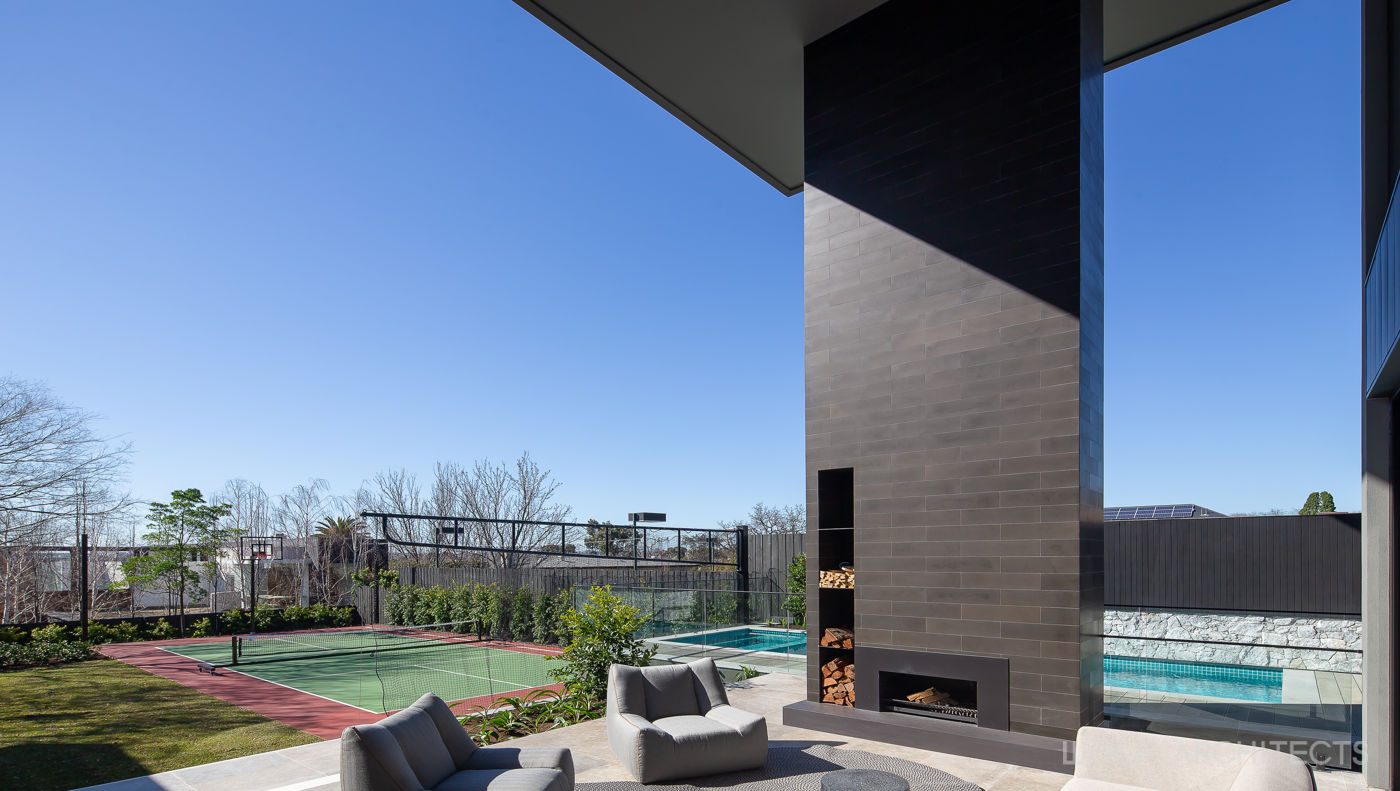 Interior Design Review
In keeping with many WOLF designs the house expands as you progress from the entry and invites you to explore. Upon entry a water featured courtyard invites natural light and acts as a way to cool the home with fresh air circulation. In this home the courtyard is double heighted and also provides views to multiple areas. Large glass doors slide away into cavity spaces to allow a complete indoor-outdoor experience. Janine wanted her courtyard to calm and inspire her throughout the day, particularly when she practices Yoga and Meditation.
With warmth from the hydronic floor heating and abundance of natural light you feel relaxed despite the darker tones and tall ceiling heights that might otherwise seem intimidating. With a relatively strict budget the home balances and integrates one off customized details with off the shelf, tried and approved ideas.
The Kitchen went through many iterations to find the perfect combination of beauty and function. The island bench in particular was crafted to feel more like a way to display food, rather than prepare food, as cooking was not a priority in the brief.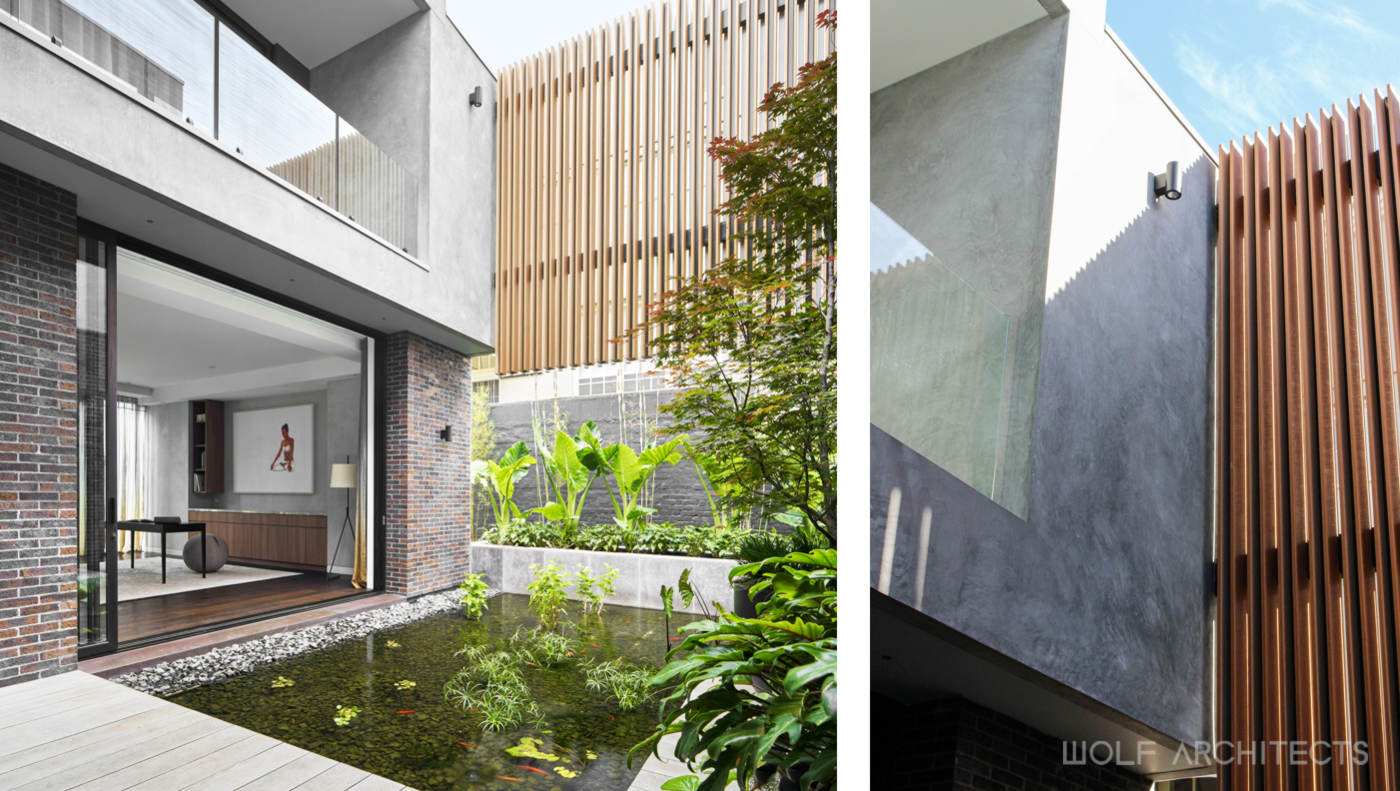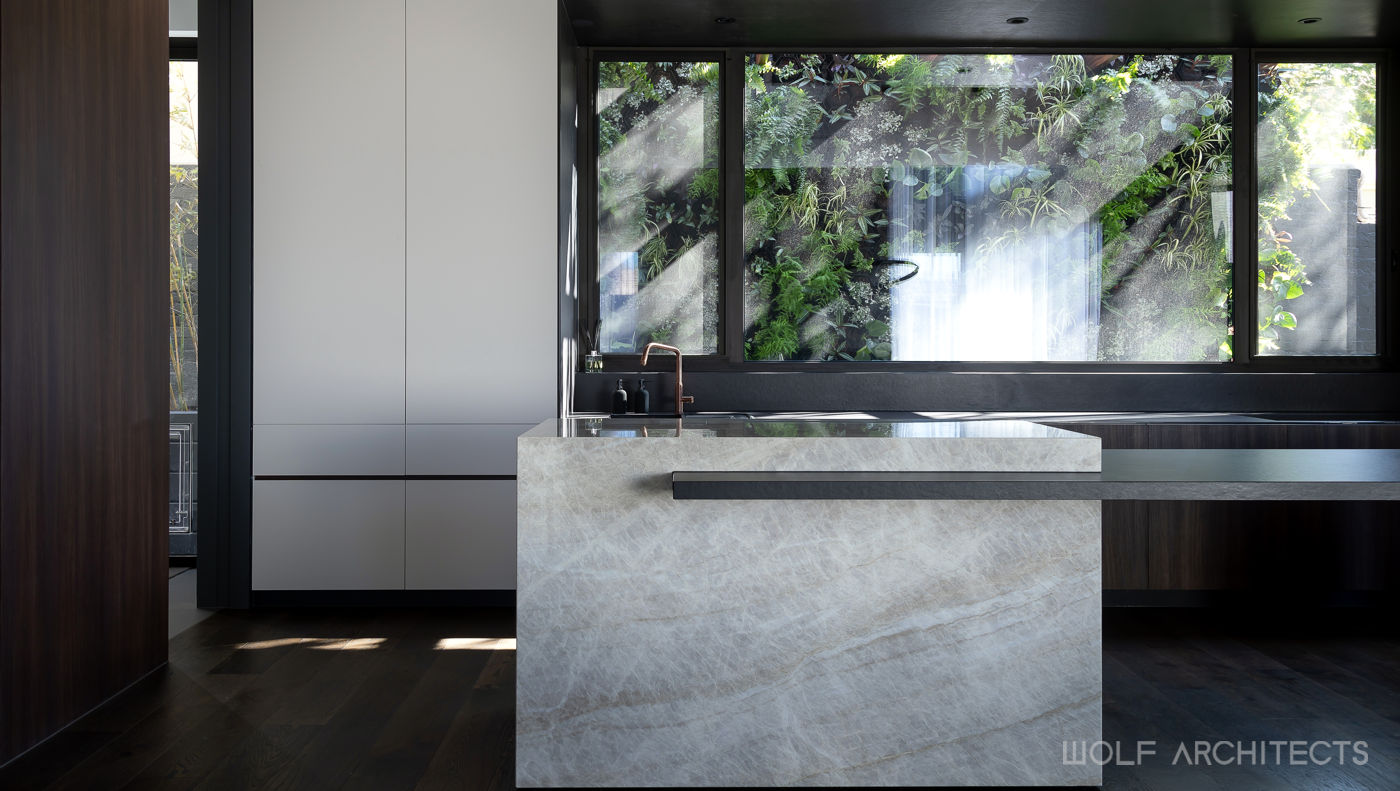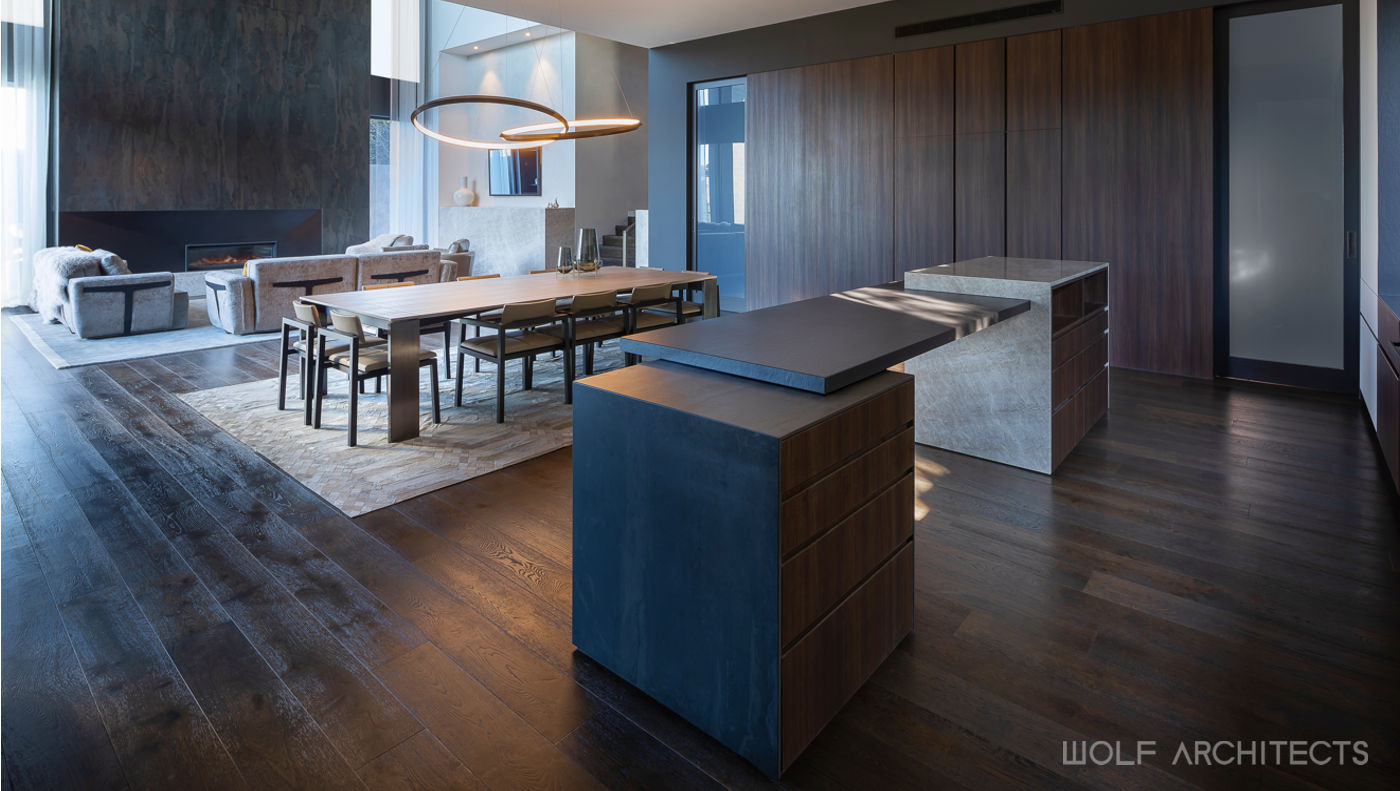 Craftmanship.
The craftmanship is slightly under our expectations for home of this calibre. Overall, the home is well built but the final finishing in plastering and details around areas such as door and windows are average. There is detail in every corner of this house but some of the final finishing against the level of design falls short. Keeping in mind that this home was on a strict budget the was still good value achieved and most of our critical eye in this instance is beyond what the average eye would notice.
Where this house shines, is in its usage of durable materials on the exterior and in most wet areas. Maintenance smart products such as Dekton, Blue Stone and Brass are intelligently applied. Dekton as a benchtop means that you can cut food without a chopping board and not scratch the benchtop surface. The whole front door for example is also made from Dekton. Most cupboard surfaces are also composed of finger proof laminates.
A customized brass handrail connects the significant split level in the home and feels nice to touch. Further to being a safe and practical requirement it was detailed to reveal no fixings and is a work of art in itself. The Powder room is also a space to visit with a fully customized vanity coupled with a tear drop chrome water spout that extends down from the ceiling. This level of detail and composition continues in all the other bathrooms. While they all share a similar colour palette each space has its own unique layout and character.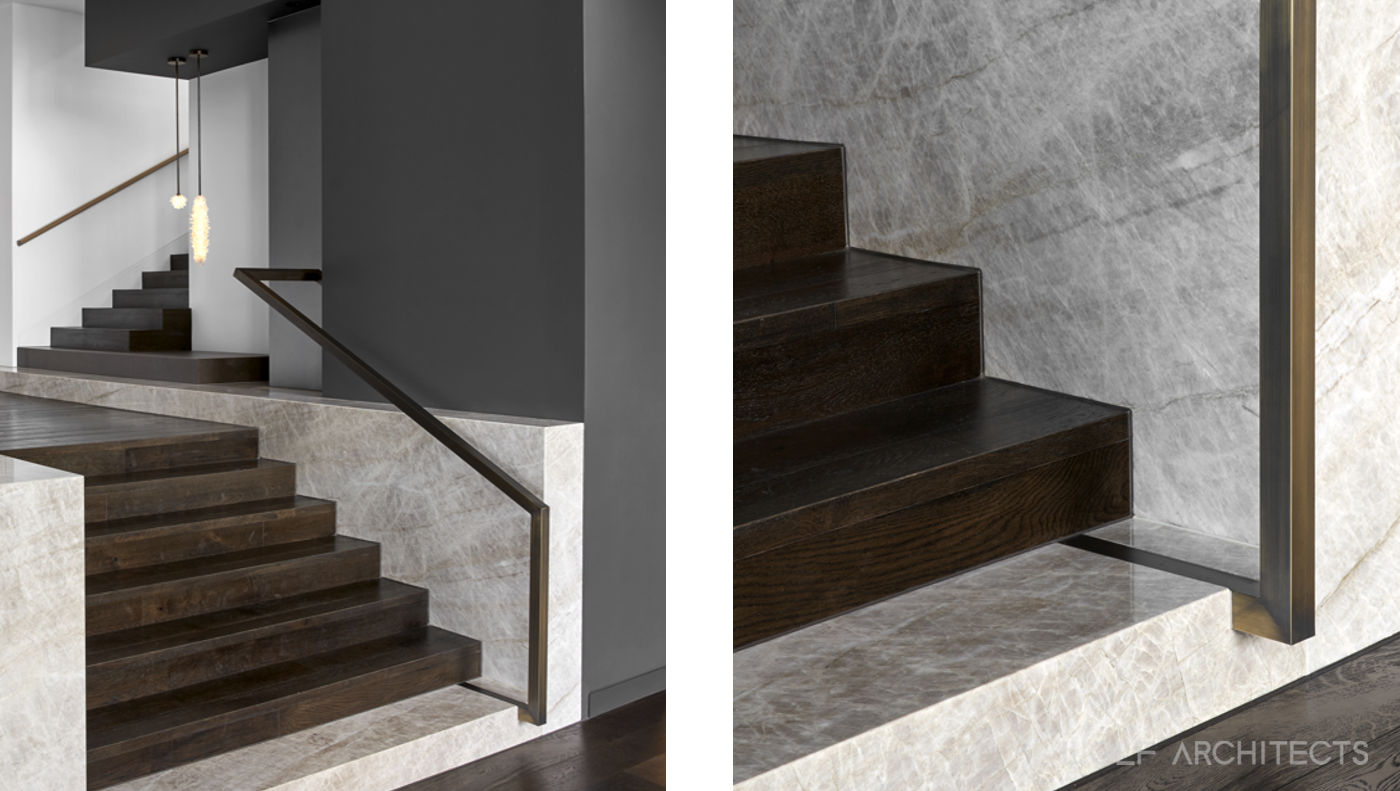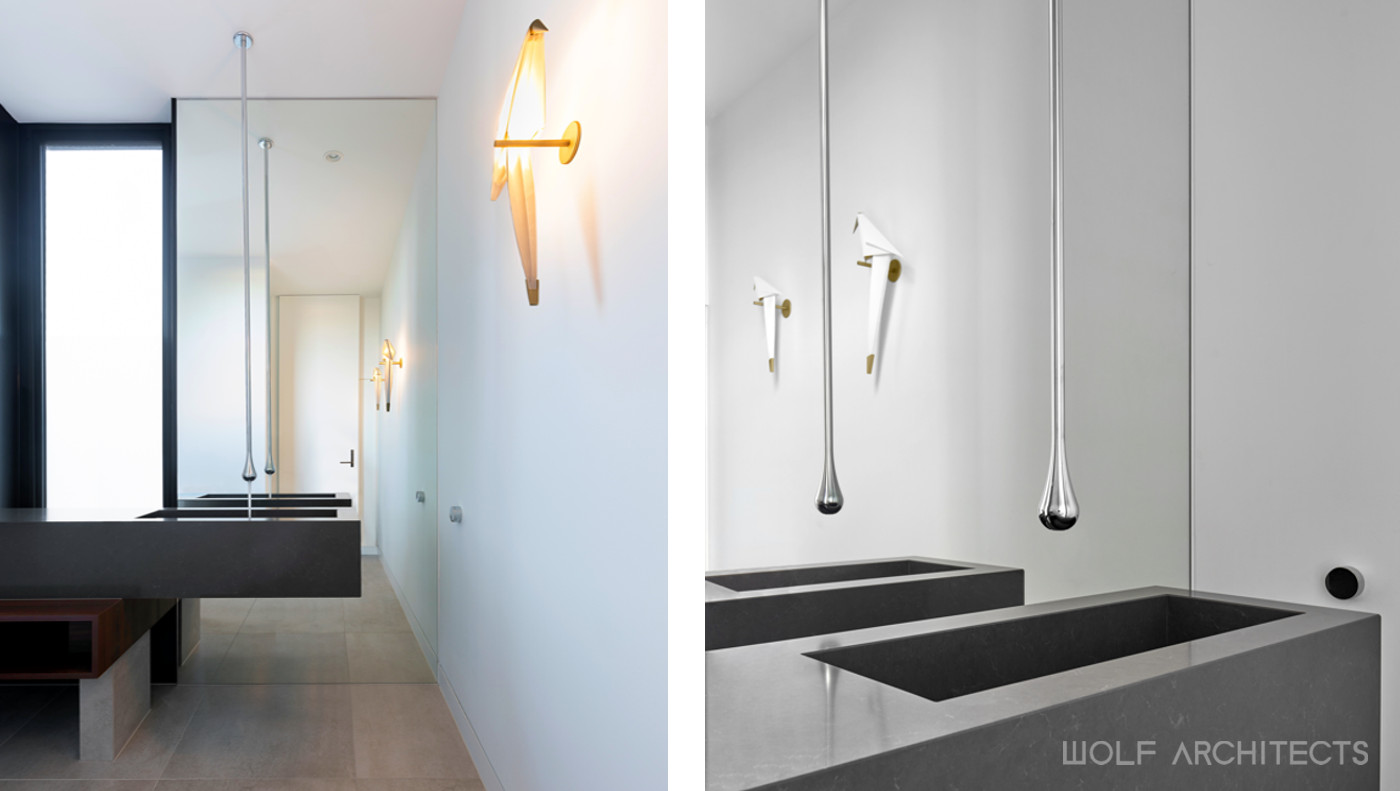 FUNCTION- Experience.
If a home can be measured by the happiness of its users then this house is a success in every respect, and it was well tested during the COVID-19 lock down period. While highly complex to conceive the architecture does not overpower or overwhelm the user. Instead it invites you to explore and visit again and again and experience something new with each moment. Light enters the home from several directions at once allowing the home to changes with time of day and season of year.
While this home is a good example of non-ostentatious luxury in a n affluent area, the owners remind us that it was built primarily as a family home. It must work both on an emotional level as well as a practical one.
The house also seeks to future proof itself with environmental concerns. Solar passive principles ensure good Northern light for warmth in winter, and protection from the hot sun in summer. A plant room connects a Solar farm on the roof with batteries in a basement plantroom to provide off grid power. Buried rain water tanks ensure that the beautiful landscaping remain lush at all times.
The basement works well and is generous enough for easy car manoeuvring but does take skilful driving upon entry.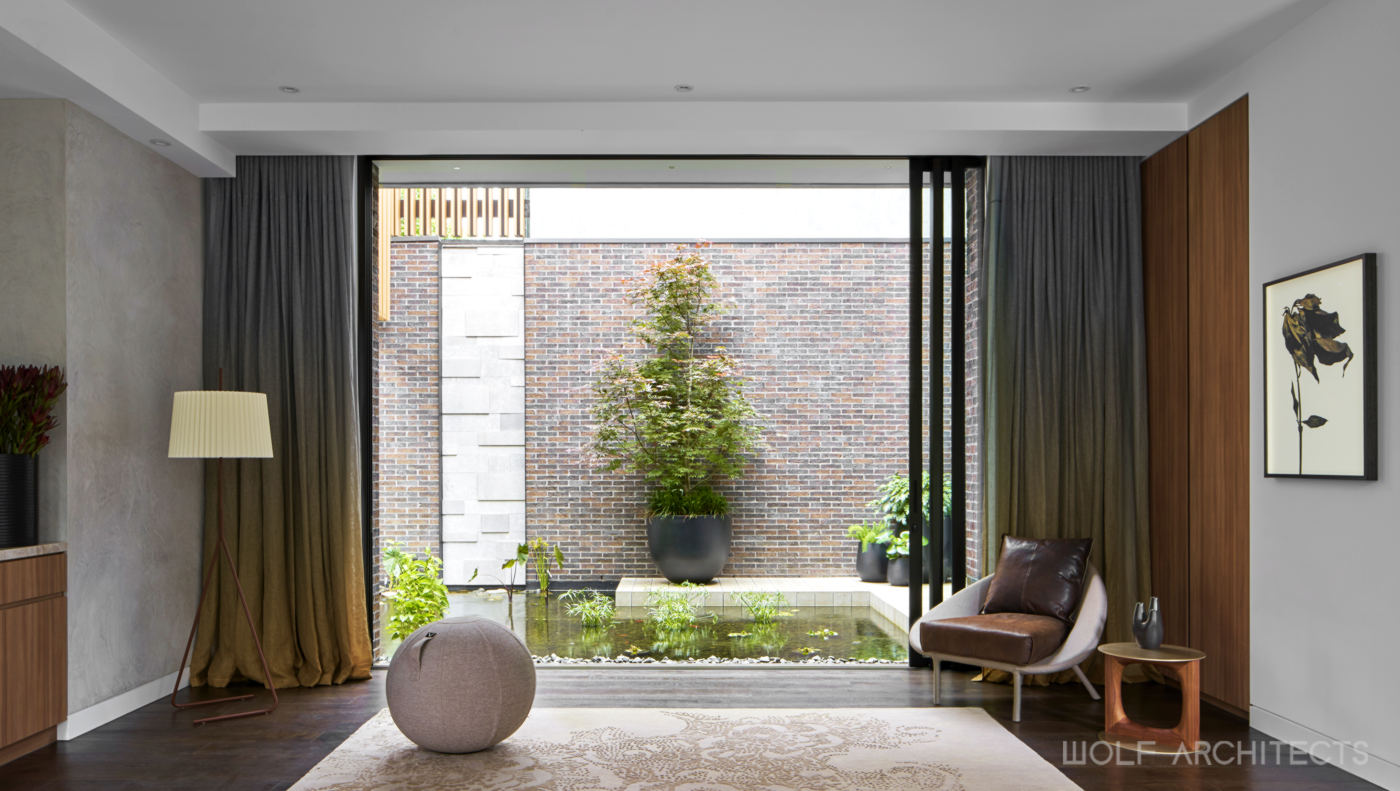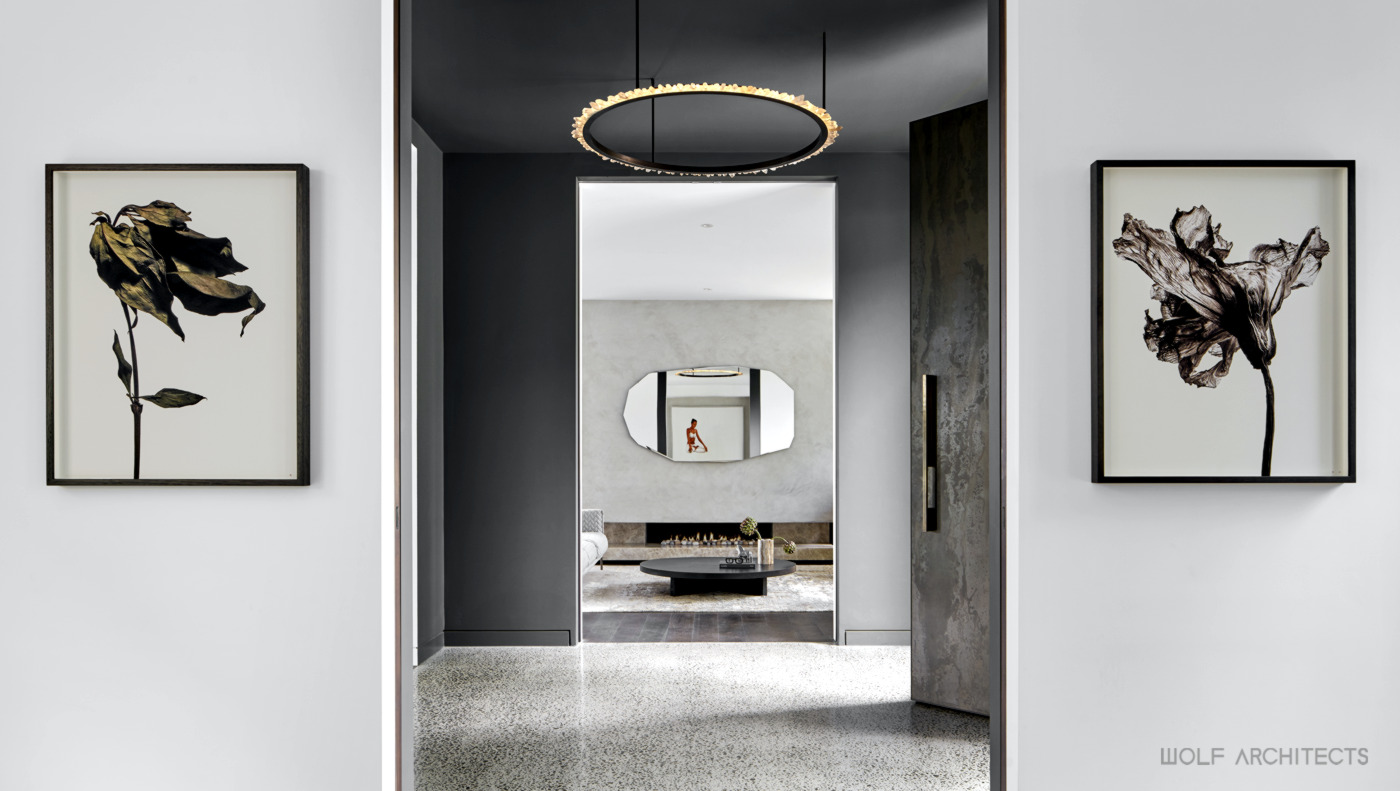 Desirability
Resale was definitely a consideration from the onset and it was important to appeal to a very broad range. The home is well appointed with top of line appliances and fixtures. The landscaping is comprehensive, beautiful and straight forward to maintain.
Further to being a very functional and practical family home there is an understated elegance that will appeal to a very broad market. As a 6-bedroom home it ticks almost all boxes. The basement rumpus space or gym could easily convert to a theatre which is possibly the only missing element in a home of this category.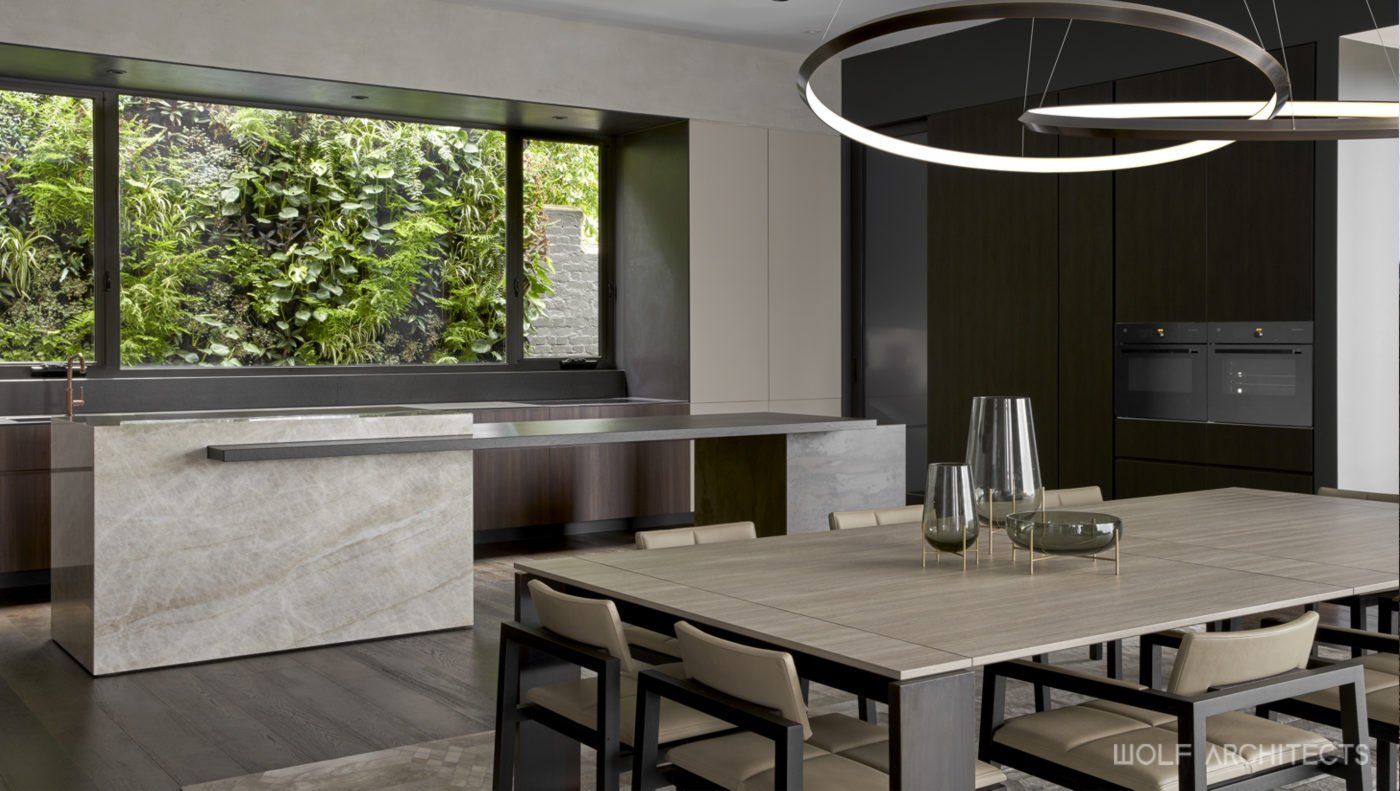 WORD OF THE WOLF
Celebrity homes can frequently tumble down the rabbit-hole of obsessively adding in more and more of everything with too many fancy ideas and not enough common sense. Luckily, this was not the case as Janine Allis had a very practical and disciplined approach from the onset. As with most of WOLF projects a firm budget and brief provides clarity to vision.
The design is a testament to intelligent architectural experience, and commitment to creating beautiful common-sense architecture. With every detail carefully designed, drawn and overseen in construction by a passionate team.  For Wolf Architects the Allis house marked the beginning of a new design approach known as IDM- Intelligent Design Management.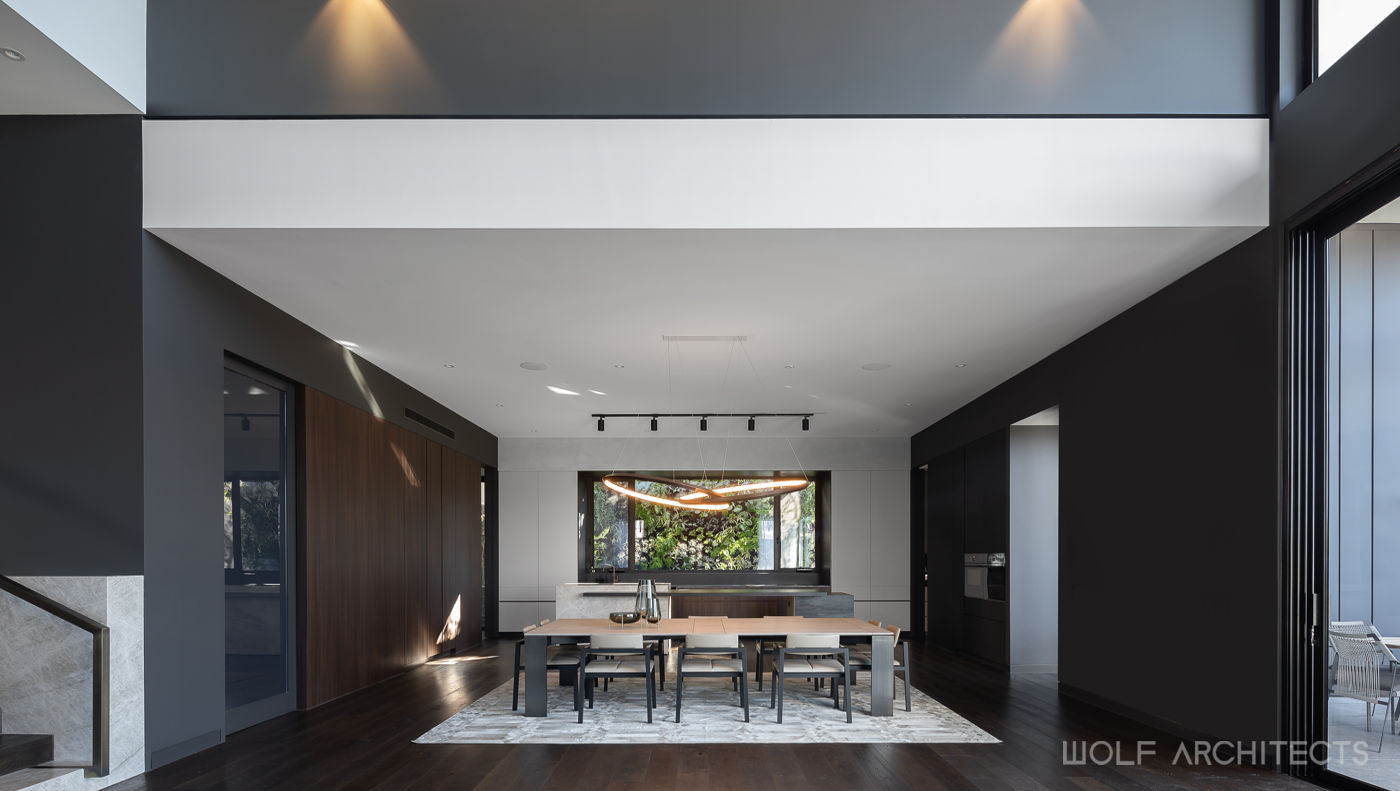 WOLF DESIGN EXCELLENCE SCORE = 7.4
Disclaimer
The information in this review is intended for informational or educational purposes to provide readers an understanding of how something may be seen from a certain design perspective. In this case it is from the view point of WOLF DESIGNS. As design is subjective this review should only be considered as an independent opinion. Information further to being of an opinion is provided to the best of our knowledge based on our own research at the time of doing the review. We cannot be held responsible for any inaccuracies or inconsistencies and reserve the right to change or update any content as appropriate.
The final responsibility of the design resides with the original manufacturer.