WOLF retro DESIGN REVIEW.
13th September 2017
A retro review looks at products that are at least over ten years old from a present-day WOLF design perspective. While the technology and fashion of the period influence design, and are taken into consideration, great design ideas will transcend their eras to be timeless.
Interesting and factual information may be provided, but our review aims to deliver insight from the perspective of a designer's mind and eyes.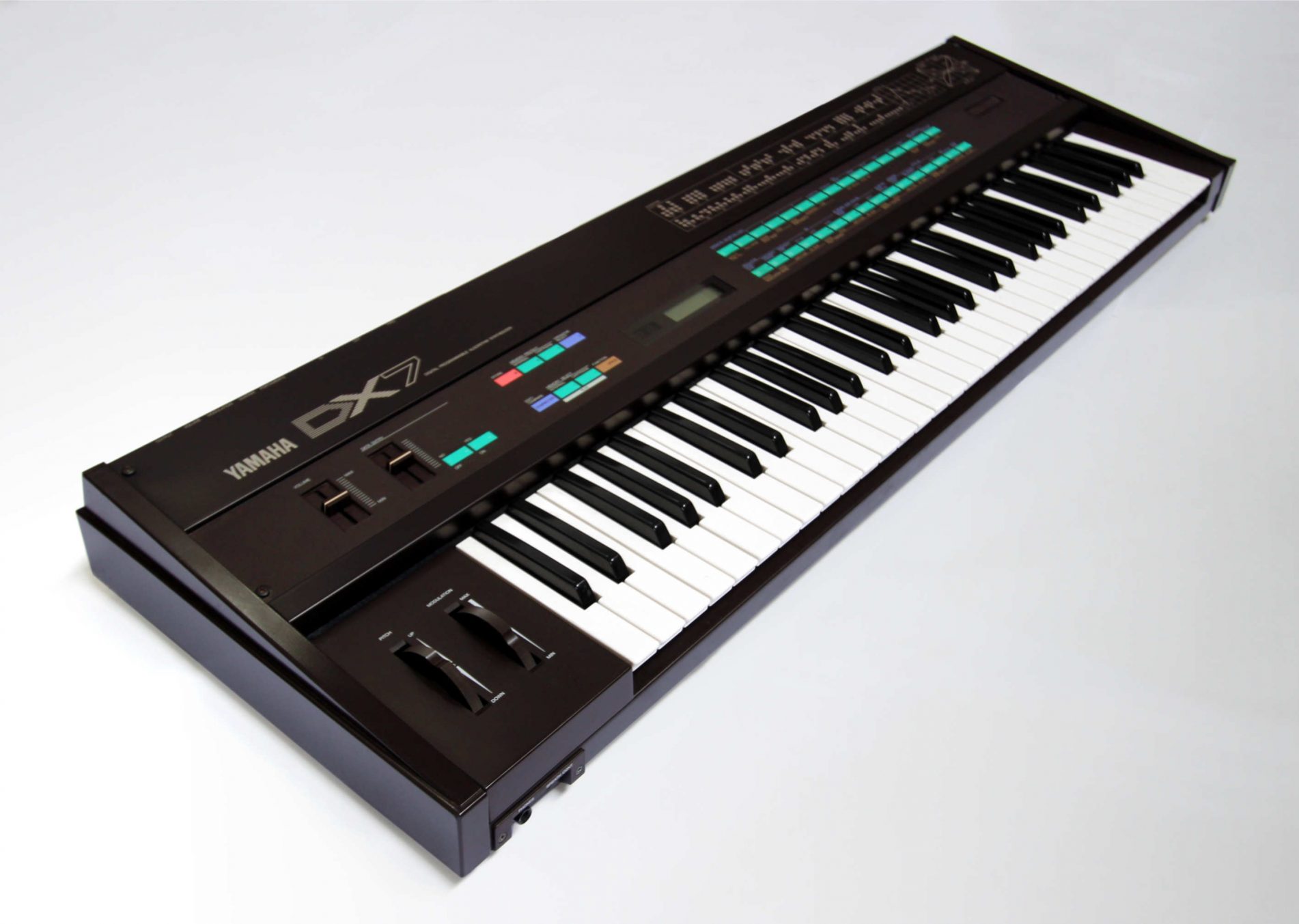 The best selling Synthesizer of all time!
INTRODUCTION
Product Focus.
As with most Synthesizer reviews the focus is on the design and its evolution with the synthesizer. The functioning systems and sound quality are not necessarily considered.
Product description.
The Yamaha DX7 was one of the first commercially affordable digital synthesizers. With its FM sound engine, it revolutionized music worldwide. Used by most famous bands in the 1980s it is iconic, famous amongst musical instruments and remains one of the bestselling synthesizers of all time.
Price and Availability.
With over 200,000 units produced there is almost always a DX7 for sale if you need one. When new they cost approx. $2500 Aust. An average one today that functions perfectly but with signs of ware will start at $500. Mint examples are quite scarce given that they are approximately 35 years old and can cost up to $800. We would expect to pay $1000+ for a mint example that comes complete with accessories such as original case, manuals, pedals and sound cartridges.
Additional information.
The DX7 was designed by Yasuhiro Kira and together with the DX1 and DX9 was one of 3 models launched at roughly the same time. The mighty DX1, is an impressively massive machine with the power equivalent to two DX7 units. The DX9 was a cheaper and inferior model which almost looks identical to the DX7 externally. So successful was the DX7 that the line was extended by 4 successive models, the DX7S, DX7IID, DX7IIFD, and finally very rare DX7C (Centennial edition).
REVIEW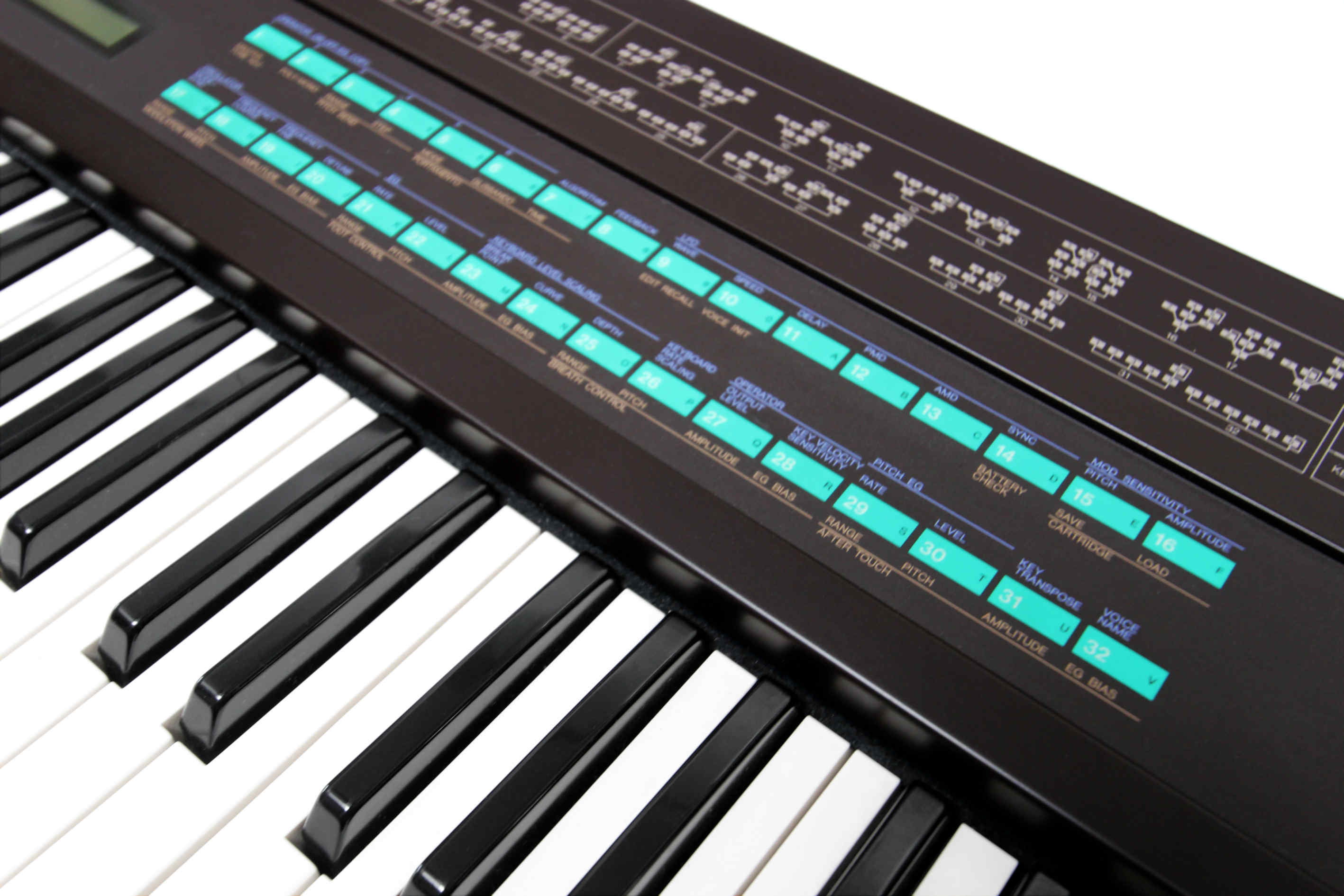 First Impressions / Delight.
Our first impression was that the brown looks dated and dull. Even for 1983 we would suggest black, grey or even white as better colour options. Brown was very much a 70s colour and did not lend itself to a machine intended to usher in the digital age of synthesizers. The flush panel of green buttons and small LCD are unique to this model and would have instantly set the DX7 apart from its competition. Being able to read the name of a sound as opposed to just reading it by a number was a big deal in 1983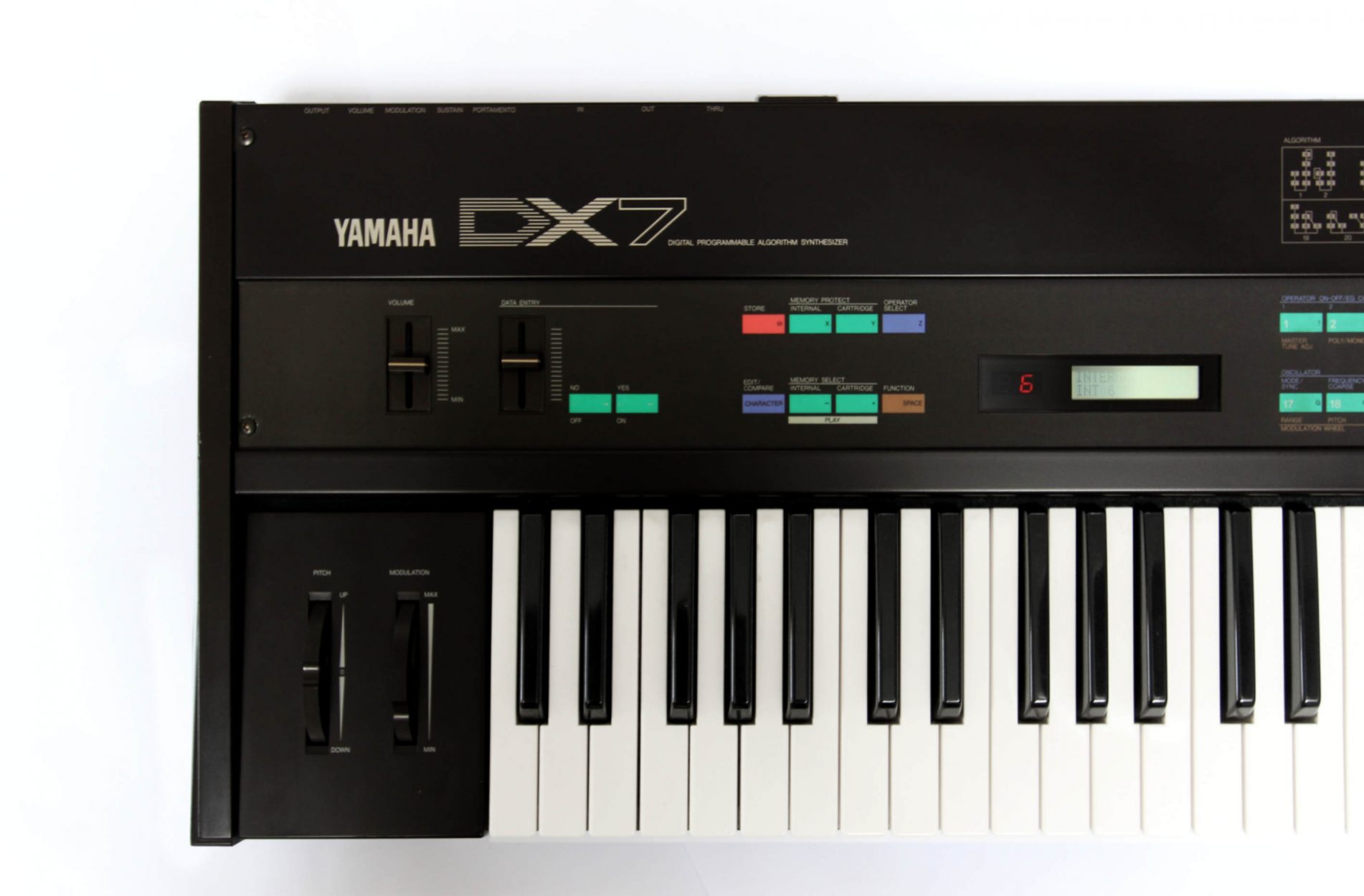 Exterior Design Review.
All that "brownness" actually looks better today than in the 1980s. Its retro feel adds to what is now a clear classic. The most striking feature is the flat membrane with buttons that were an intentional reversal of the usual knobs, switches and levers found on analogue synthesizers. For someone who's not old enough to experience the 80s these buttons are quite novel. Together with an LCD screen (innovative in the day) it certainly looked different from its competition and in keeping with being digital. The graphics are of a high-quality print and the bright colours look good.
Despite the layout and design being minimal this synthesizer lacks a certain sleekness. The flat membrane panel does not perfectly harmonize with the rest of the body that is almost clunky in its squareness. With an offset difference of 1-2mm from one external component to another there is a lack of design flushness which make the design seem bulky in its assembly. The 4 visible screws on the front panel together with the visible hinges on the rear panel make it obvious that this machine was designed to be easily maintained, but also makes it look too industrial for our liking.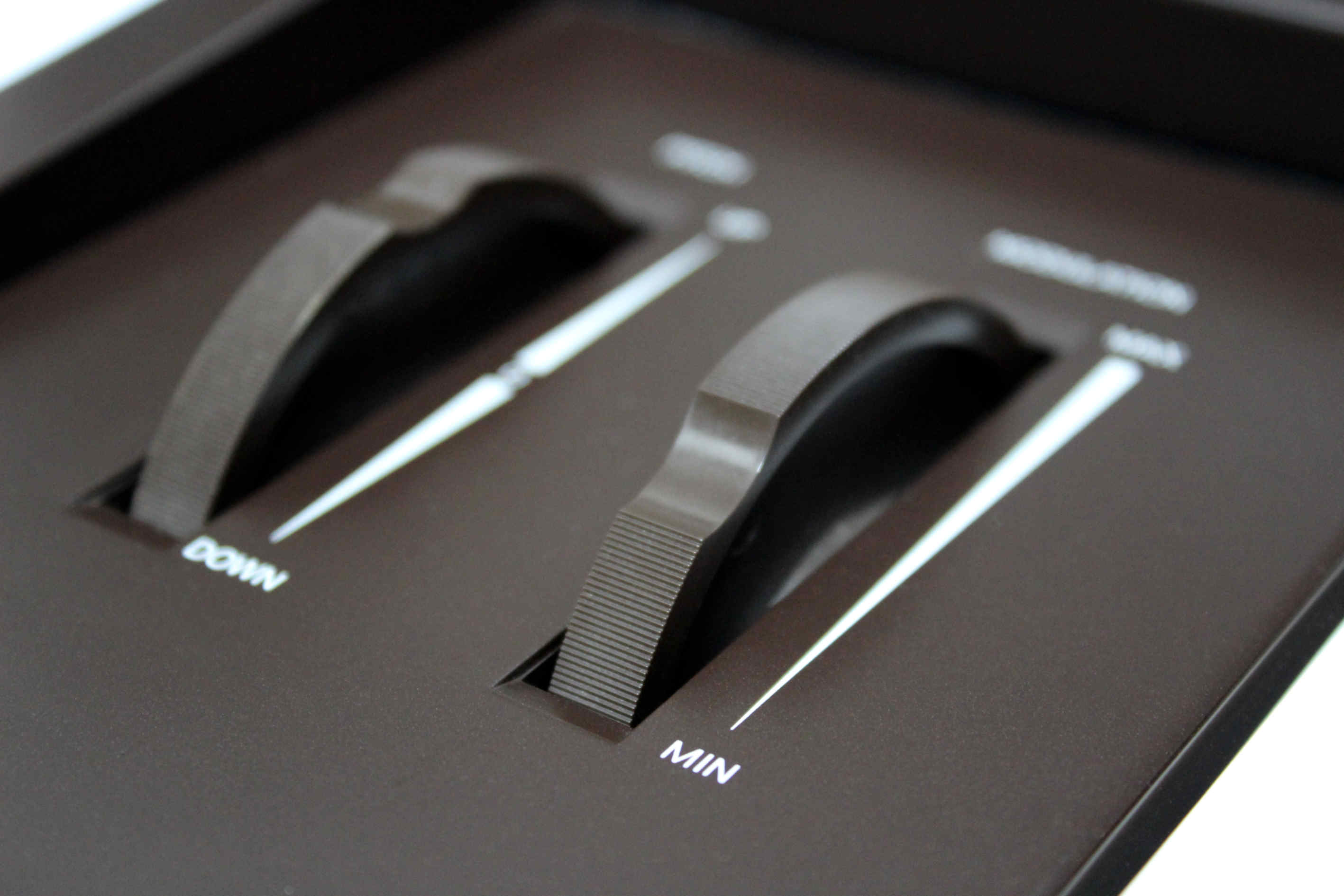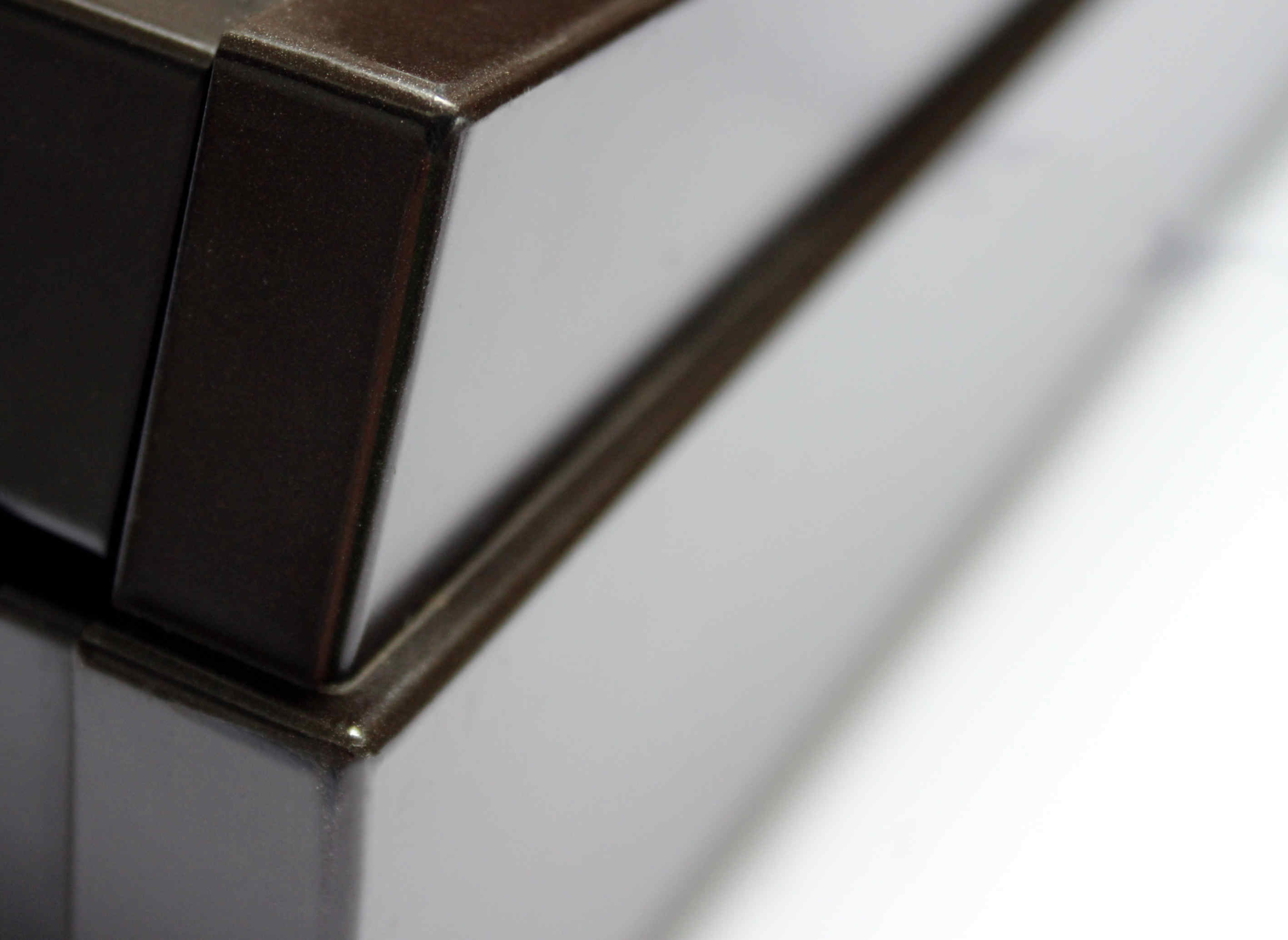 Craftsmanship.
The body is robust and composed of solid industrial quality steel face plates and rigid plastic end panels. It was designed to survive studios and concerts and there are many beat up looking DX7's still in use today. The membrane panel is the weakest part of the construction and you can tell how much use a DX7 has had by the quality of this panel. Most will have rips, and ripples where buttons have been pressed thousands of times. The keys themselves are very well built and feel as good if not better than many modern-day models. At 14.2kg it may have weighed less than many of its analogue contemporaries but it's not light and the machines end pieces tend to get knocked around in transport. While they are of an excellent quality plastic there might have been a better alternative considering its weight.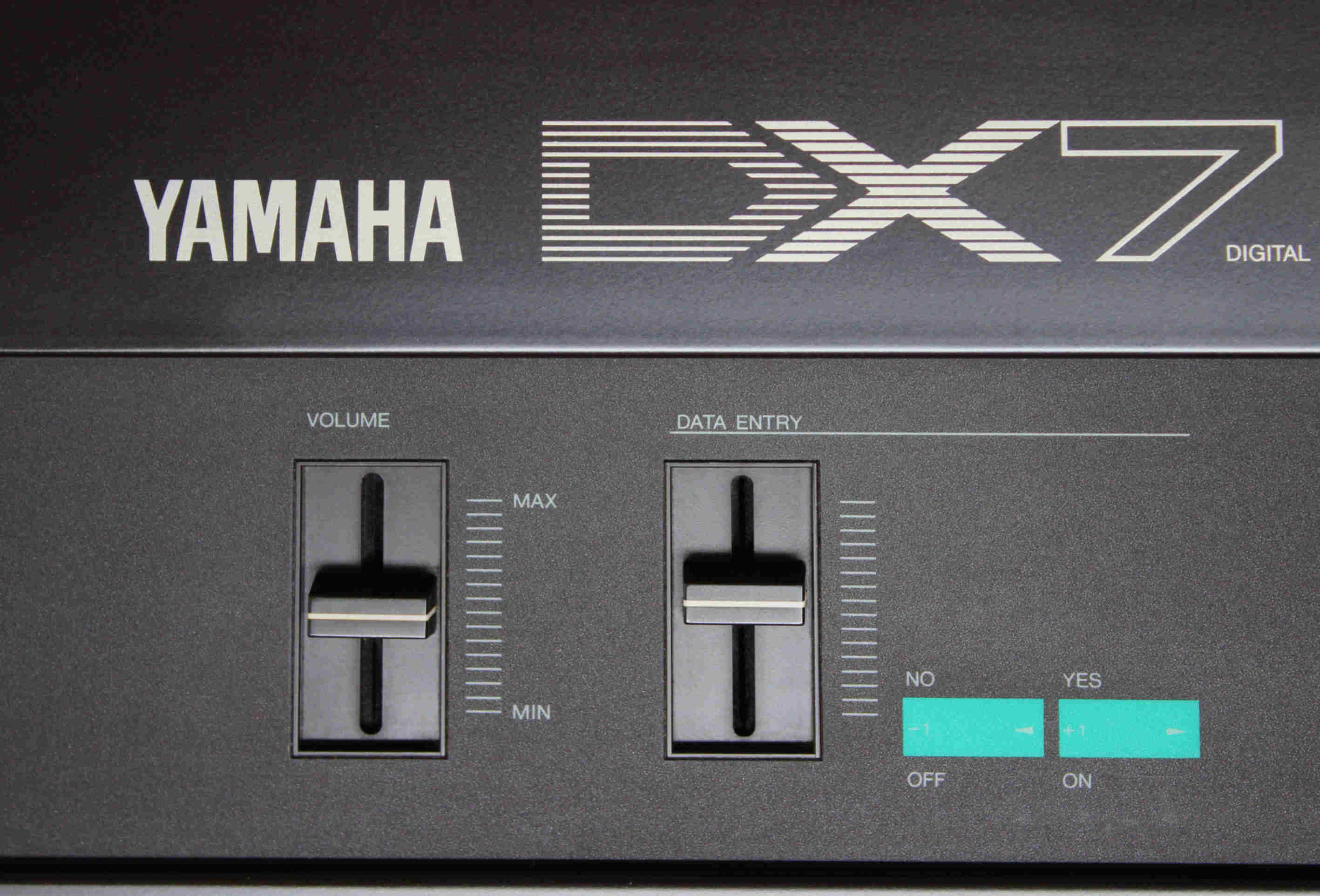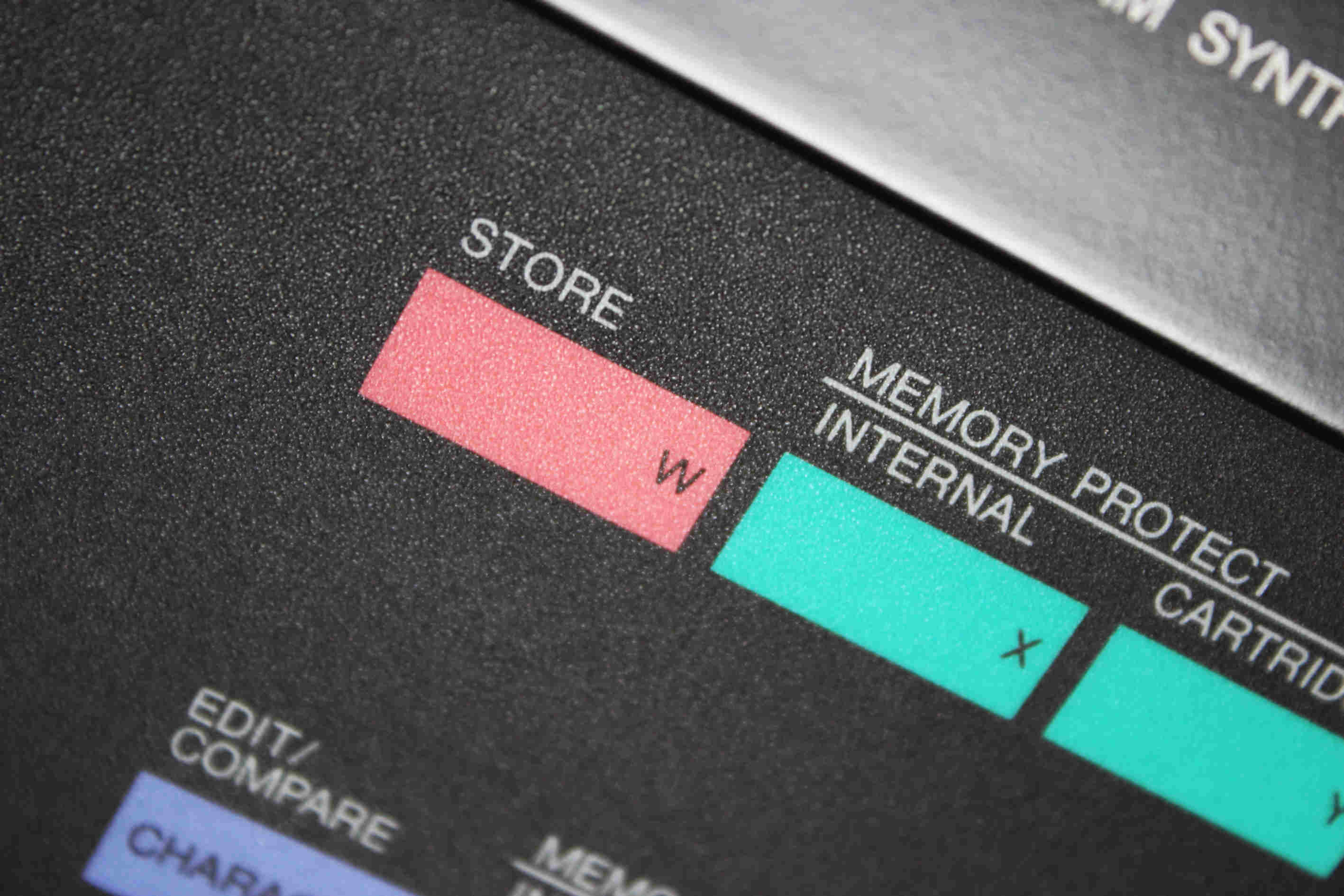 FUNCTION- Experience.
We won't comment on the sounds and internal systems as this machine was responsible for many of our favourite 80s hits. The DX7 has nothing to prove and we are grateful to its creation. Instead we will comment on what it's like to revisit it for entertainment. Unlike analogue machines the controls are uninviting and mysterious to the unfamiliar. The screen is small and without backlight, so you don't really bother to read what it says. While the flush buttons were quite futuristic in its day they don't feel natural and there is a tendency to over press them. It's not surprising that Yamaha never used this technology again on another keyboard. We said we wouldn't comment on the sound but hearing those classic 80s sounds will bring a smile to your face.
An aftermarket upgrade was available by a company called Grey Matter and units with this upgrade are known as having an 'E" upgrade. The modifications were done internally and the only sign that a DX7 has an E upgrade is from a large sticker you could apply to the front panel. A DX7E will have certain special enhancements but this does not necessarily add more value from a collectability stand point.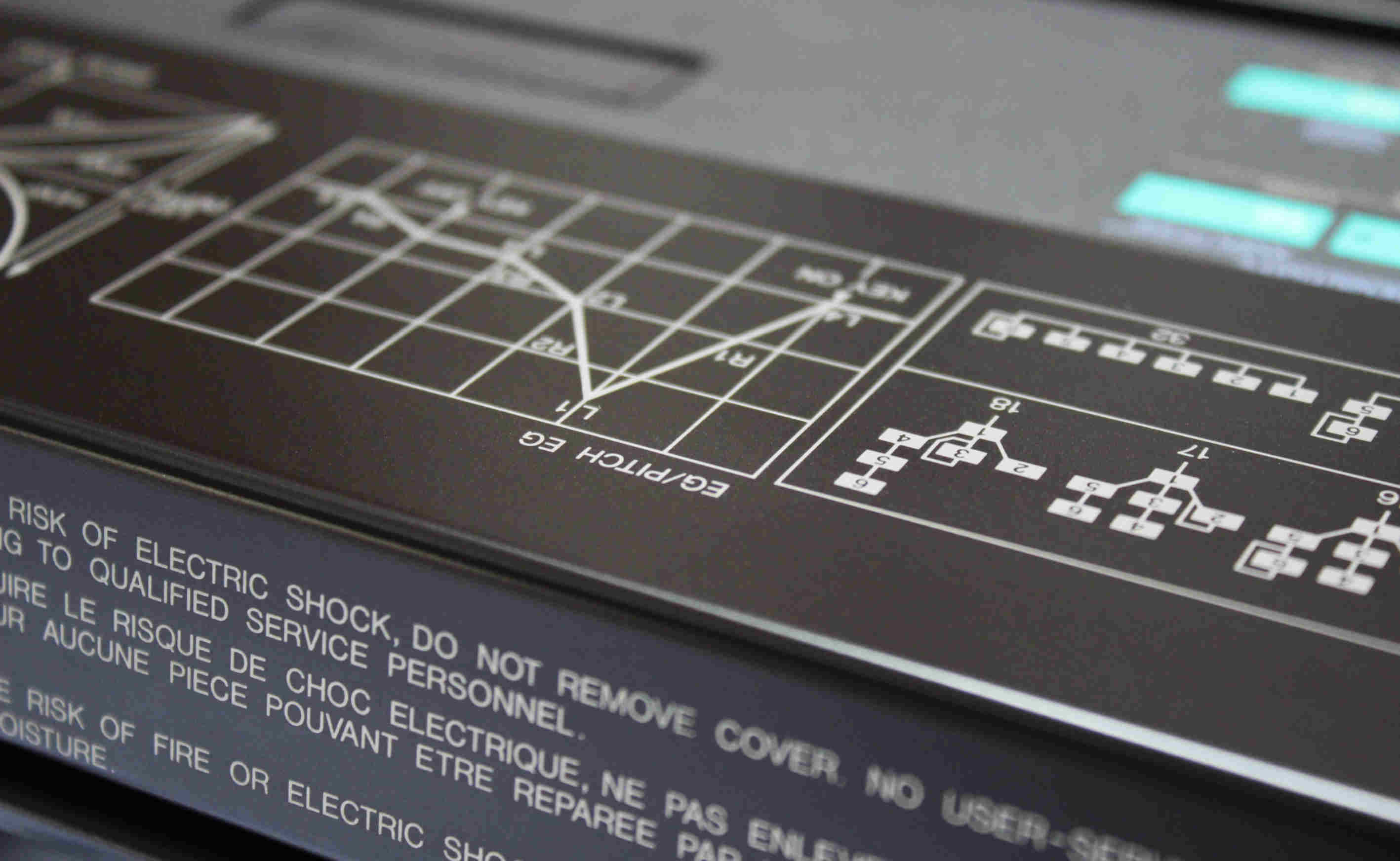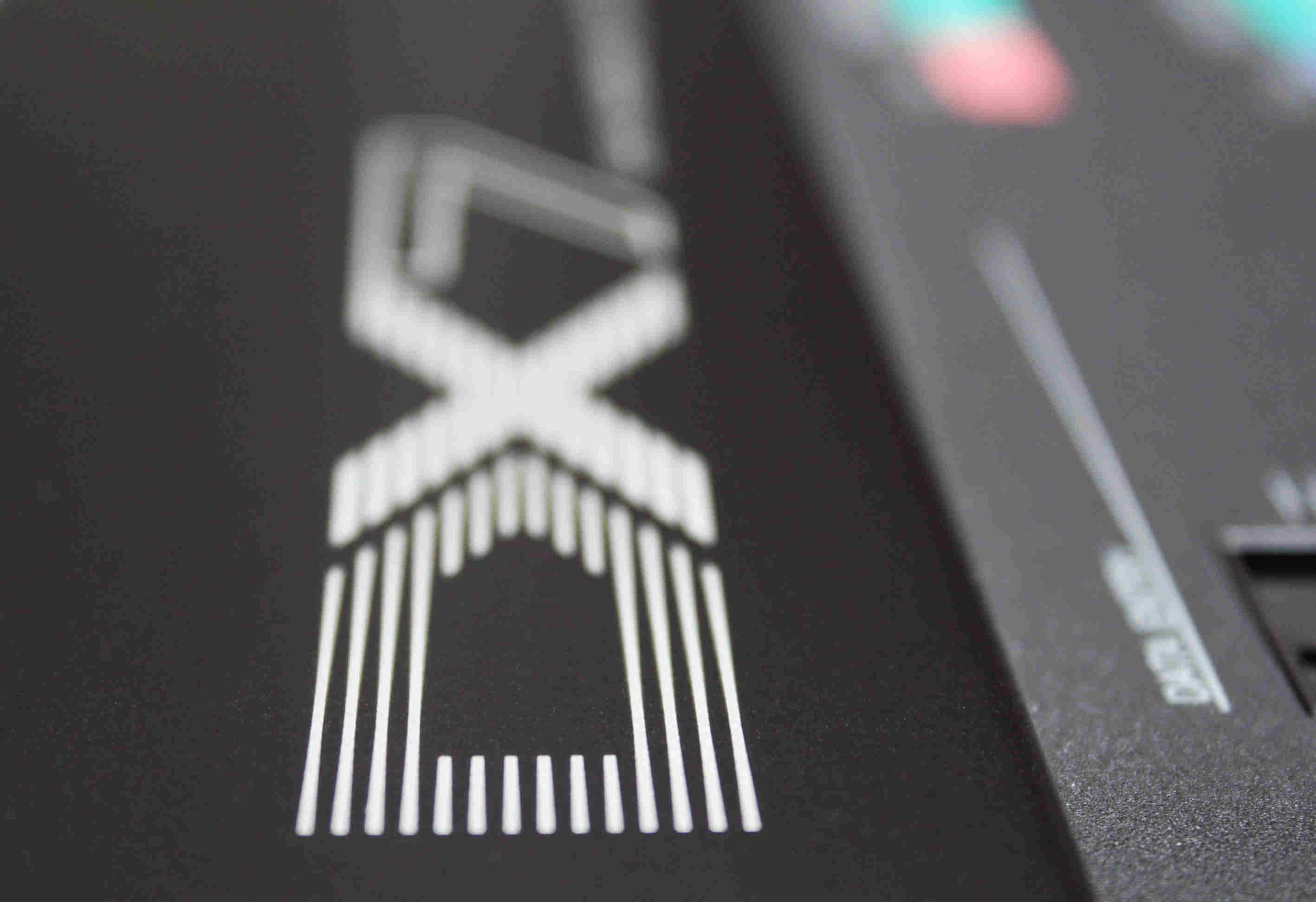 Desirability / Value for money.
The DX7 is undeniably a classic and collectable piece of music history. Unlike a collectable watch or a pen however a synthesizer is not small and you would need space if you wanted one. We don't think you need to be a musician to own one but it's probably not the most attractive or interesting thing you could put on display in your home for the sake of its meaning or value.
For a synthesizer collector (and they do exist) the DX7 is must have, and now is the time to secure the last remaining good examples. If you are patient, able to hunt vigilantly and willing to pay more than you expect, you will land yourself a mint DX7 that will continue to appreciate.
The original accessories are also becoming sought after, and anything your DX7 comes with is often a bonus as most sellers don't mark up their price significantly for included accessories. All the accessories combined can easily cost more than the keyboard itself when purchased independently.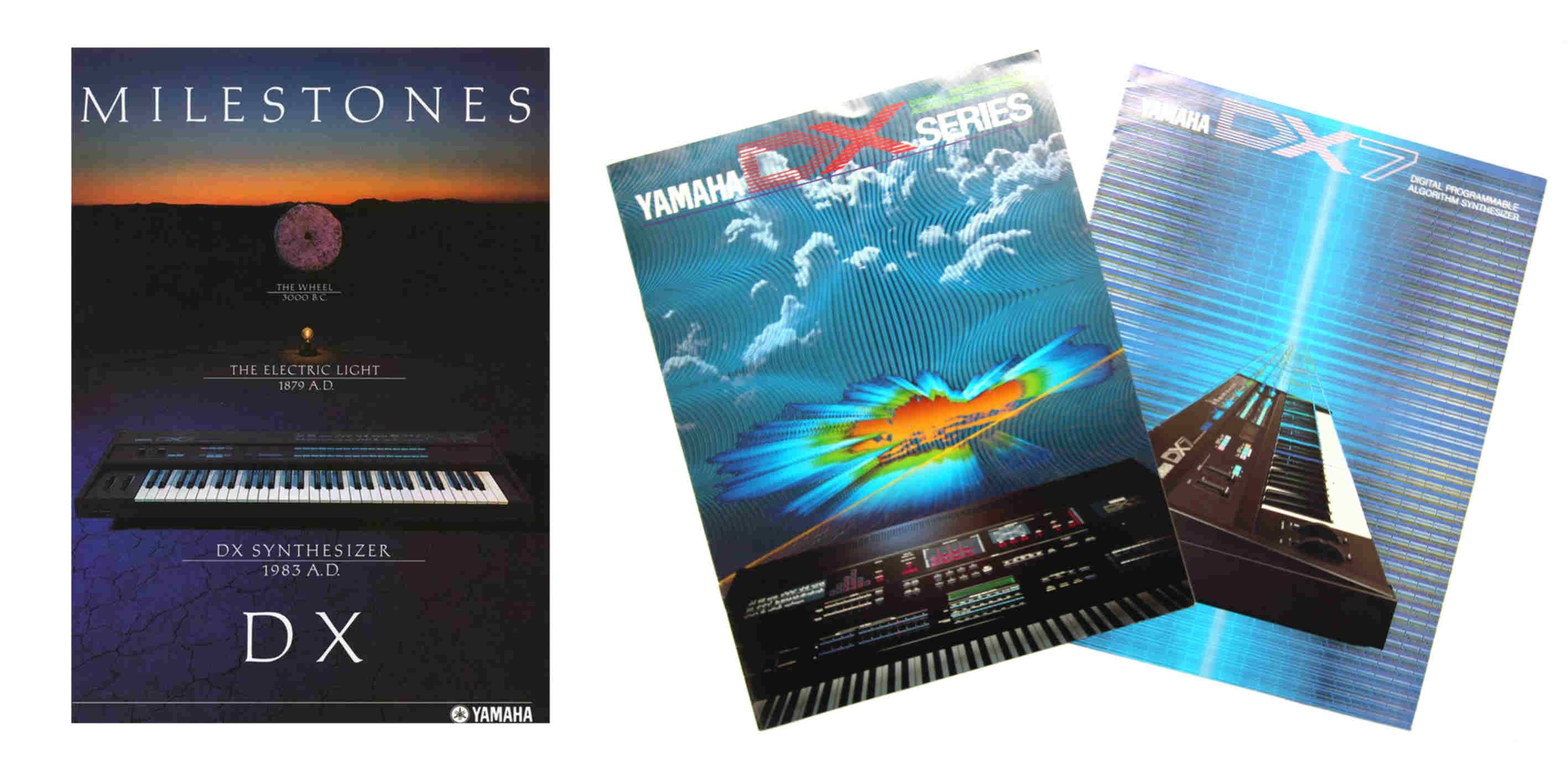 (Left) The DX7 was milestone and Yamaha even made a promotional poster to spell that out.
(Right) Two brochures that were readily available in the day. One illustrated the DX line and included the legendary DX1. The other focuses purely on the Dx7. Both brochures in good condition are highly sought after and collectible.
We highly recommend securing yourself an original Yamaha case. A factory case not only protects but really compliments the DX7 nicely. As cases were intended to get damaged from transport most people opted for cheaper aftermarket cases and this explains the scarcity of genuine original Yamaha cases. For the original DX7 they exist in 4 variants with the most common being a brown semi-hard vinyl case. Then there are the bright blue and dark blue hard cases. We prefer the bright blue cases which have a more textured fibreglass exterior. They just look more substantial and cool to the period. The Dark blue variants have a smoother exterior and are harder to come by. We believe that these were either only available in Japan or a very late production change. The last variant is a silver padded soft bag which we could not find on any of the original sales literature so was possibly an aftermarket product.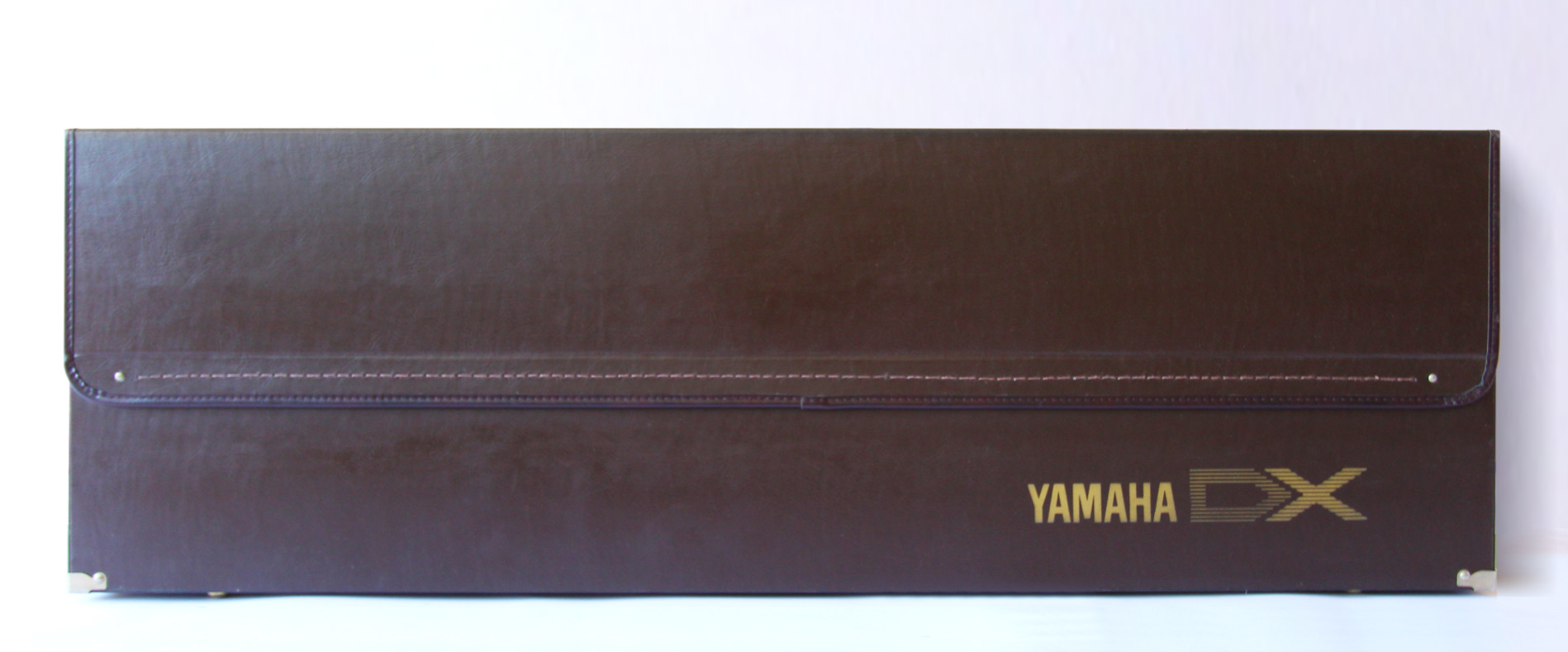 The semi-hard Vinyl case (LC-&S), was a good compromise between weight and protection with a retro design look that matched the DX7 & DX9. At less than half the price of the Factory Hard-case, it was popular and easy to find.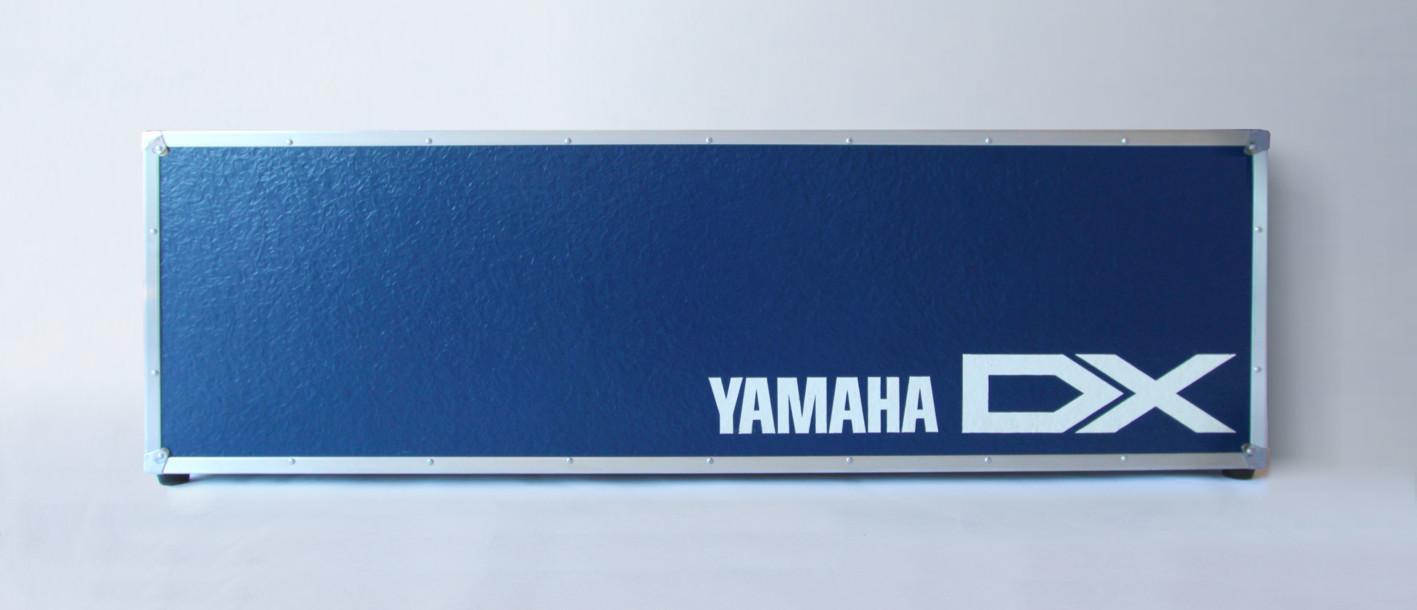 Above is the original Factory Hard case known as the LC-7F, which was suited to both the DX7 and the DX9. It has a textured Fiberglass casing in a bright blue colour.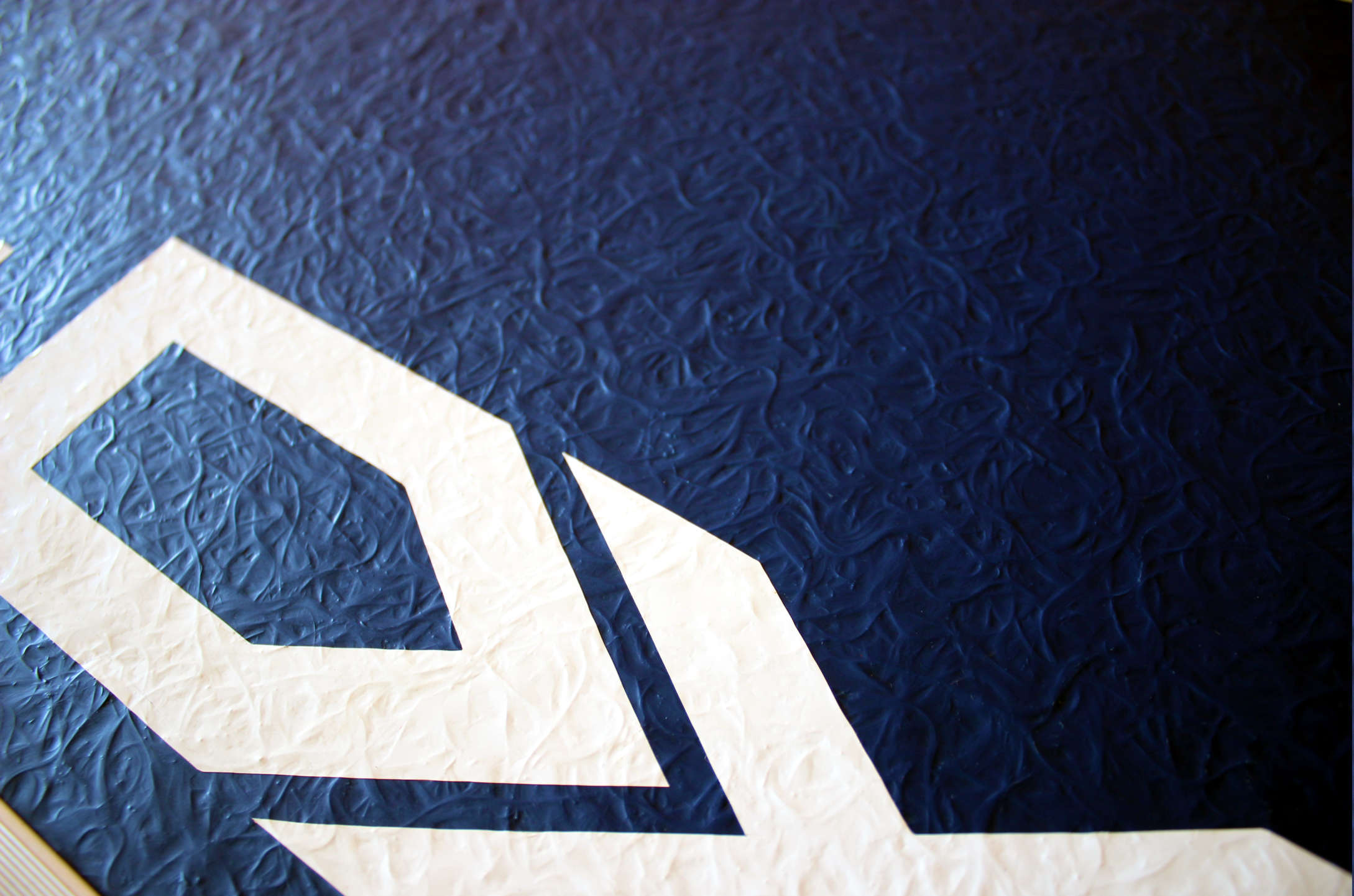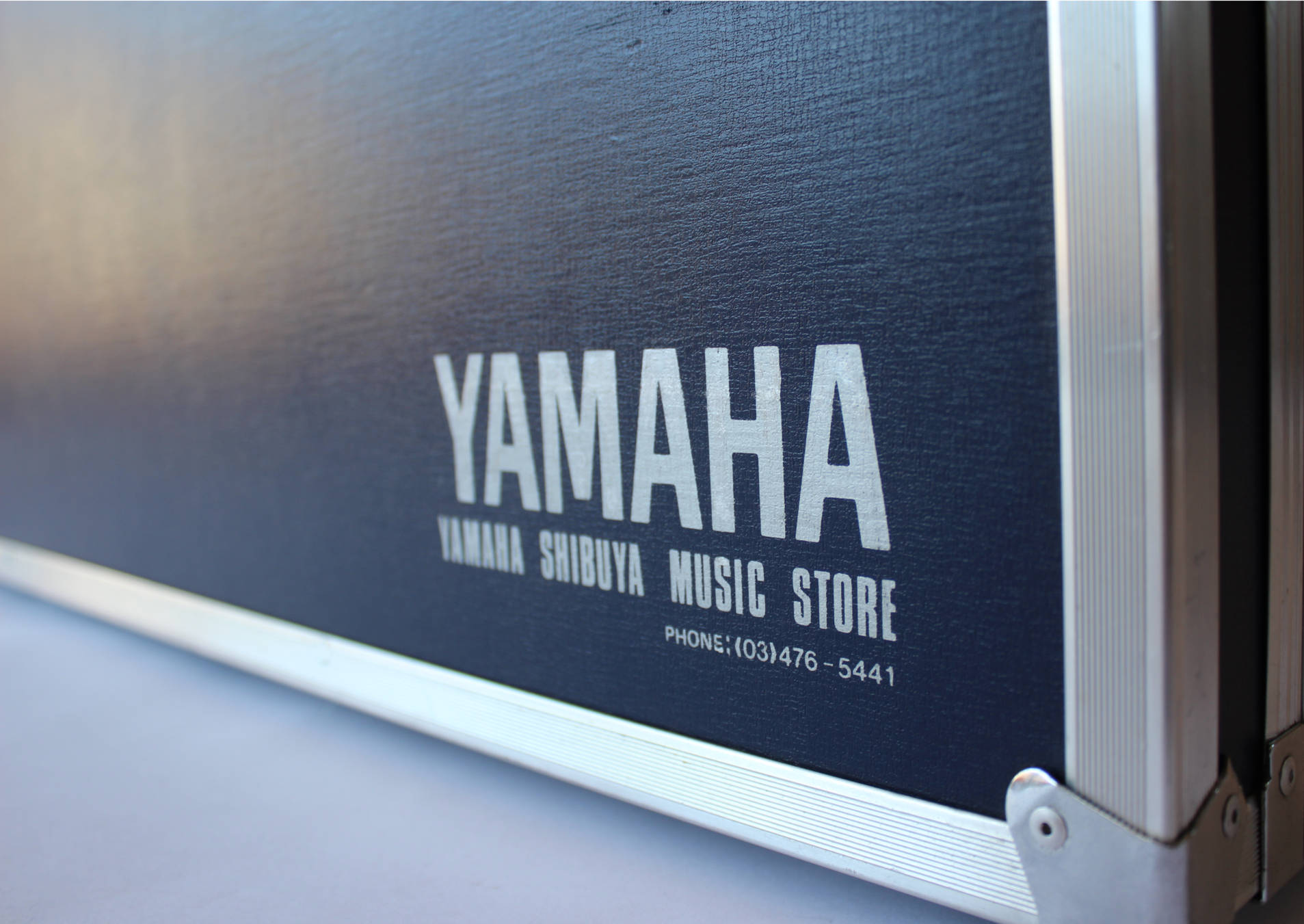 Of the two known blue hard case, the darker one with smoother texture is harder to find as it was either exclusive to Japan or produced towards the end of the DX7's production.

The silver soft case is hard to find in good condition and may have been an aftermarket product.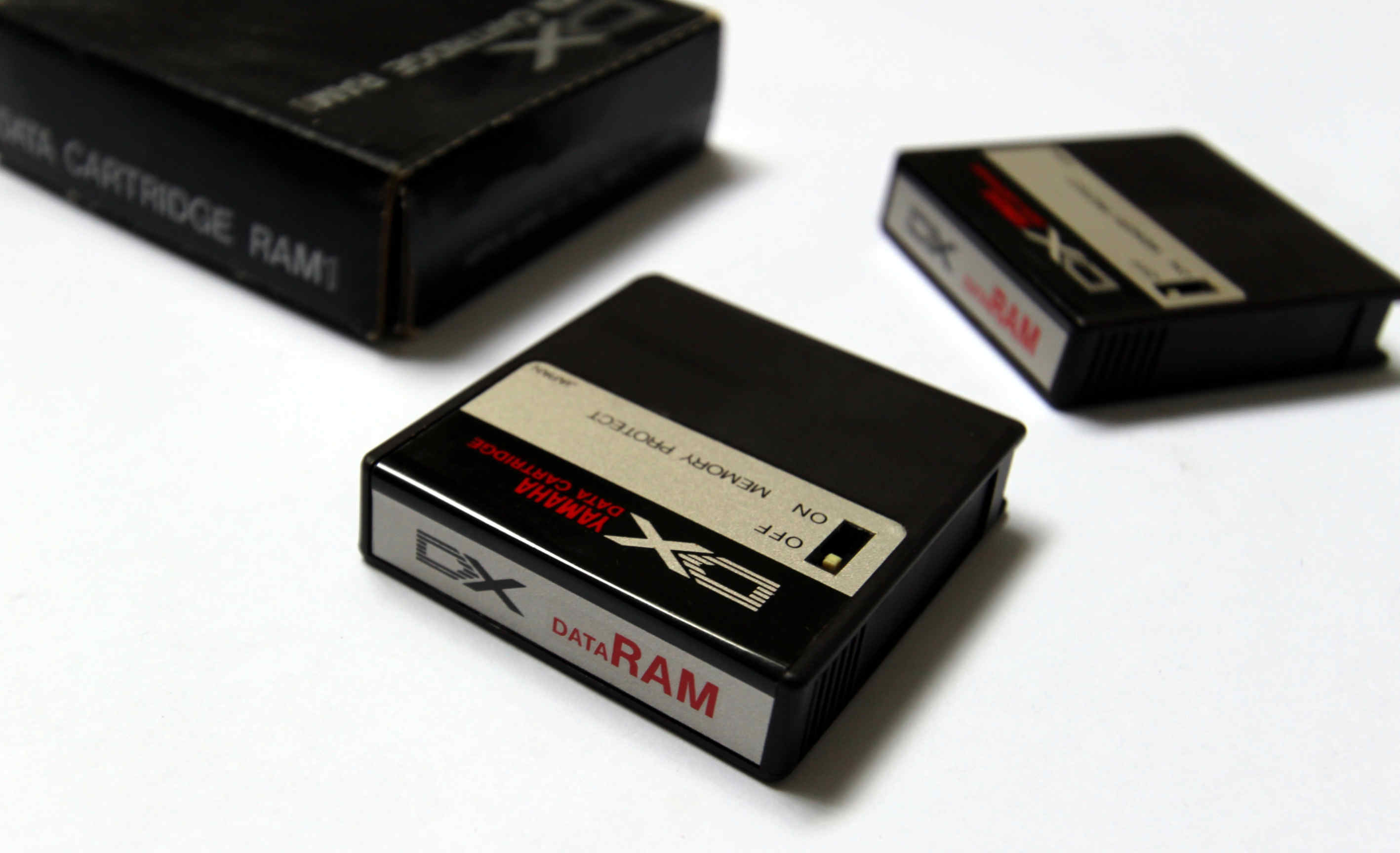 Data RAM cartridges were a neat way to store and transfer additional DX7 sounds. There was also a music stand that connects to the synth via two holes on the rear panel. These were rarely used and are often missing.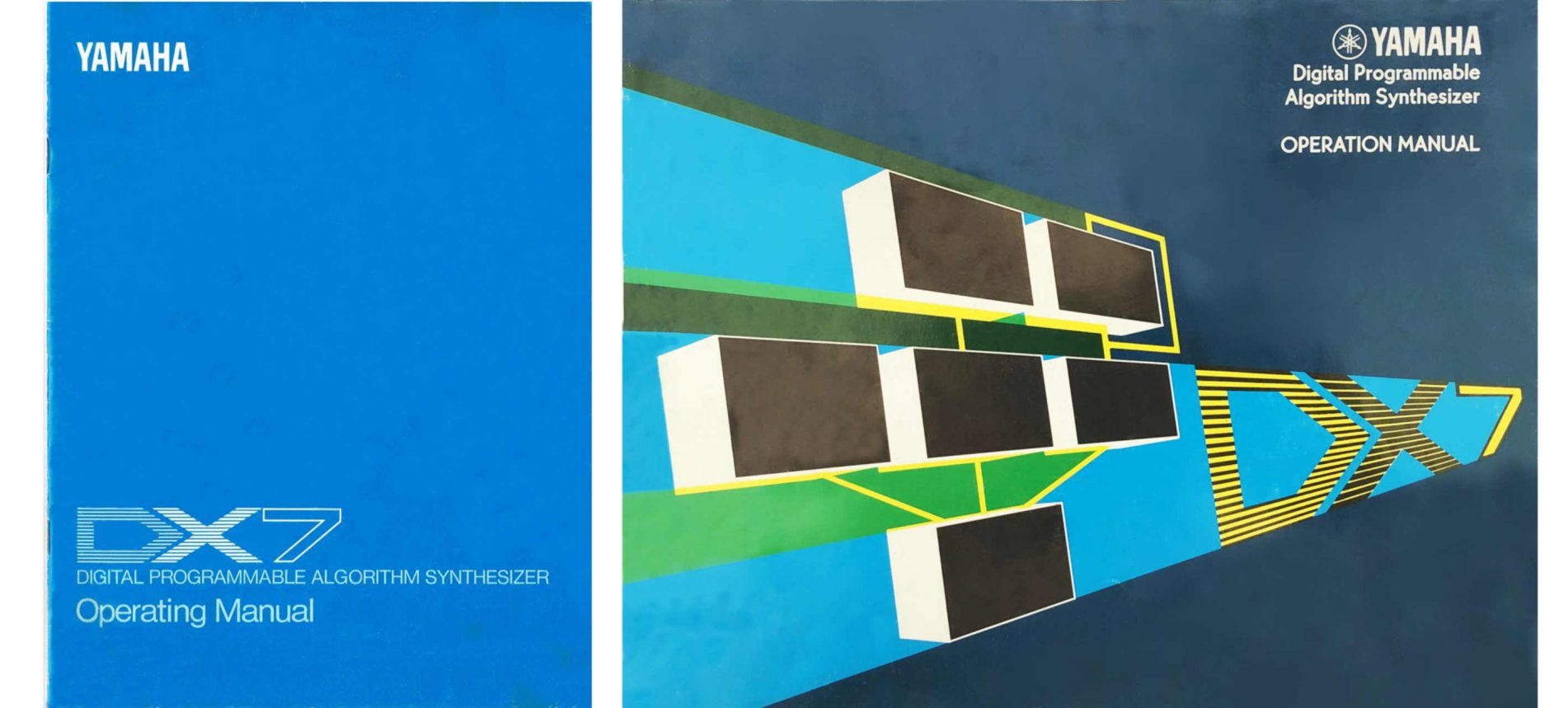 There were at least two different variations to the original instruction manuals, one in landscape layout with  an algorithm graphic on the cover. The other had a plain simple design
Further INFORMATION
Some DX7's still survive with their original boxes which are nice to have if in good shape.
An aftermarket upgrade was available by a company called Grey Matter and units with this upgrade are known as having an 'E" upgrade. The modifications were done internally and the only sign that a DX7 has an E upgrade is from a large sticker you could apply to the front panel. A DX7E will have certain special enhancements but this does not necessarily add more value from a collectability stand point.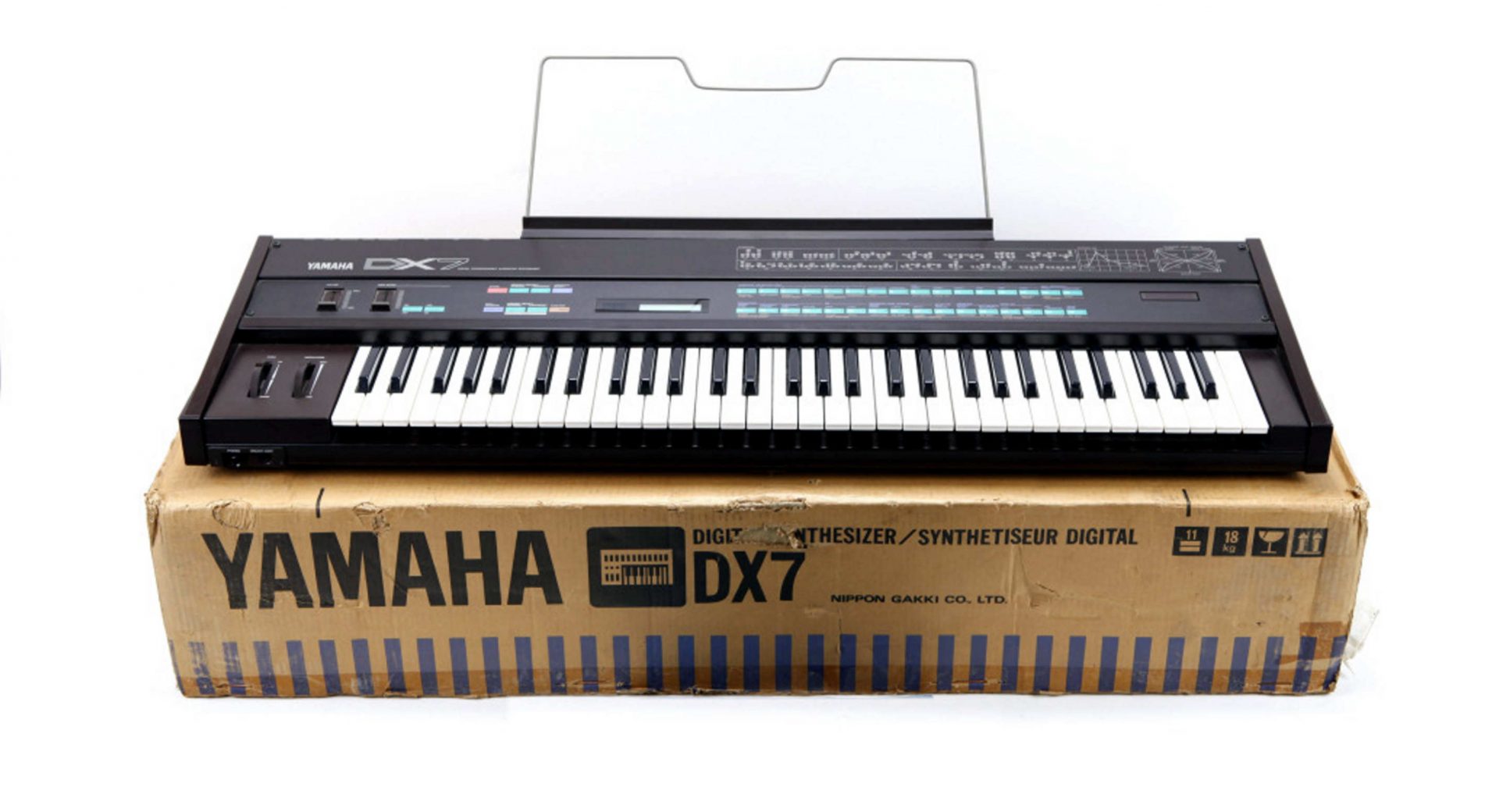 The original DX7 box, as with many related Yamaha gear of the era had these continuous bands of Purple rectangles.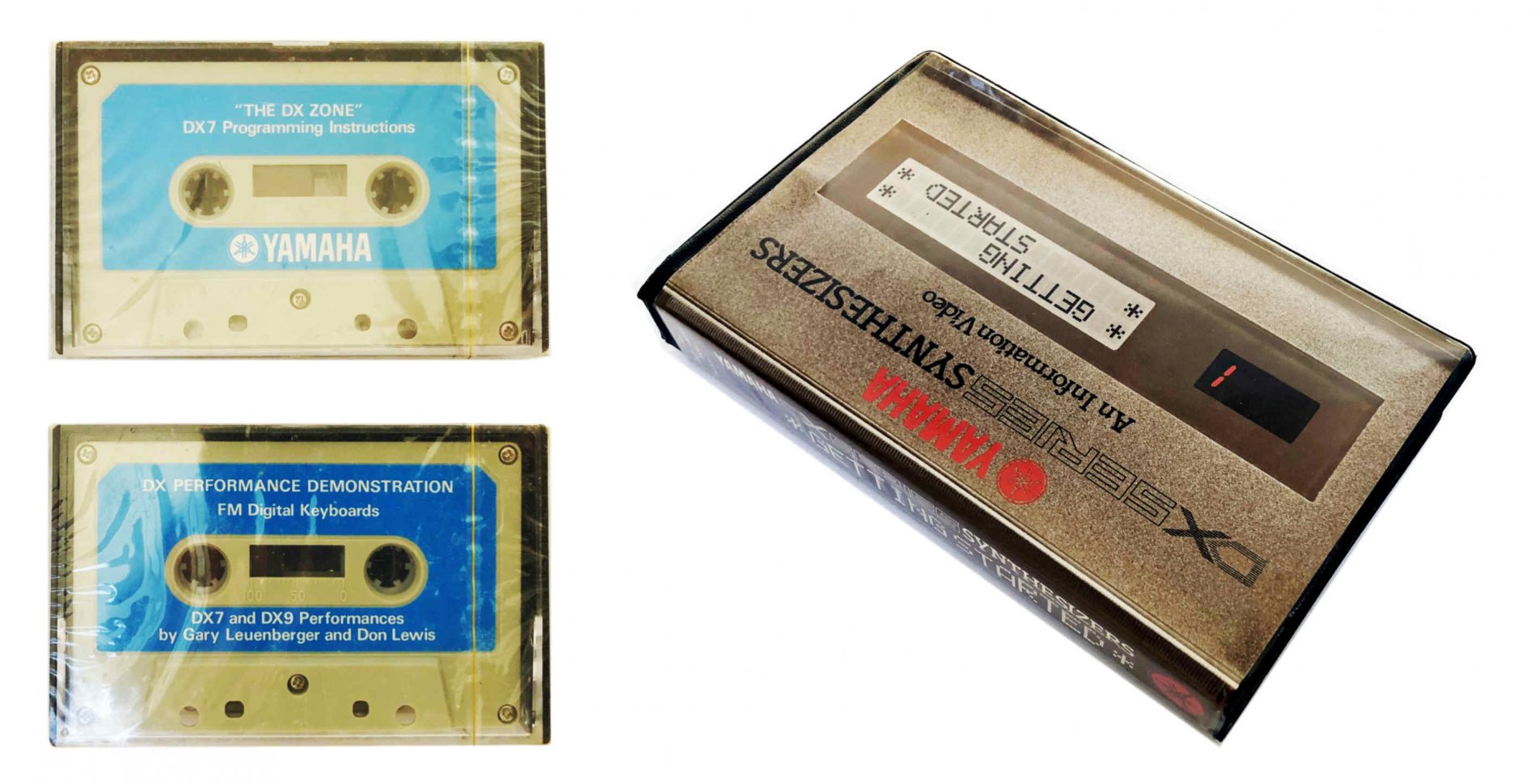 Yamaha also released demonstration and instructional tapes as well as well as an introductory video for the DX series.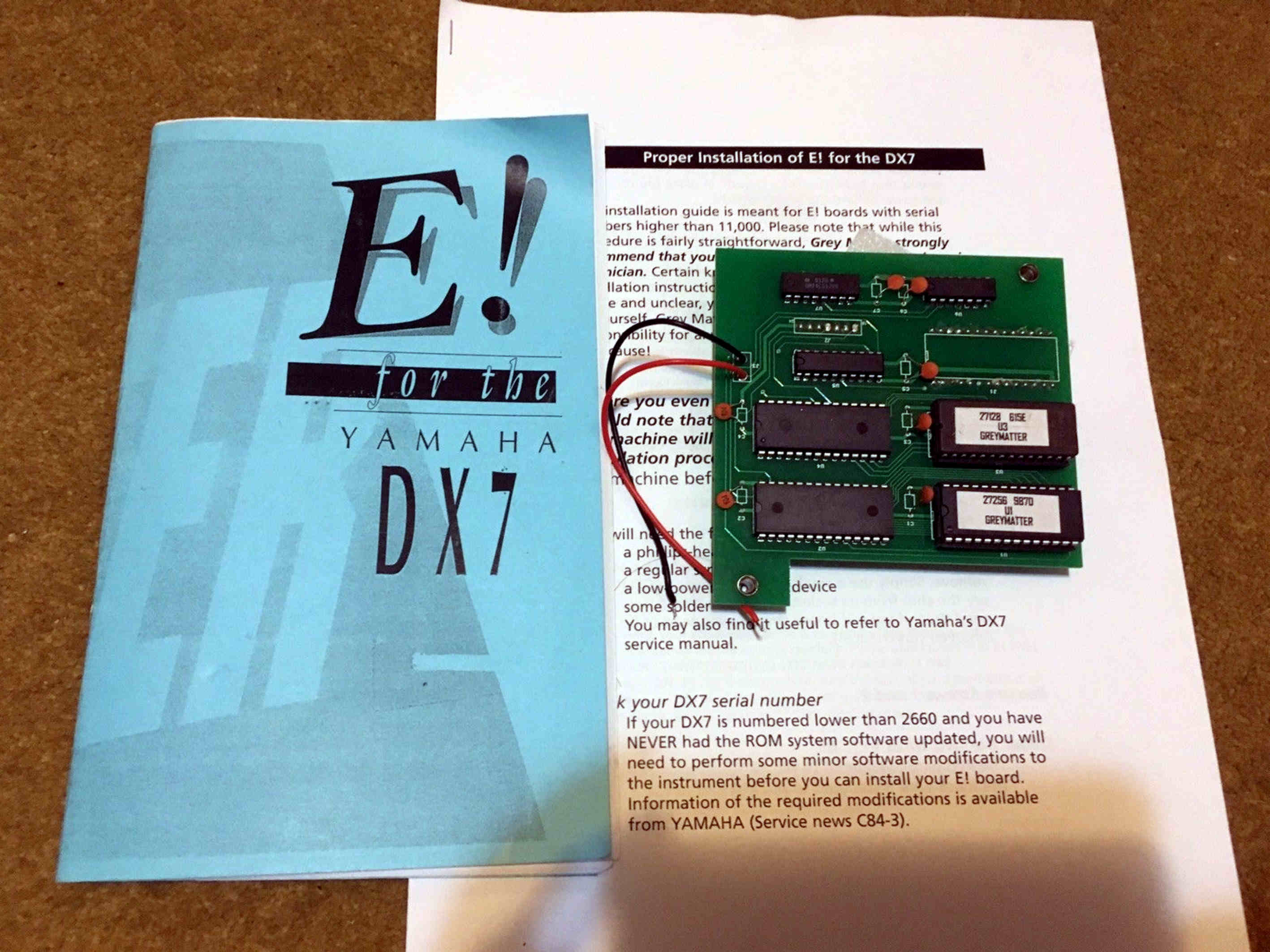 The Grey Matter "E" upgrade kit.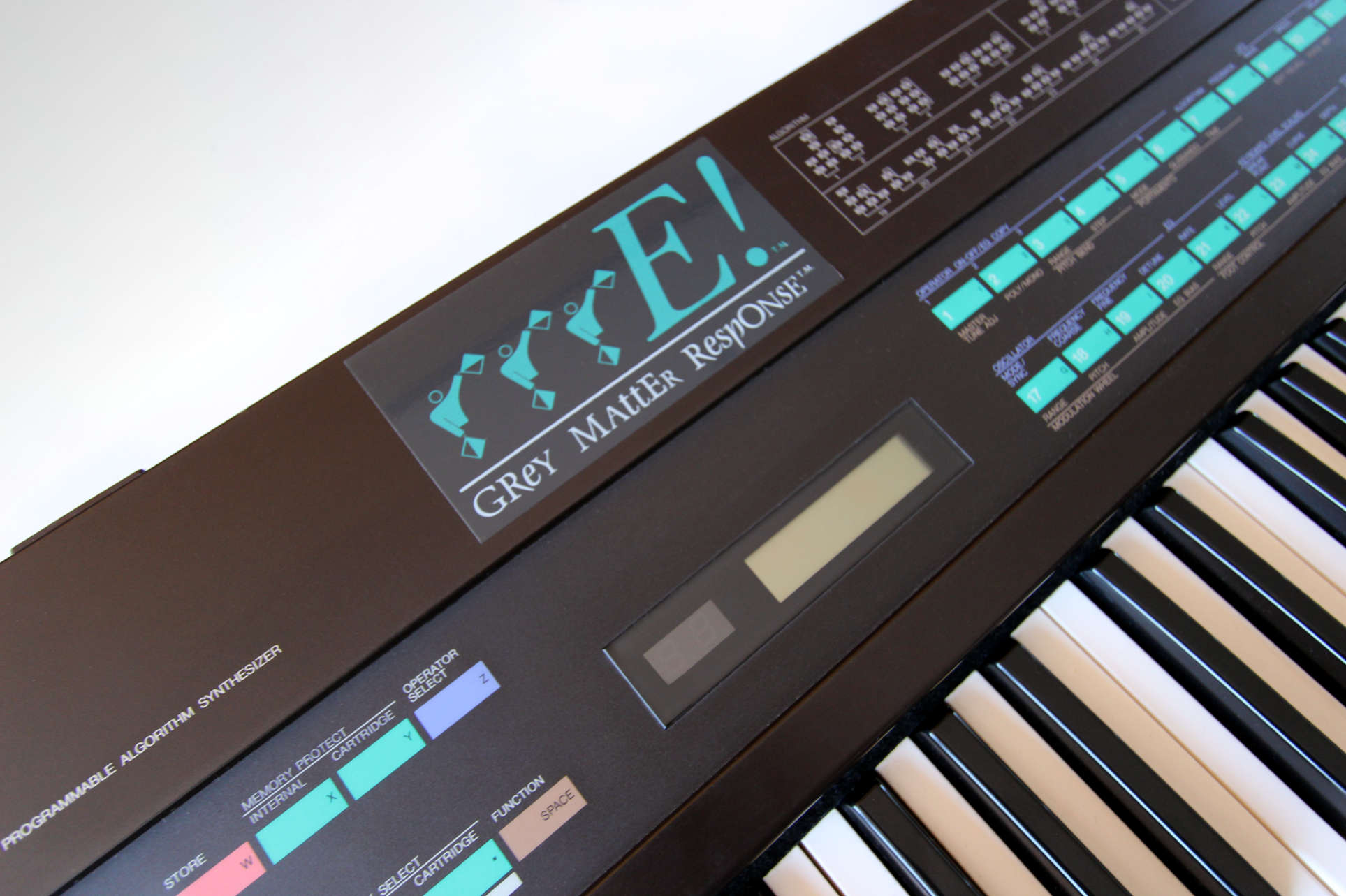 WORD OF THE WOLF.
When we look at the DX7 from a design perspective there are so many things we would like to improve that we cannot say it's a beautiful thing. Fortunately, it does represent a milestone in music technology and we can forgive it for looking almost like a prototype.
While that perspective may seem harsh we think the design team at Yamaha would have agreed with us since the successor models addressed almost everything we've been negative on. Brown has never been used on another synthesizer that we are aware of (including other non-Yamaha brands). The membrane switches gave way to more conventional style buttons and even the concept of making the internals easy to access was rethought to remove all visible screws and hinges. Yamaha built their machines so well anyways that most of the time they only needed a battery replacement every few years.