WOLF retro DESIGN  REVIEW. 2nd October 2020
A retro review looks at products that are at least over ten years old from a present-day WOLF design perspective. While the technology and fashion of the period influence design, and are taken into consideration, great design ideas will transcend their eras to be timeless.
Interesting and factual information may be provided, but our review aims to deliver insight from the perspective of a designer's mind and eyes.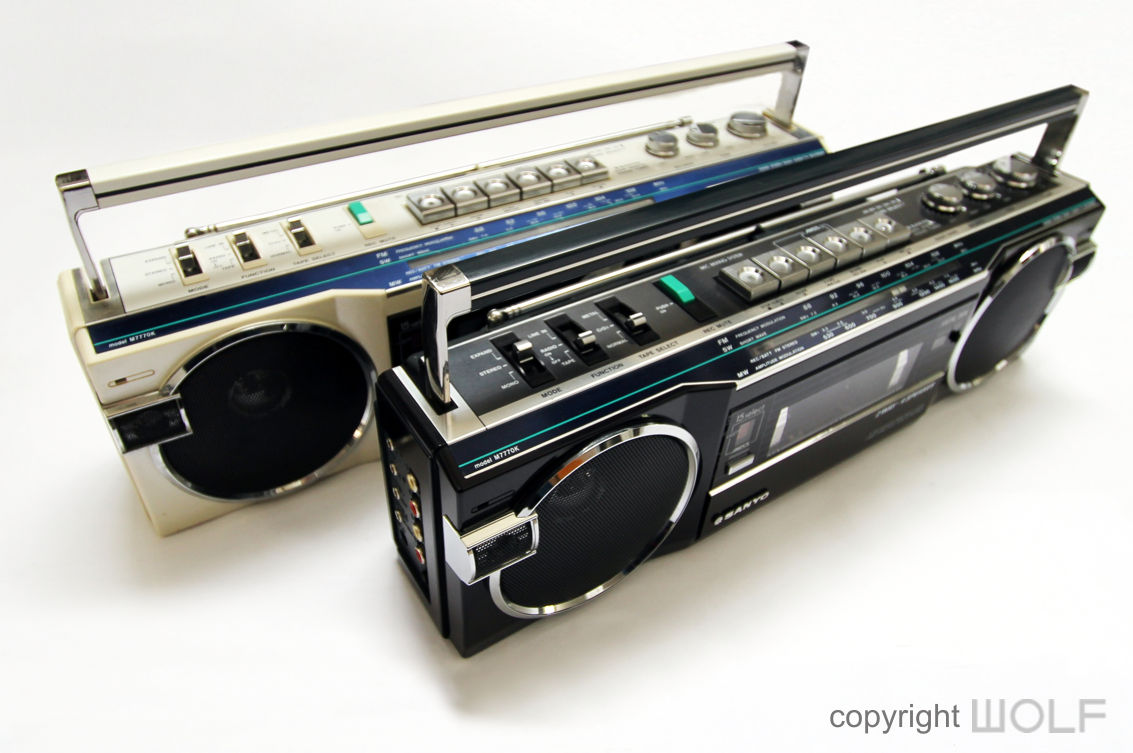 A must have for any teenager in the 1980s
Introduction
Product description
The Sanyo M7770K is a small portable cassette recorder from 1984. Considered a mini boom box this unit features a cassette player/recorder and radio tuner.
Price and Availability.
These units remained hidden for many decades, mostly in peoples garages. More recently they have started to show up on the second hand market in greater numbers but often rather scratched and beat-up. $50 will land you an average one that might still work. Expect to pay a few hundred for a fully working mint one.
Additional information
There is very little information available about these online. We only know its age because we owned one new back in the day. They were available in three colours, purple/black, white and red. From our research the red one seems to be the rarest.
Review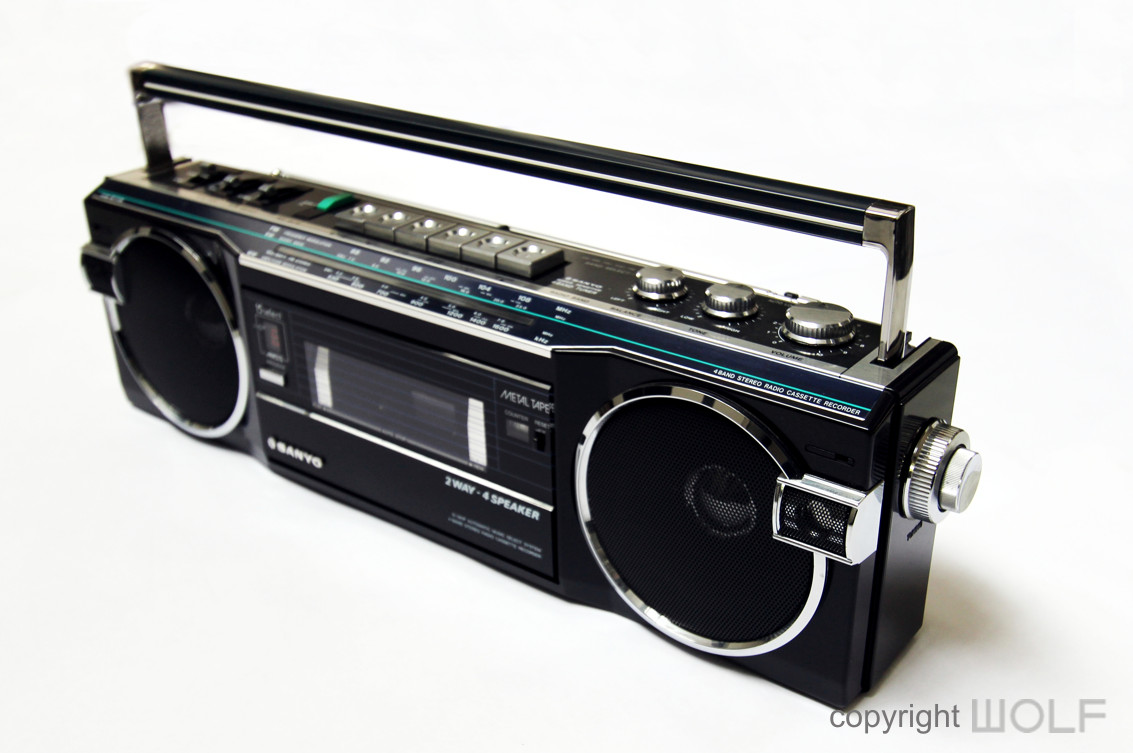 First impression/ Delight
The unit in this review is the purple/black variation which we think is the best looking of the three colours available. It is compact, practical and rather smart looking in our opinion. Against other small cassette/recorders of the same era, the M7770K certainly has an edge with its shape and abundance of chrome.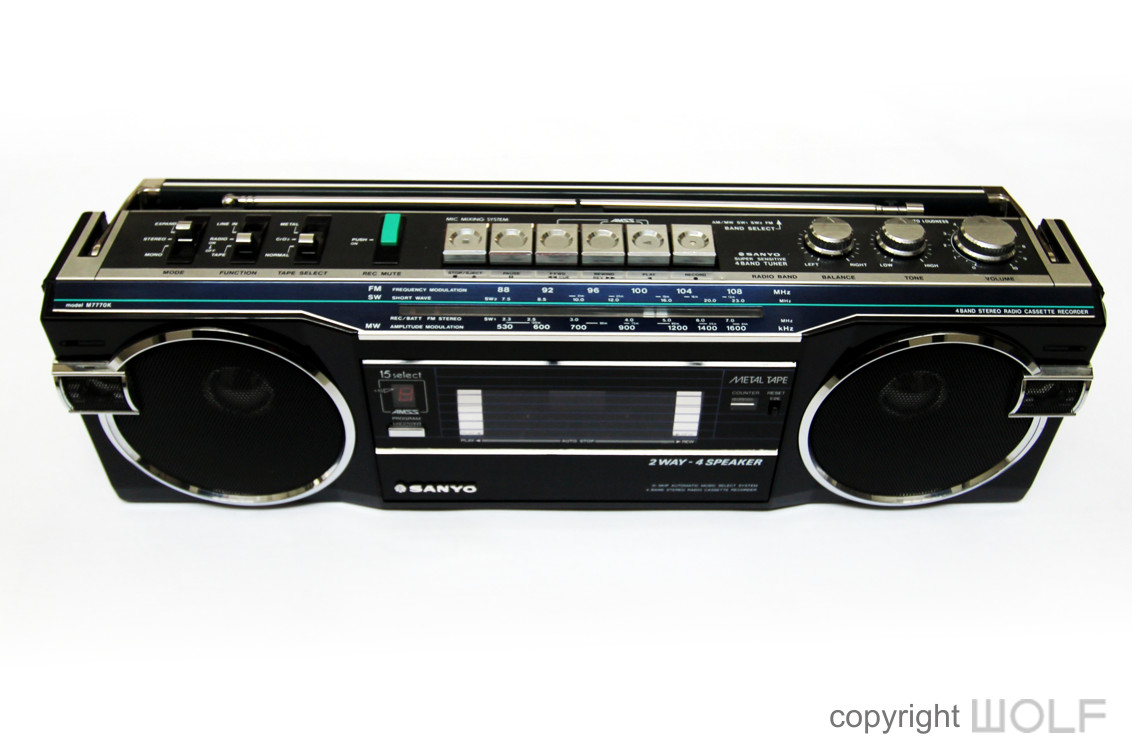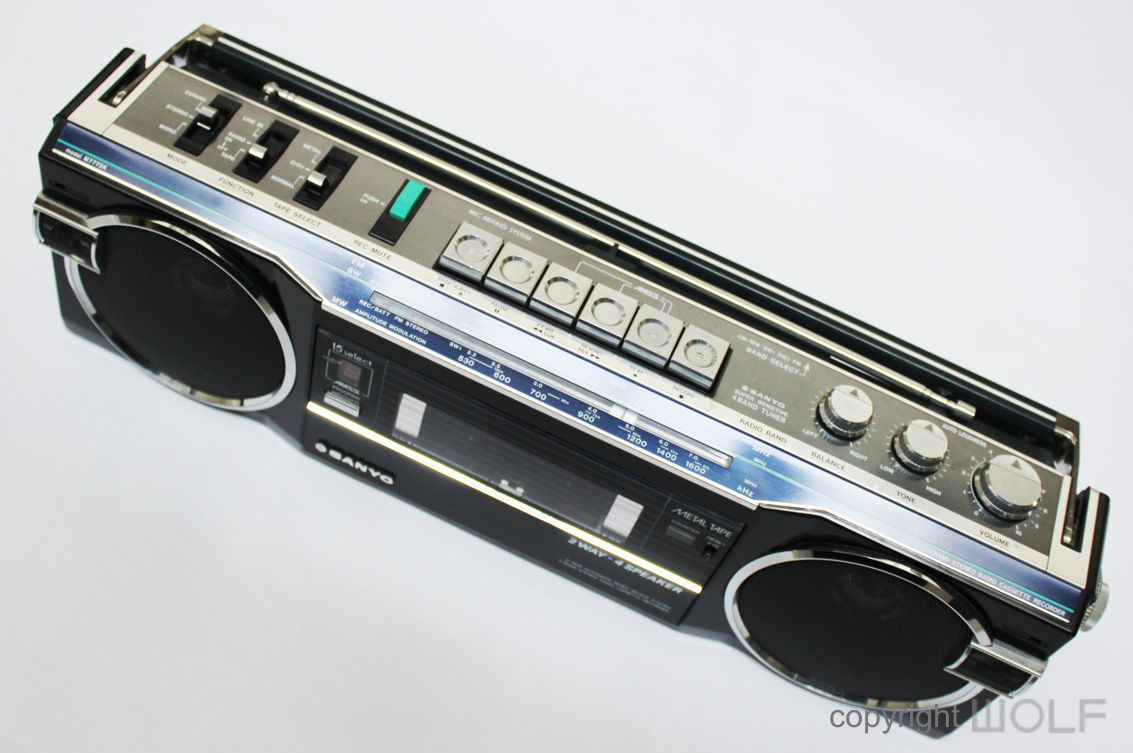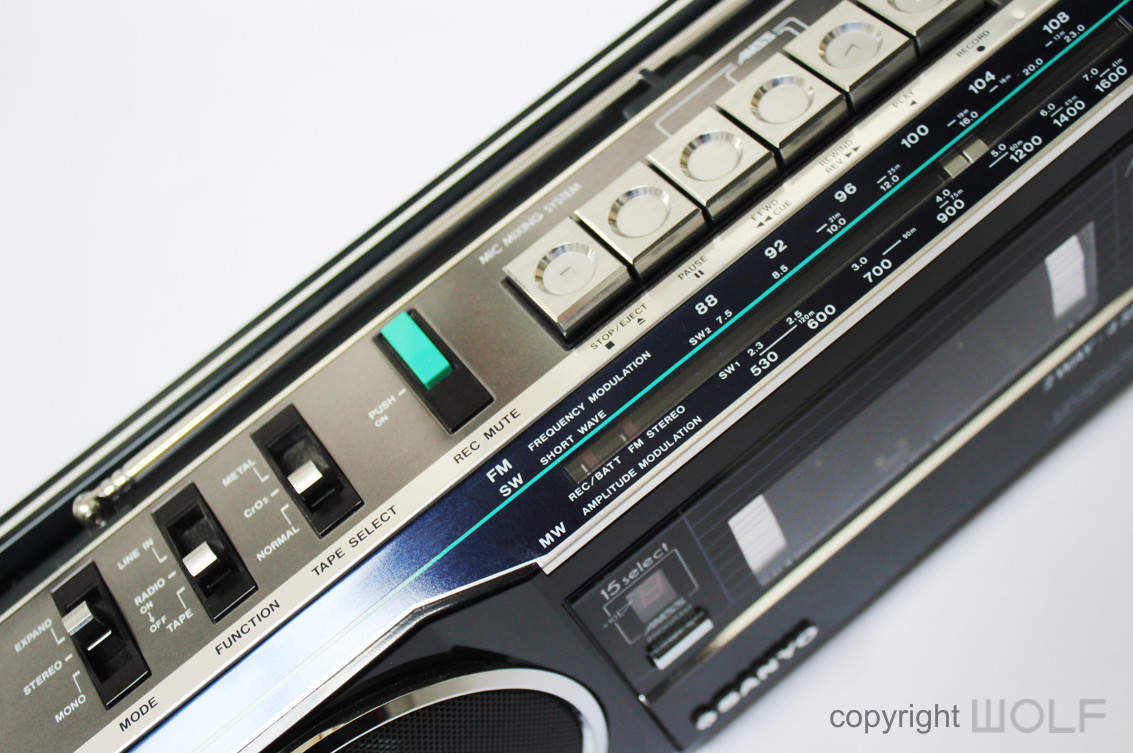 Exterior Design Review
Unlike most 80s boomboxes with their boxier looks, the M7770K has is a certain sleekness that is due to well considered design features. This sleekness is further accentuated by a sophisticated combination of cool colours. The cassette housing protrudes slightly from the speakers and merges with the tuner above it with a bevel on each side and one above it running the length of the unit. This blending of shapes feels almost sexy and also has a practical aspect in making it easier to read the tuner display.
While this machine appears predominantly black it is in fact a very deep purple. The tuner display has a lighter shade of this and is rather beautiful. The colour is unique and balanced nicely by blue and aqua lines. The top plate is in a cool gun metallic grey. Almost every button, edge, and trim are chrome plated. All that bling on plastic would typically look cheap but in this case it's a nice touch.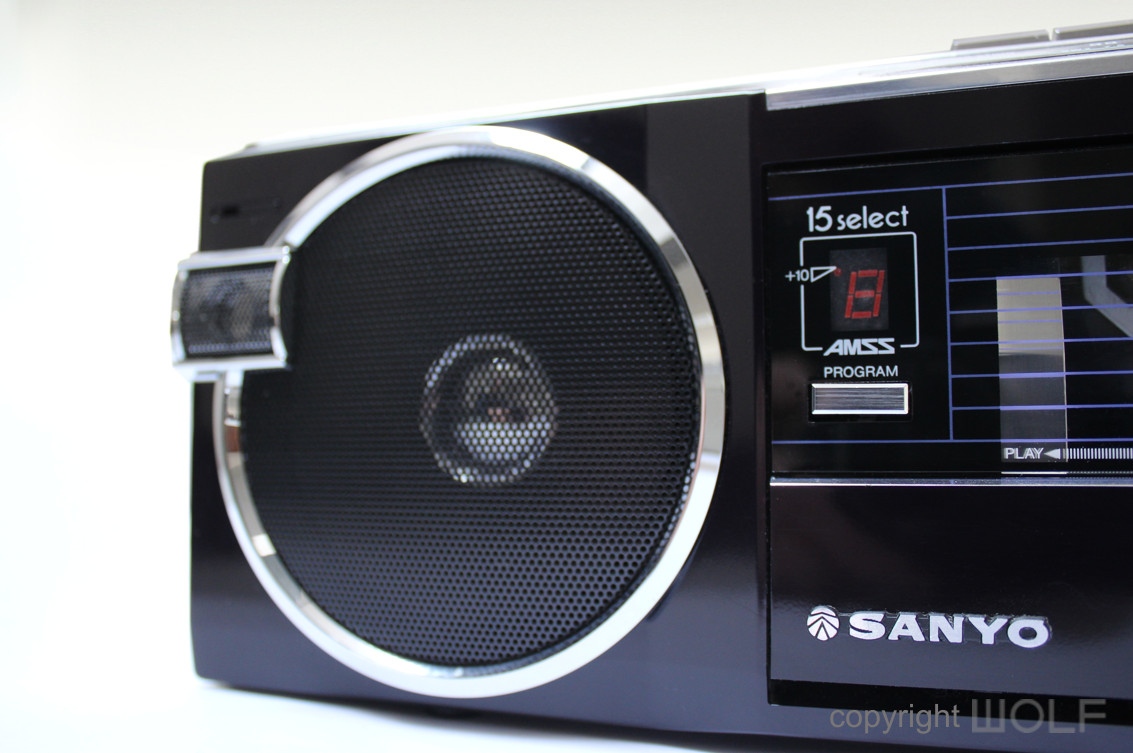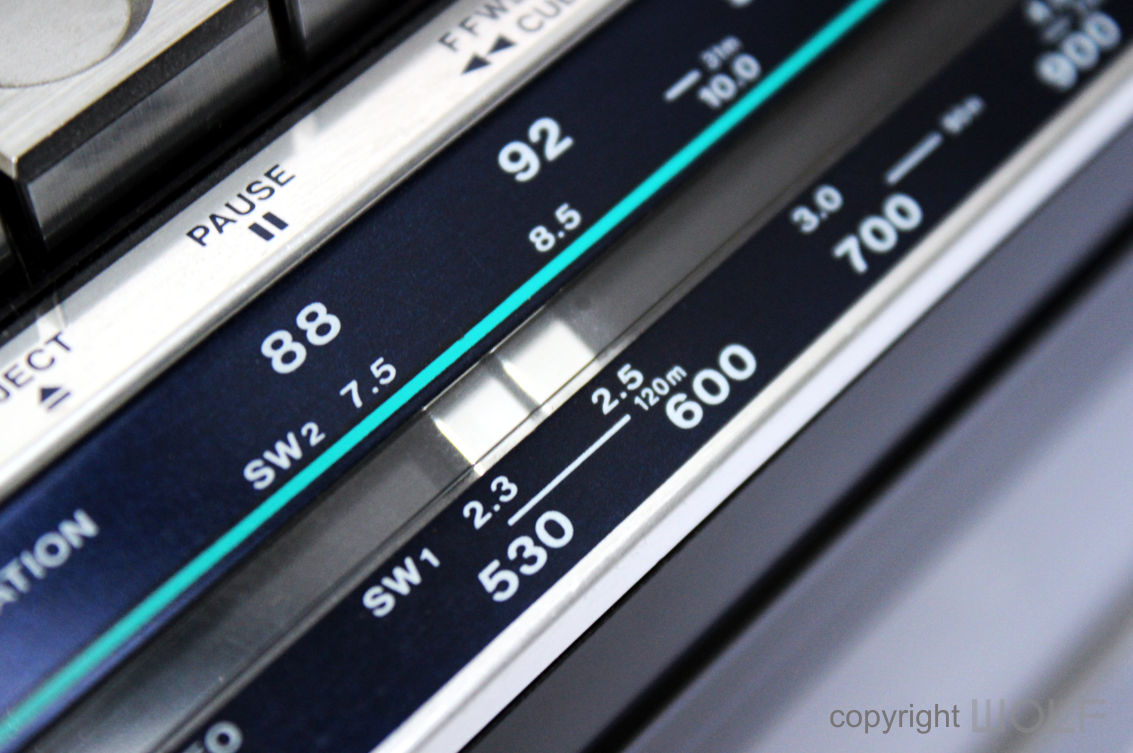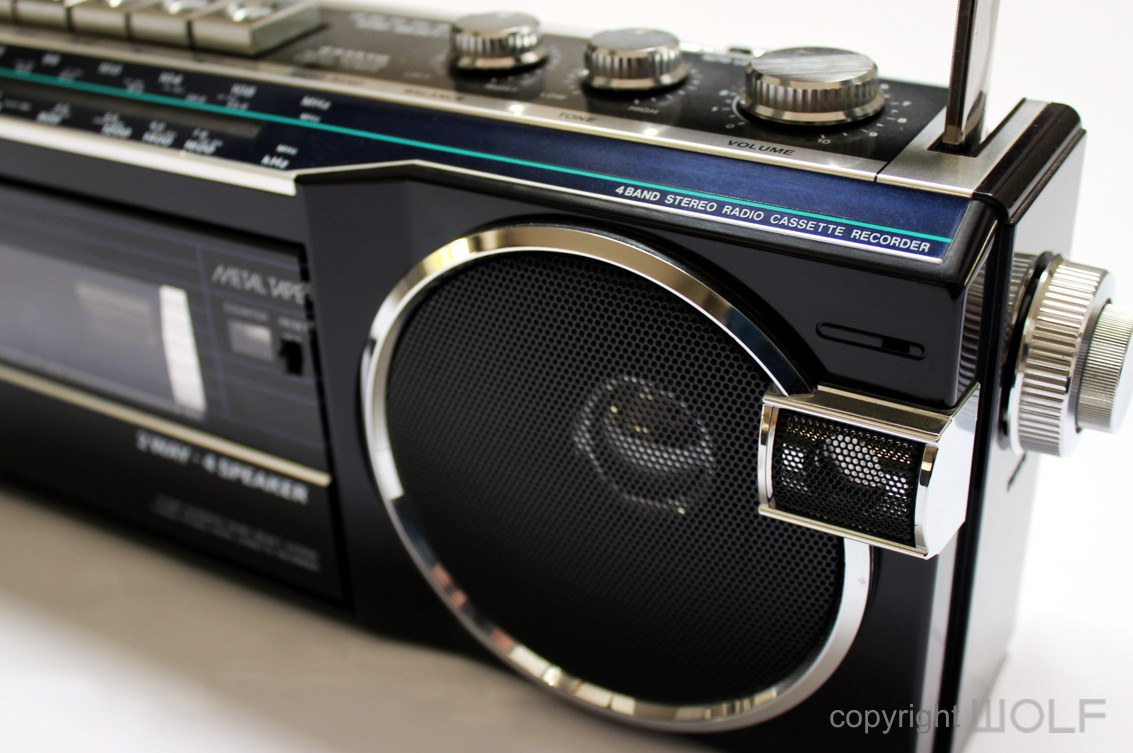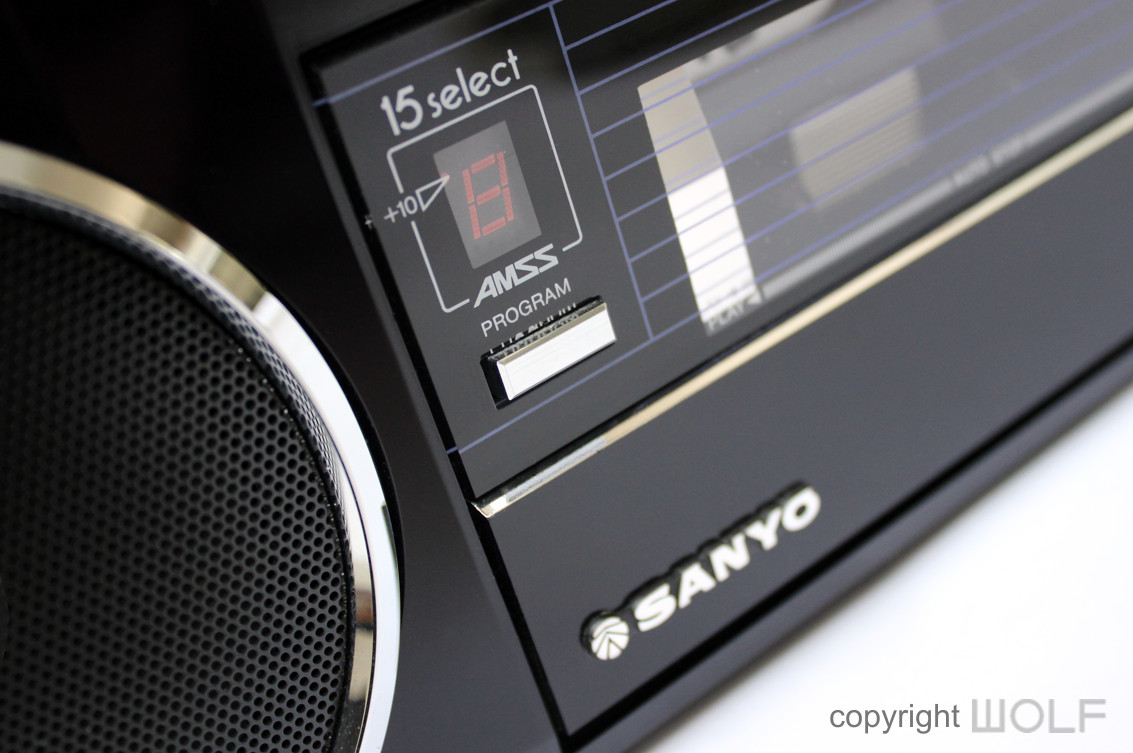 Craftmanship.
Externally there is a combination of plastics and metals in a variety of textures and tones. This machine is well assembled considering the rather diverse combination of elements. Although designed to be affordable it is well built so it's rare to find one of these with missing or broken parts. Quality is felt in all the buttons and controllers. We like the chunkiness of the sugar cube like buttons and even the handle is sturdy and substantial.
Although the plastic is durable we noticed that most white units have yellowed with aging, and that's another reason why the purple/black ones are looking better with age.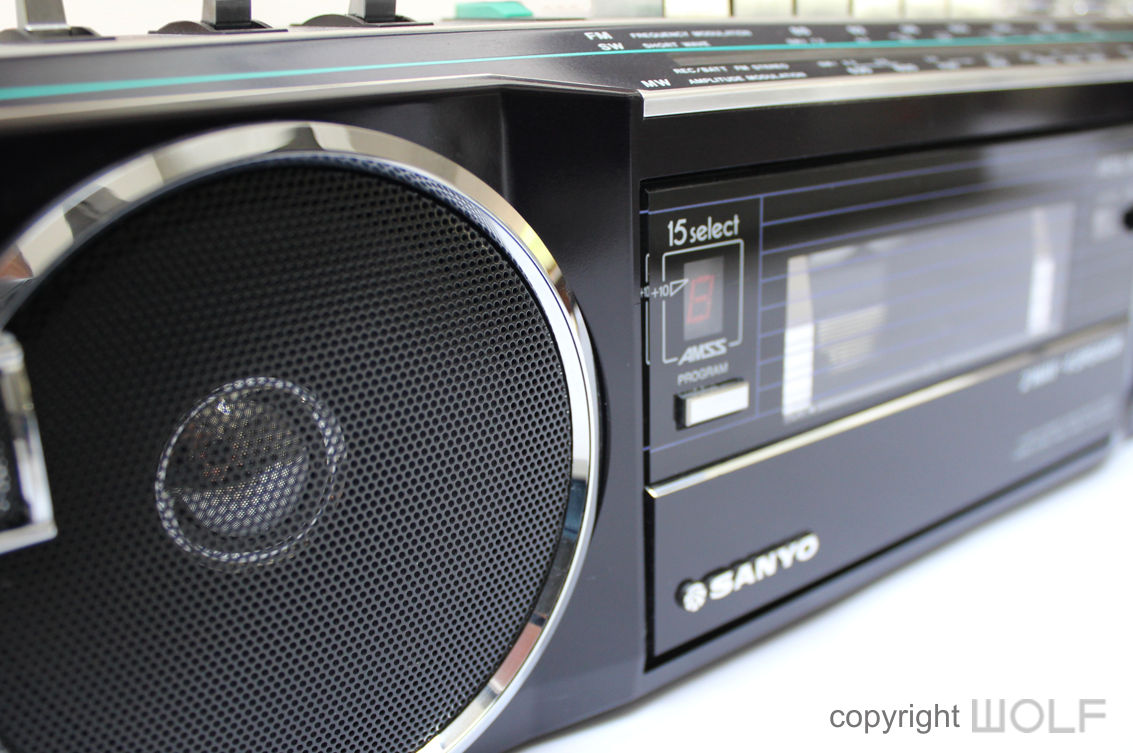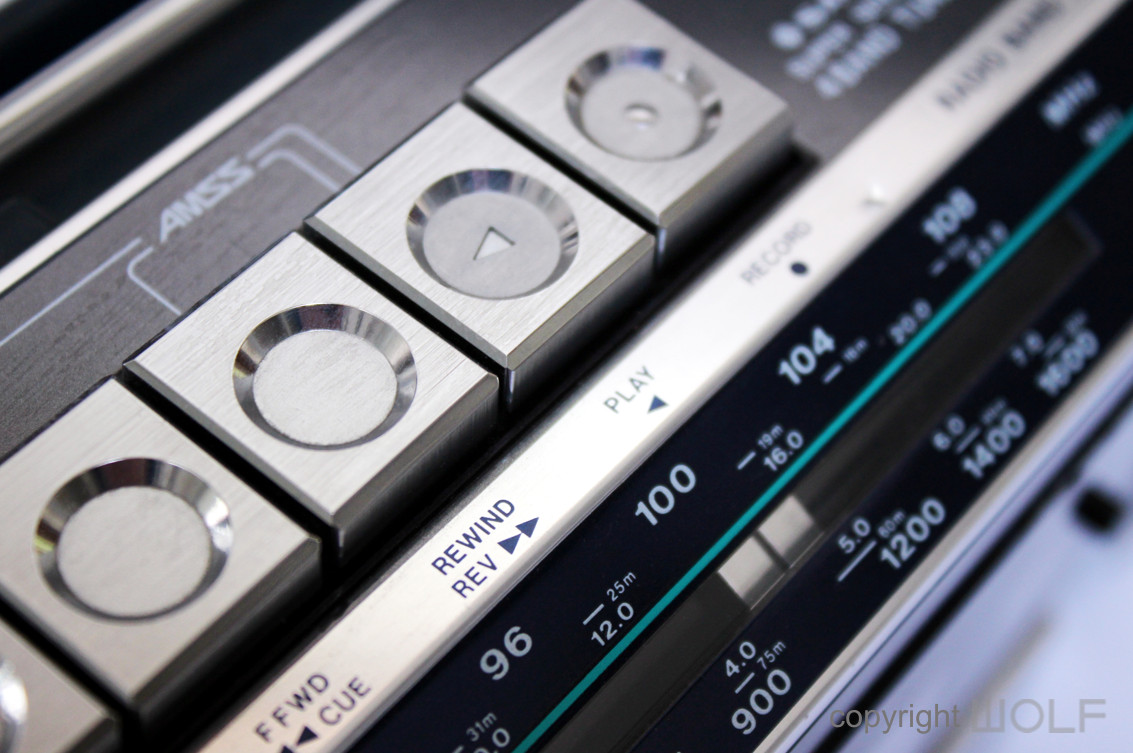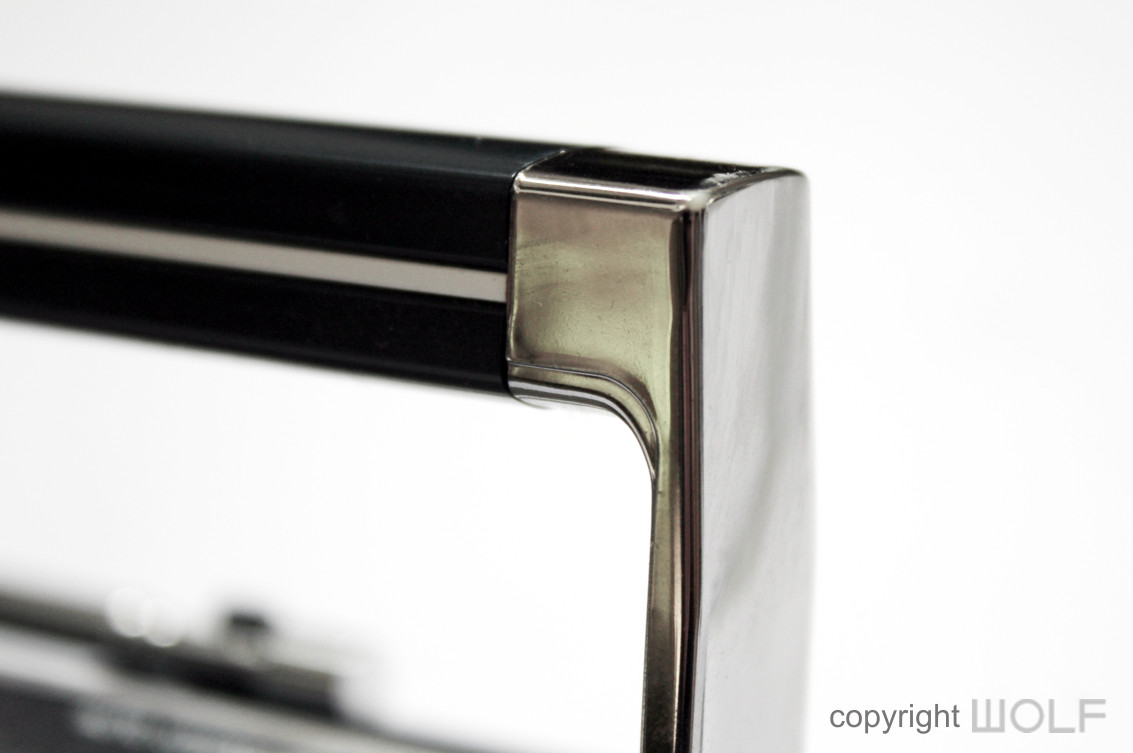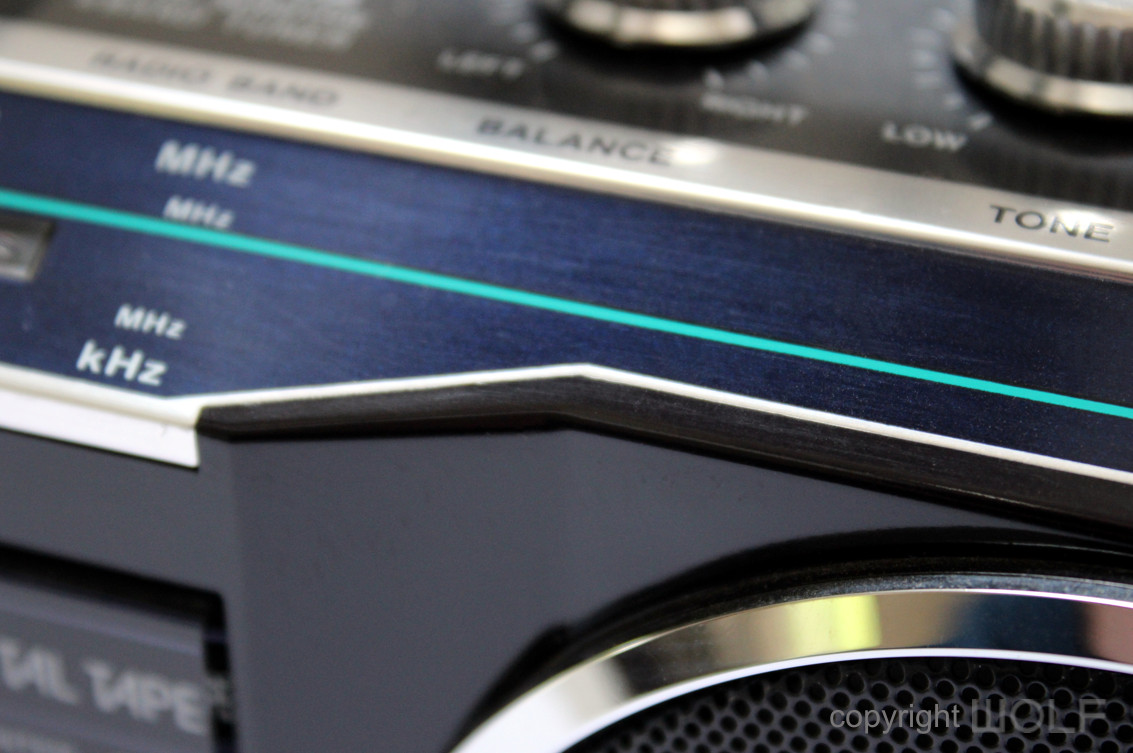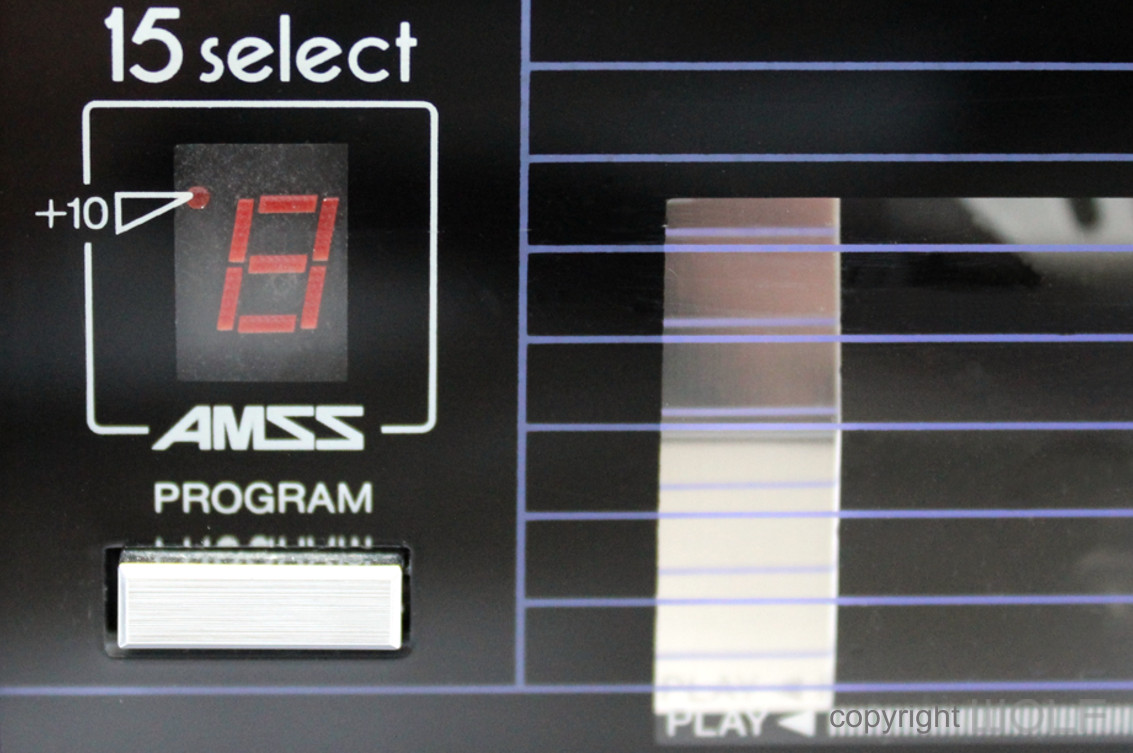 Not sure why the graphic lines on the cassette door had to be violet? We think aqua to match the other graphics would be more consistent.
FUNCTION- Experience.
This unit stood out from its competition at the time with its cool red LED display that is for the AMSS (Automatic Music selector). Not only was it cool to have an LED in 1984 but AMSS was a very advanced function that read the gaps in between songs on tape. Like a CD player you could fast forward to the end or beginning of a song, very novel tape technology!
The chrome tuner dial is typically on the right end and feels smooth to turn. Likewise, all the other buttons and lever controls move with expected precision and their chrome finish feels durable and clean.
The round dials all have ribbed edges for better grip, but they also look classy like classic Rolex watches.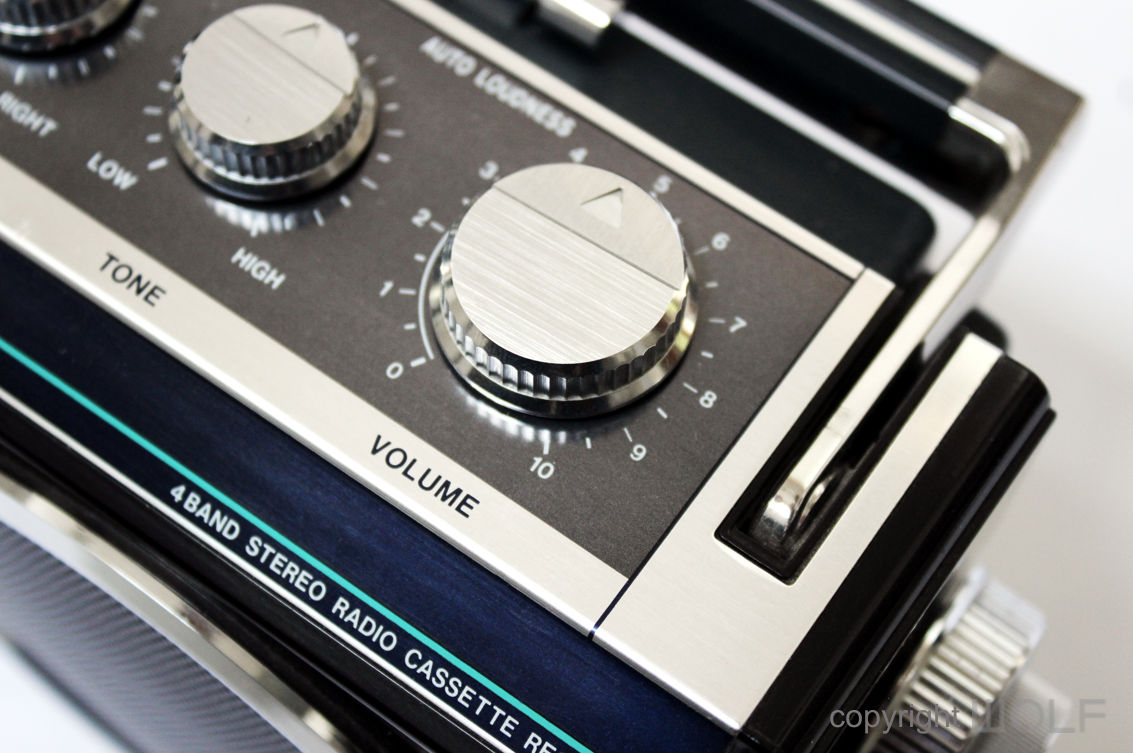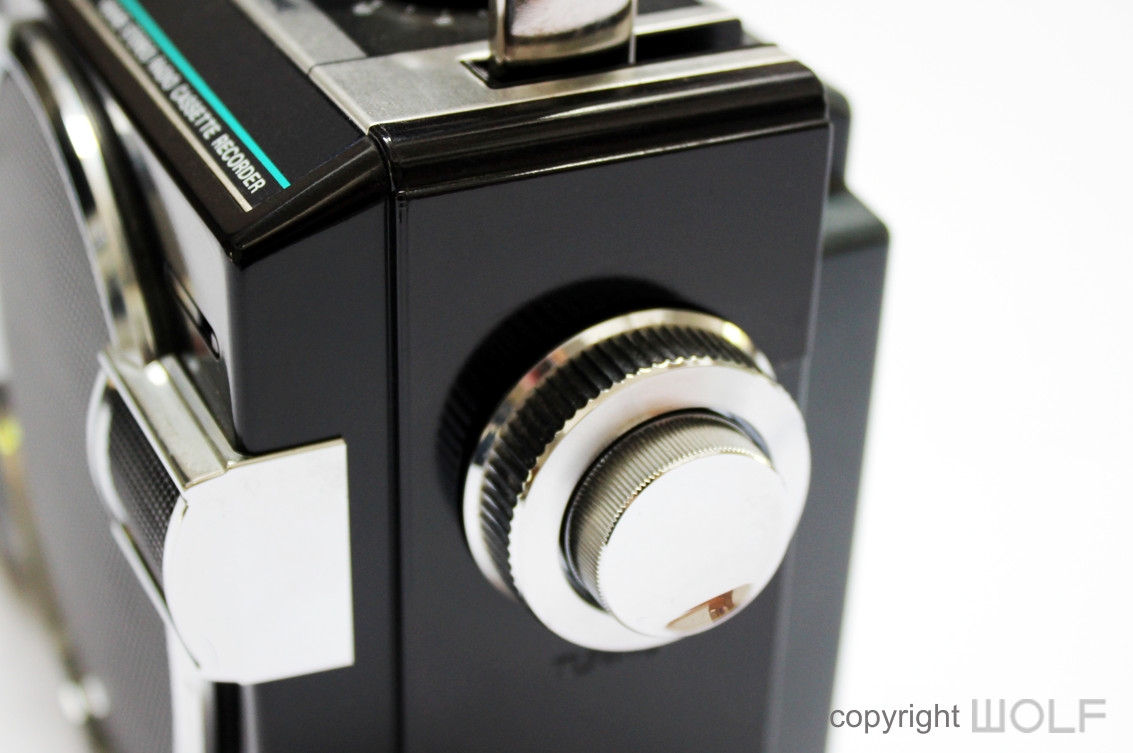 Were these round dials inspired by Rolex?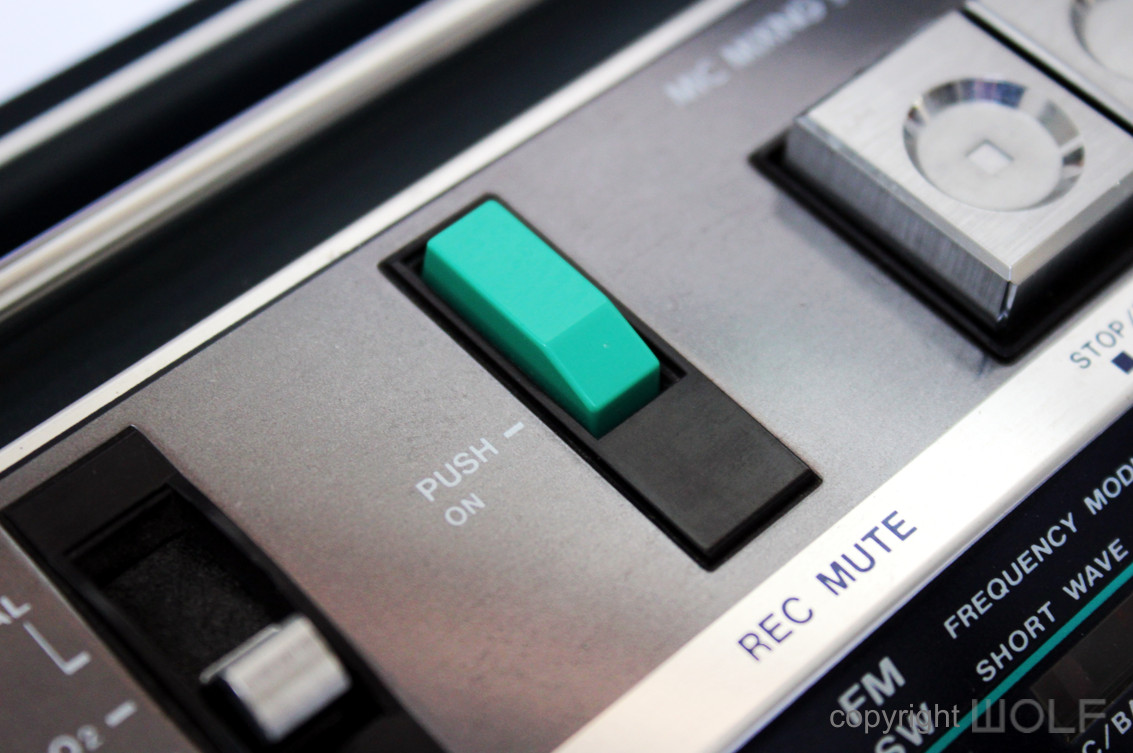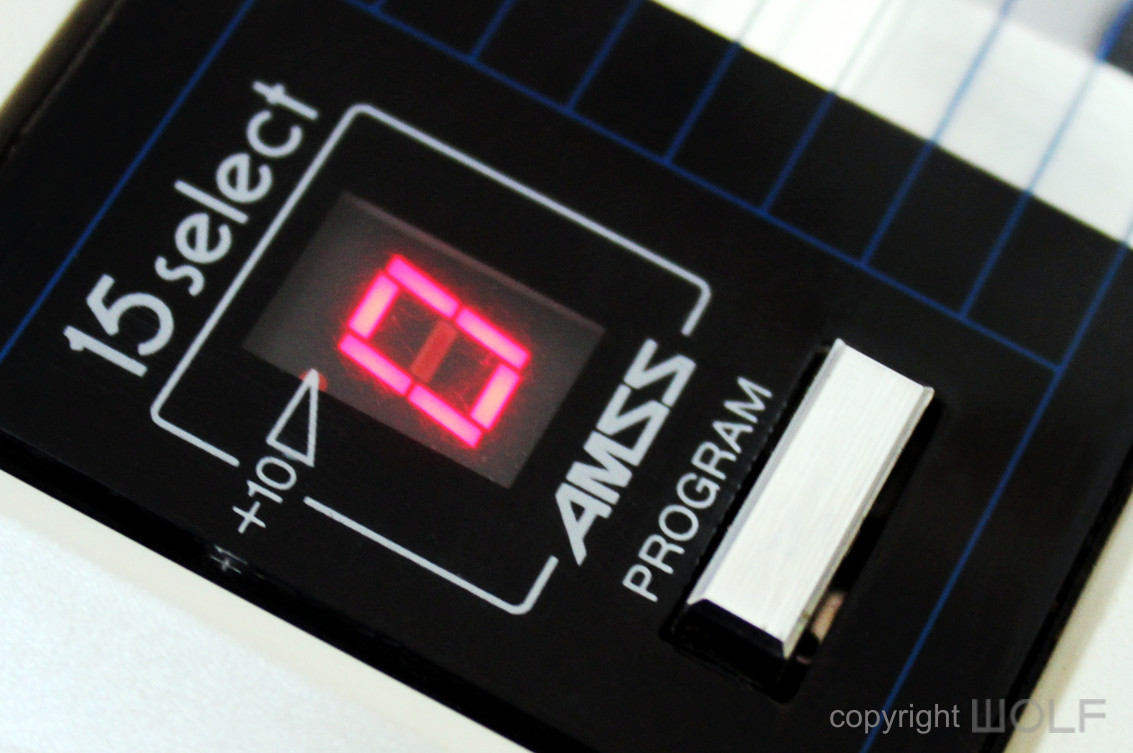 15 select! Who needs CD technology?
Desirability / Collectability
These units are quite hard to find in mint condition. Collectors have taken note of their sophisticated cool looks and you may need to pay more than you expect to own one. Most of the time the tape component is non-functional but these can be fixed. You will find the sound is quite impressive for a small retro machine and it will bring back that cool 80s feeling with smiles to you and your friends.
Expect to pay anywhere from $200 upwards for a mint condition one with working cassette tape. If you hunt long and hard enough you could even find one with original manual or box.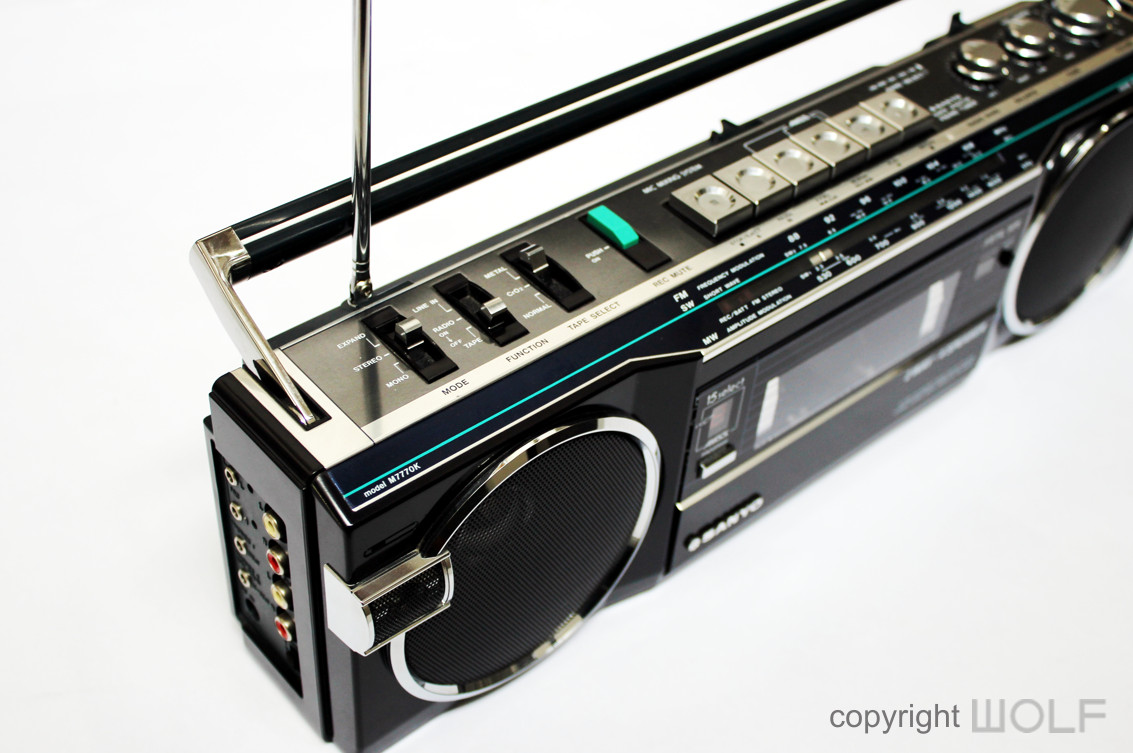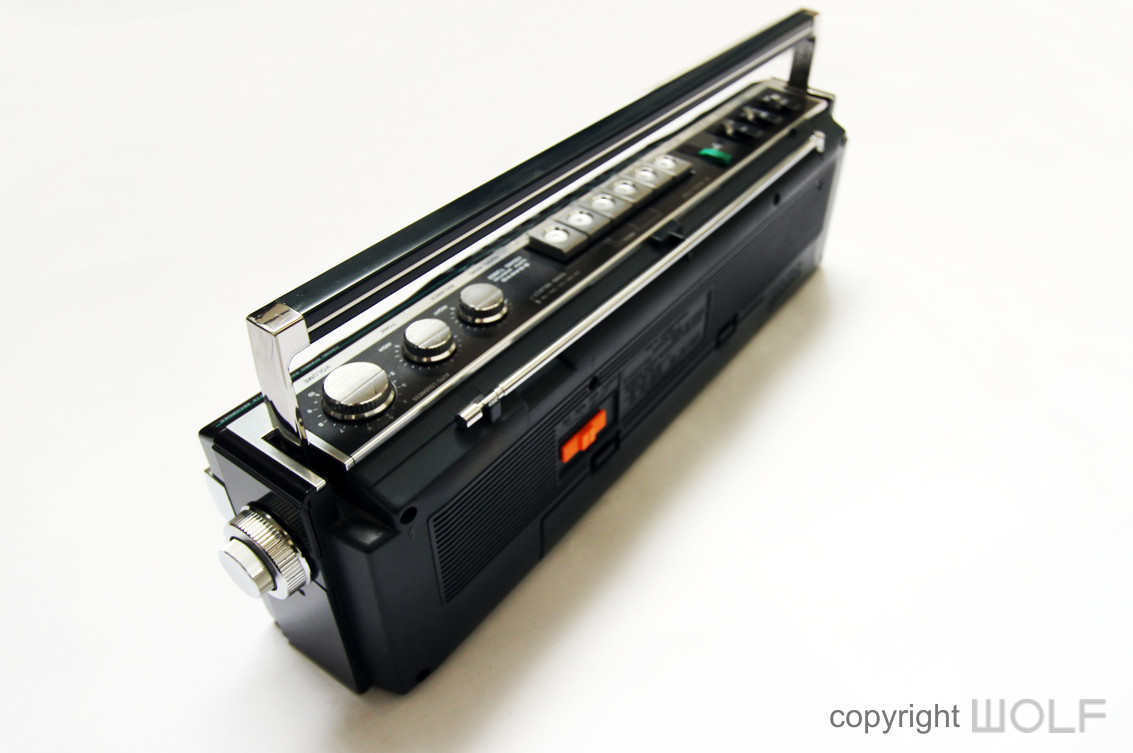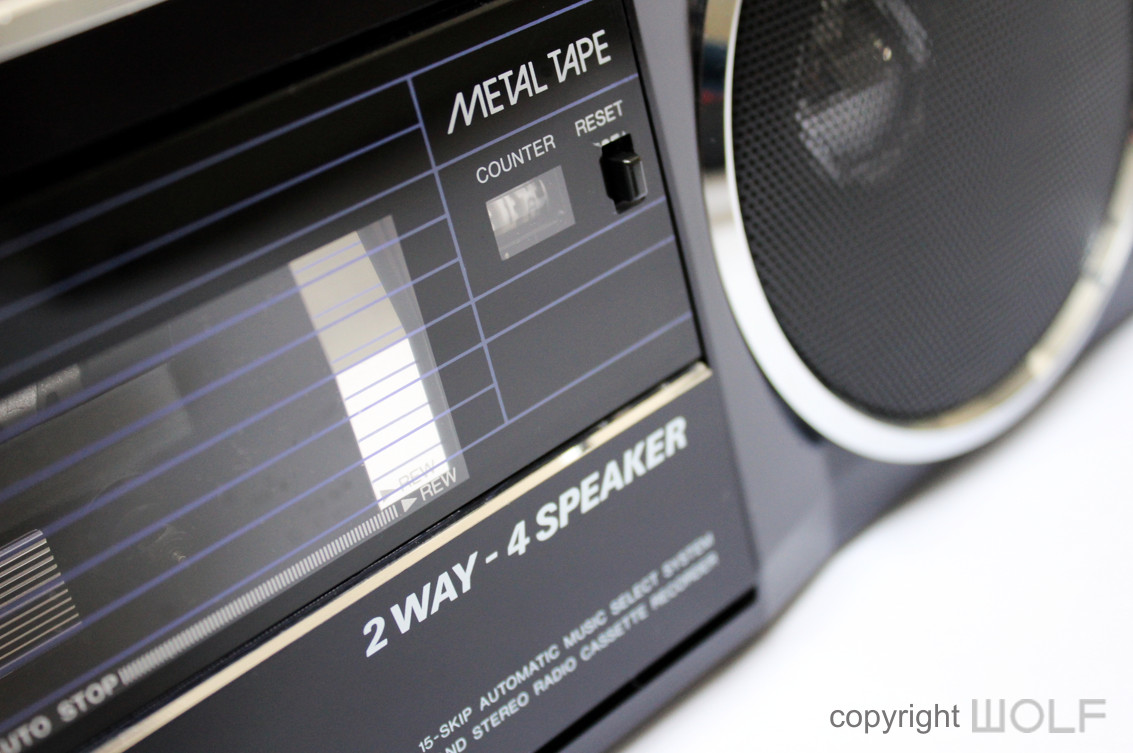 2 way – 4 speaker, must mean something to be printed in bold?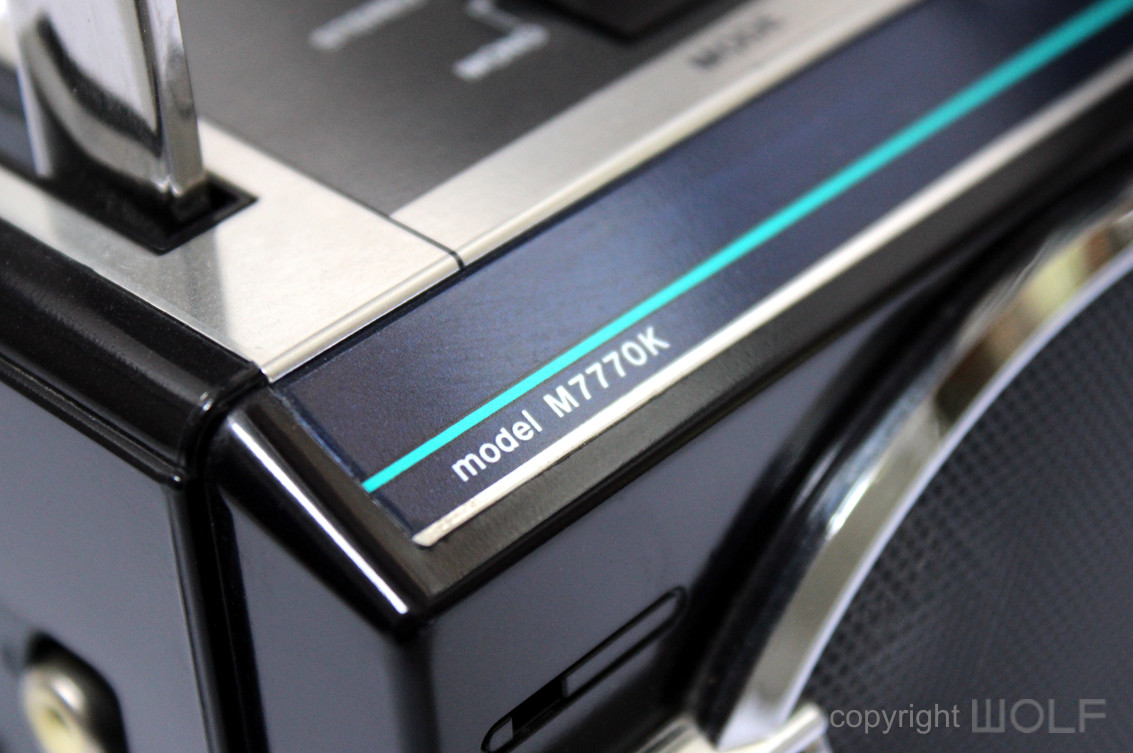 WORD OF THE WOLF
We love products from the 80s because despite the excessiveness of the era it was a time of innovation and design. The M7770K is a mouthful for a name but apart from that we think it's a very well-designed machine was slightly ahead of its time for mini boombox design. The subtle material pallet is deceptively complex and needs to be explored closely to be noticed. We appreciate the detail which adds to the overall sleekness.
From a design perspective it's sophisticated and well considered throughout. If only the designers found a way to encase those speakers in a more rectangular housing, the score in this review might have been a whole point higher.
Our advice is to go for the purple/black one which seems more elegant. The chrome trimmings get lost on the white one, and although the red ones are rarer, they look more plasticky and cheap.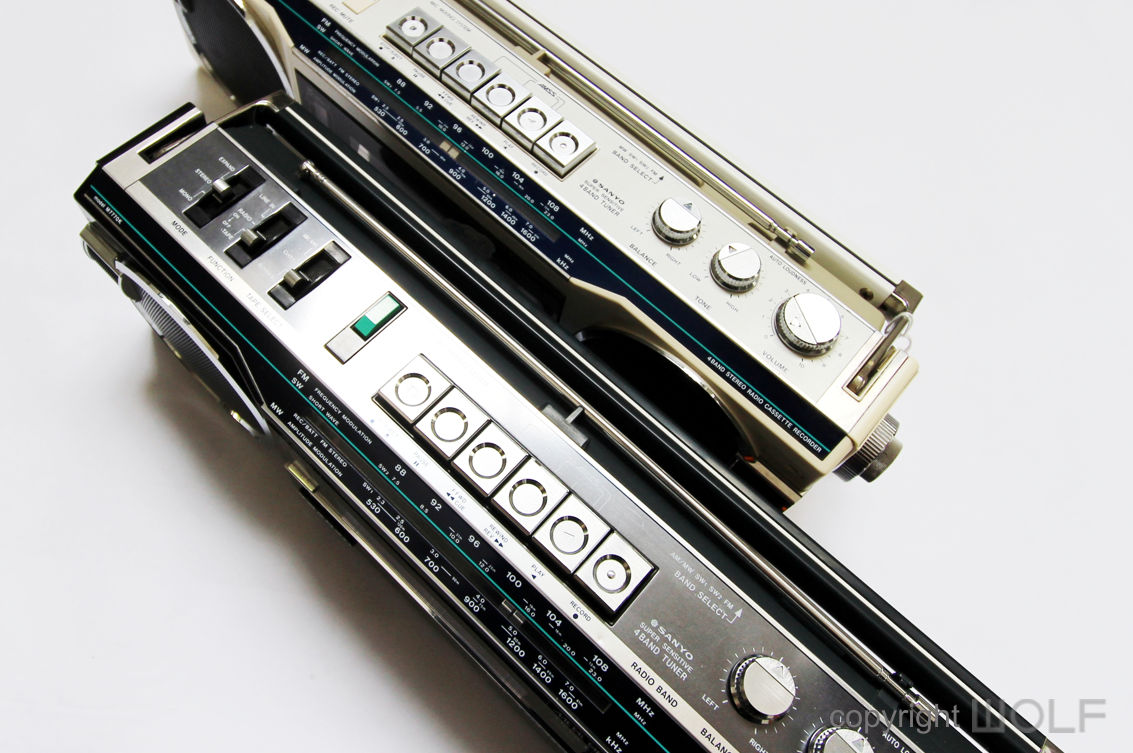 The WOLF W7
The W7 was one of the last synths to complete the WOLF collection. While inexpensive they are rare and even more rare to find in Mint condition. Two specimens were purchase so that parts could be swapped to make one near mint example.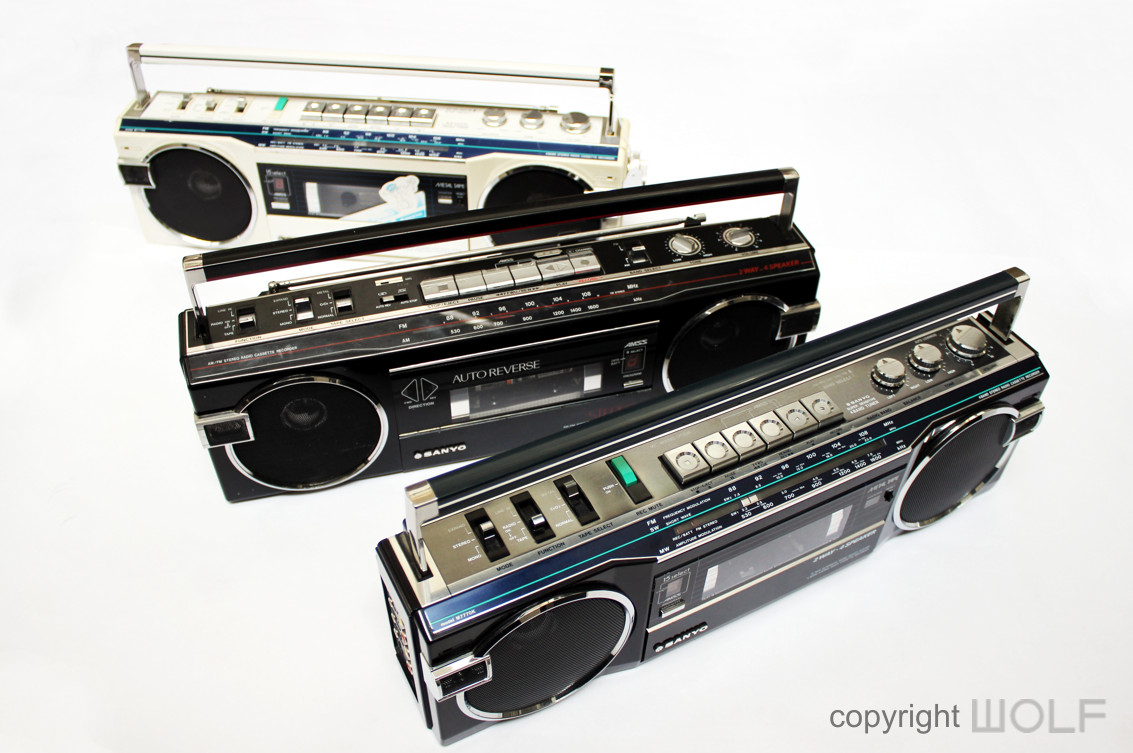 The WOLF Sanyo M7770K.
The M7770K was the very first Cassette recorder owned by Architect Taras Wolf. Given to him by his parents in 1984, it opened him up to new world of music and 1980s pop! The unit in this review is not that same original item but was purchased in 2016 after many years of searching without knowing the exact model name or brand. Taras could only go off his memory of the M7770K and fortunately it had enough distinctive design details to guide him.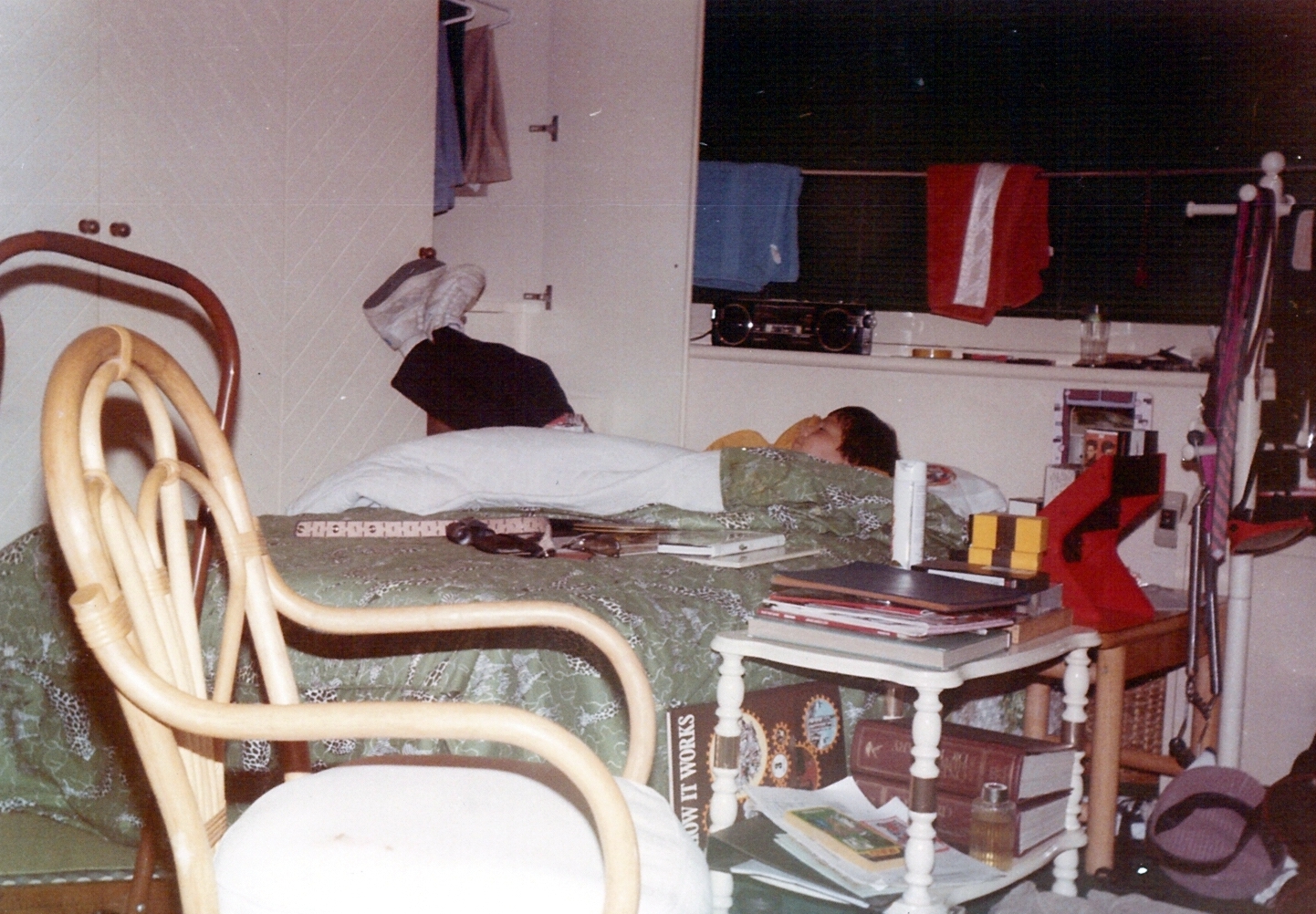 It's there on the window sill above my bed!
WOLF DESIGN EXCELLENCE SCORE = 6.7
Disclaimer
The information in this review is intended for informational or educational purposes to provide readers an understanding of how something may be seen from a certain design perspective. In this case it is from the view point of WOLF DESIGNS. As design is subjective this review should only be considered as an independent opinion. Information further to being of an opinion is provided to the best of our knowledge based on our own research at the time of doing the review. We cannot be held responsible for any inaccuracies or inconsistencies and reserve the right to change or update any content as appropriate.
The final responsibility of the design resides with the original manufacturer.