WOLF retro DESIGN  REVIEW. 29th July 2022
Silver has always meant something special when it comes to Yamaha keyboards. The DX7C in silver was representative of Yamaha's 100-year anniversary. Then at the turn of the century in 1999 the EX5s was another celebration in silver.  Was this PS-55S where that idea began?
A retro review looks at products that are at least over ten years old from a present-day WOLF design perspective. While the technology and fashion of the period influence design, and are taken into consideration, great design ideas will transcend their eras to be timeless.
Interesting and factual information may be provided, but our review aims to deliver insight from the perspective of a designer's mind and eyes.
The beginnings of silver?
Introduction
Product Focus
As with most reviews the focus is on the design and its evolution within the industry. The functioning systems and sound quality are not necessarily considered.
Product description
The PS-55S was a special edition of the PS-55, a 49 key home keyboard released in 1983. The "S" represents both being "Silver" and "Special". Functionally the PS55S and PS-55 are identical. The only difference is in the colour and that extends to the keys themselves which are in a matt silver colour.
Price and Availability.
Although rarer and more unique than the regular gold PS-55, the silver version does not always command a higher price tag. Expect to pay anywhere from $100 to $200 for a good one. You might pay more for one with original case, cover, manual and stand.
Additional information
The PS-55S and the PS-55 were the top of the PS range which included three smaller models – the PS-35, PS-25, and the PS-15.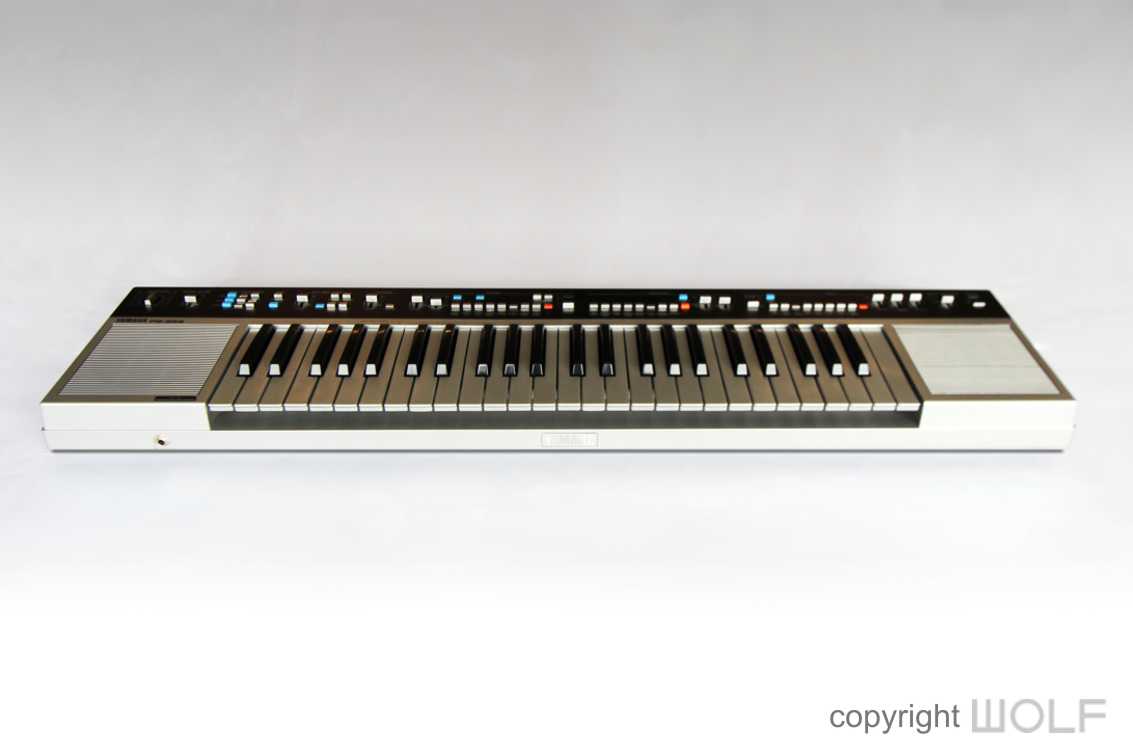 Review.
Most of our comments will be similar to those made when we reviewed the standard PS-55, though being silver does bring a few subtle differences in mood.
First impression/ Delight
The PS-55S is very silver, and that's very striking since even the keys are silver. It's also simple looking and economical in size. Further to its minimalistic geometry it has a two-toned colour scheme that gives a very retro feel, though not quite as retro as the more regular gold version (in our opinion).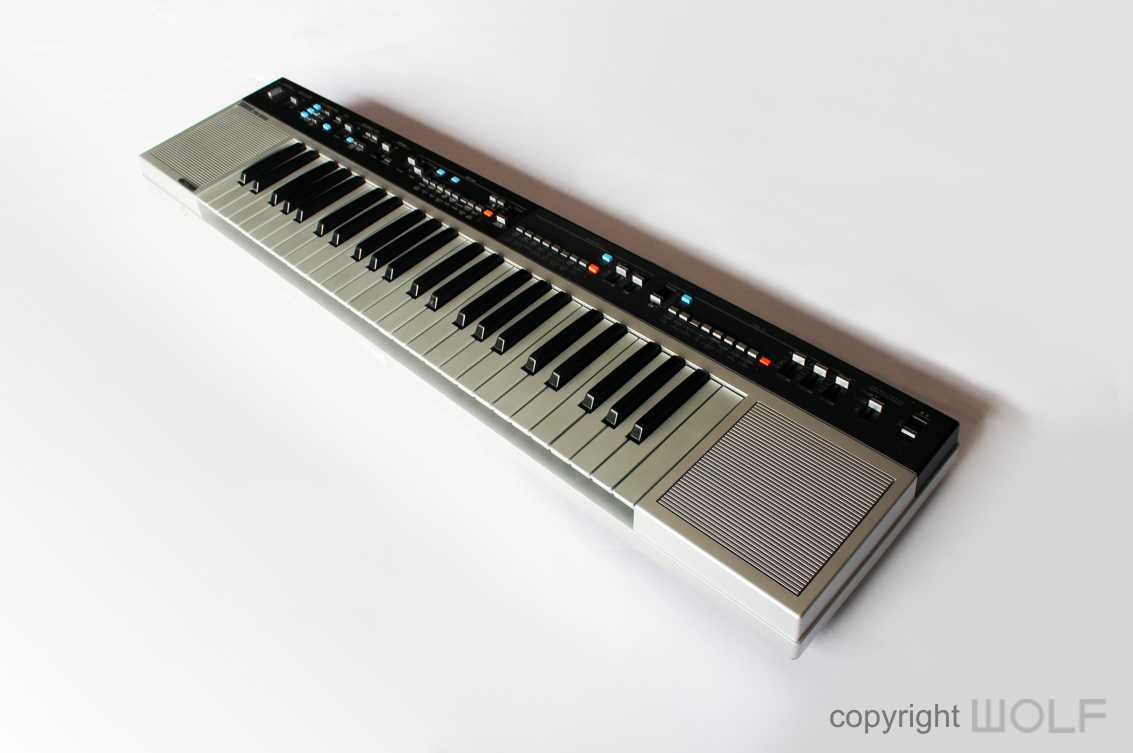 Exterior Design Review
Everything is flat linear and at 90 degrees. A darker toned top panel runs the full length of the unit and incorporates all the controllers. Below this is the 49 key keyboard with speakers either side. This is housed in silver casing. It's a bit less classy than the PS-55 but does feel a little more Hi-tech, especially for 1983.
Although very square overall, the corners and edges are rounded off to feel more soft and friendly. We like the speaker grills which are neat and flush. The small gaps between each bar minimises visible dirt in between. Overall, this keyboard is completely devoid of any decorative ornamentation or aesthetic design features with one big exception. The keys on this keyboard are in silver, and possibly the first in the World break away from ivory.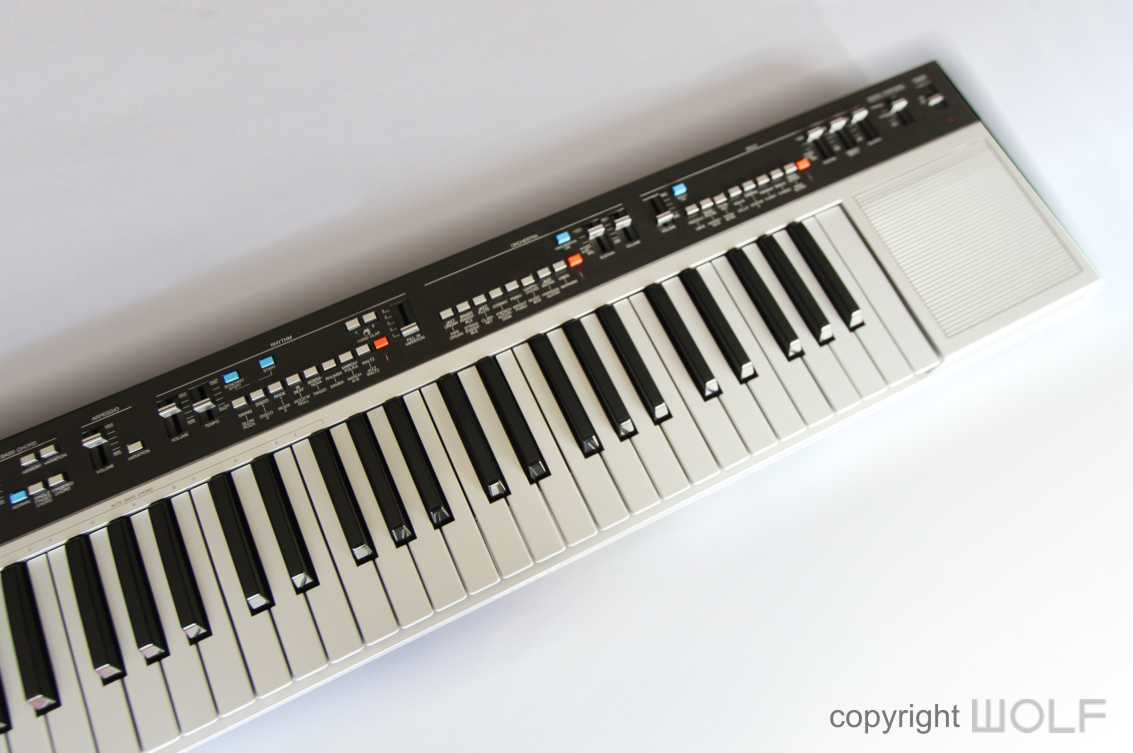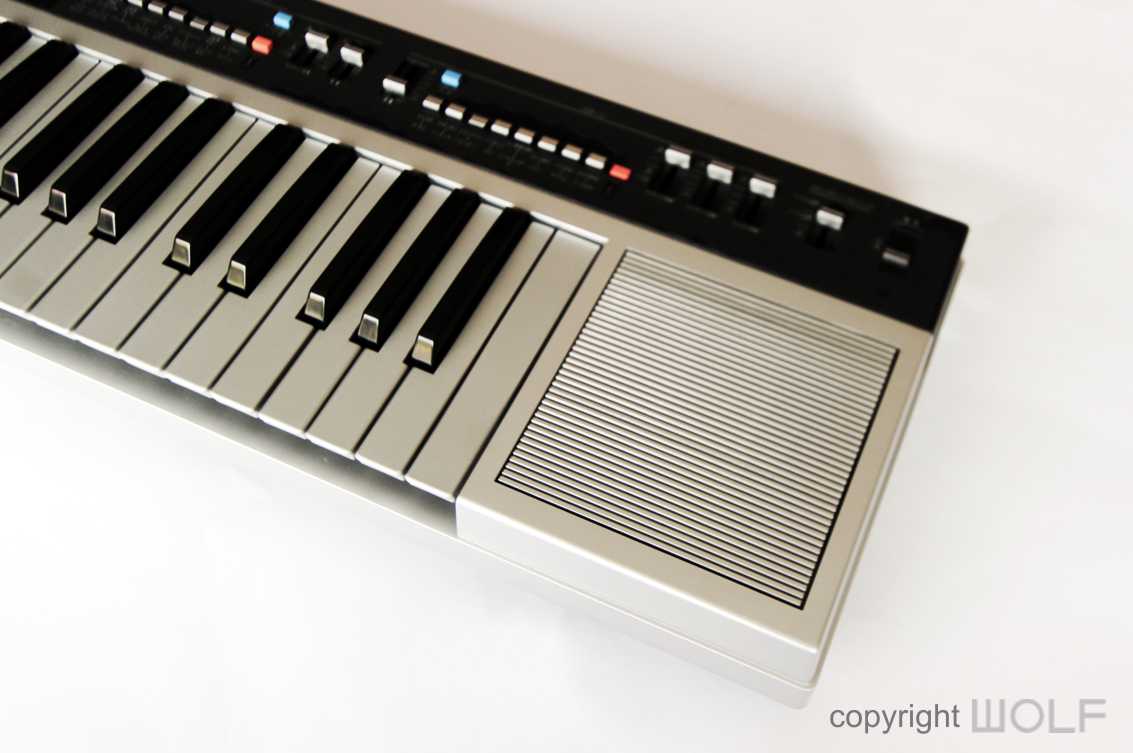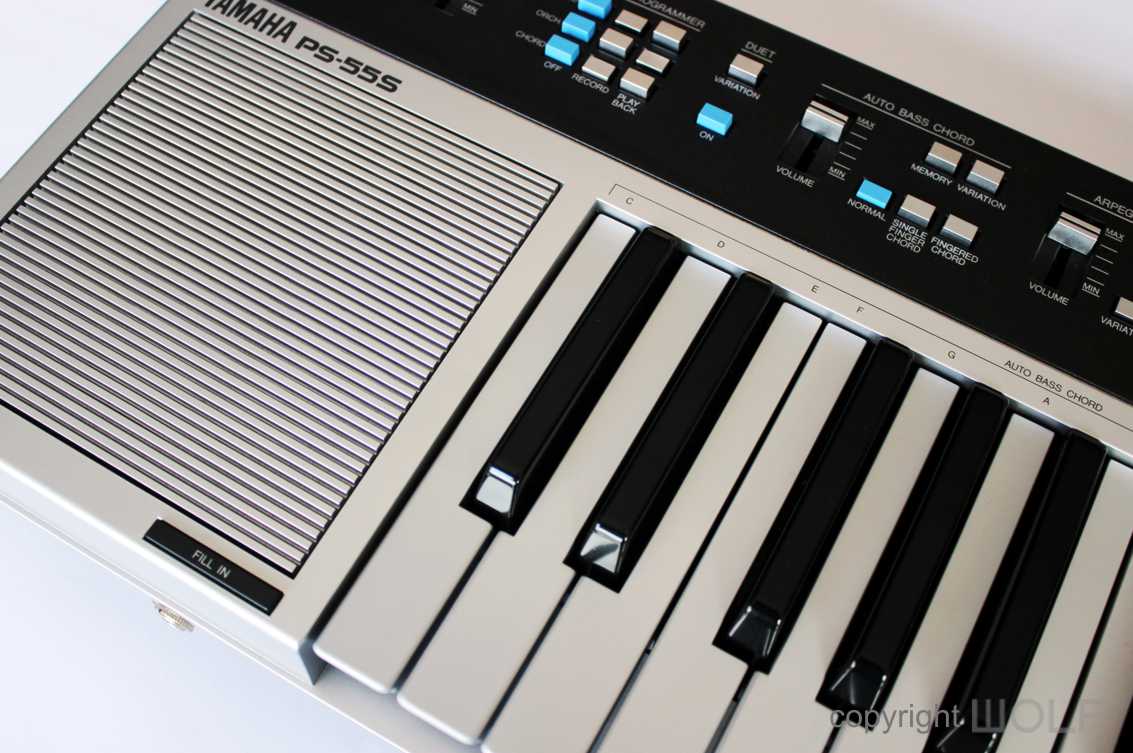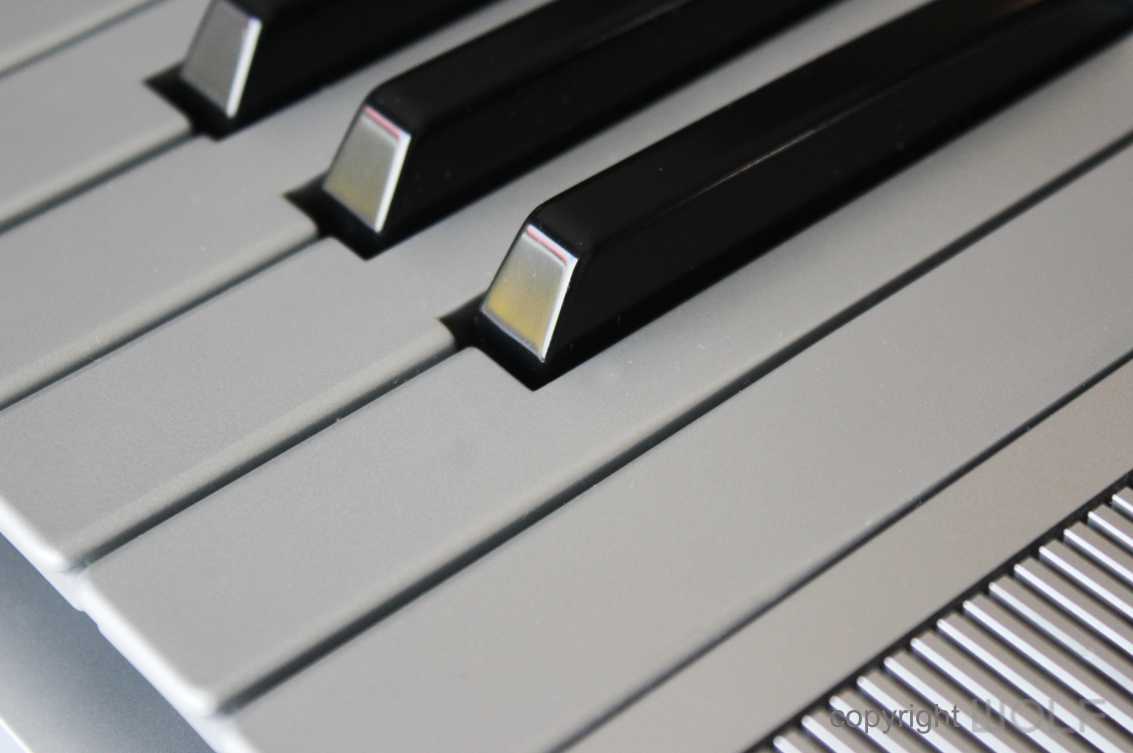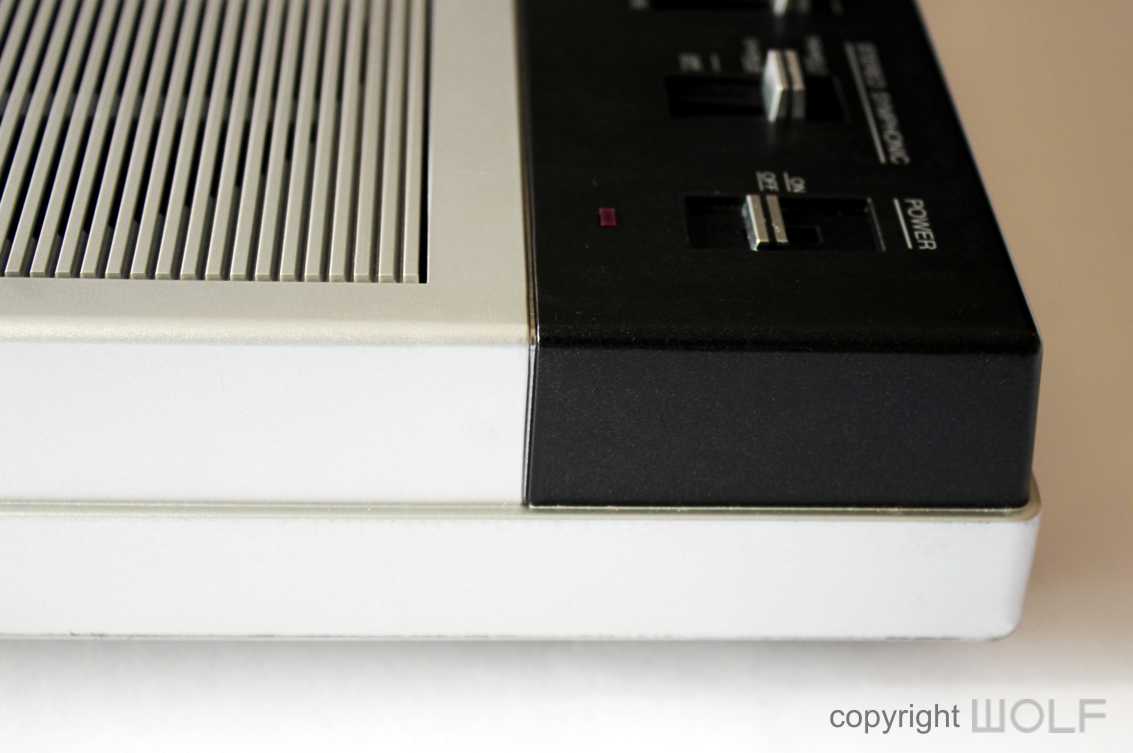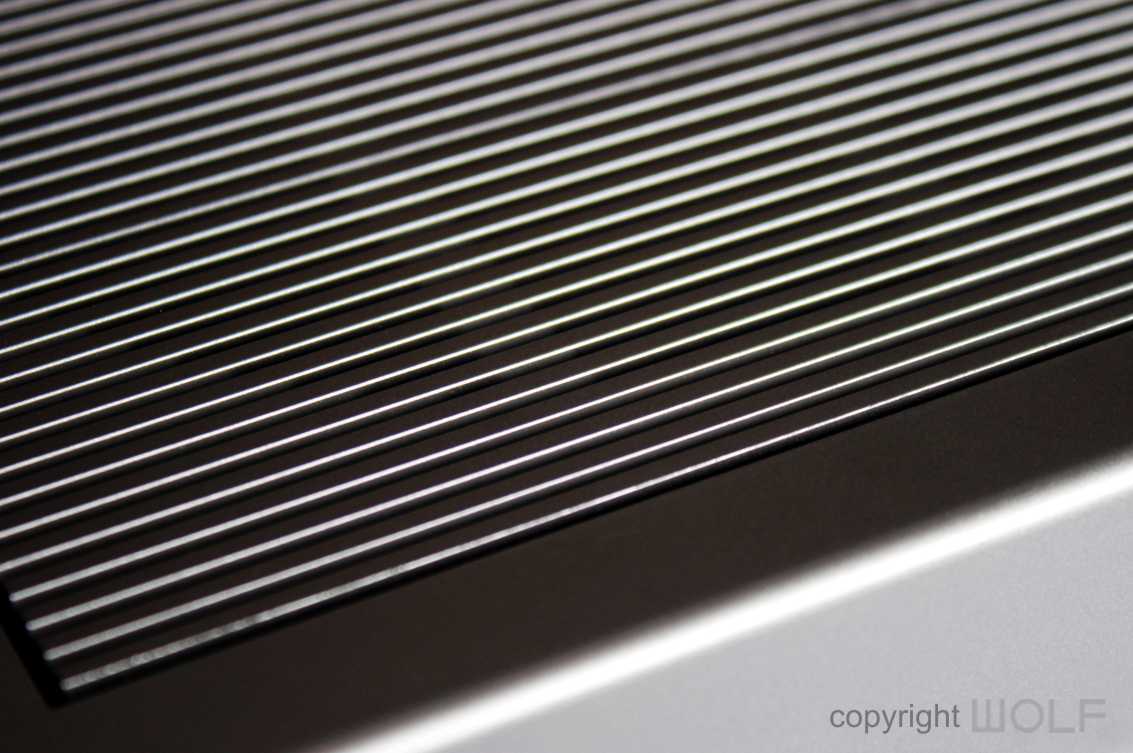 Craftmanship.
The PS-55S is all made of plastic but it is thick and durable. We have not seen many with bad damage. The silver finish is just paint over plastic so units that have had a lot of use will have shiny paint ware around the buttons and in the corners. The keys also seem to be painted.
All buttons and sliders were made to be strong and durable. They press and slide well, but do feel rather basic.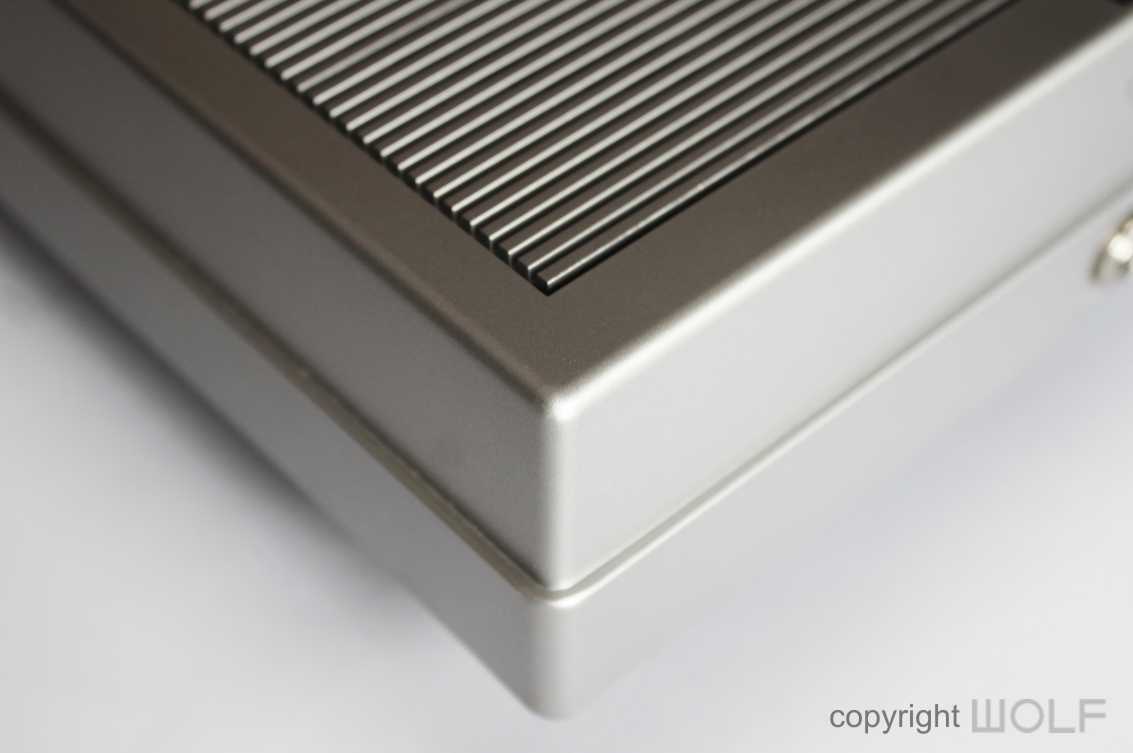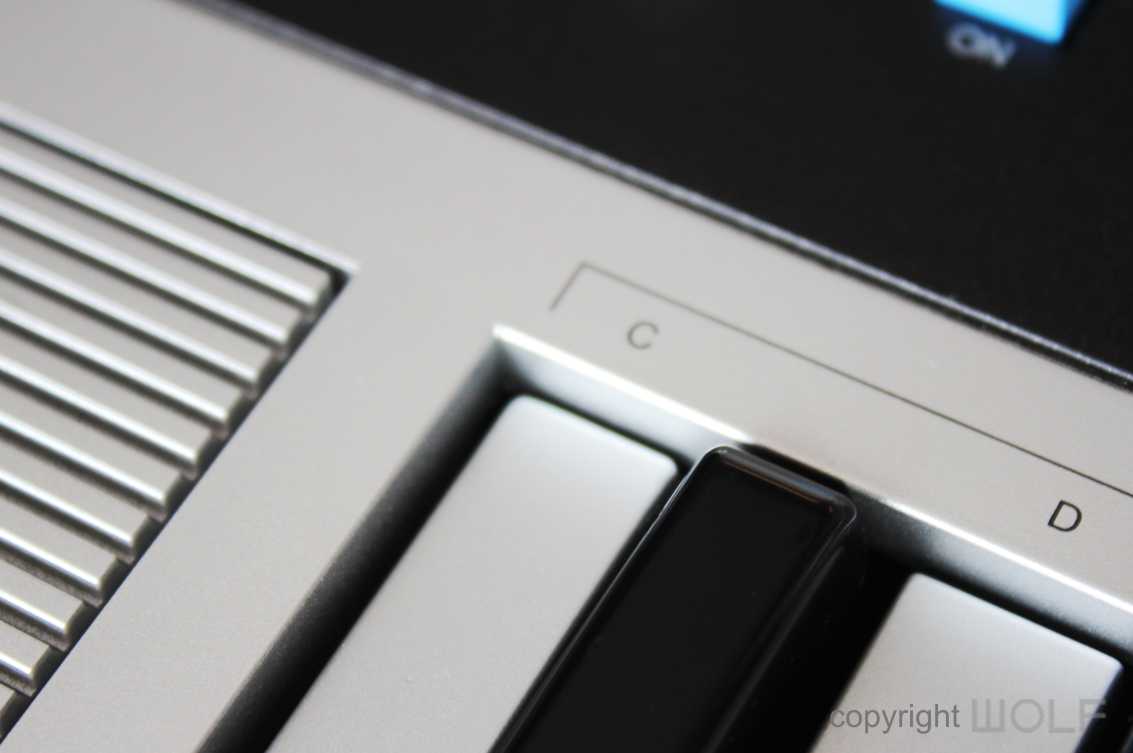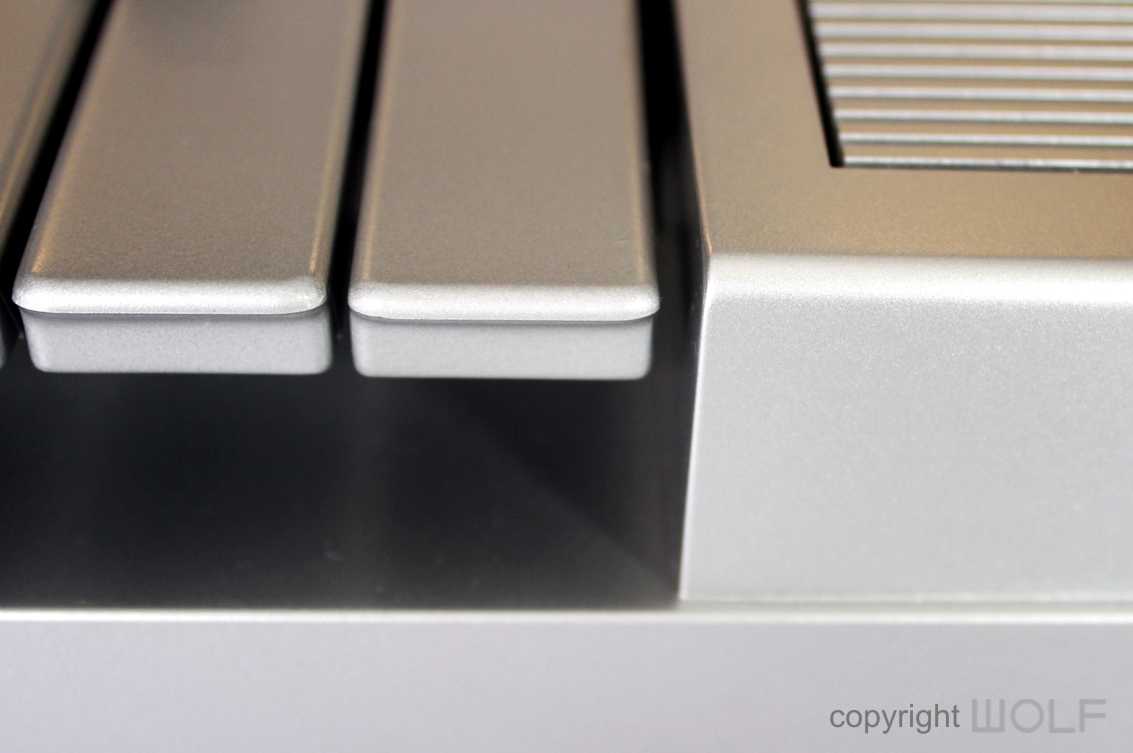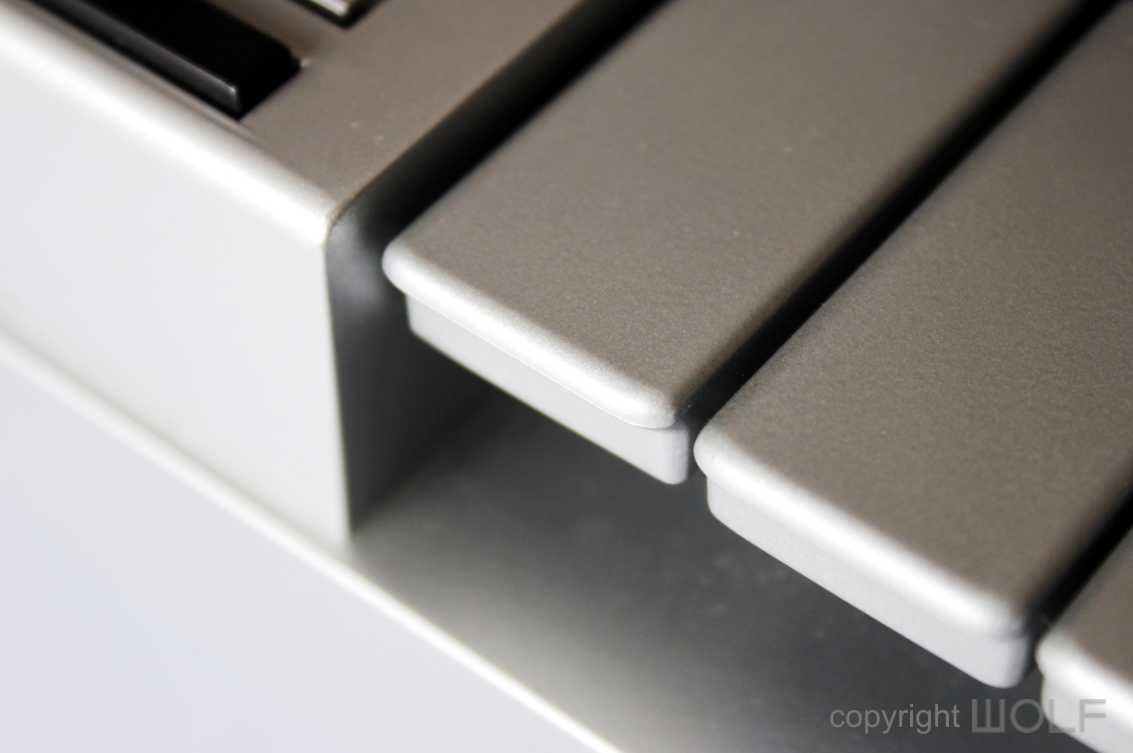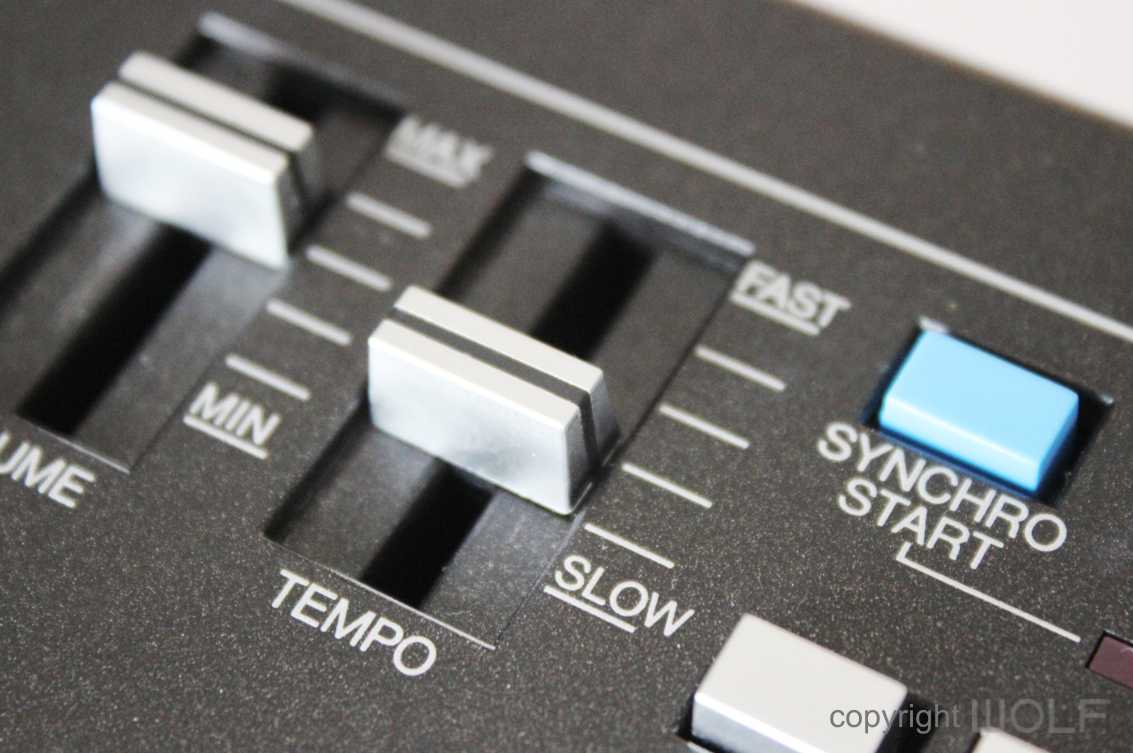 FUNCTION- Experience.
The buttons are a little small in our opinion and the way they are grouped and arranged took a while to understand. There is no screen or LED which was appropriate for 1983, but the technology was available and we think a simple display might have made a big difference.
The compact size, makes this a very transportable instrument, and most came with a soft carrying case. They also came with a music stand which cleverly clips into the underside when not required.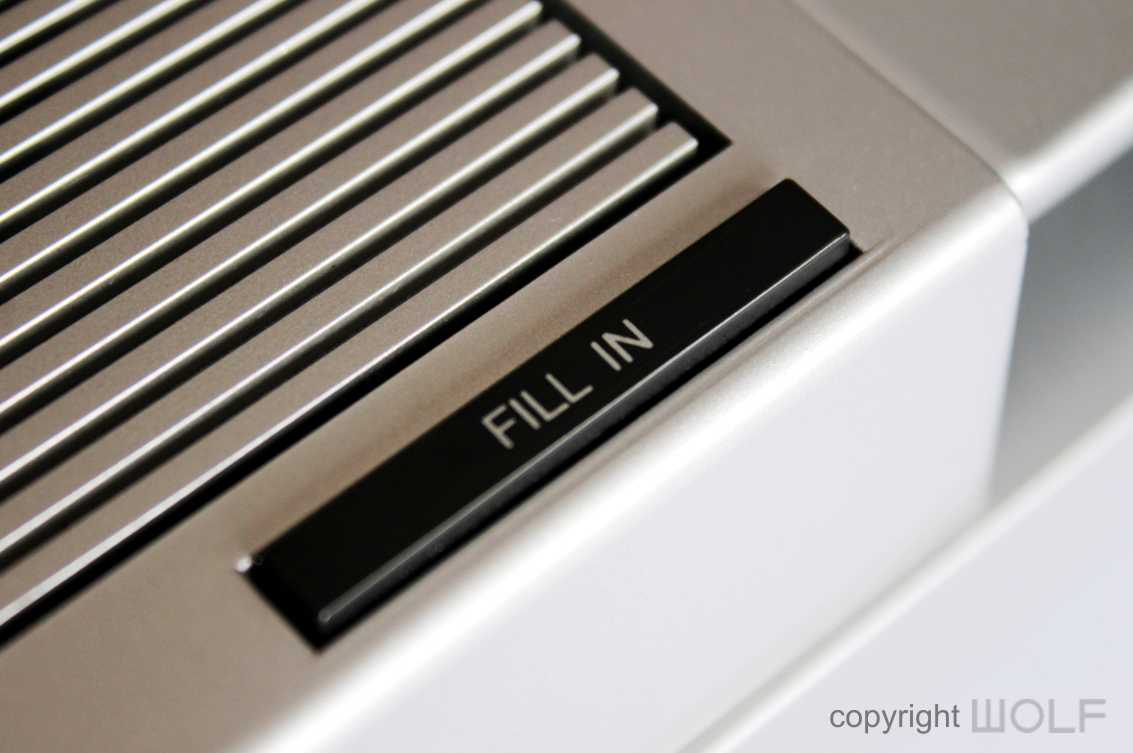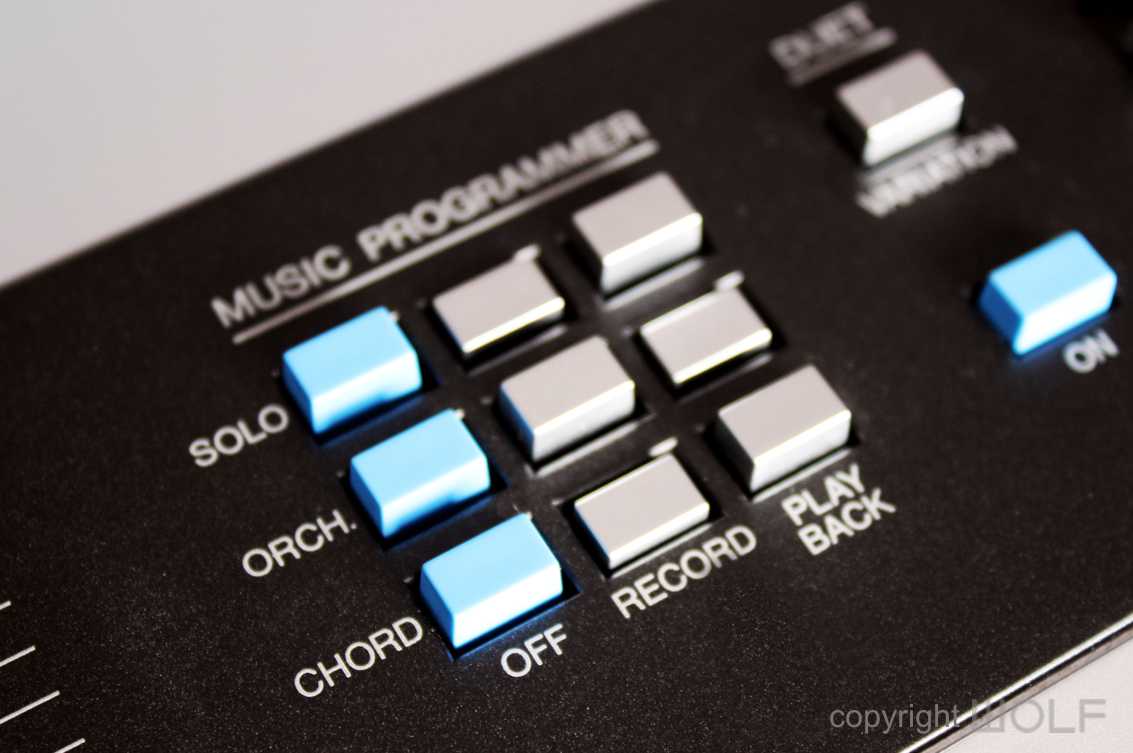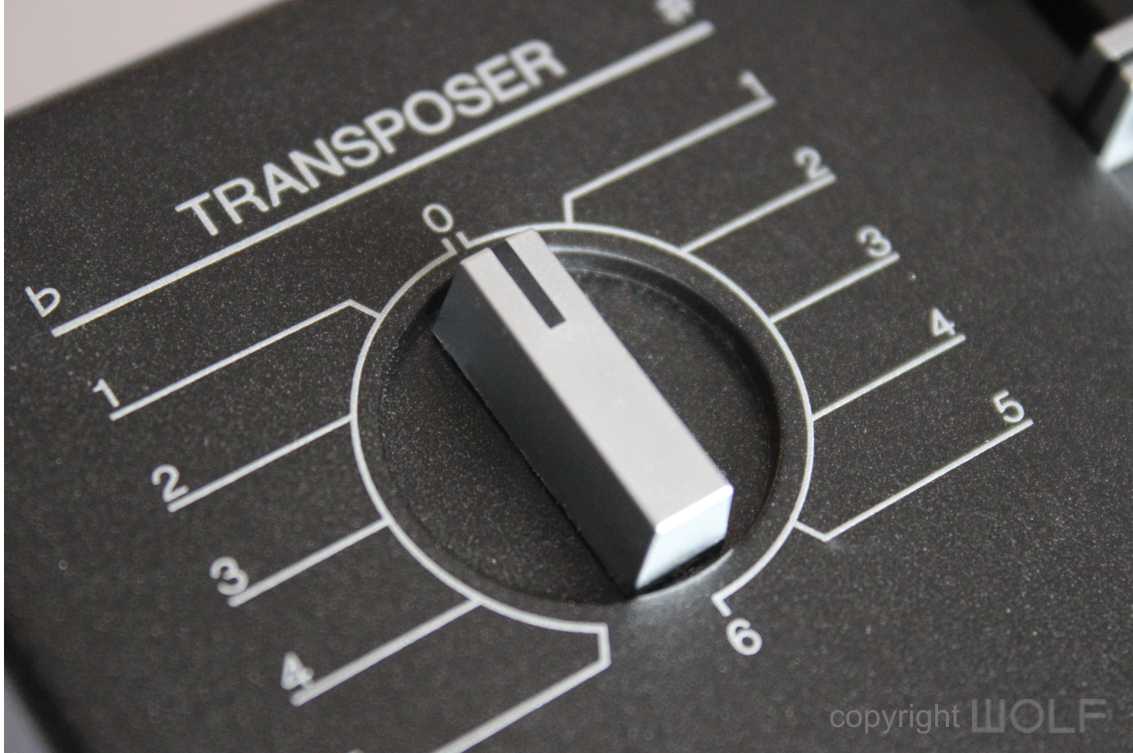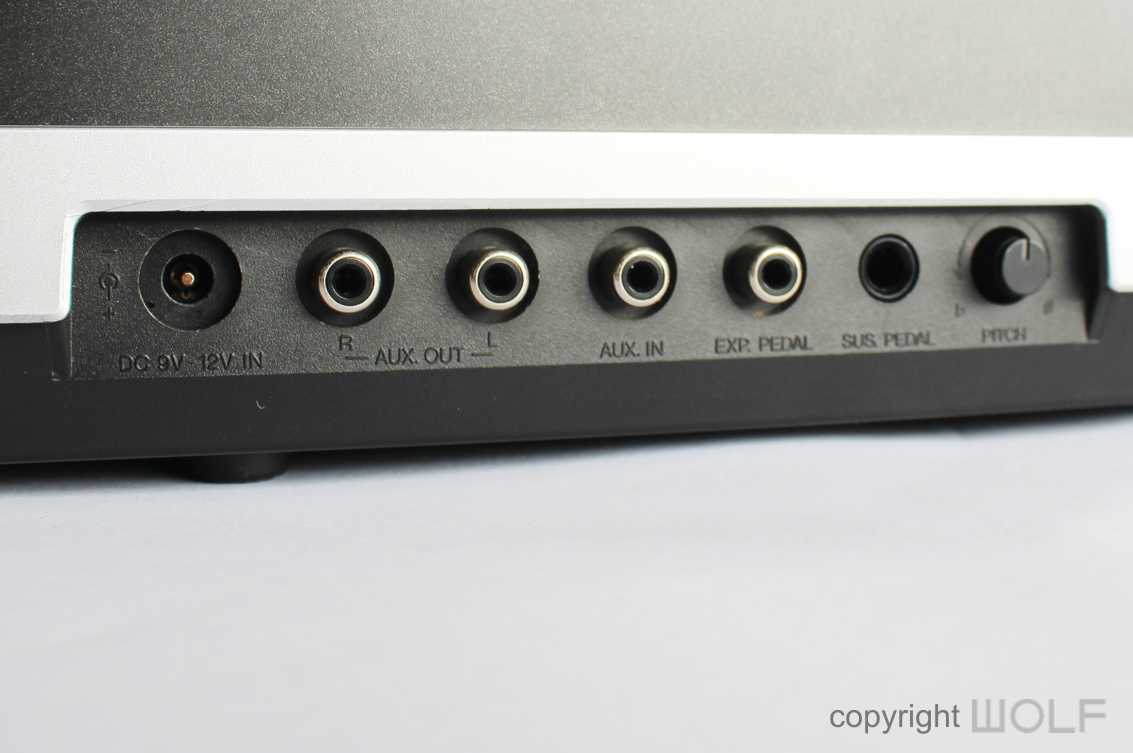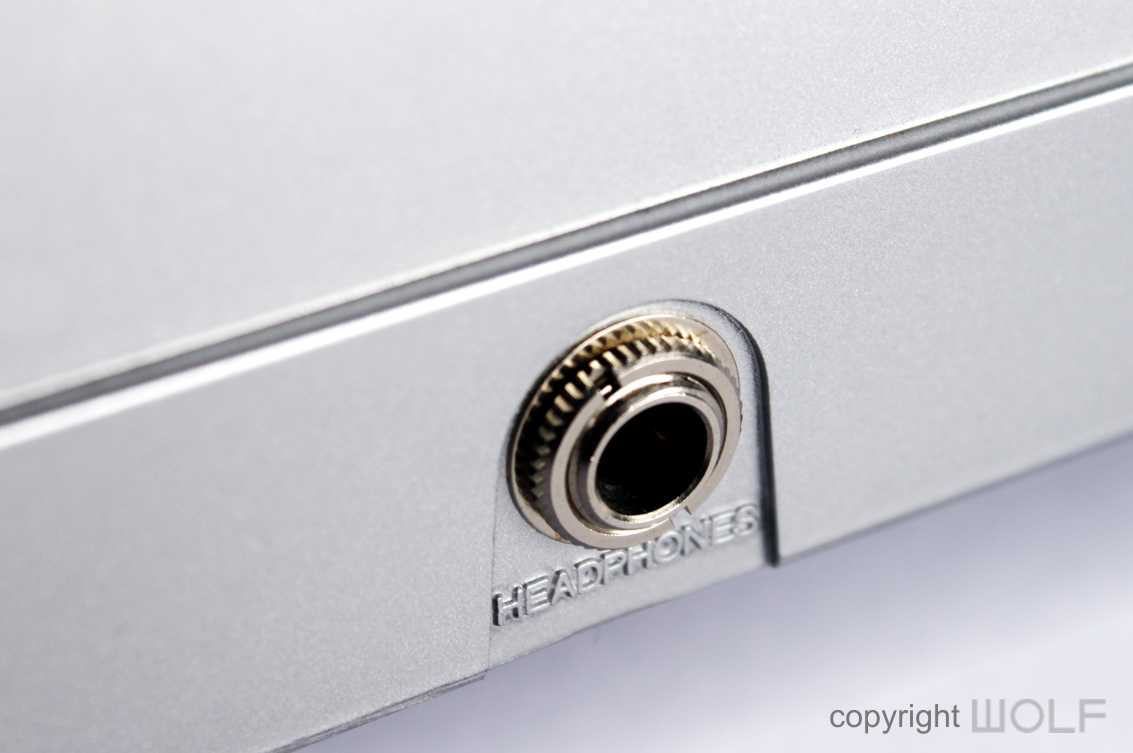 Desirability / Collectability and what to look for.
The PS-55S was a quality keyboard and the design and craftsmanship reflect this well. Most are still in perfectly functioning order. It had a lot of functions so can seem complicated at first but most people will find it quite fun and novel. The sound quality is surprisingly good for a home keyboard that is now almost 40 years old. Make sure you get one with its case. In the USA the PS-55S had a molded plastic hard case that offered better protection to the more common silver soft cases.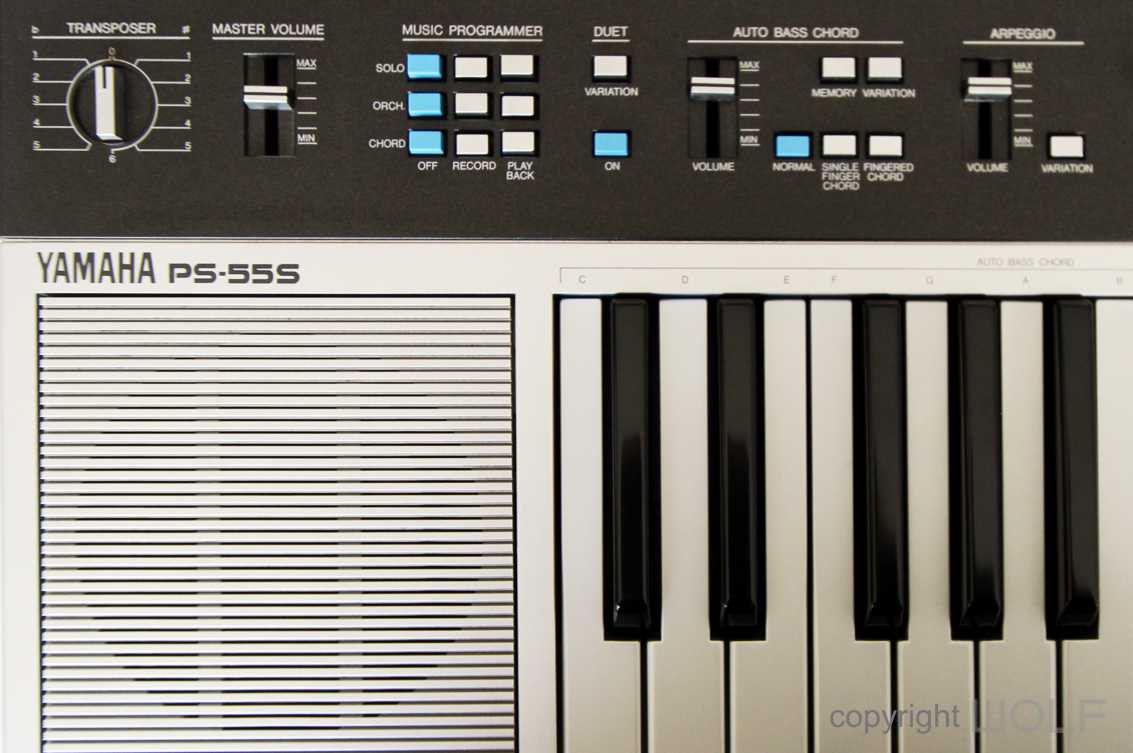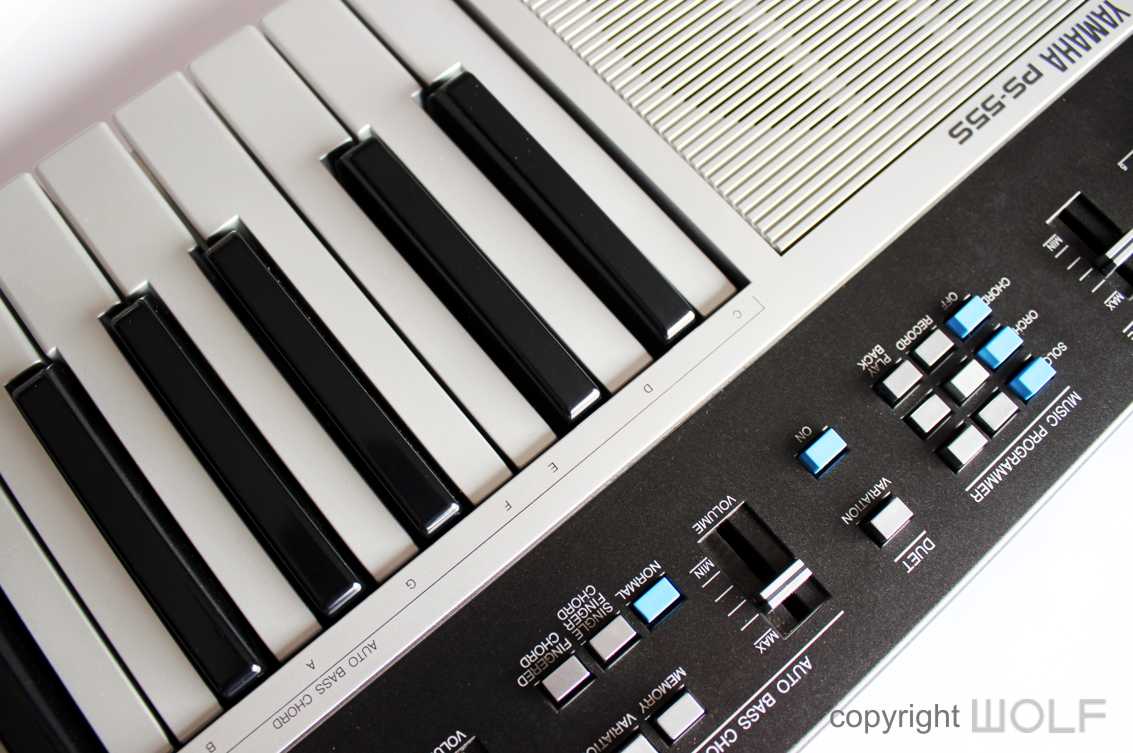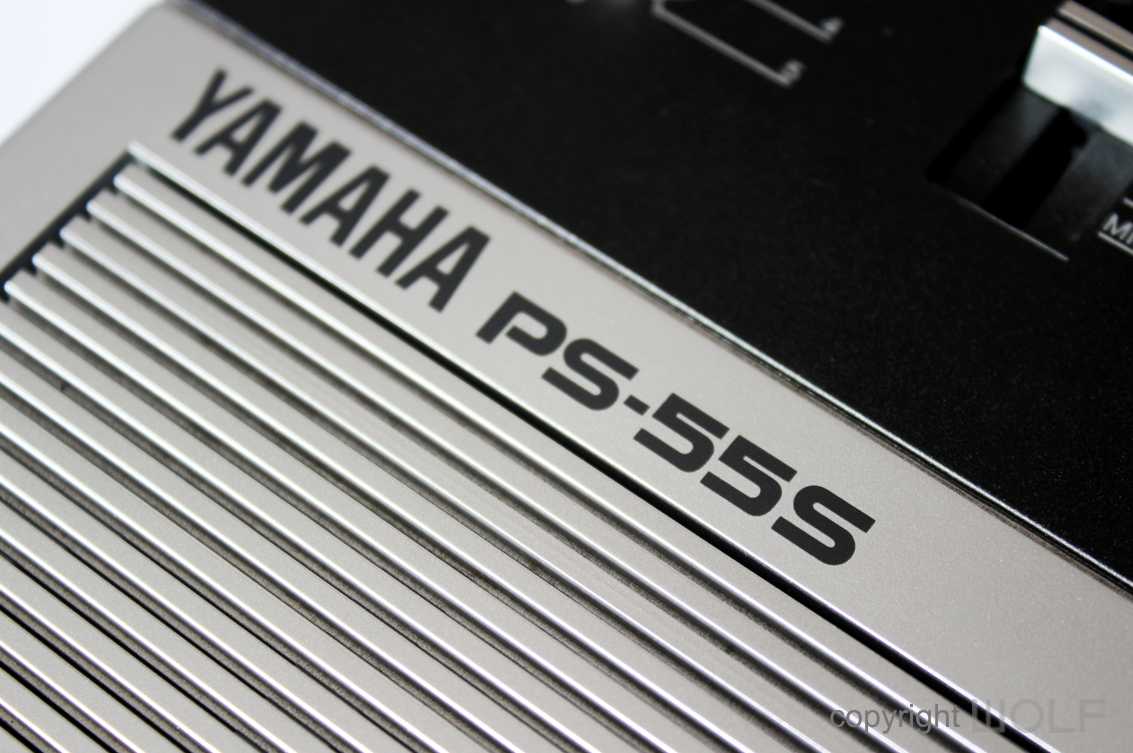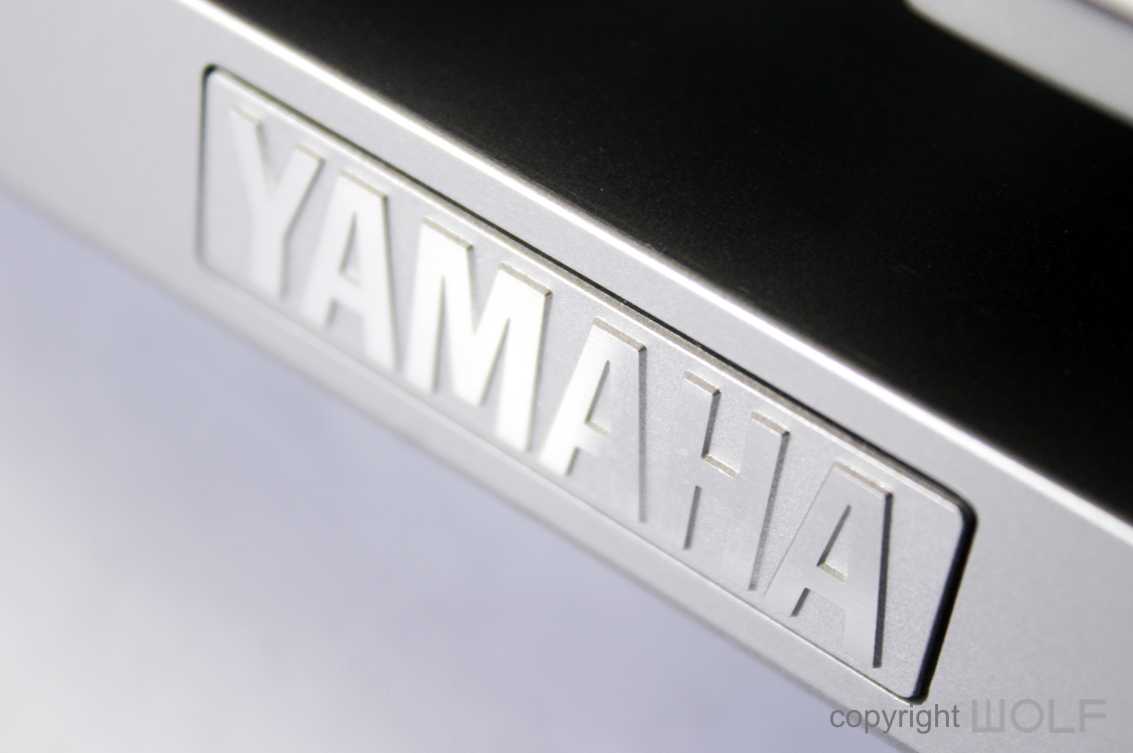 WORD OF THE WOLF
The PS-55 was designed purely to be functional with no frills so it seems like Yamaha created the PS-55S to give it something extra. It didn't need it because it was already very advanced for 1983, but we can see how futuristic all that silver would have looked back in the day. It's not large so won't take up much space, and could even be a hallway piece. Our suggestion would be to find a good one and have a bit of fun with it.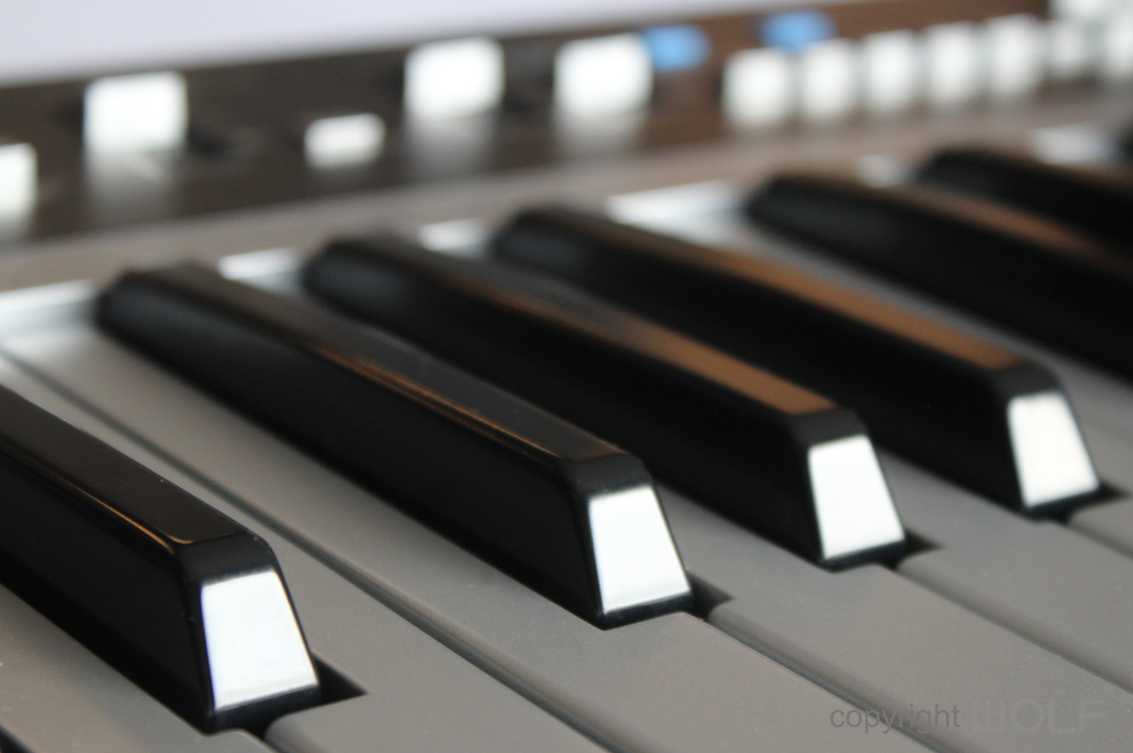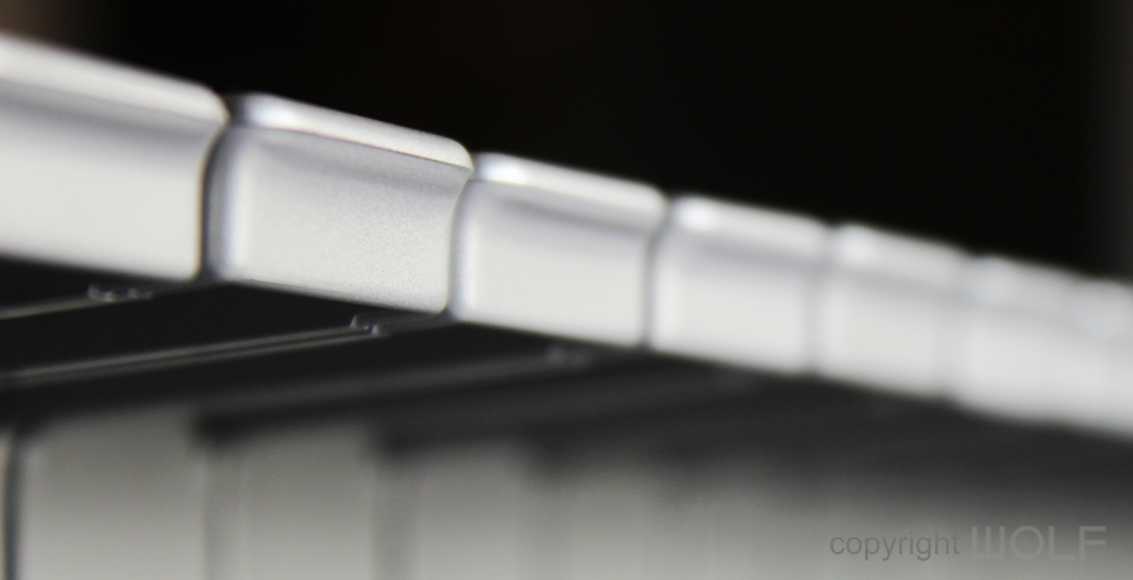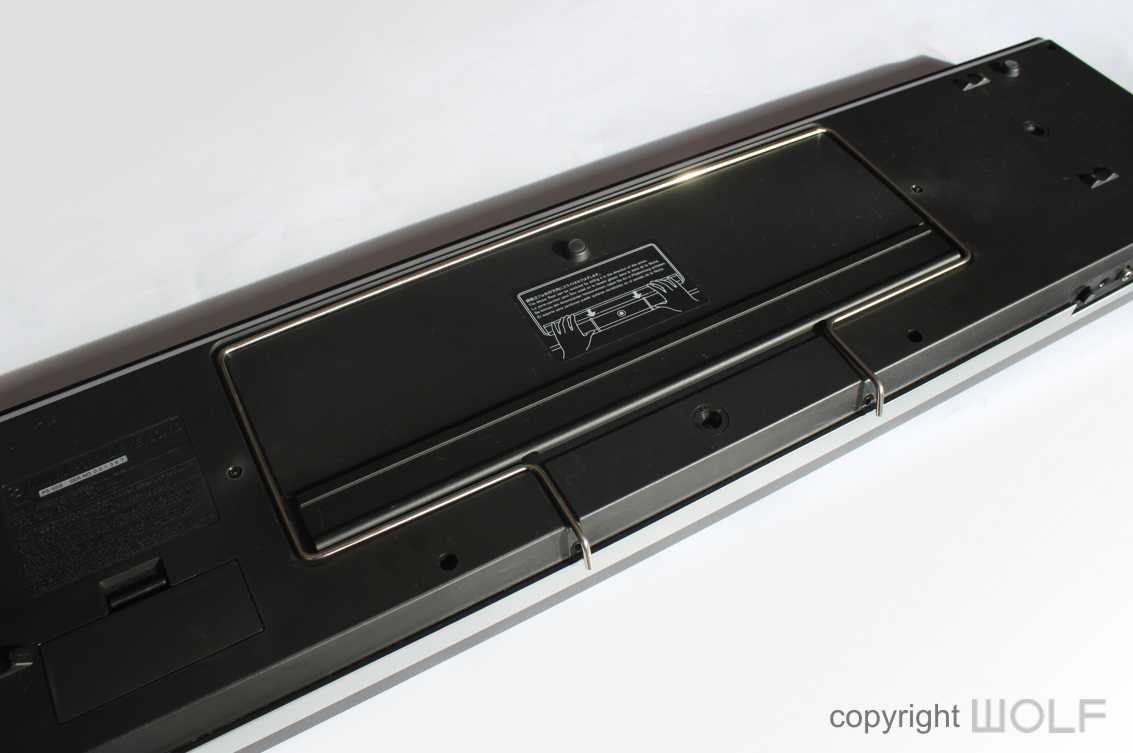 The music stand cleverly clipped into the underside for storage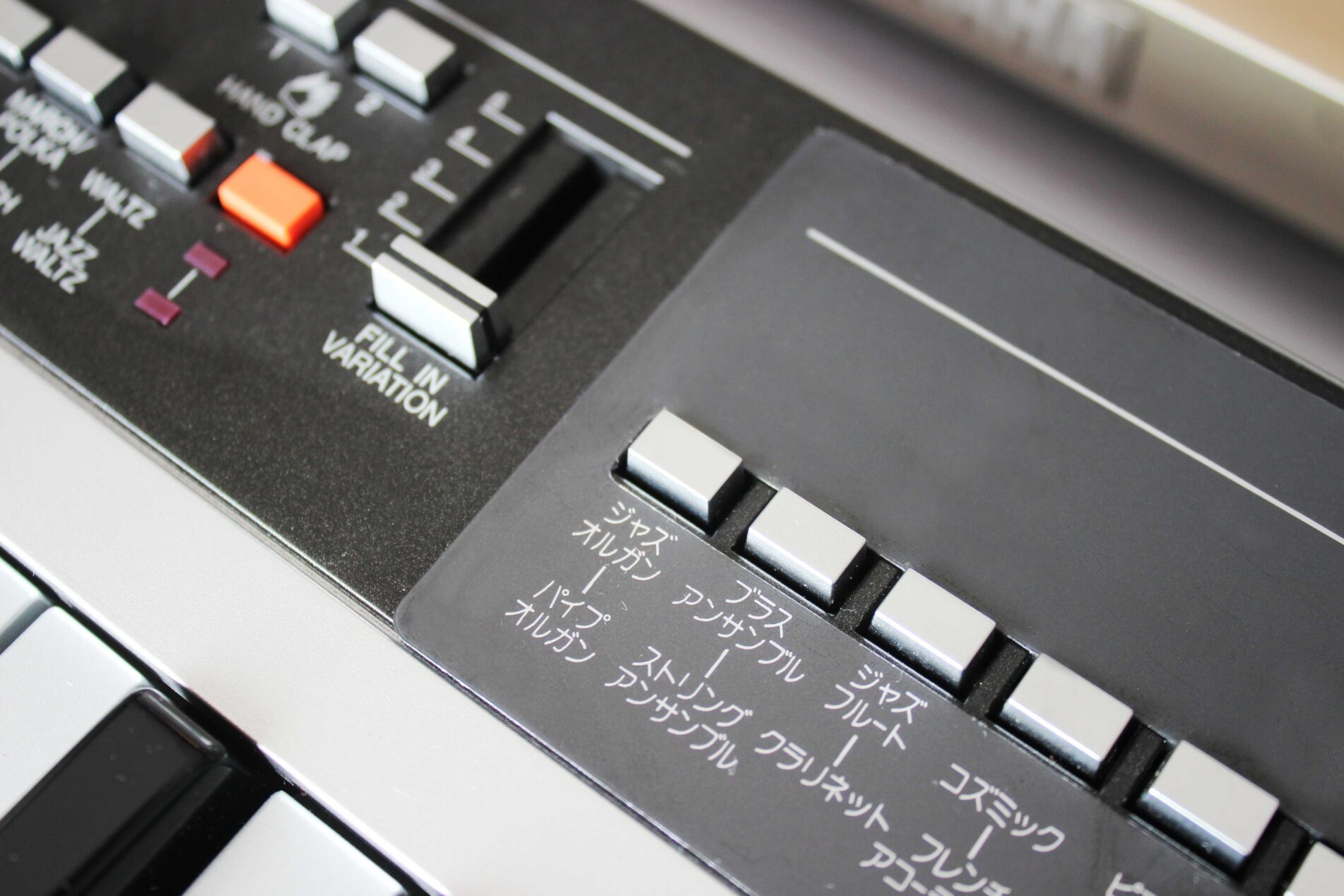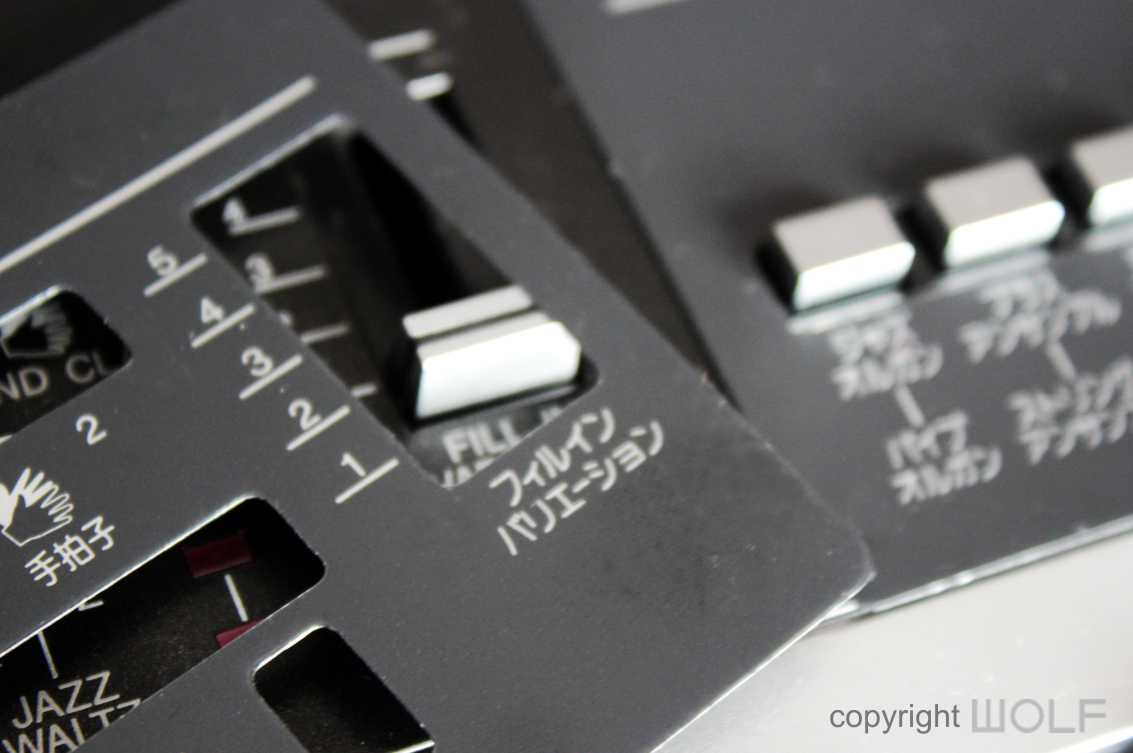 In Japan the PS units had a sheet that was stuck over the control panel which changed all the text into Japanese.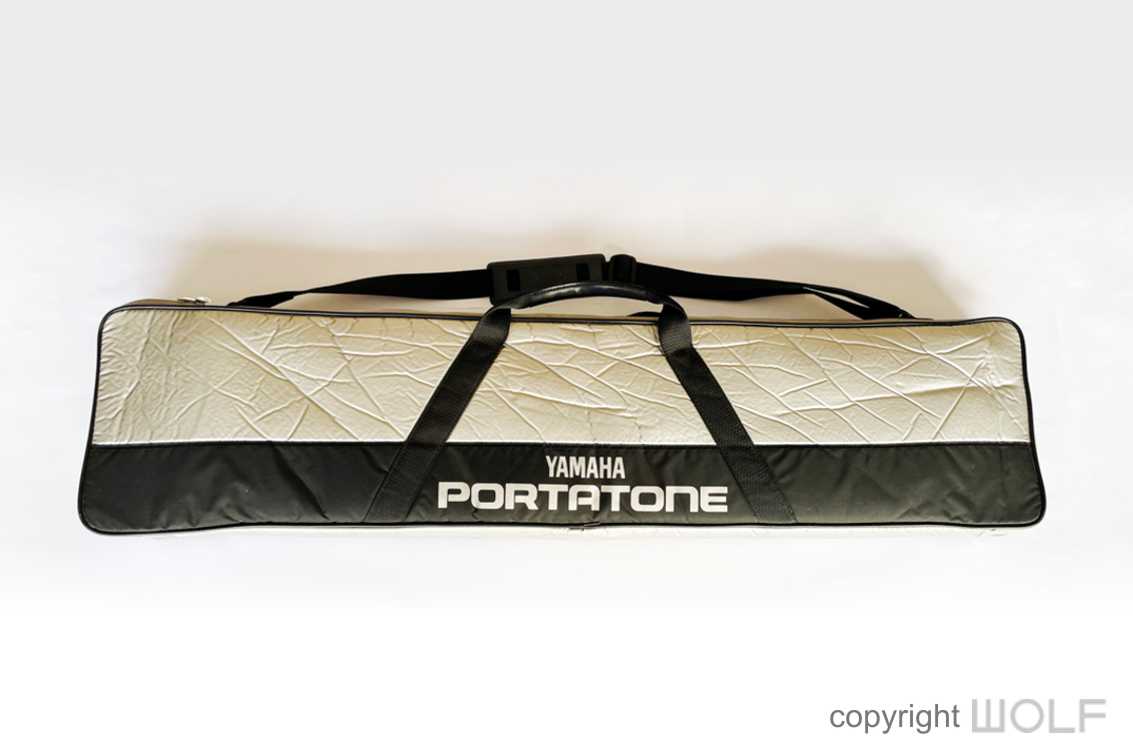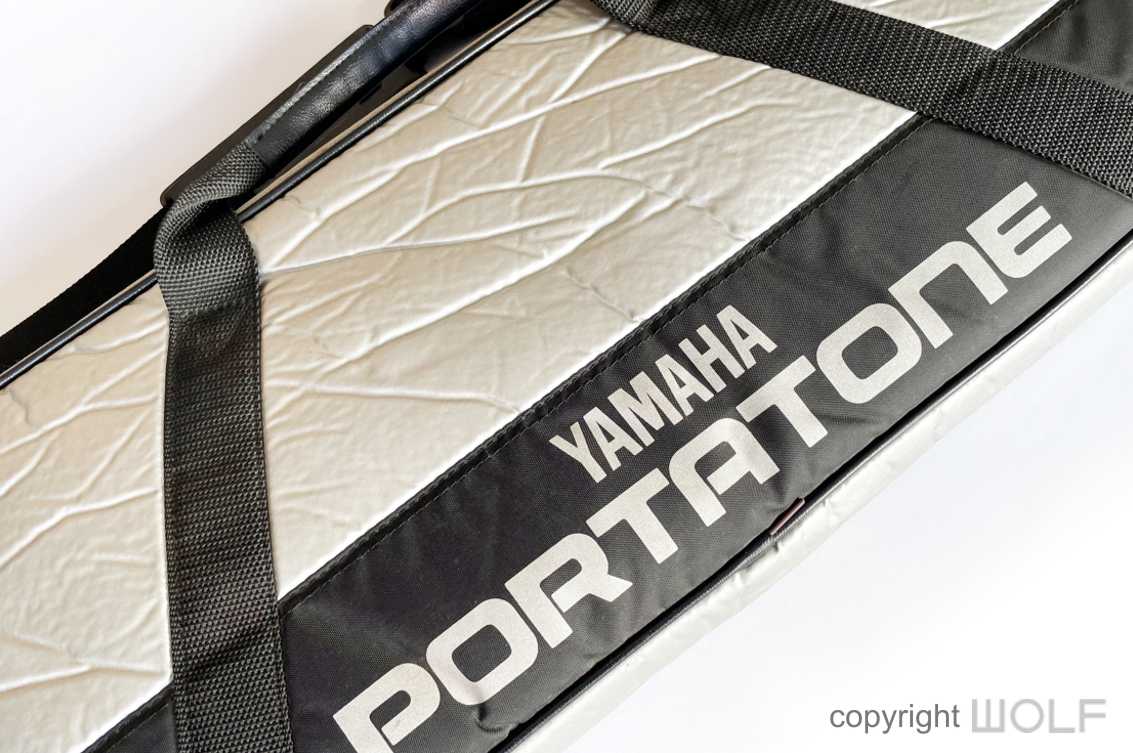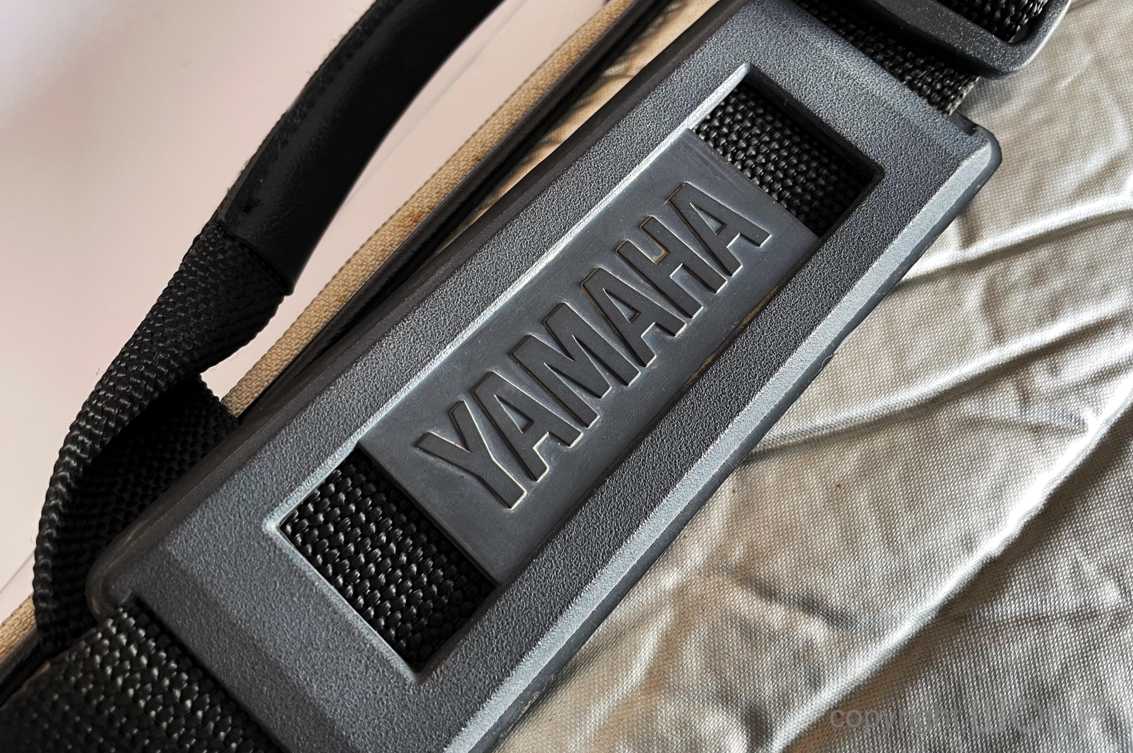 WOLF DESIGN EXCELLENCE SCORE = 6.9
Disclaimer
The information in this review is intended for informational or educational purposes to provide readers an understanding of how something may be seen from a certain design perspective. In this case it is from the view point of WOLF DESIGNS. As design is subjective this review should only be considered as an independent opinion. Information further to being of an opinion is provided to the best of our knowledge based on our own research at the time of doing the review. We cannot be held responsible for any inaccuracies or inconsistencies and reserve the right to change or update any content as appropriate.
The final responsibility of the design resides with the original manufacturer.