WOLF retro DESIGN  REVIEW. 27th July 2022
Looks interesting, small and cute, but is this old retro junk or perhaps still a fun toy to keep?
A retro review looks at products that are at least over ten years old from a present-day WOLF design perspective. While the technology and fashion of the period influence design, and are taken into consideration, great design ideas will transcend their eras to be timeless.
Interesting and factual information may be provided, but our review aims to deliver insight from the perspective of a designer's mind and eyes.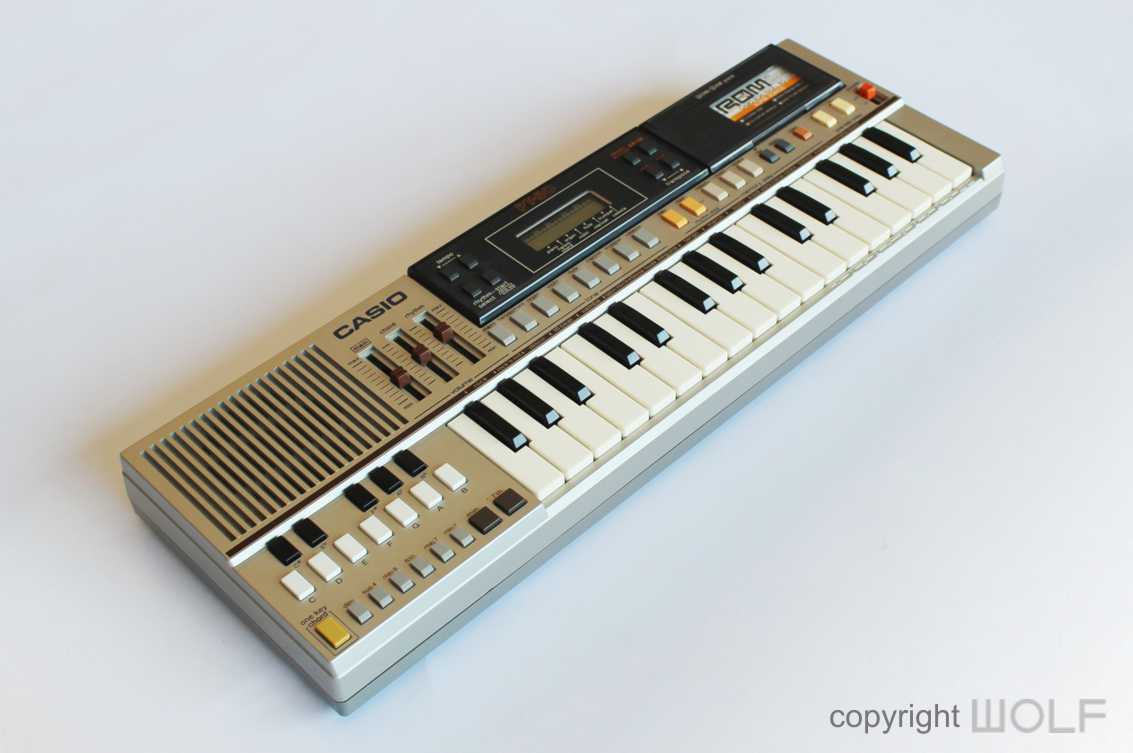 Should I stay or should I go?
Introduction
Product Focus
As with most reviews the focus is on the design and its evolution within the industry. The functioning systems and sound quality are not necessarily considered.
Product description
The PT-50 was a mini home keyboard released by Casio in 1983. It utilised their ROM cartridge technology which Casio described as digital sheet music for easy and convenient practice.
Price and Availability.
The PT-50 has in recent times become relatively rare and most fetch over $100 US. Most still have their original box and we expect a mint one with box and lots of accessories to be worth up to $200.
Additional information
The PT range was vast and extended from the PT-1 with numerous models up to the PT-180. All had mini keys and the larger PT model did not necessarily designate it as a better instrument. From our research the PT-50 in this review was possibly the best in the range.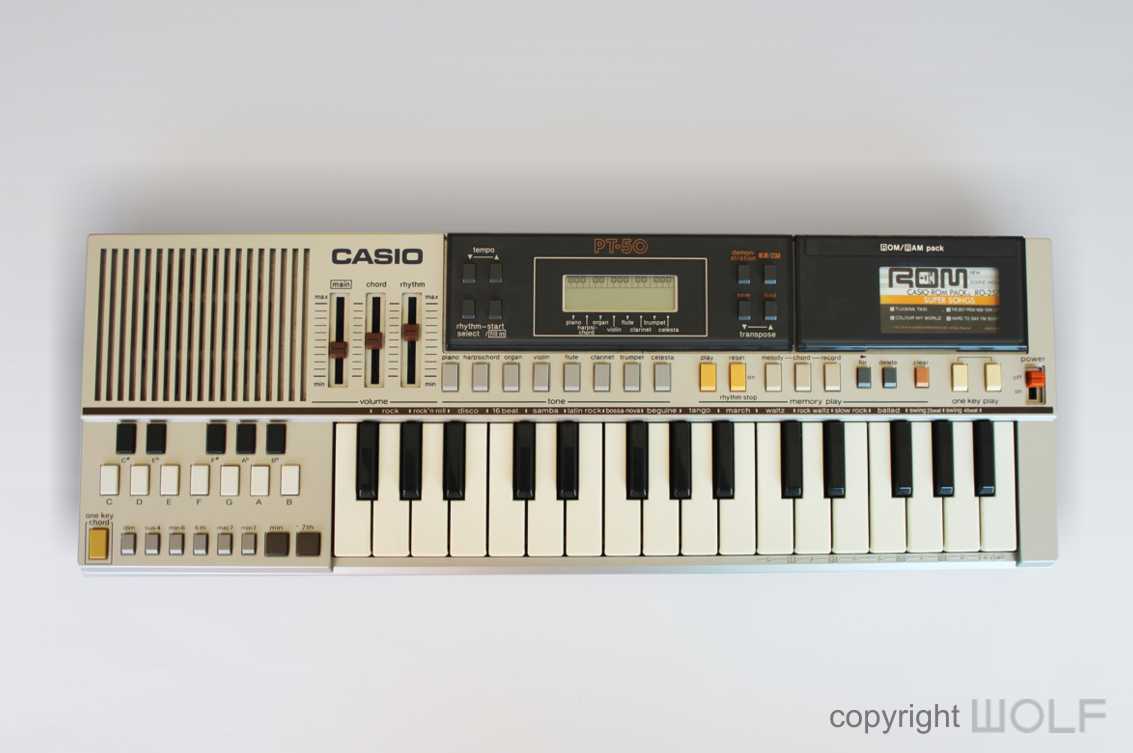 Review
First impression/ Delight
The PT-50 is compact, and stands apart from most other PT models by having ROM cartridge technology, and more mature metallic colours. Although small and intended for home use, it doesn't look simple and easy to use. There is also a lock of balance between the different sections in how they are laid out visually.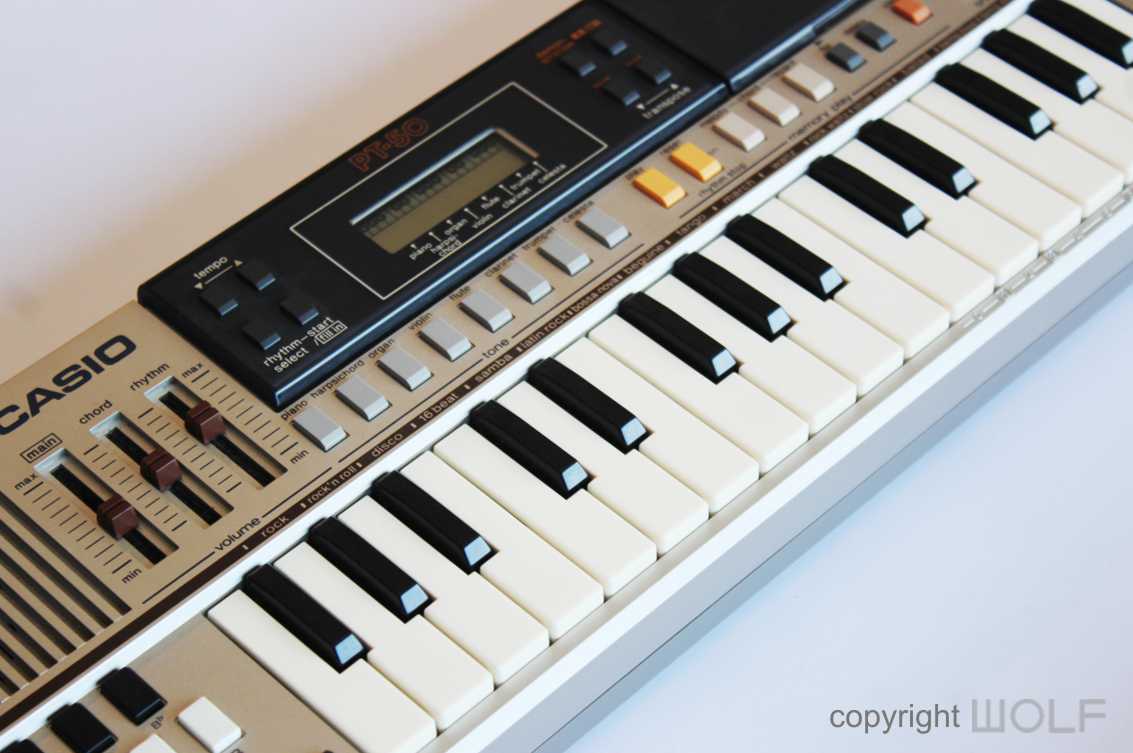 Exterior Design Review
This keyboard is arranged in a non-symmetrical fashion, although there is a clear dividing brown line to separate the keys below from the speaker and functions above. The lower section is stepped down to make the tops of the black keys level with the top section of the keyboard.
The main body is in a rather sophisticated metallic beige with a dark grey acrylic section on the top right area. The acrylic panel helps to identify this keyboard as having ROM Cartridge technology. In our opinion this section but looks a bit out of place like an afterthought add on. Perhaps the dark grey creates too much contrast?
The small buttons have a slippery nature to them and feel a bit like pocket calculators of the era. They are arranged in neat rows with different colours. In our opinion there are probably too many different colours which distracts, looking crowded and complicated.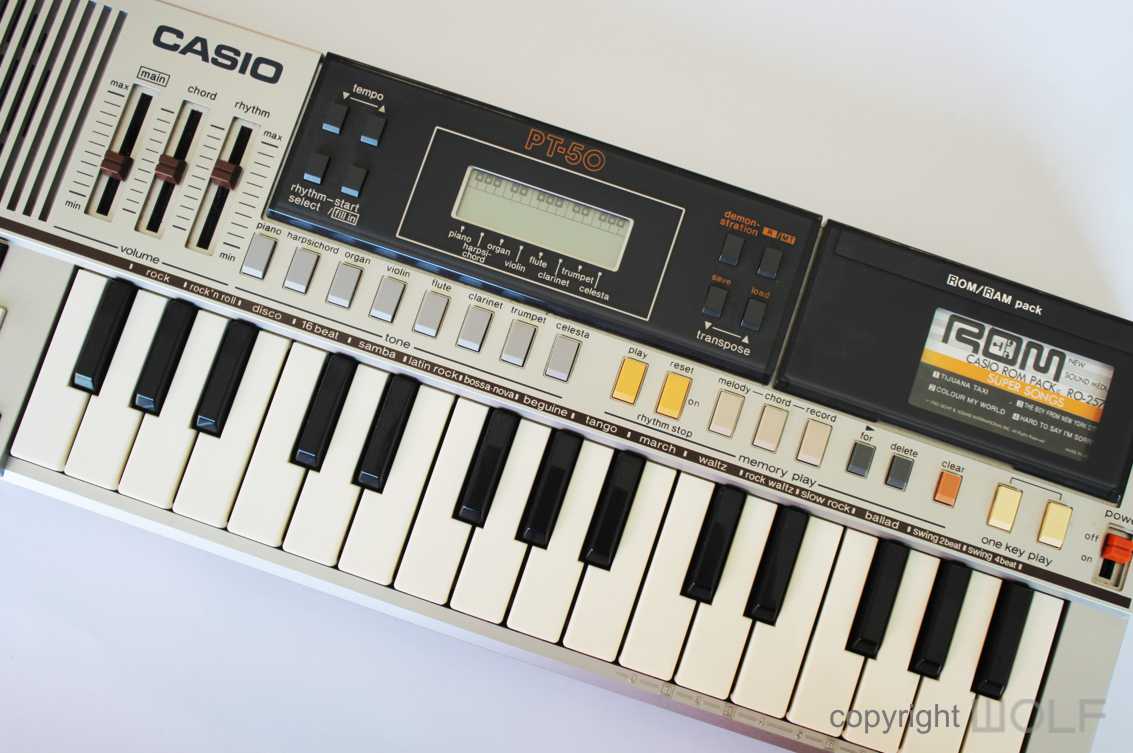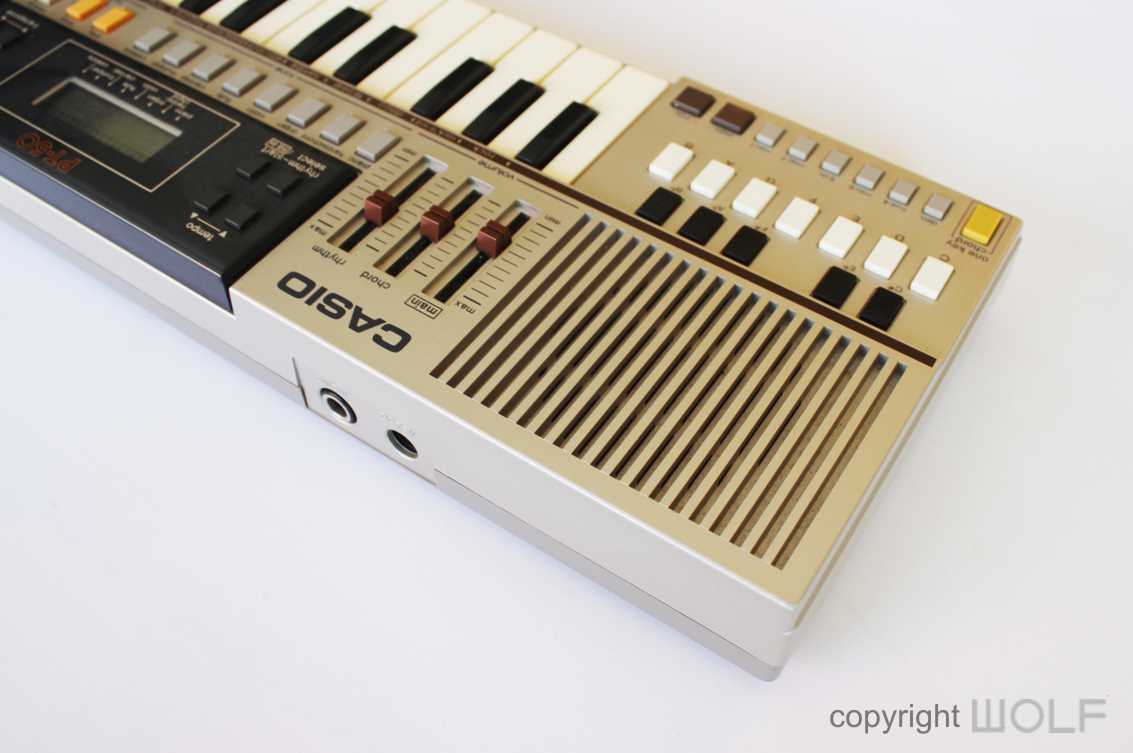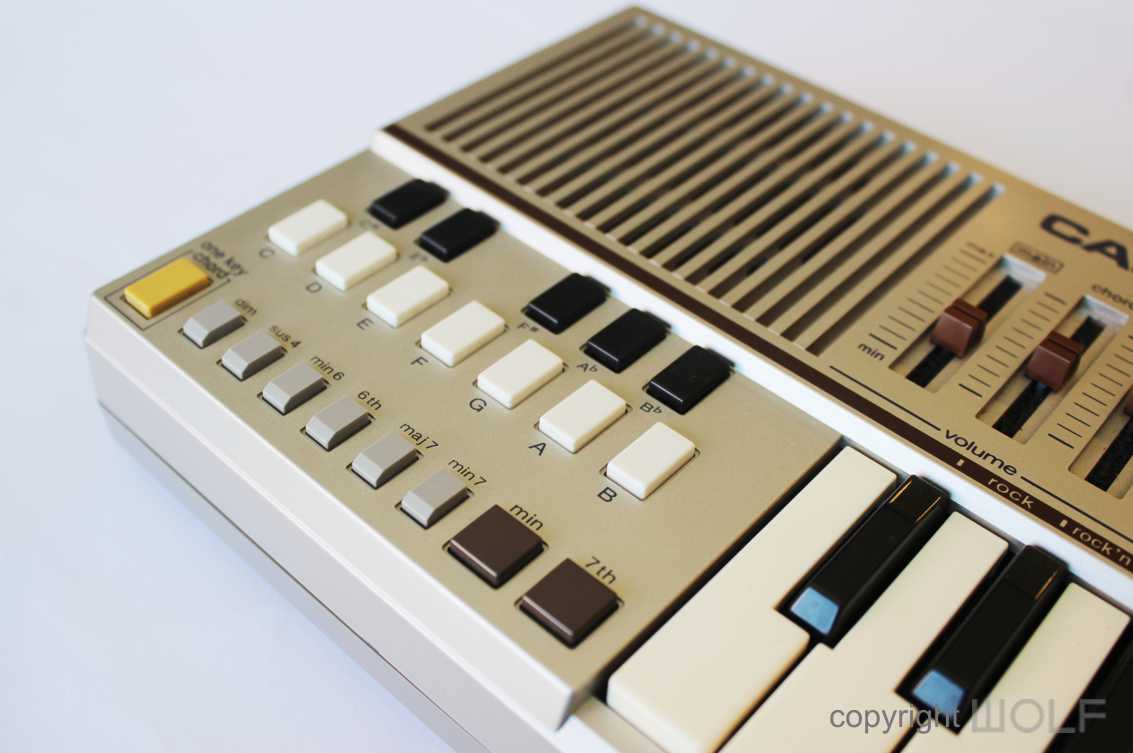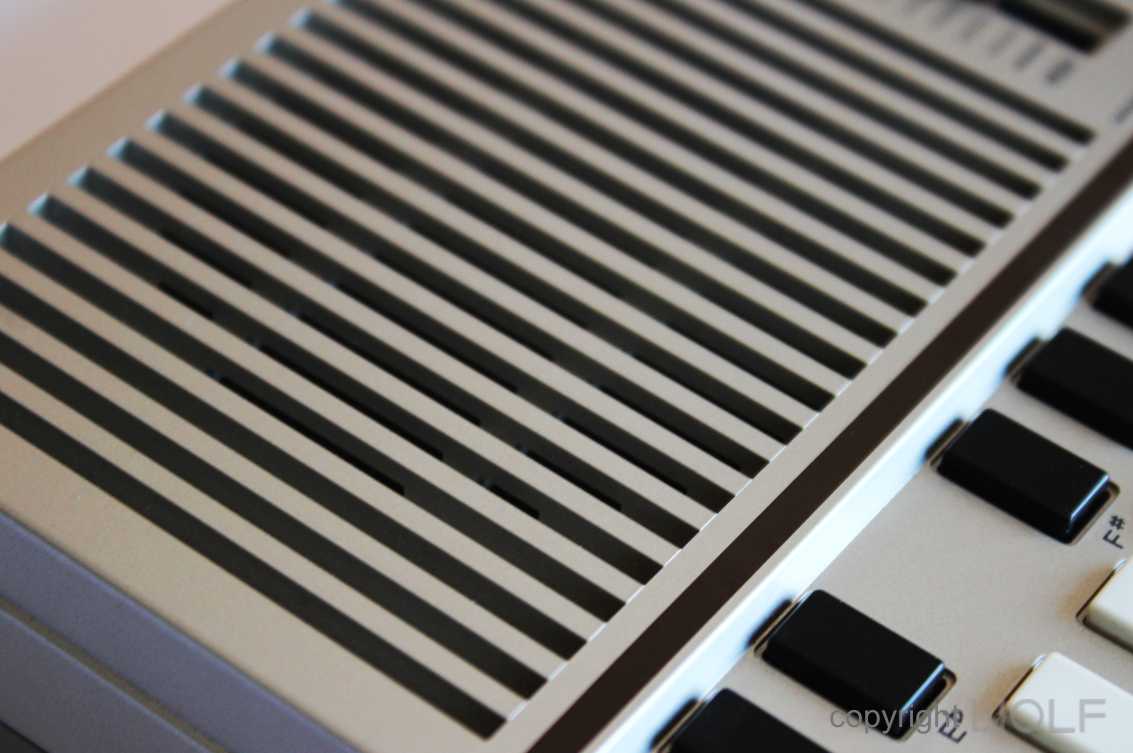 Craftmanship.
The PT-50 is all made of a durable plastic with quality paint finishes. It is well assembled with no visible screws.
All buttons and sliders still generally work well for an instrument that is almost 40 years of age. They press and slide well, but do feel rather basic.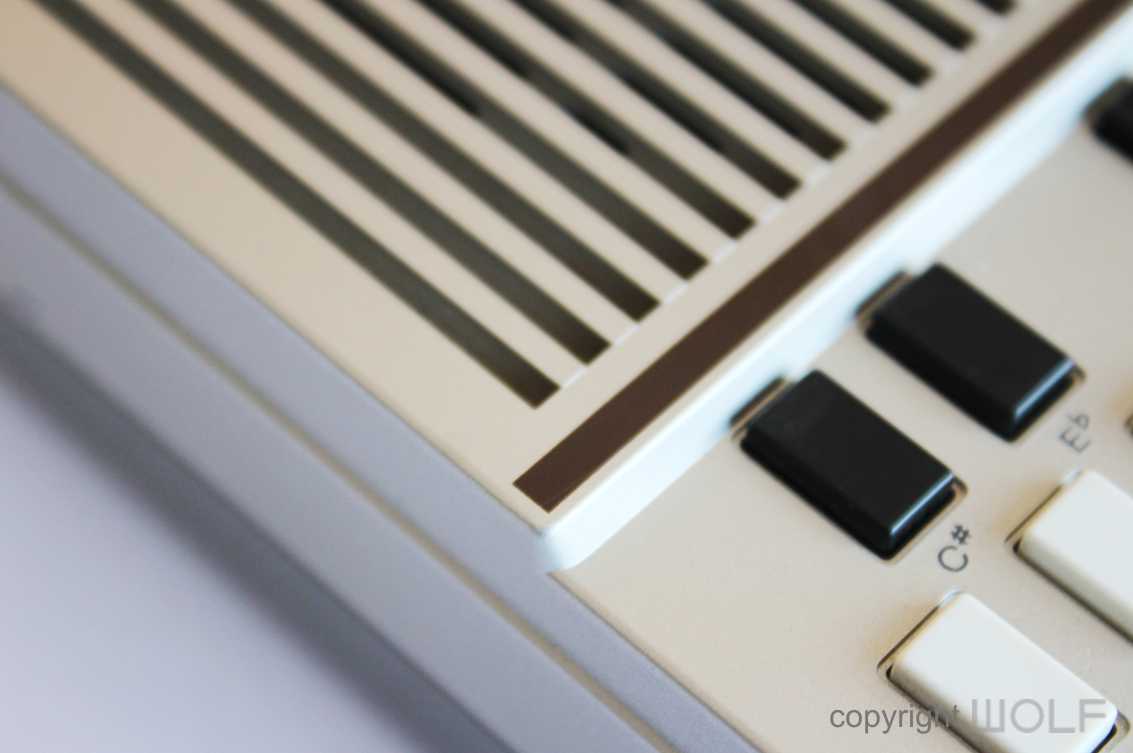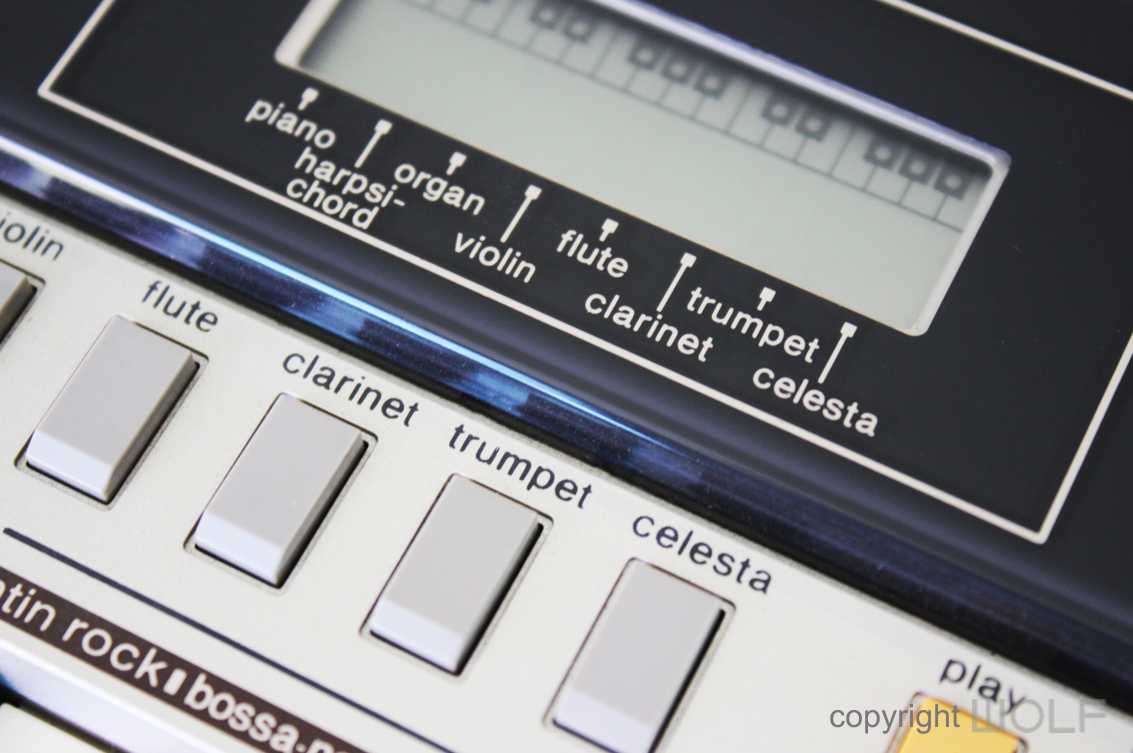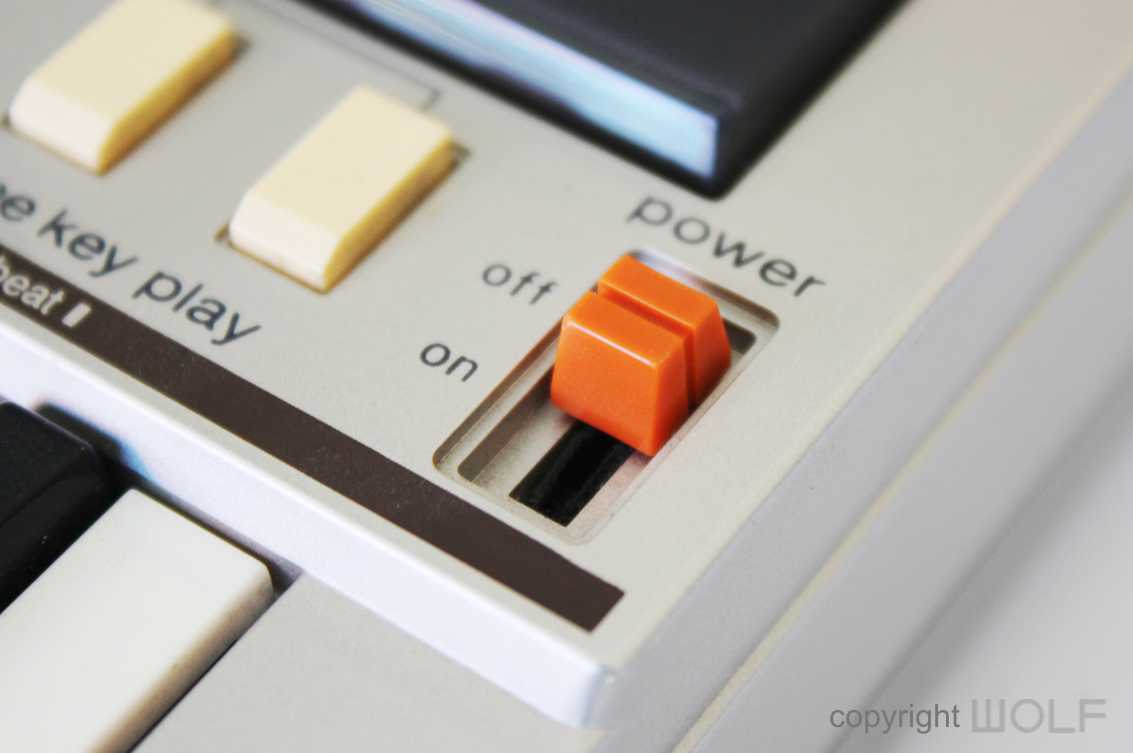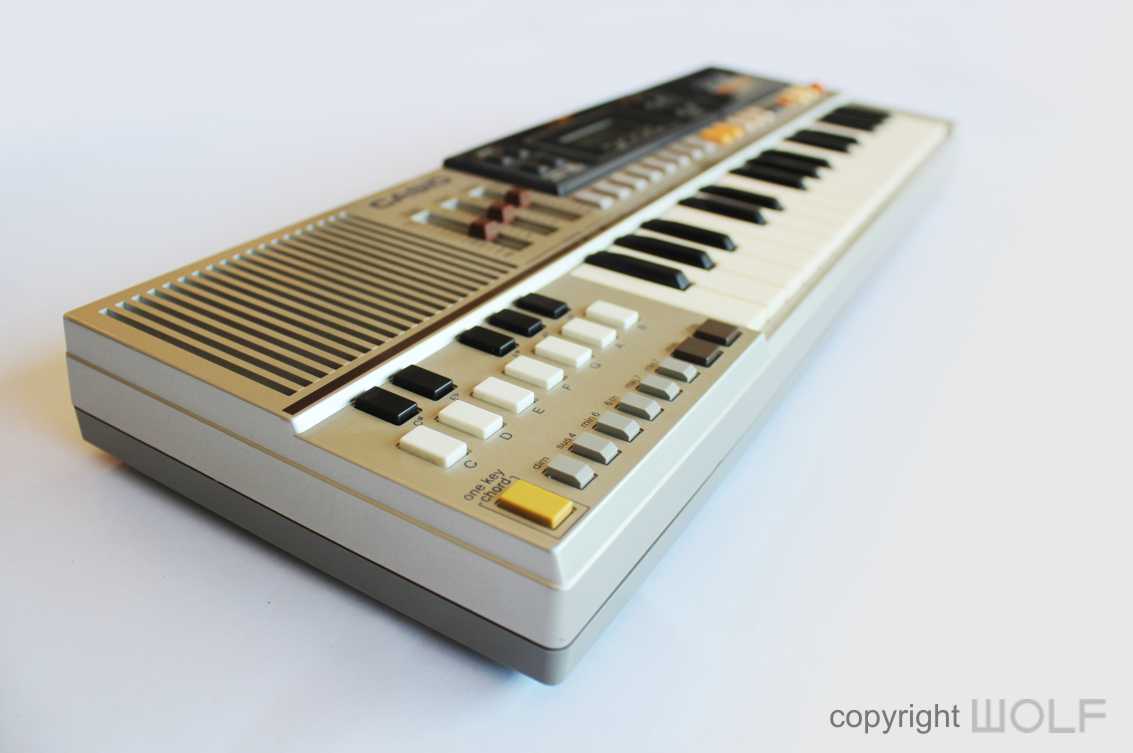 FUNCTION- Experience.
The buttons are a little small in our opinion and their arrangement took a while to understand. The ones on the left are intentionally different to the buttons below the dark acrylic panel, but this inconsistency does not benefit the design in our opinion. The screen looks like something off a portable calculator and is a little hard to read.
The compact size, makes this a very transportable instrument, and there was also an optional Hard Case (KC-1).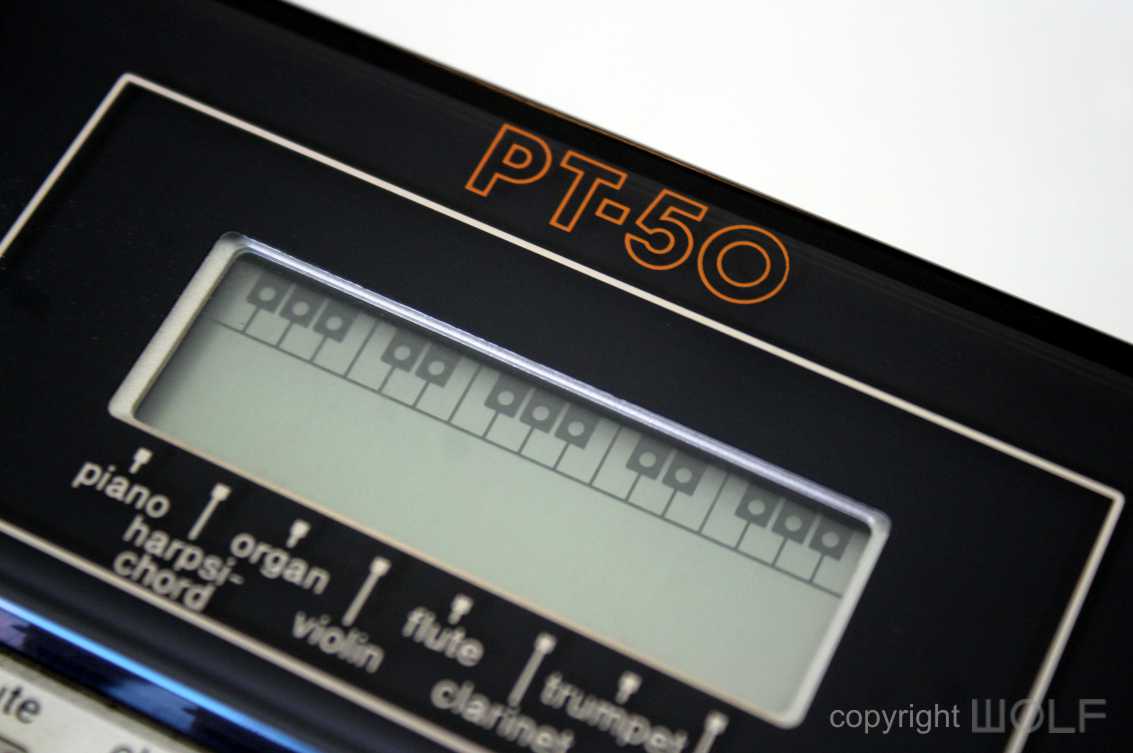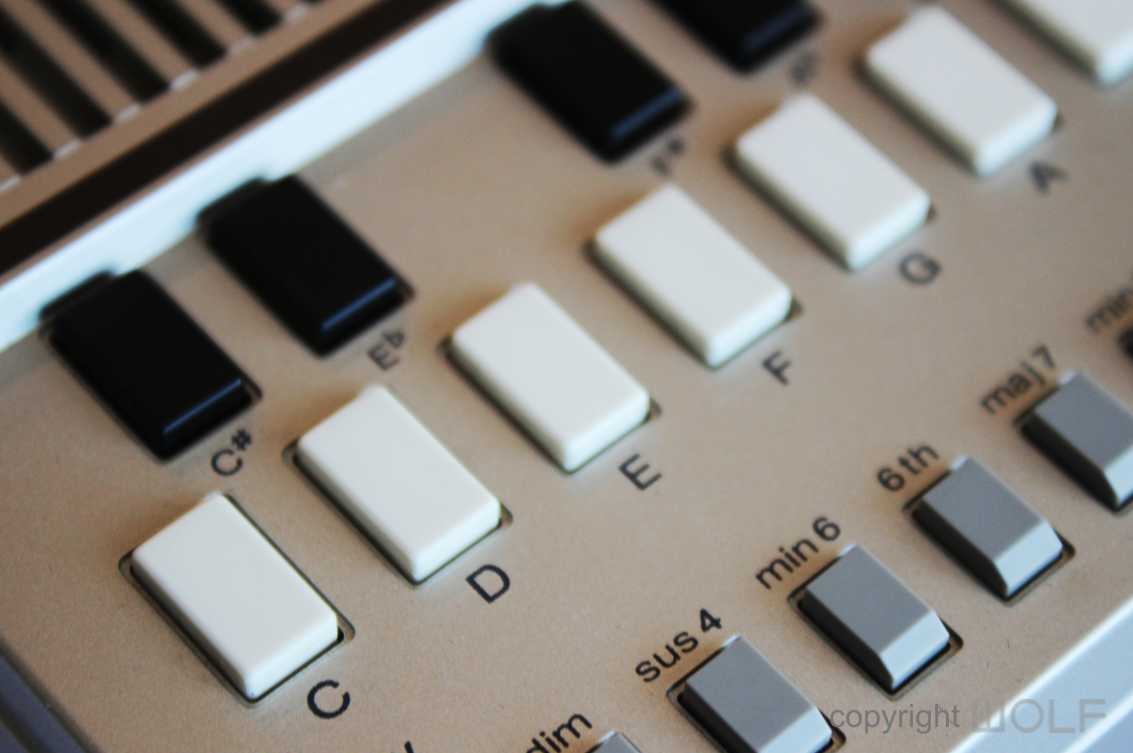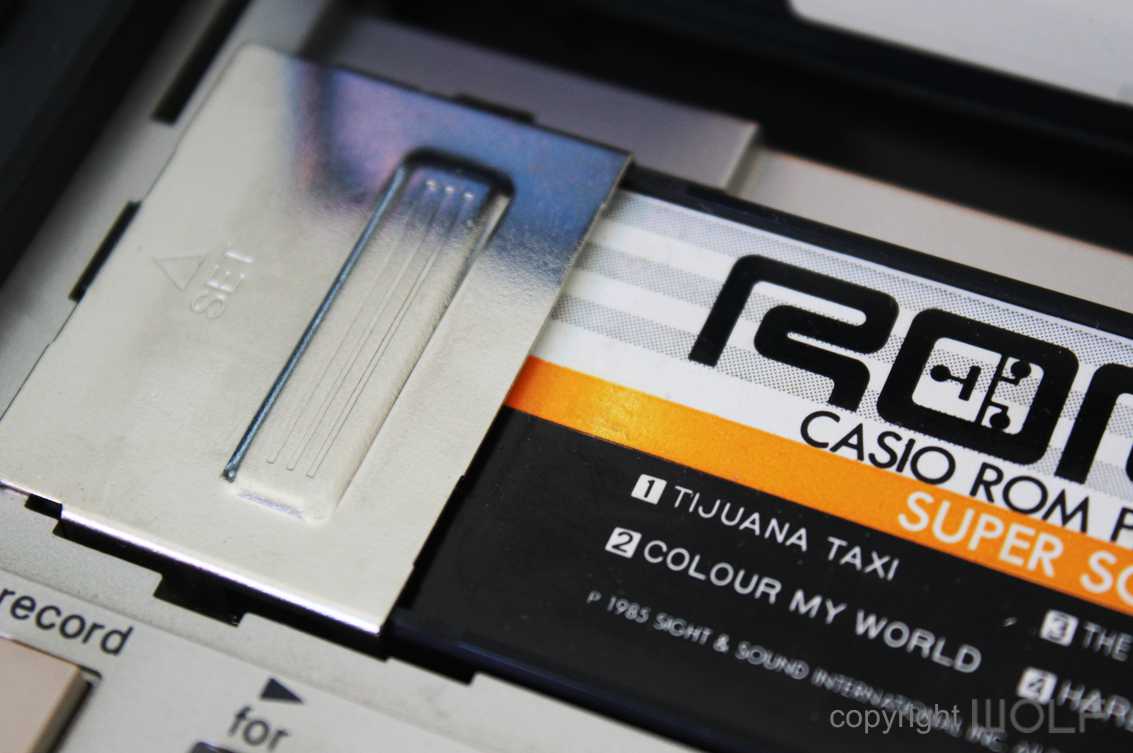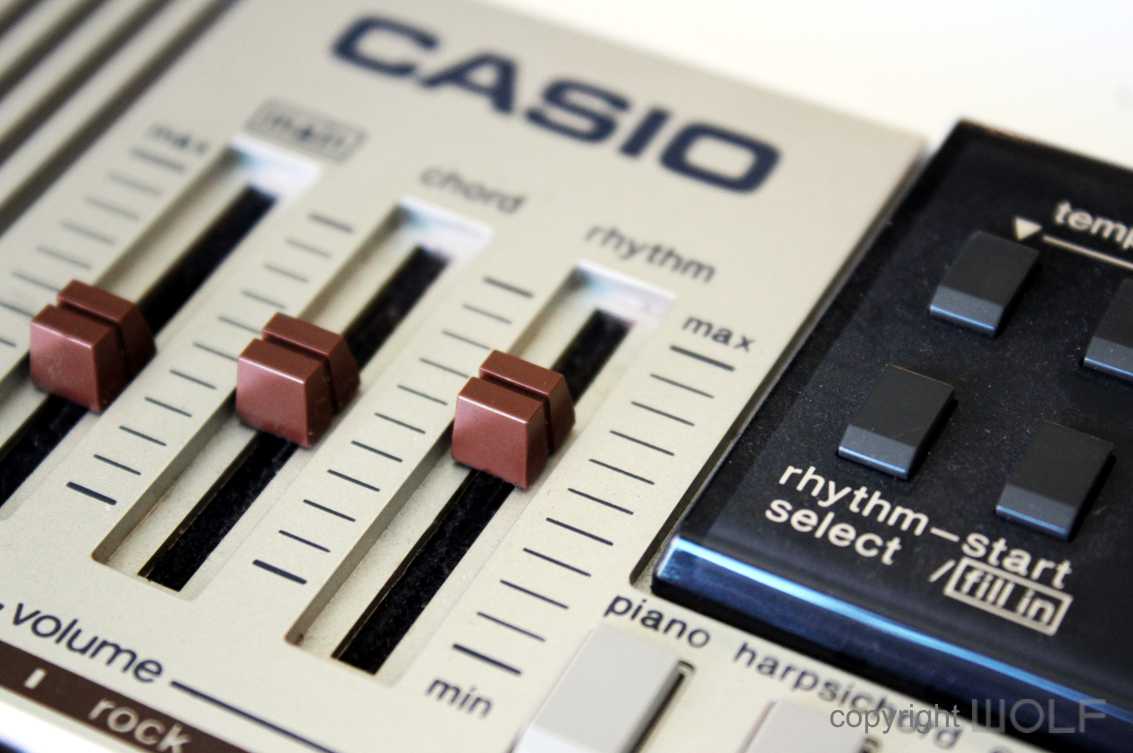 Desirability / Collectability and what to look for.
The PT-50 is a good pick out of the PT range and you can still find very clean, well-cared for units. The ROM cartridges themselves are becoming sought after so try and get a PT-50 with as many cartridges as possible. An original box with books and manuals is nice but even better is the factory KC-1 hard case.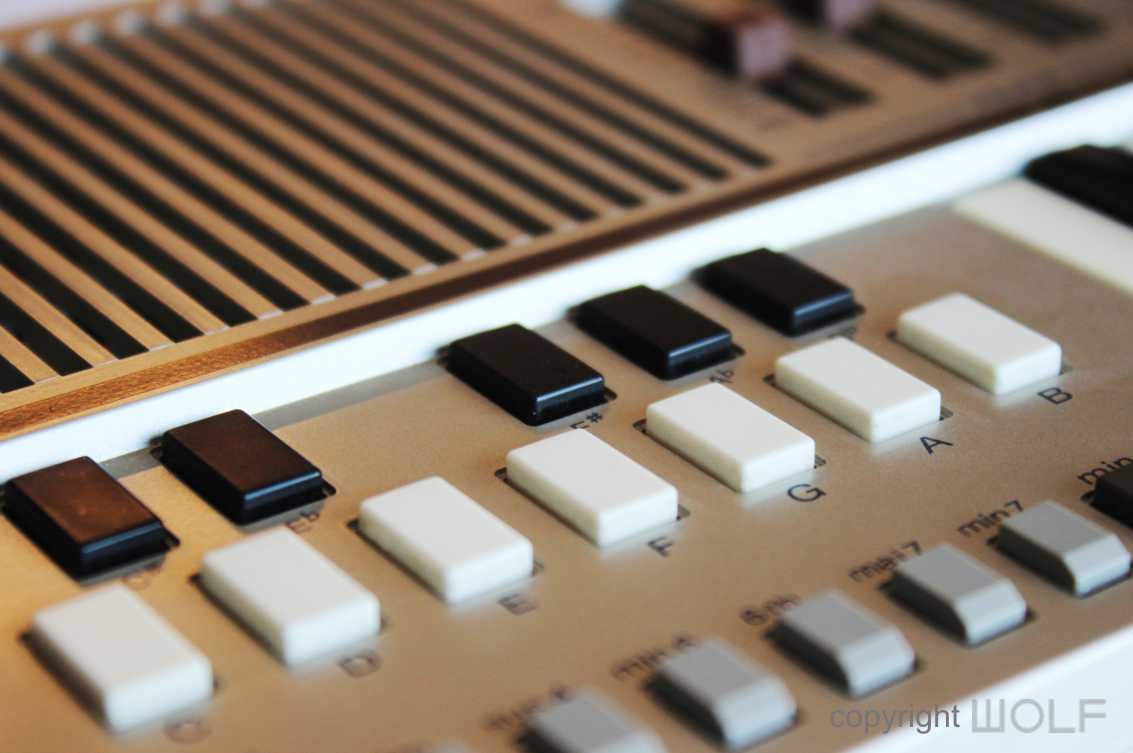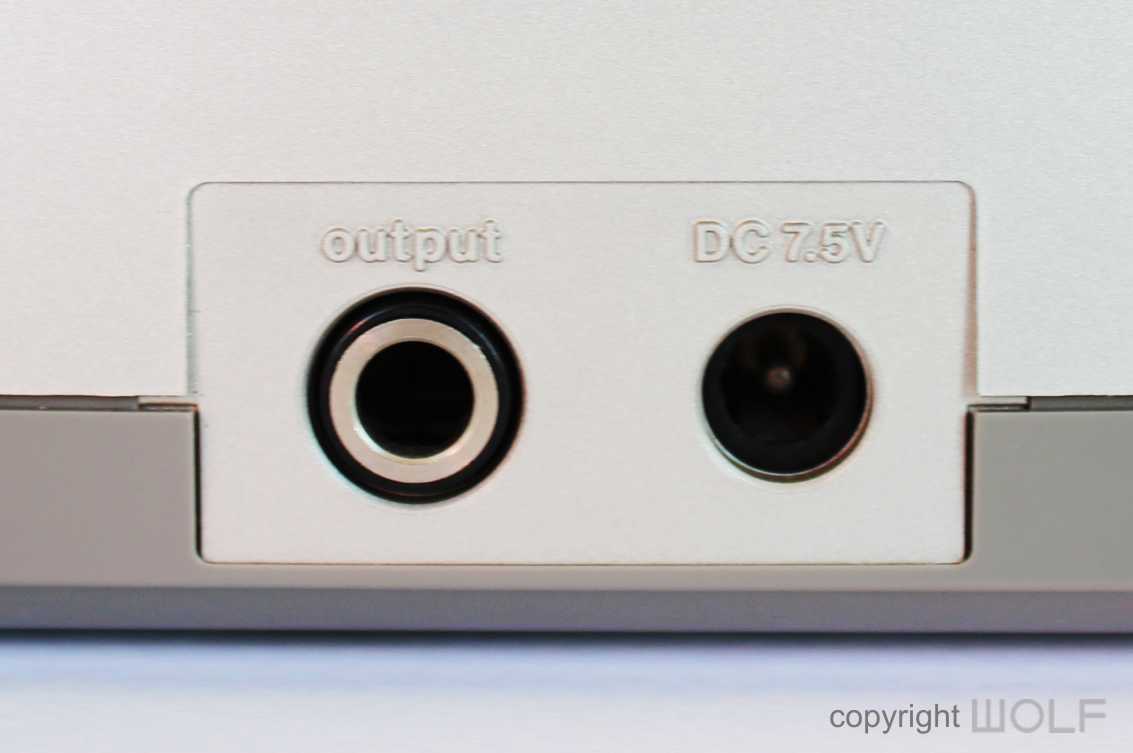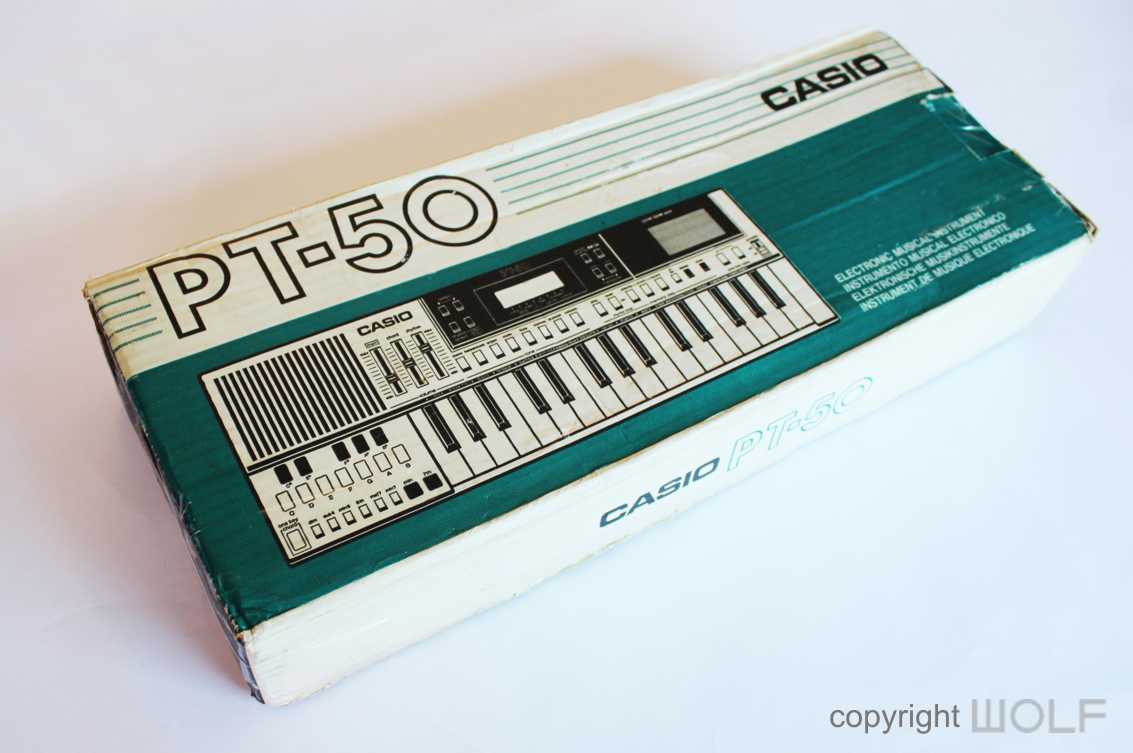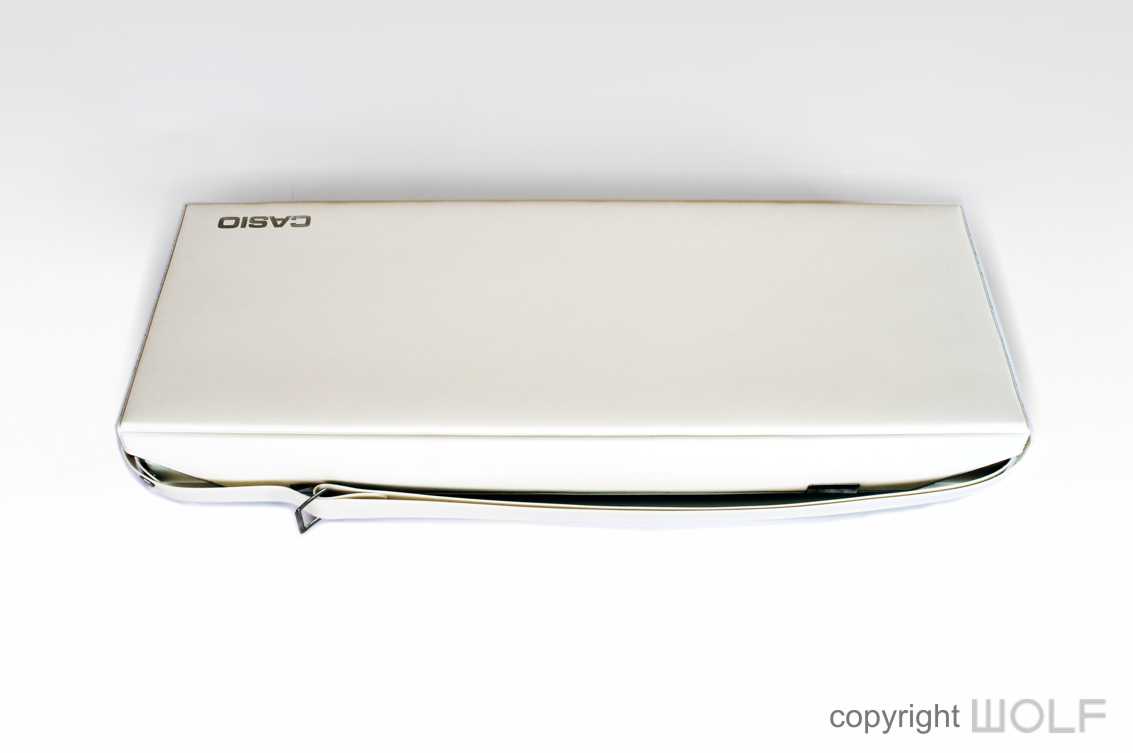 The optional KC-1 Hard Case.
WORD OF THE WOLF
The PT-50 is not beautiful, cool or even that interesting in our opinion. From a design perspective it's unbalanced, inconsistent and even a little messy. It is however our pick of the entire PT range and worth considering if you are a Casio fan.
If you come across a good one for a bargain, it's probably worth snatching up for a bit of fun. The original factory KC-1 case is particularly nice and significantly rarer that the keyboard itself.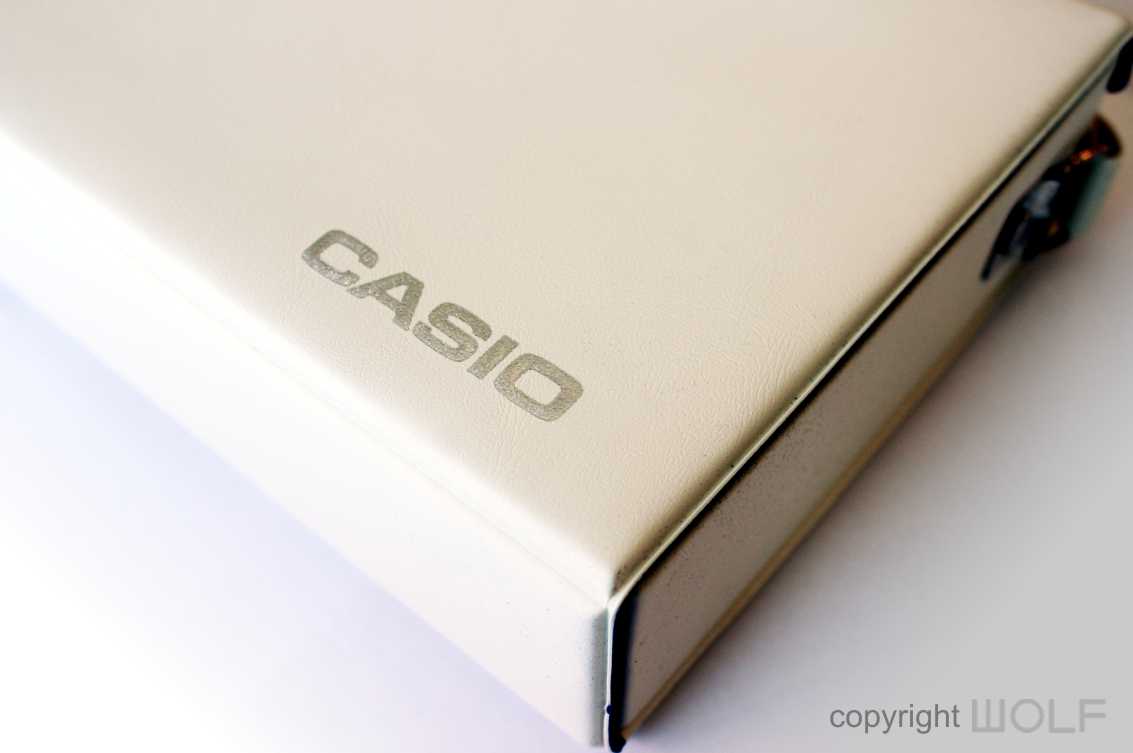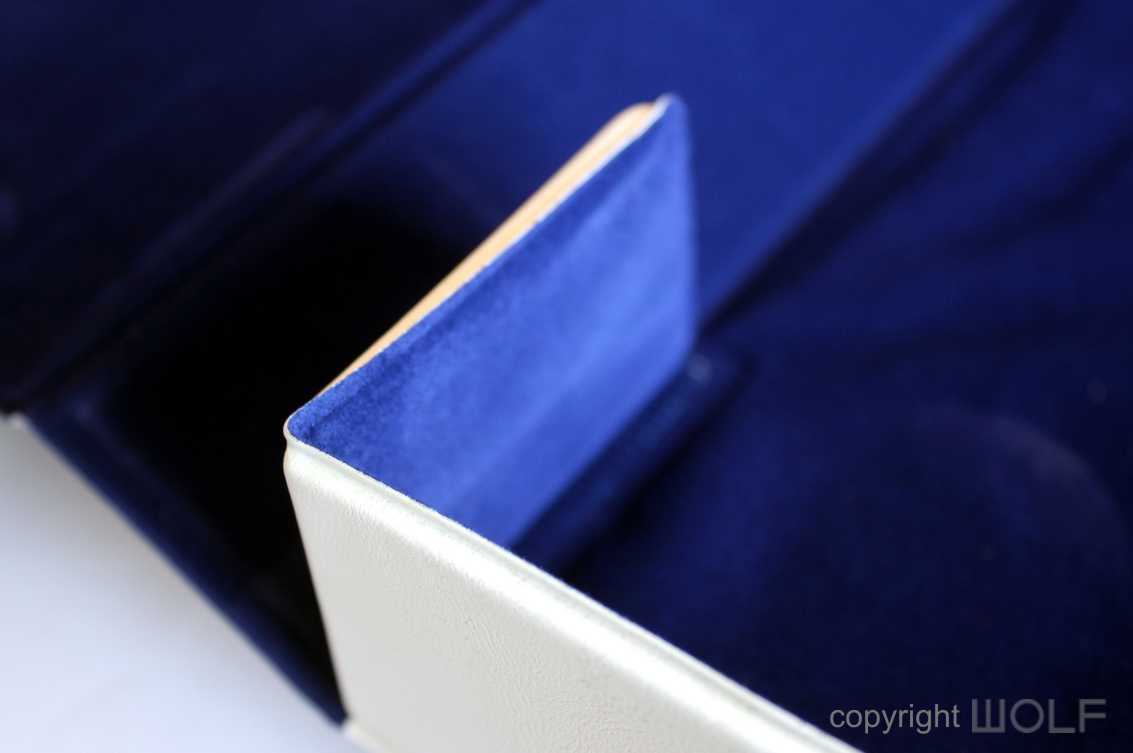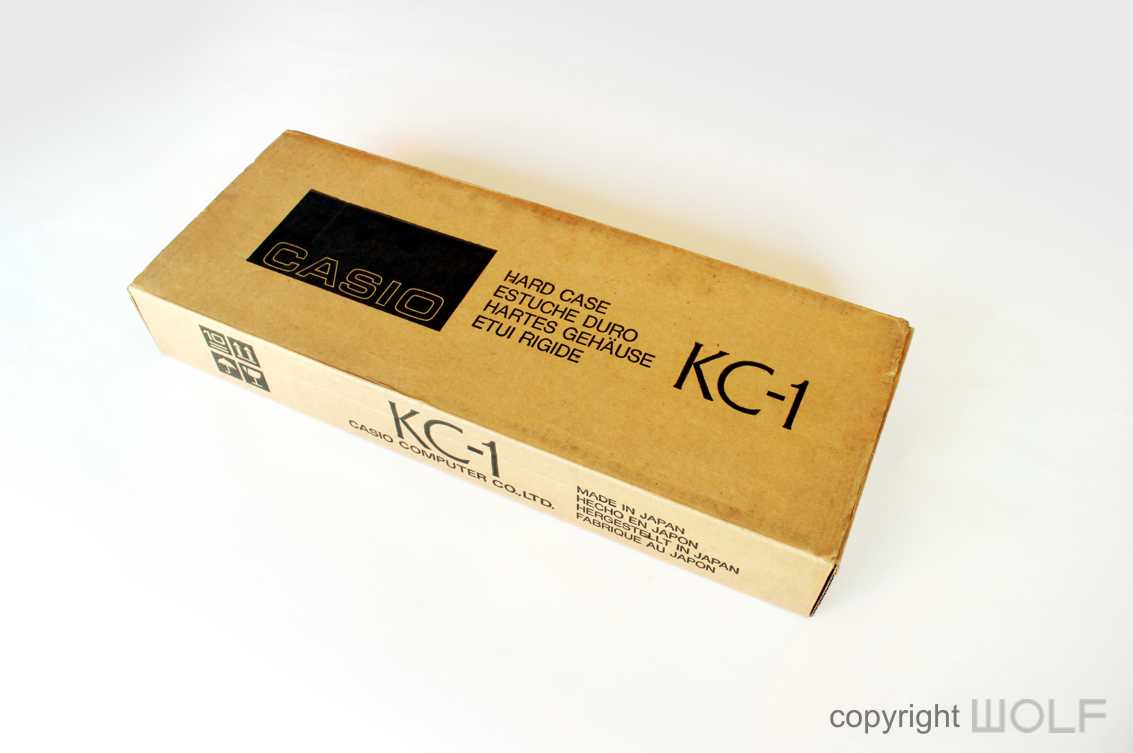 Box for optional KC-1 Hard Case.
WOLF DESIGN EXCELLENCE SCORE = 6.0
Disclaimer
The information in this review is intended for informational or educational purposes to provide readers an understanding of how something may be seen from a certain design perspective. In this case it is from the view point of WOLF DESIGNS. As design is subjective this review should only be considered as an independent opinion. Information further to being of an opinion is provided to the best of our knowledge based on our own research at the time of doing the review. We cannot be held responsible for any inaccuracies or inconsistencies and reserve the right to change or update any content as appropriate.
The final responsibility of the design resides with the original manufacturer.