WOLF retro DESIGN  REVIEW. 15th March 2022
Now 40 years old, this legend continues to shine like a rainbow.
A retro review looks at products that are at least over ten years old from a present-day WOLF design perspective. While the technology and fashion of the period influence design, and are taken into consideration, great design ideas will transcend their eras to be timeless.
Interesting and factual information may be provided, but our review aims to deliver insight from the perspective of a designer's mind and eyes.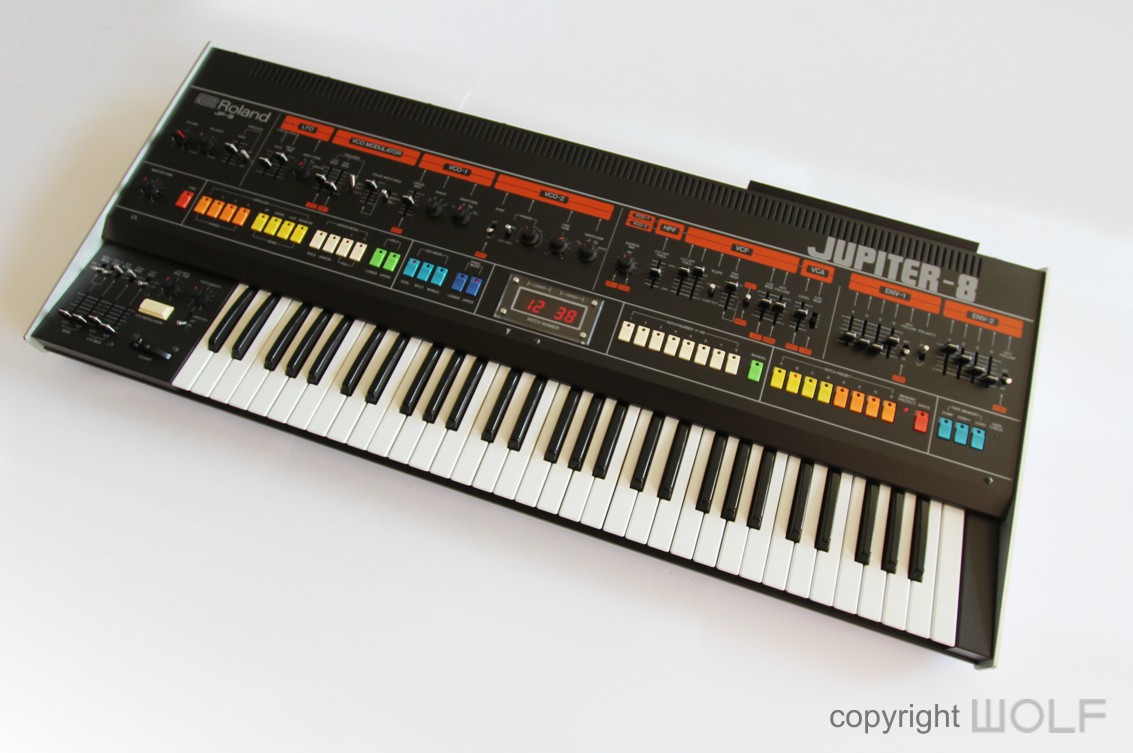 The synthesizer that defined the modern synthesizer.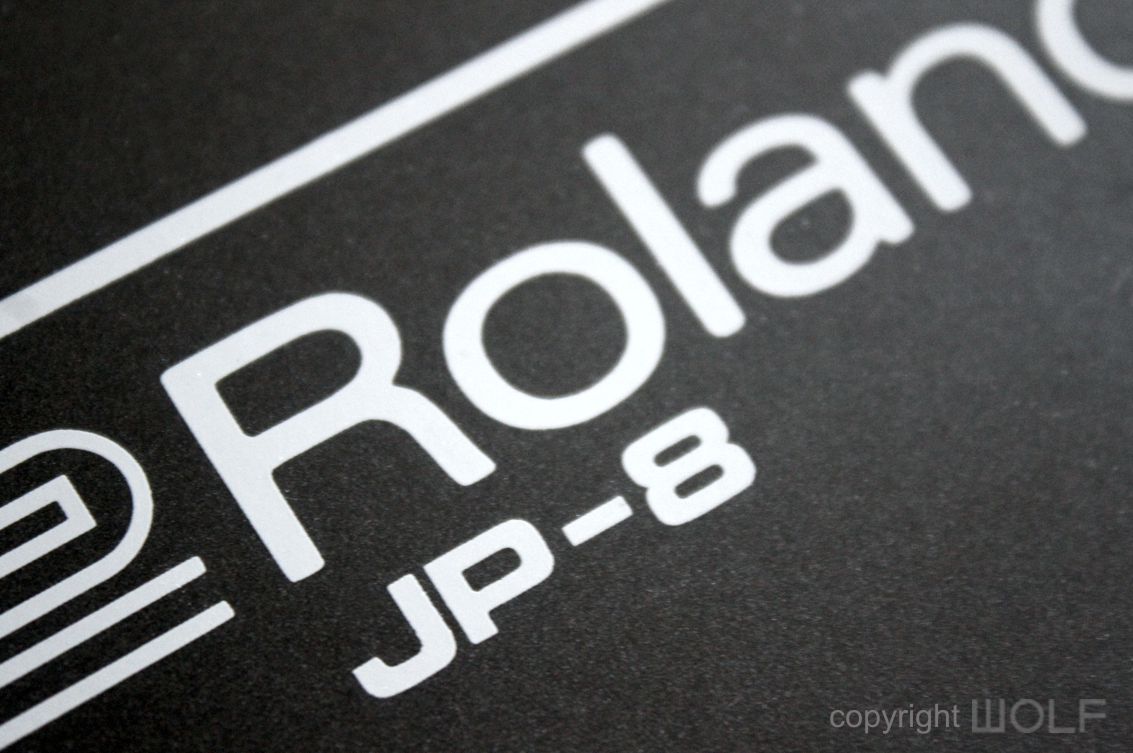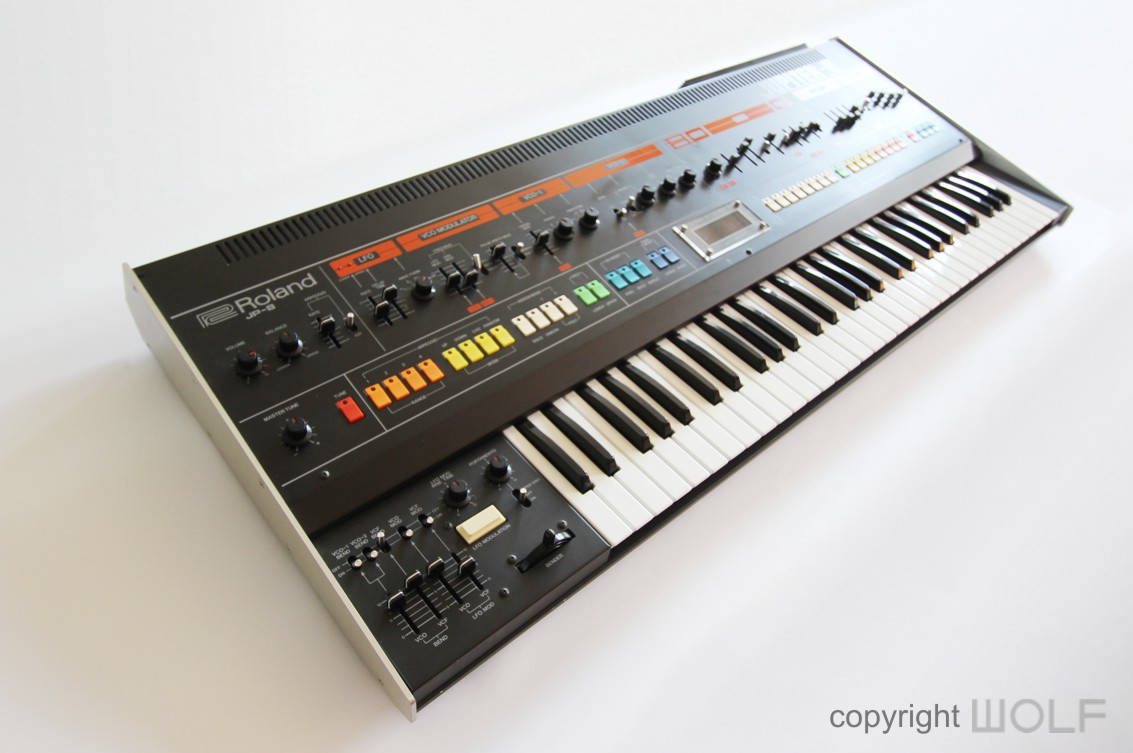 Introduction
Product Focus
As with most Synthesizer reviews the focus is on the design and its evolution with the synthesizer. The functioning systems and sound quality are not necessarily considered.
Product description
In 1982, Roland created a machine that continues to be sought after today even after four decades. Also known as the JP-8, this was Roland's flagship synthesizer which contributed so much to 80's pop music. It had 8 note- polyphony, which was rather good in the day, but unfortunately just missed out on Midi technology. Aftermarket midi retrofits however were therefore quite common.
Price and Availability.
The Jupiter 8 seems to be one of those instruments that continually appreciates year after year. Perhaps the only time they existed at a bargain was in the early 90s, but even then, it would have probably been a beat-up example. When new they were approx. $5000US, a huge price tag, and with Yamahas iconic DX7 launched at a fraction of the price tag in 1983, the Jupiter 8's numbers were limited to approx. 3000 units. As such the Jupiter 8 is rare, and being such a famous instrument, its owners don't like to part with them. At the turn of the century a mint Jupiter 8 could be found for around $3000 Aust. Since then they have steadily gone up at least $1000 per year. We've seen mint ones advertised for sale from $25,000 to $50,0000!
Additional information
Made Famous by bands like Duran Duran, the Jupiter 8 continues to have a sound that many experts claim hard to replicate. Roland continues to develop new synths that can bring back that Jupiter feeling. New products like the Jupiter-80. Jupiter X, and JP-08 all evidence the love and demand for the Jupiter 8. Even their designs reflect the old, but nothing can replace the original.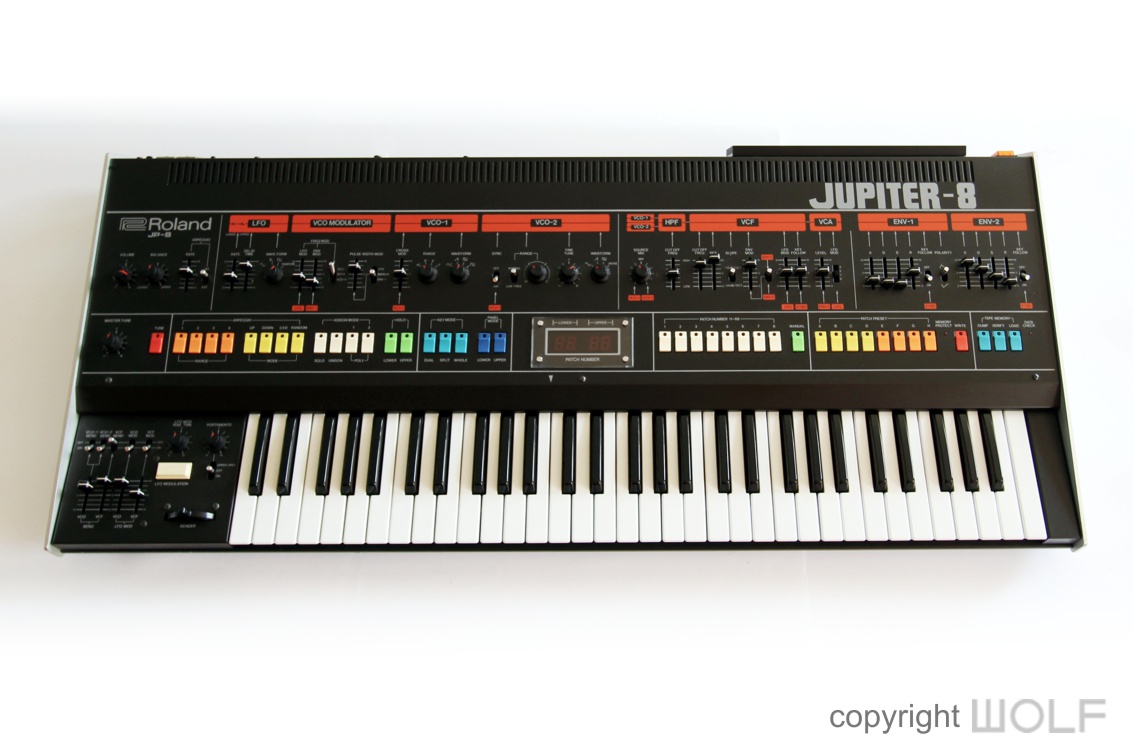 Iconic, legendary and in very high in demand!
Review
First impressions / Delight
We've wanted to review the Jupiter-8 for a very long time, so very excited to finally be here in front of a King amongst Kings. It's the analogue synthesizer to fittingly ends the era of analogue synths, and many were understandably sad. While we can't deny the digital era with the likes of Yamaha's FM technology, many will argue that all synthesizers should still look like the Jupiter-8, even if they are digital. We agree, and by comparison, the next generation of synths seem rather bare and empty, at least from a design perspective. Visually the Jupiter-8 is clearly defined by its controllers, rainbow coloured buttons and LED lights. With all its metal cladding and air vents It's very industrial, but beautiful at the same time. Perhaps the word that most comes to mind is "Exciting", because its cool looks will entice you to play and experiment.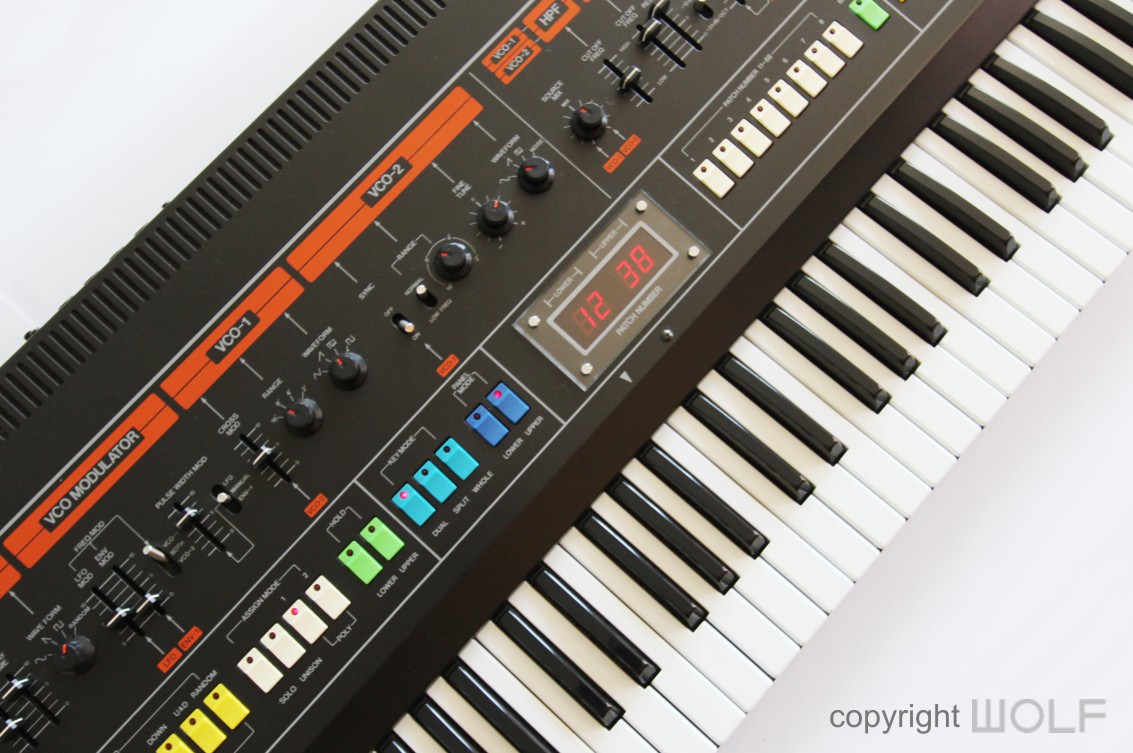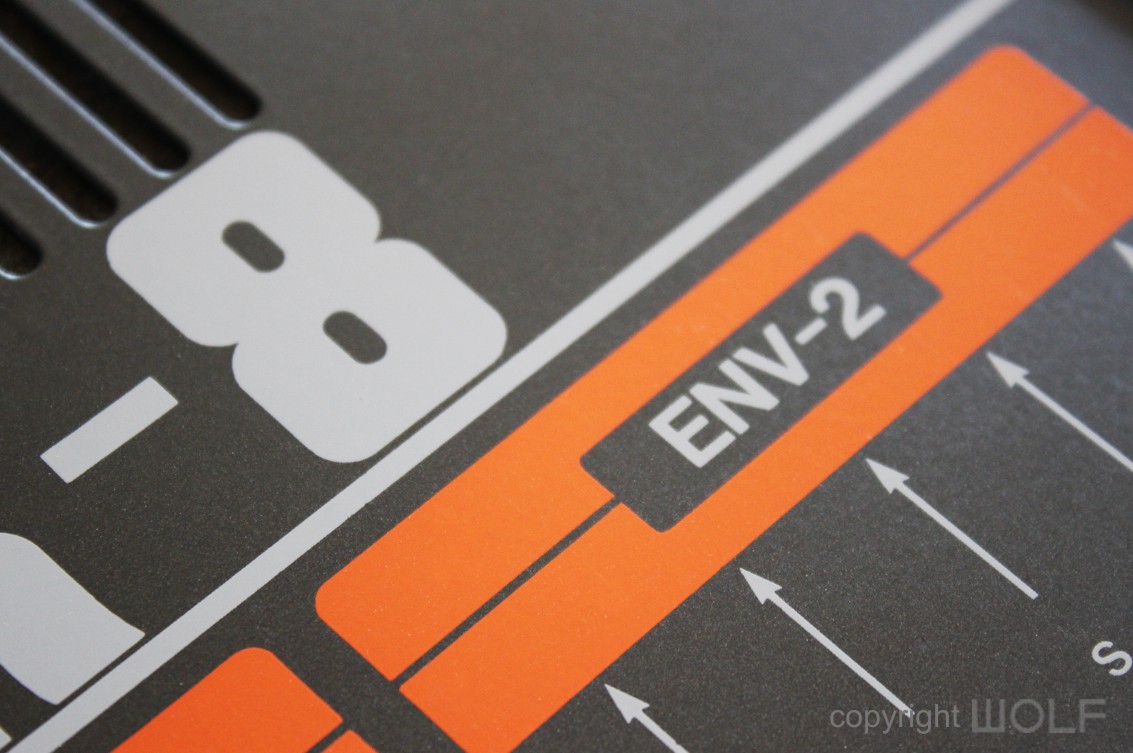 Exterior Design Review
The Jupiter 8, is undeniably well built as the entire casing is metal. Even the ends are capped with a simple aluminium plate. This plate is brushed, raw and contrasts perfectly with the grey body. It's so simple and feels cool to look at, as well as to touch.
The main front panel is one sheet of metal painted in charcoal grey. It's important to note that it's a warmer grey tone and when complimented by a dominant use of orange graphics, there is a great sense of invitation.
While the entire instrument is dominated by sliders, switches and buttons, it does not look overcrowded and there is good order and discipline throughout. The use of bright and youthful colours not only calms the machines intensity, but adds a sense of playfulness that seems appropriate to the 1980s. The left end panel where the bender is located, is probably a bit busy and confused in our opinion. We also think all the exposed screws could have been avoided with better detailing. While many will argue that all those visible screws are a part of the look, we can't help but imagine how vastly ahead of its time the Jupiter-8 would have been without them.
The angle of the rear panel is futuristic and successfully slenderizes a relatively large instrument. With "Roland" in big graphics on the rear and a continuous row of vents across the top front, this machine looks serious and hot.  The levers, switches, buttons and LED lights have a mechanical feel and look like they came straight out of an aeroplane's cockpit. One very nice detail, is with the central display. An acrylic rectangle with bevelled edges is attached with four hexagonal chromed bolts. A rather exquisite touch amongst a sea of mechanisms.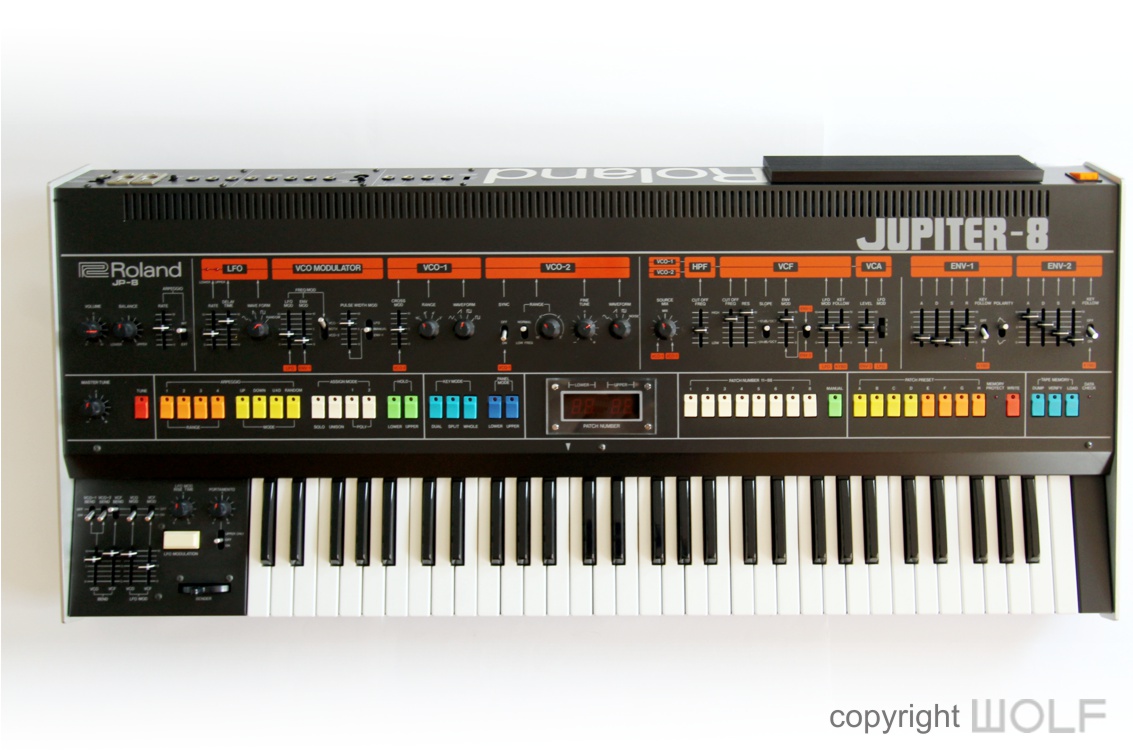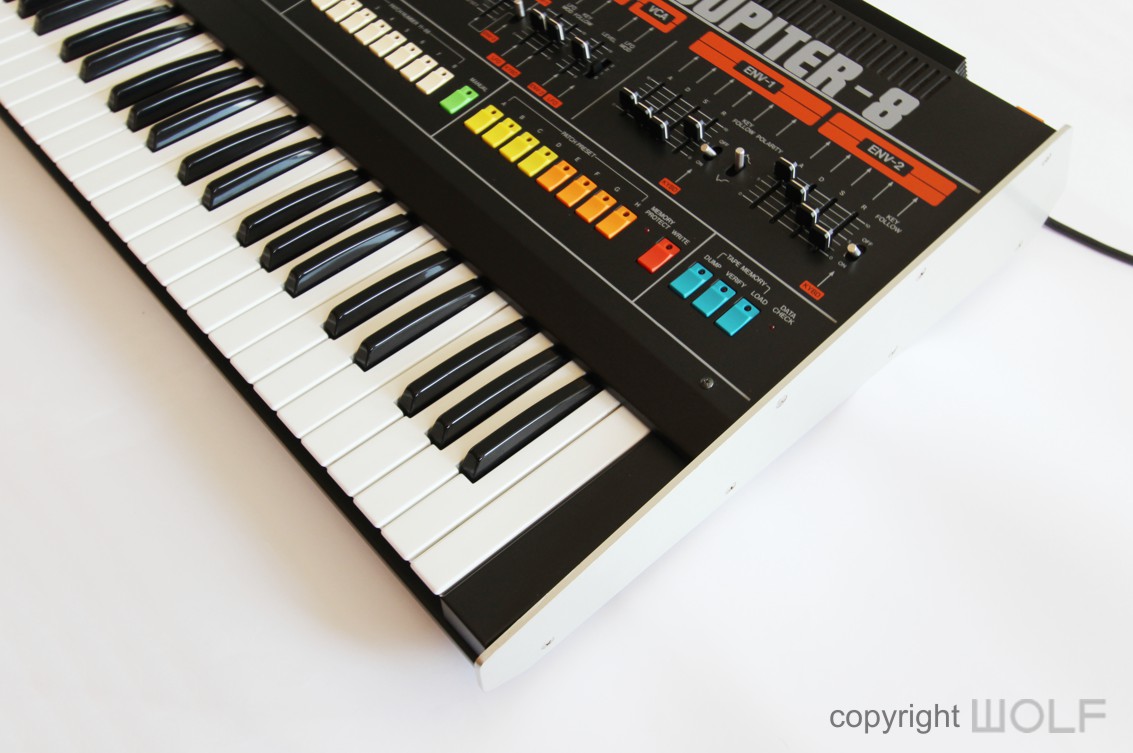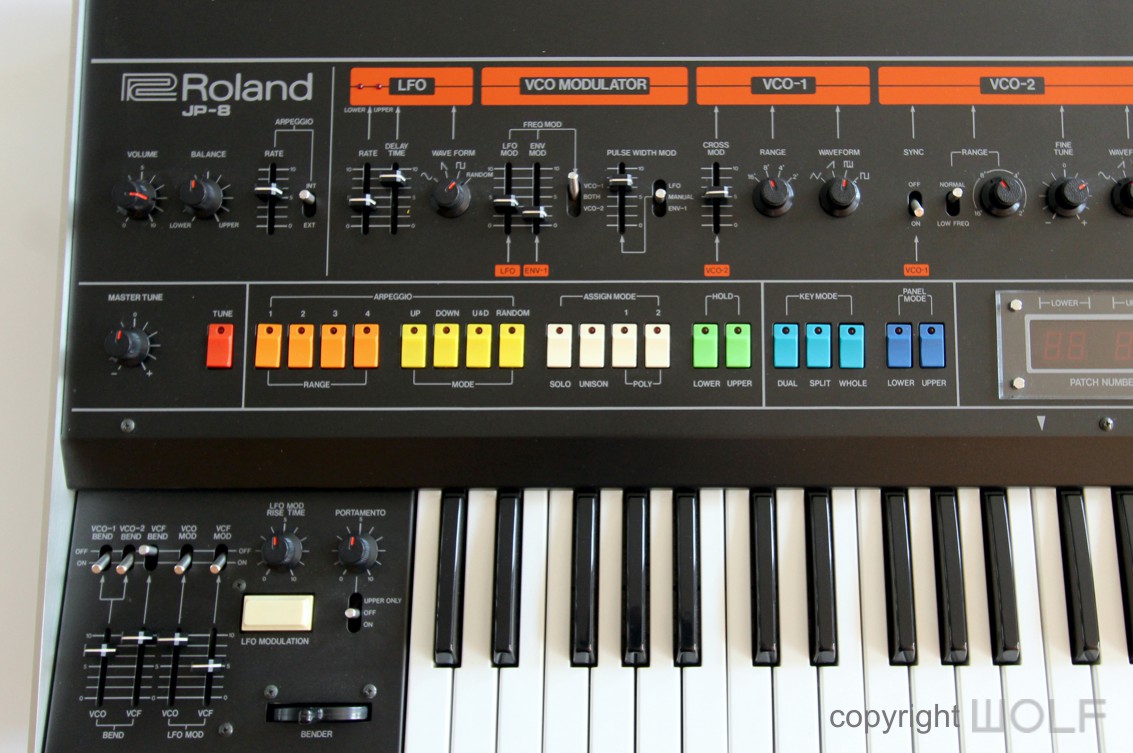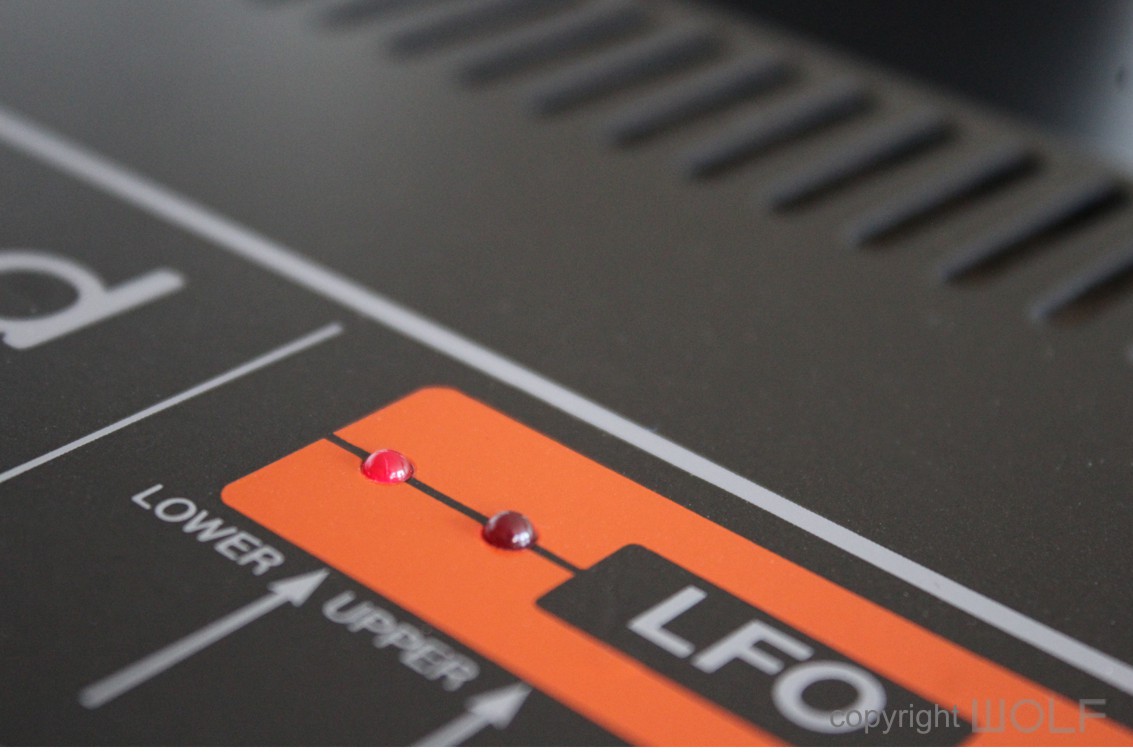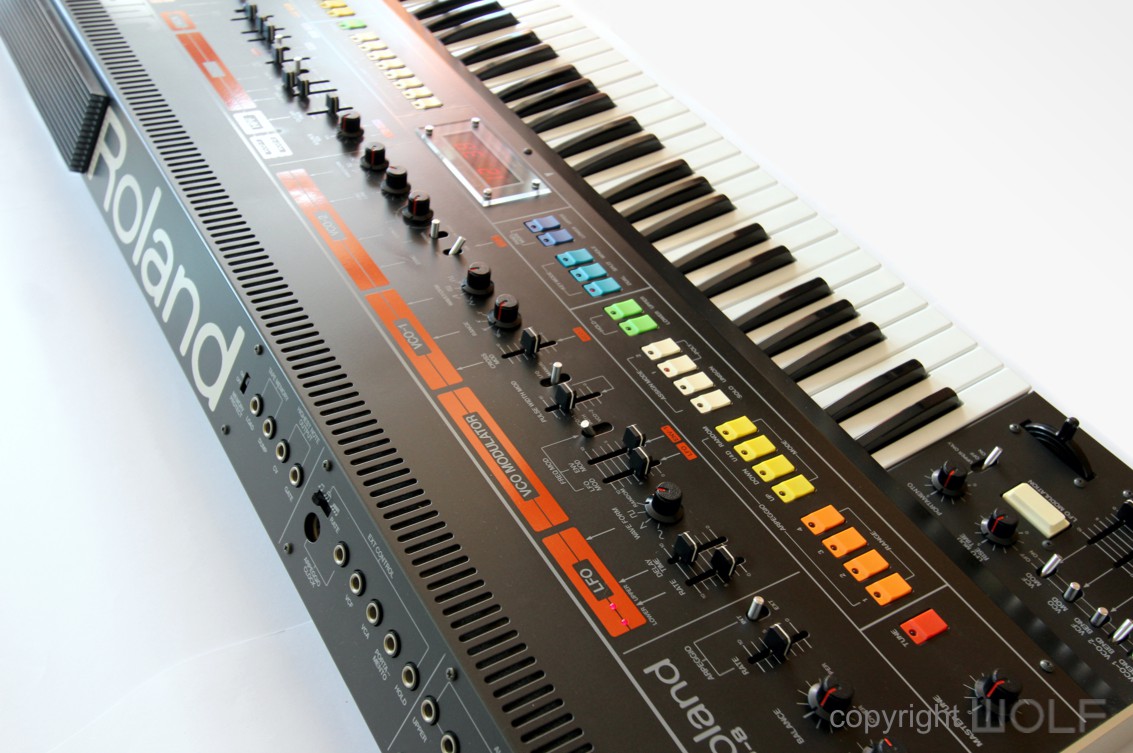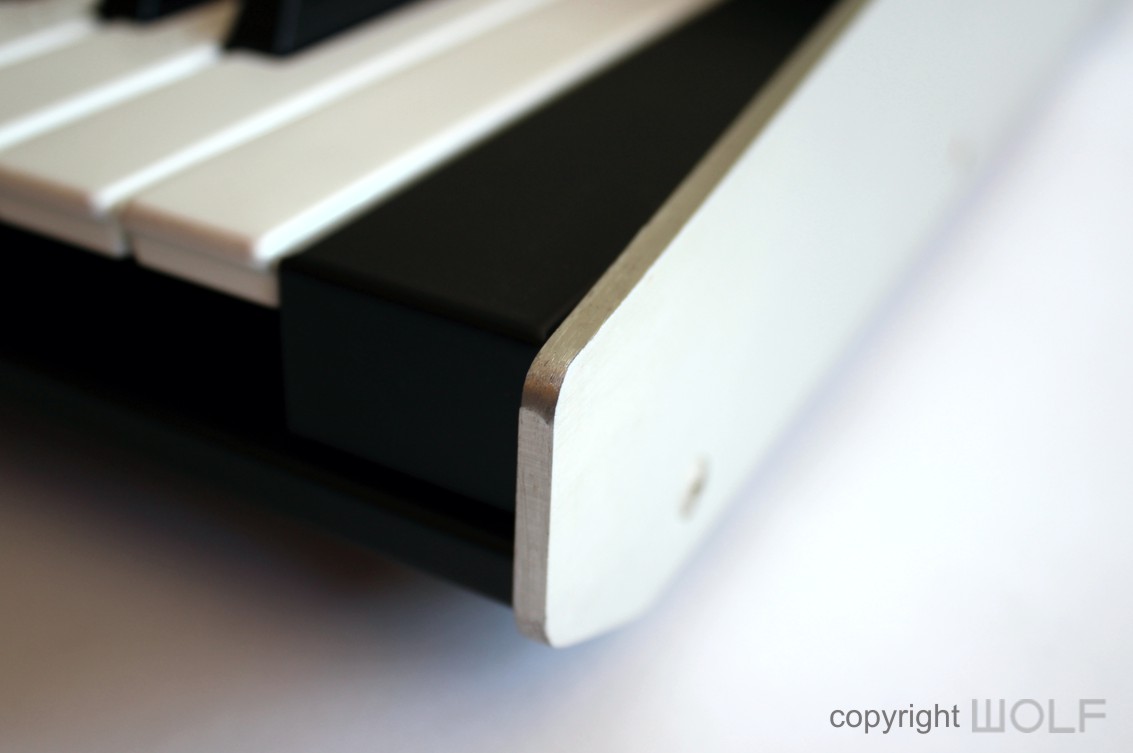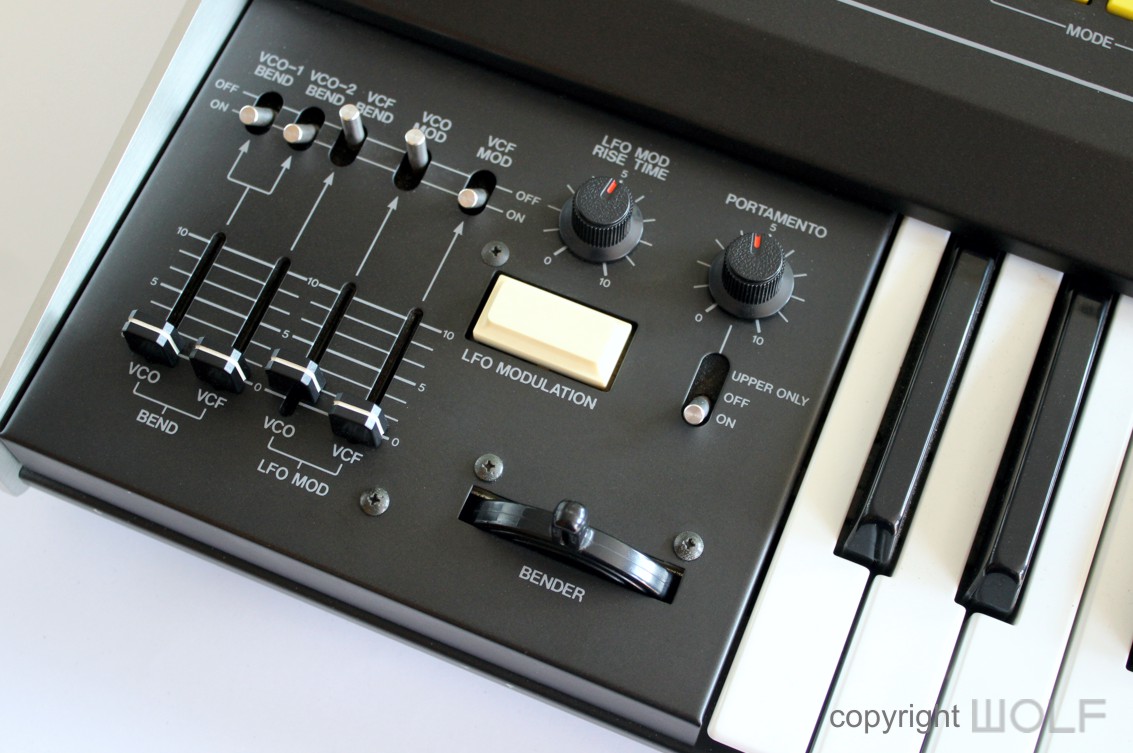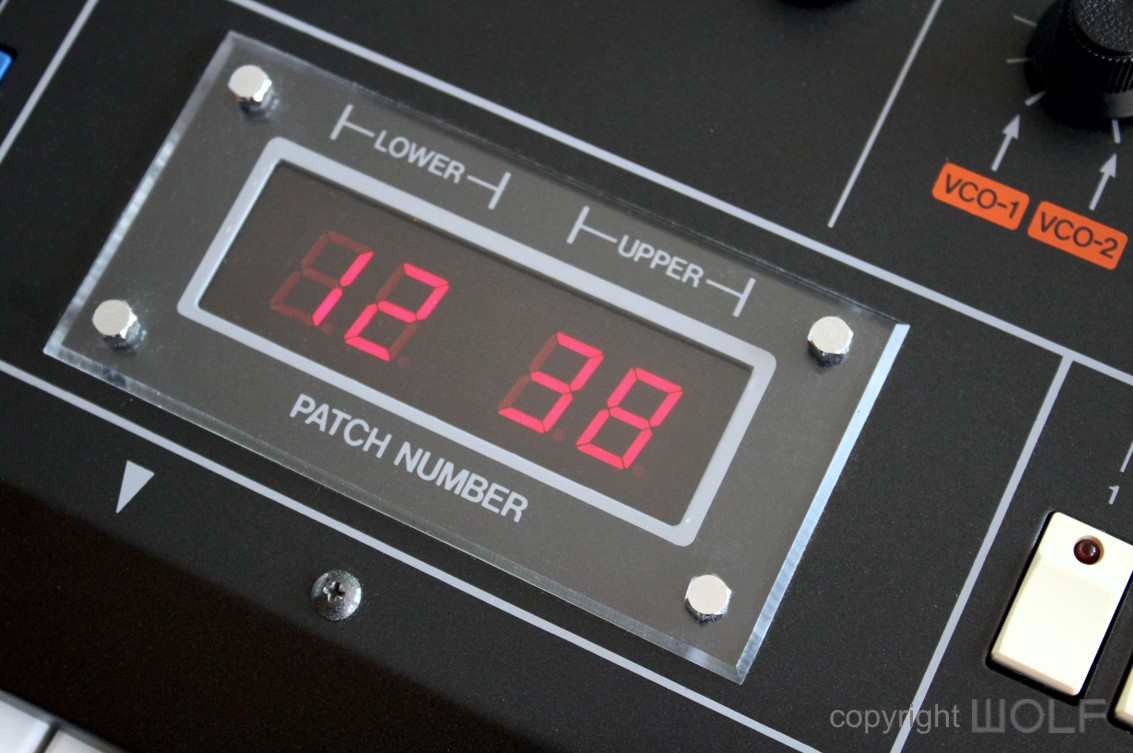 Not a lot of info, but very cool indeed.
Craftmanship.
There's a lot of metal in this instrument with the main front panel as a single sheet that folds at an aerodynamic angle at the rear. Not surprisingly the Jupiter-8 is heavy and can severely scuff things with those thick aluminium end panels that do not sit not flush with the main body.
A well cared for Jupiter-8 should look as good as the day it came out of the box because everything is of industrial grade. Even the paint & graphics are of high quality, well applied and easy to read.
Unfortunately, most were used to death and left with scars to prove their usage. The metal switches and lever knobs have been known to snap. The buttons tend to crack or go missing, but the good news is that aftermarket exact copies can be found. Even those classic aluminium end plates are available, or if not, relatively simple to recreate.
This instrument was in some ways rather brutal in its construct with quality materials and exposed visible screws. Clearly it was designed for live and long performances and many still remain in active service.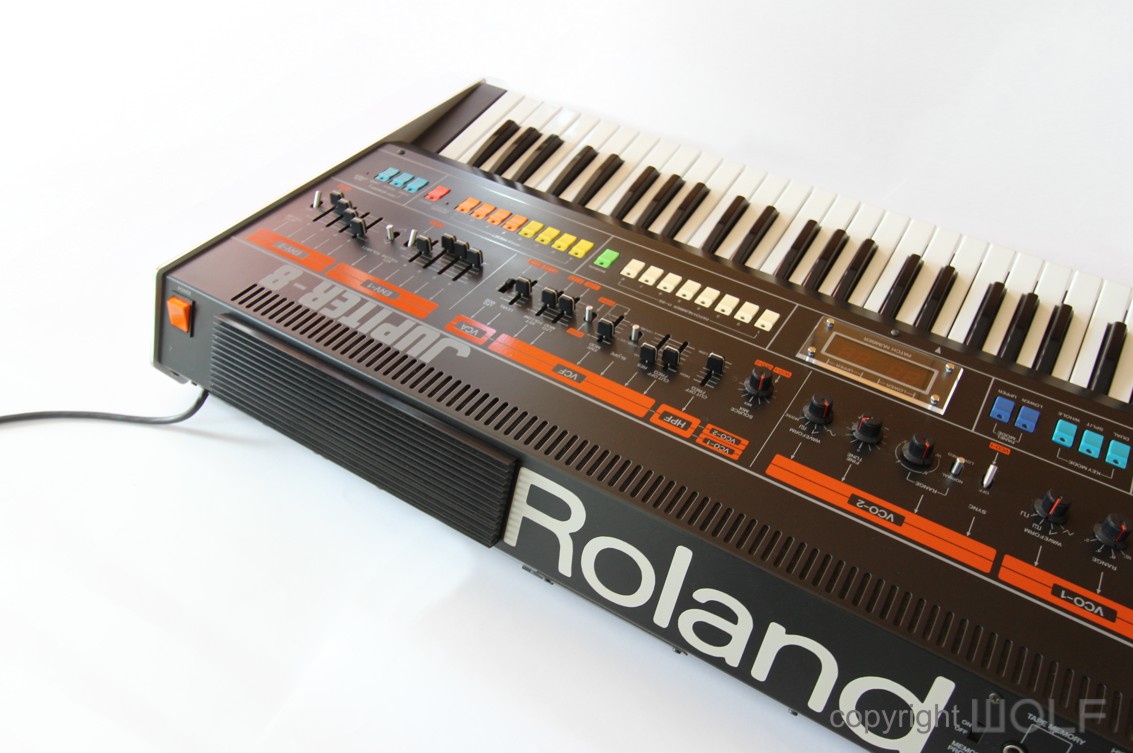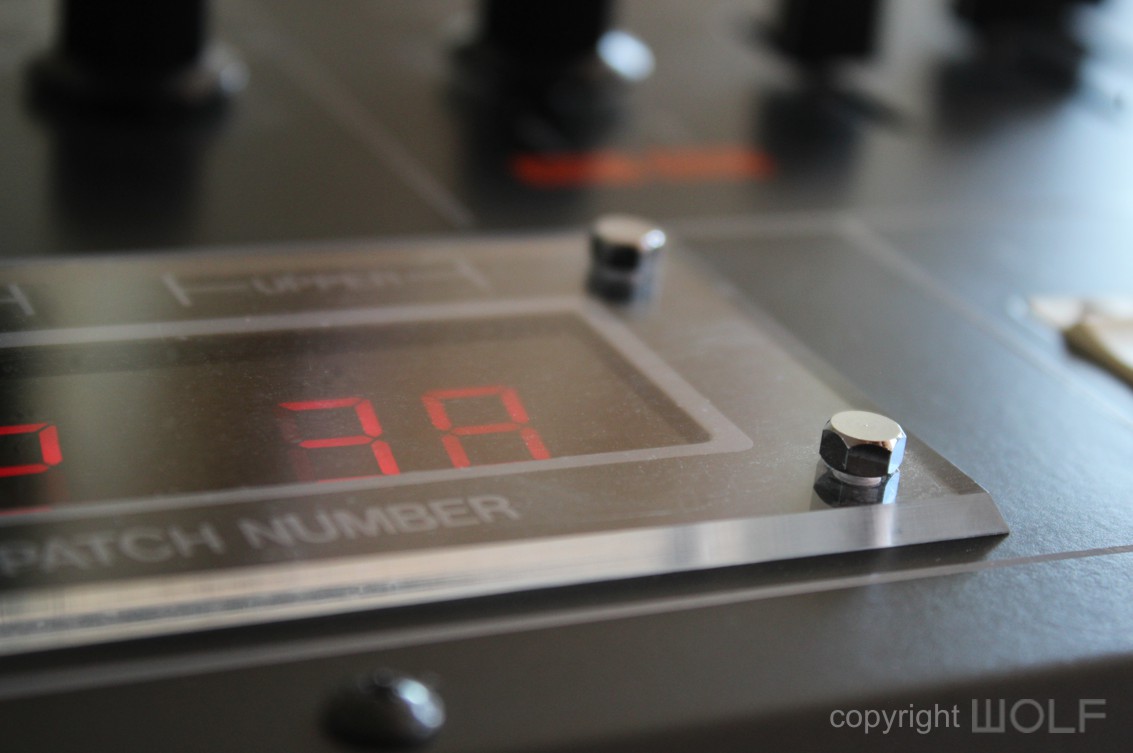 How nice is that piece of clear acrylic?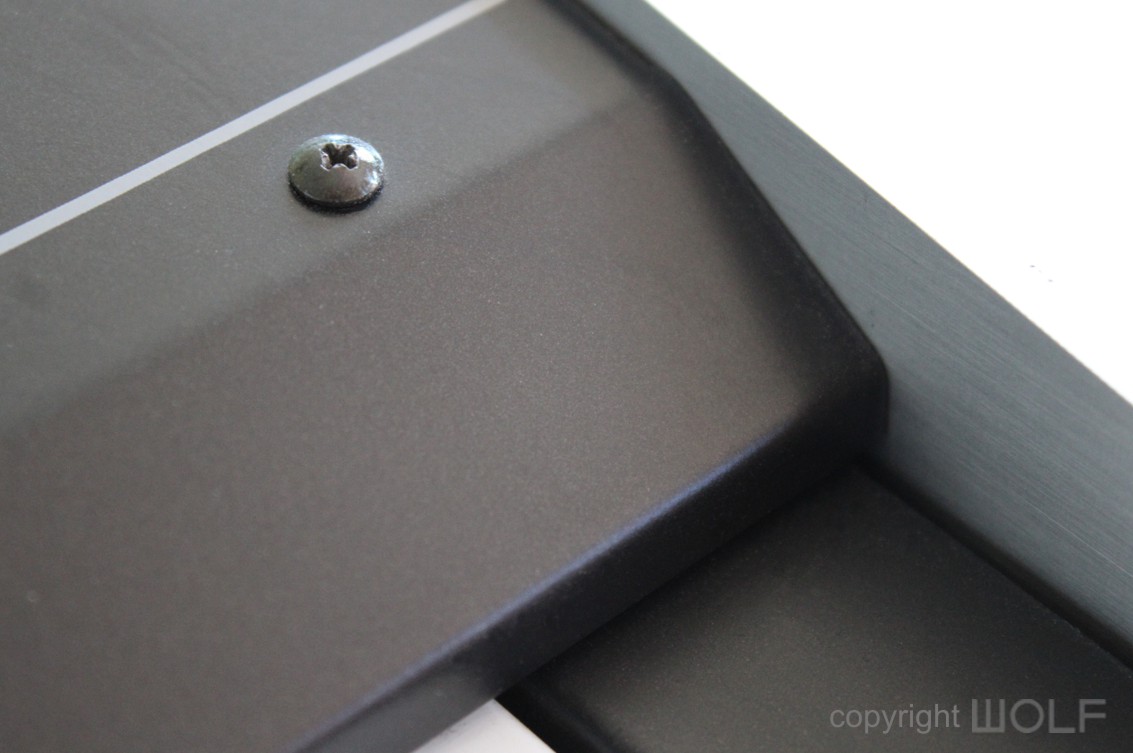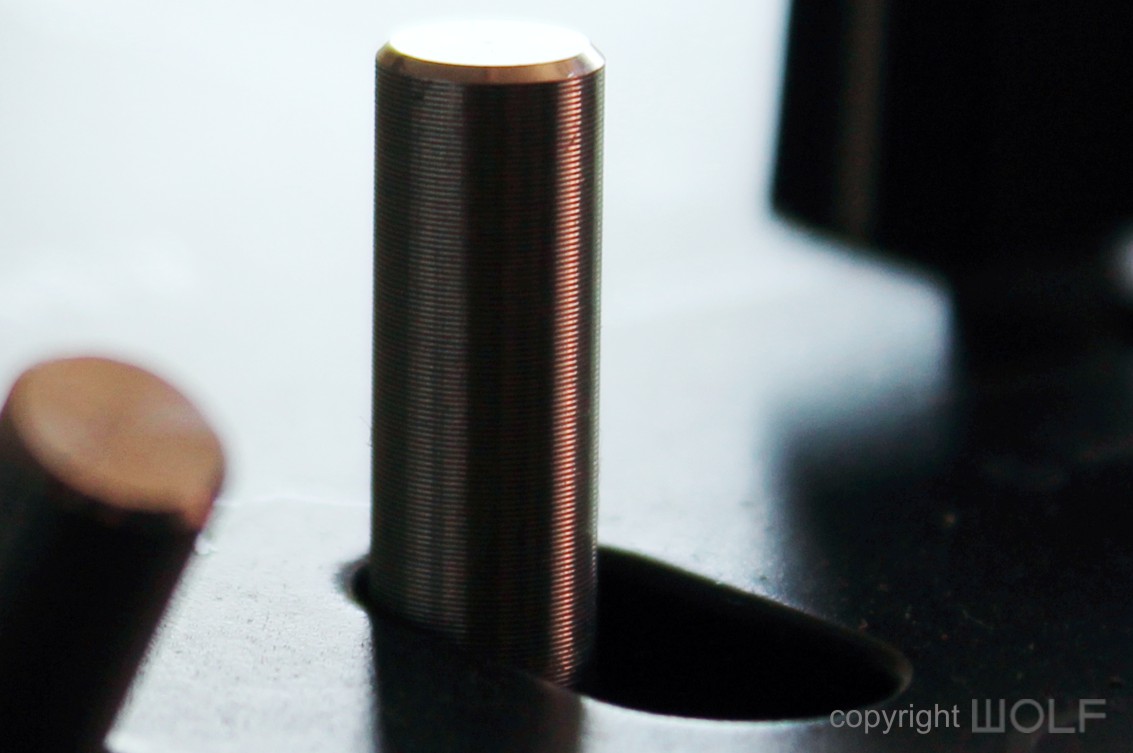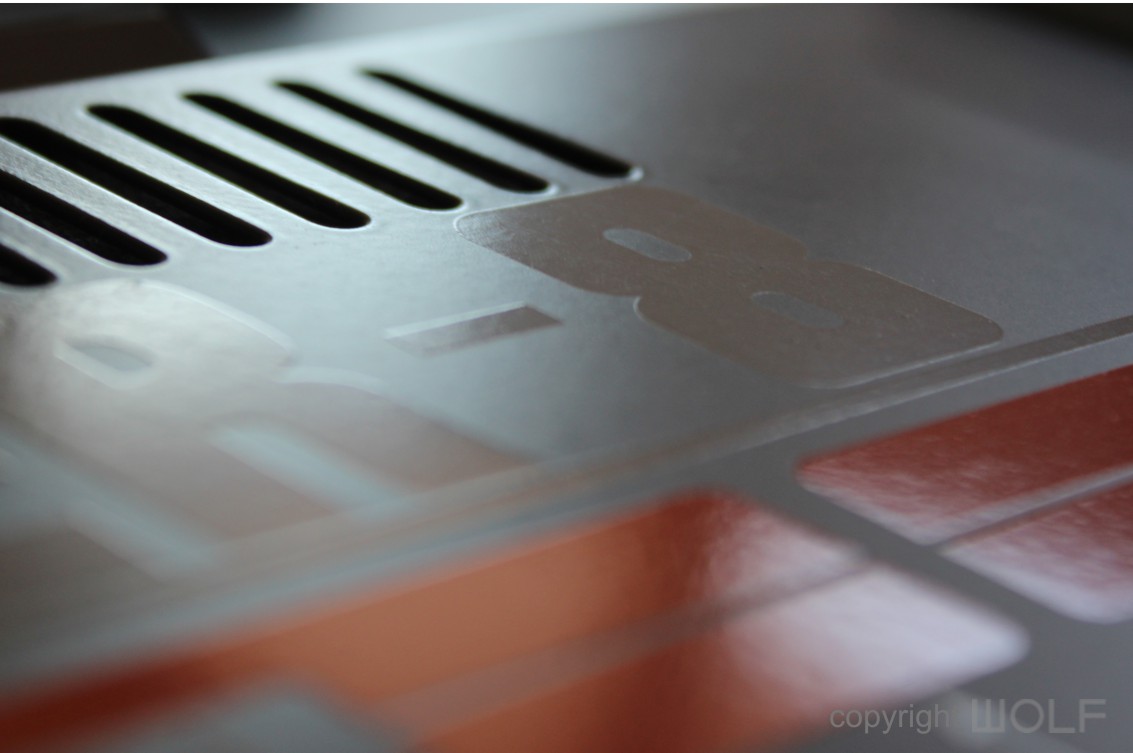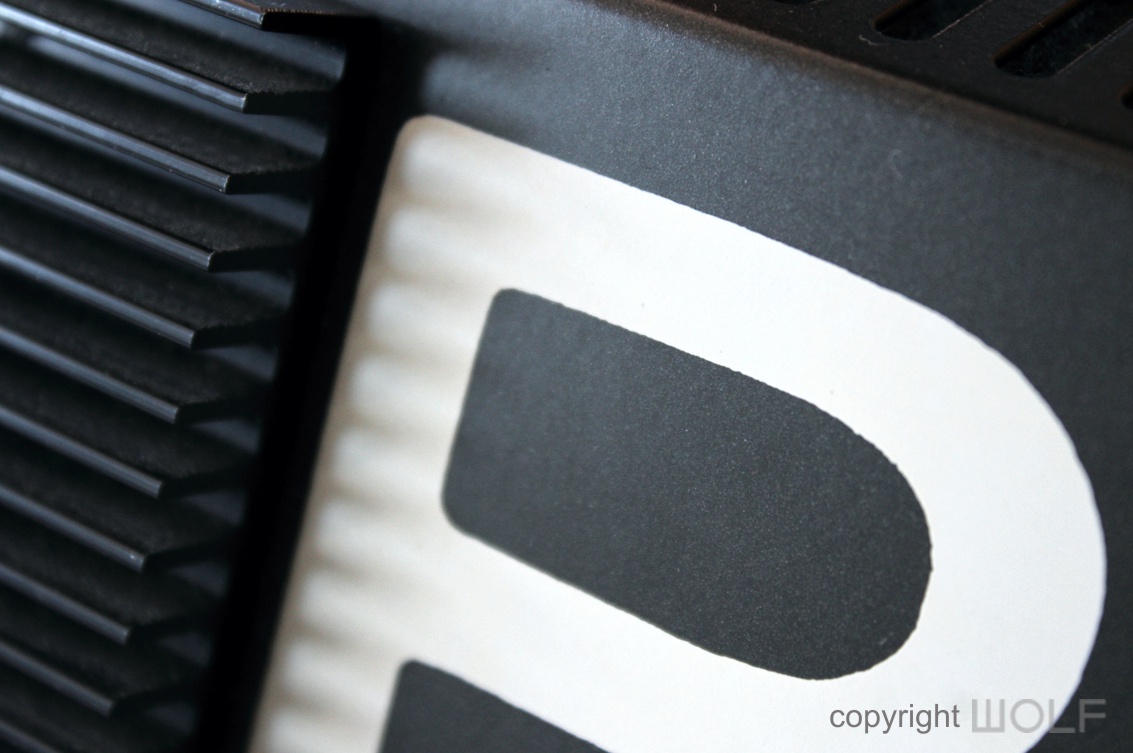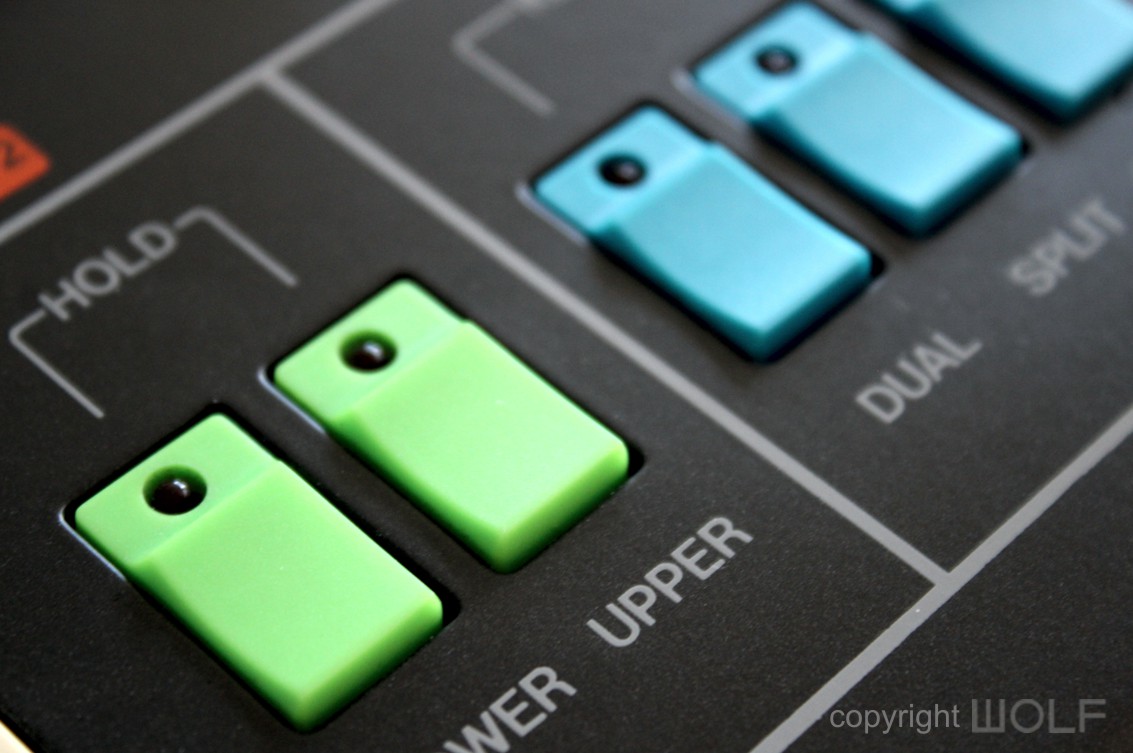 FUNCTION- Experience.
Everything is designed for sound manipulation, with everything within reach to entice the user to explore and experiment. All controllers feel smooth and substantial to support live performances.
The screen is small with only numerals, but for an analogue synthesizer at the dawn of the 80s, that was considered sufficient. The bender looks slightly uncomfortable in a busy end panel.
The big orange power button on the rear has to be one of the largest power buttons on a synthesizer and we love that it lights up.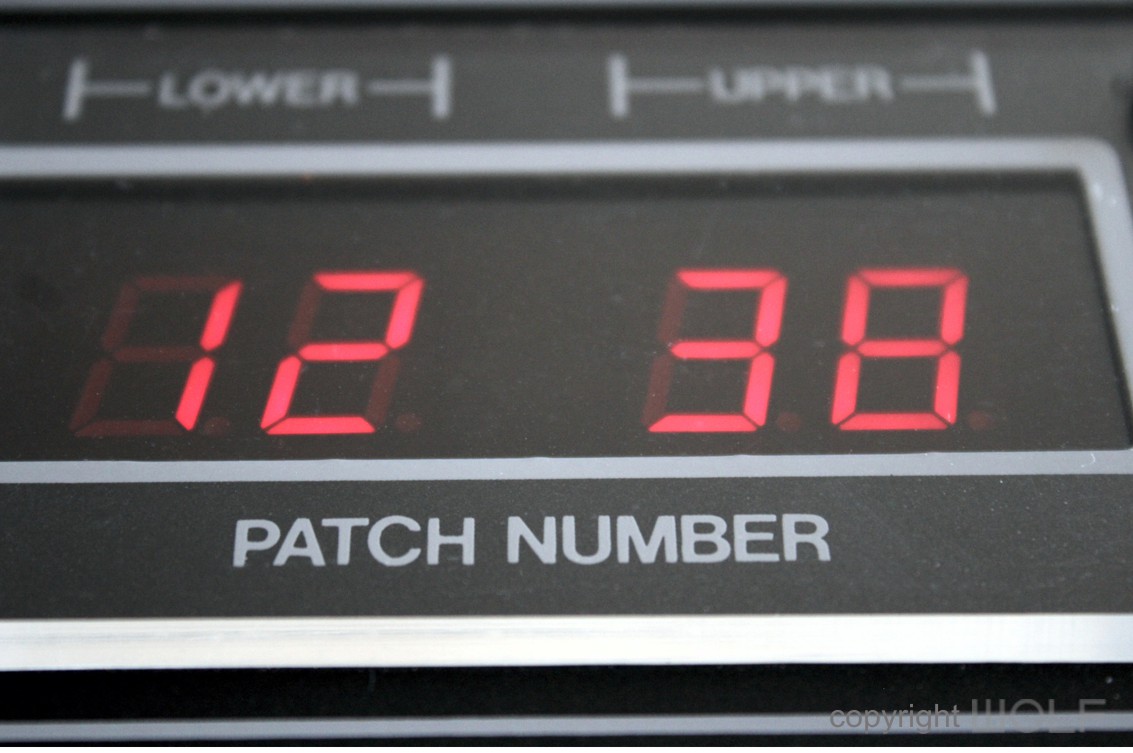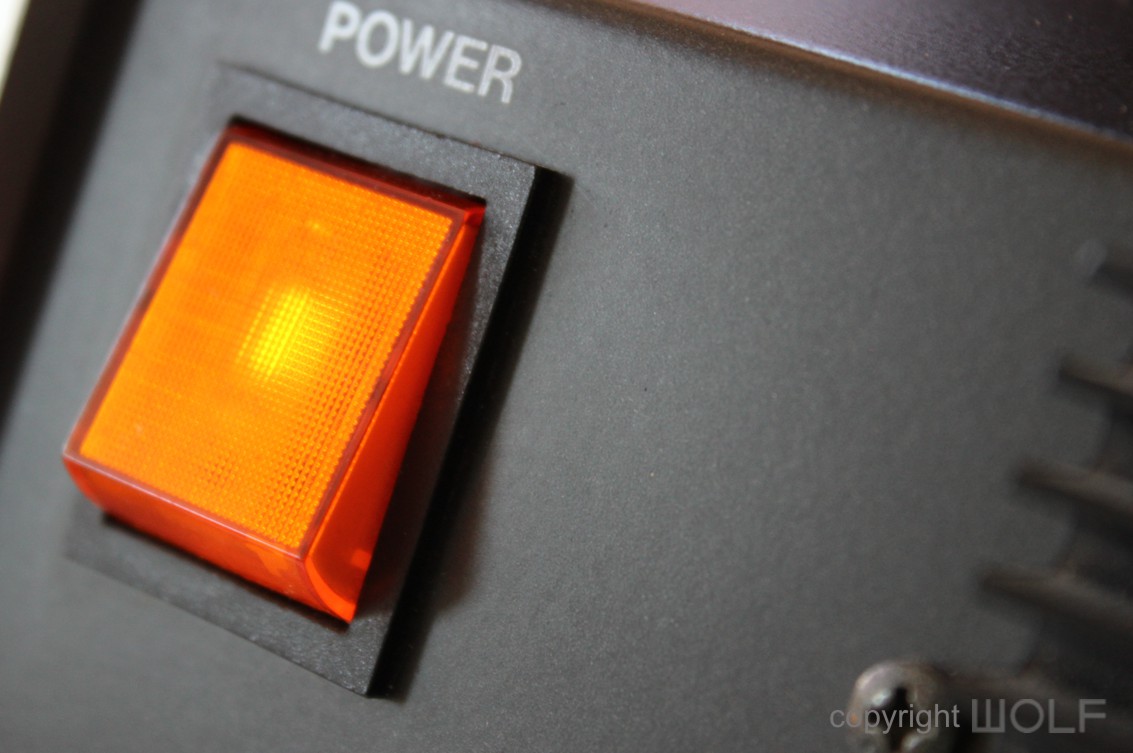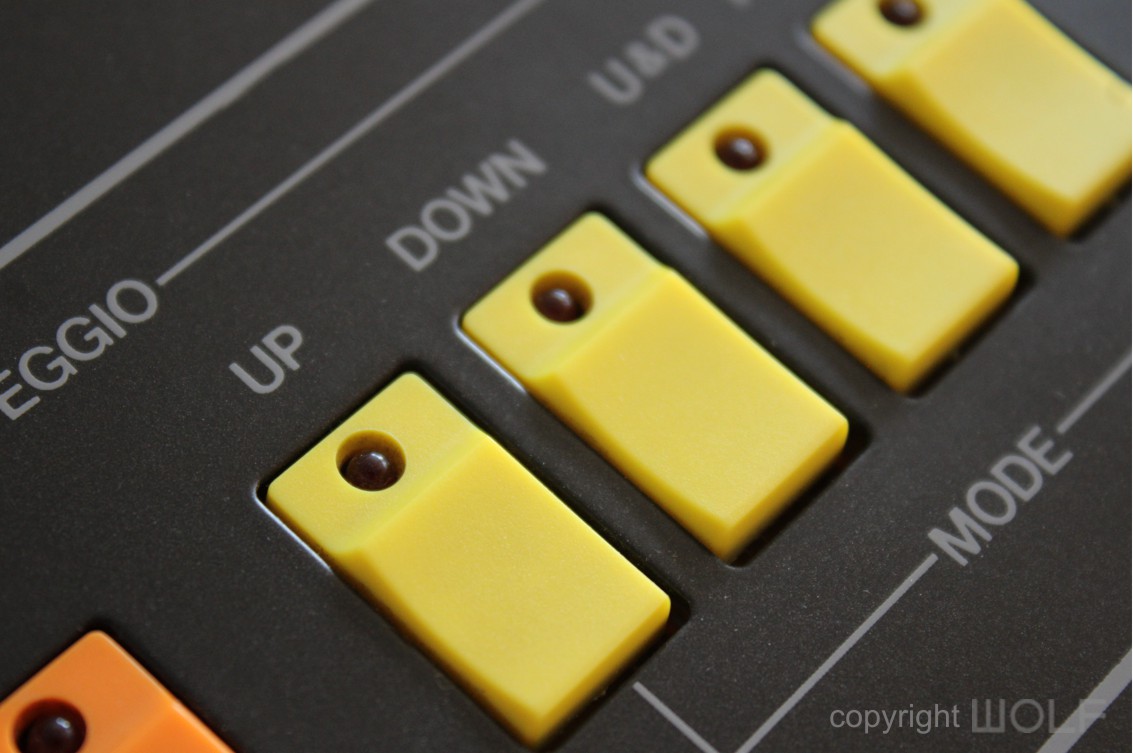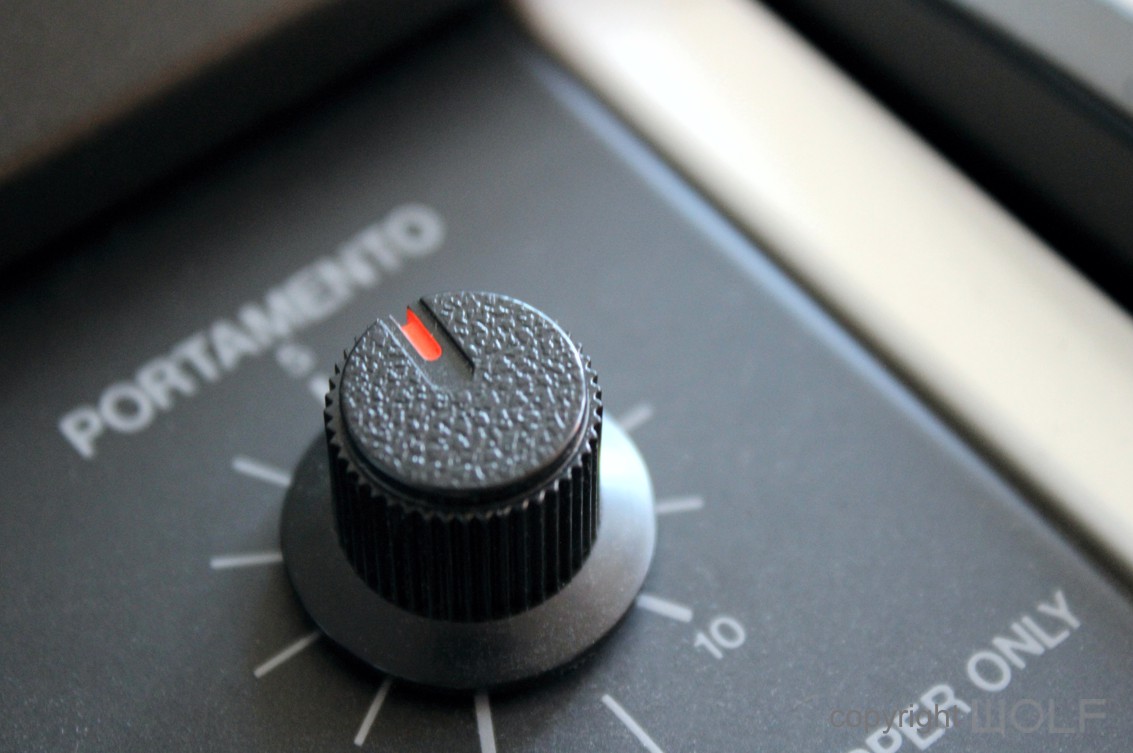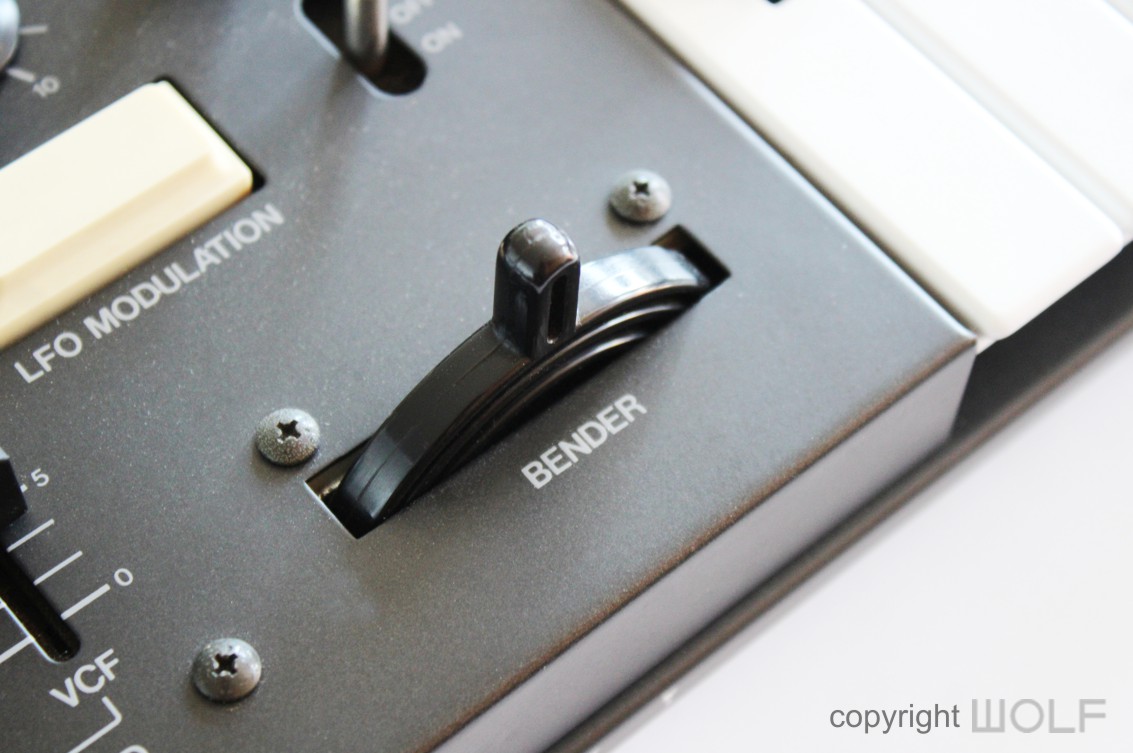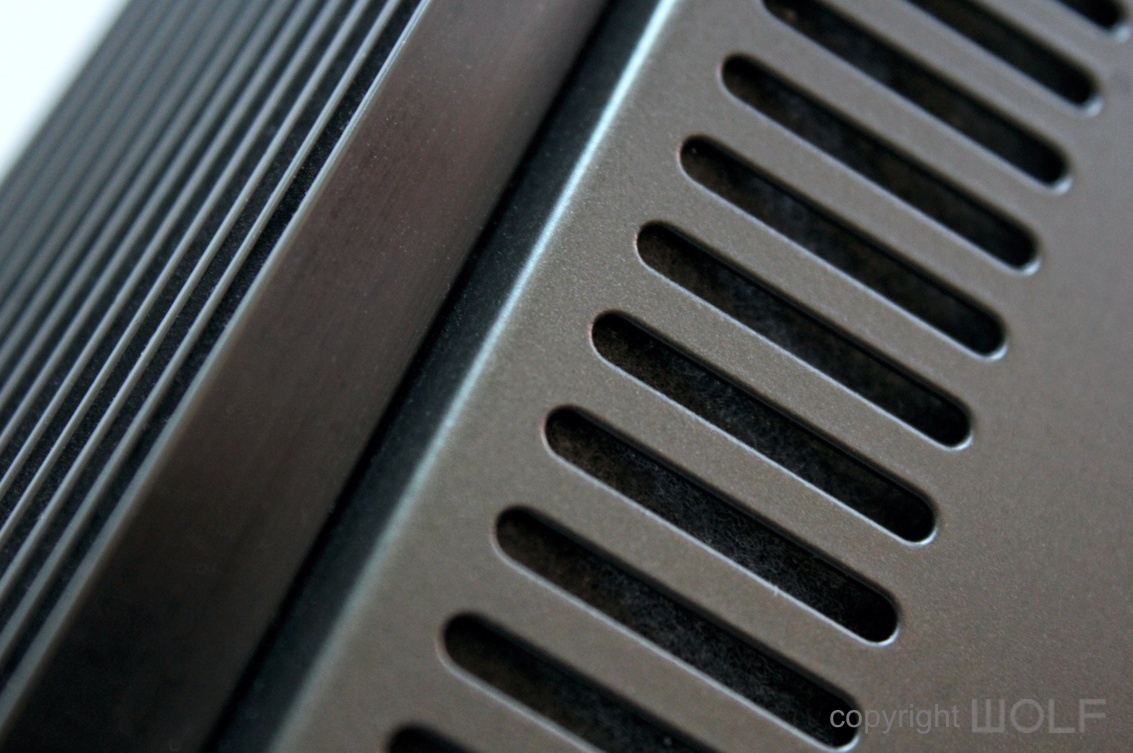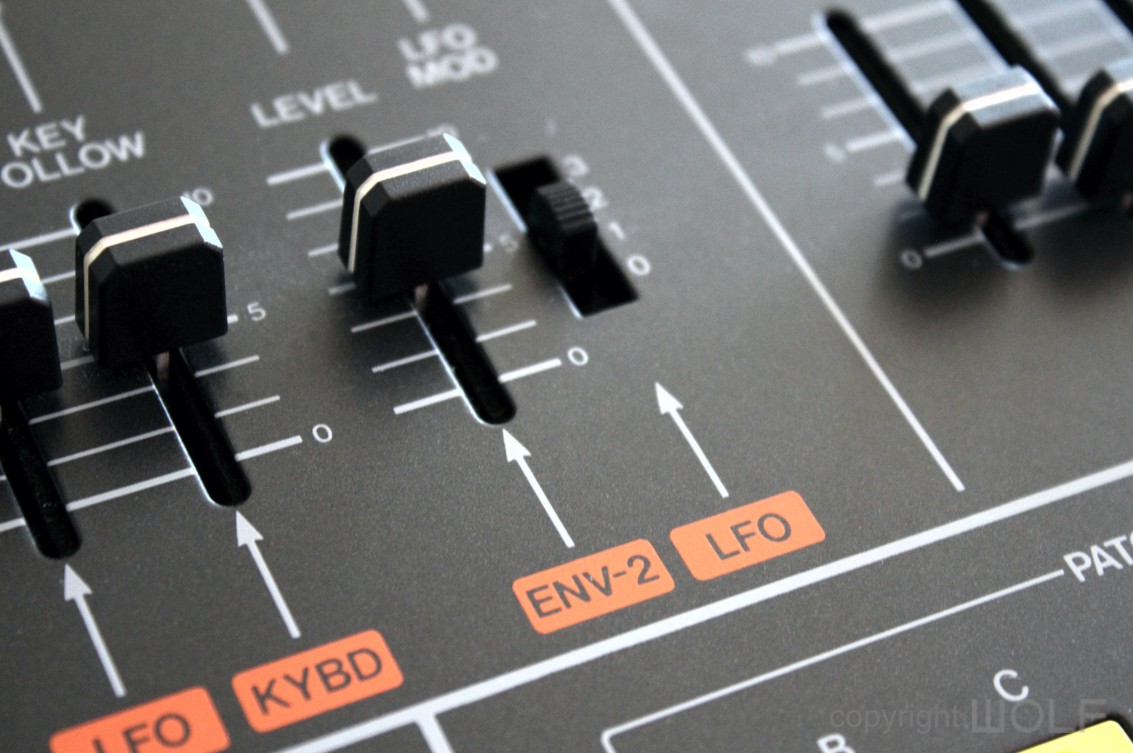 Desirability / Collectability
Who would not want a Jupiter-8? With so few produced and people refusing to part with them, it's not an easy instrument to own. With collectors preferring mint and unmolested specimens, the prices will continue to rise. We think there are possibly still a few bargains out there if you don't mind one with some scars but still expect to pay between $10,000 to $15,000 Aust. A 100% functioning clean example should easily fetch over $20,000 Aust. In our opinion the original ones without any Midi modifications feel more authentic and collectible, but they are rare as it was very common in the day to make modifications. The accessories are also highly sought after, and the original manual alone can be hundreds of dollars. We need one by the way in case someone out there has a spare?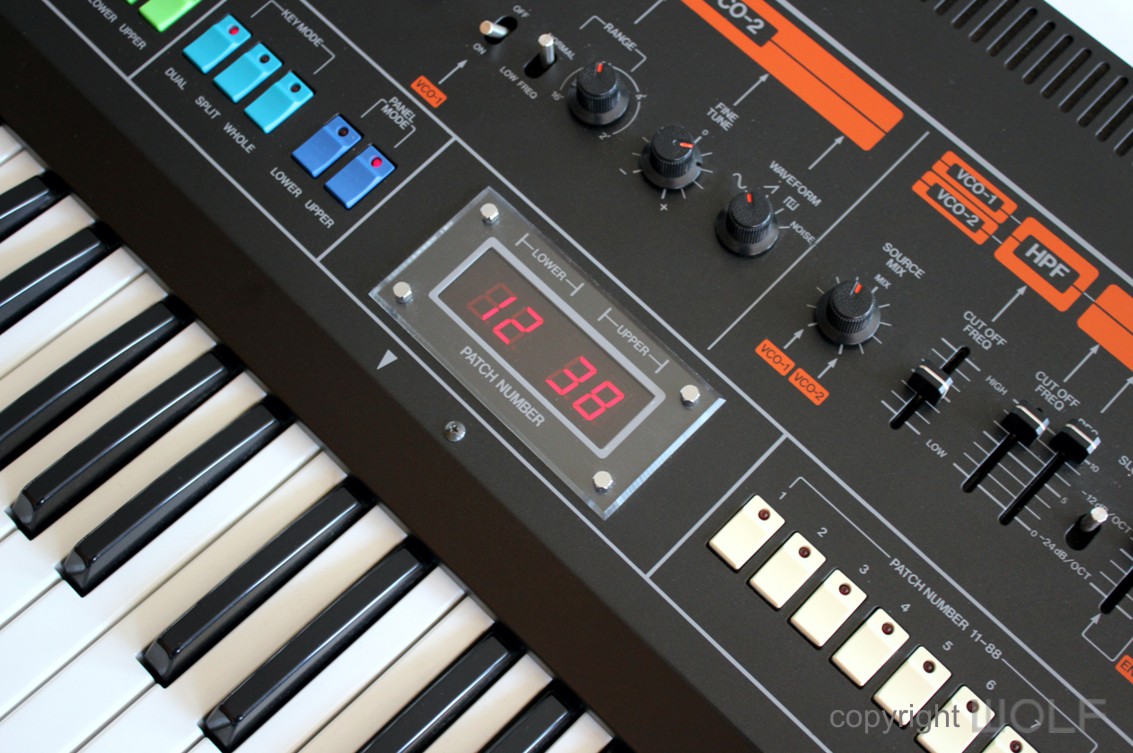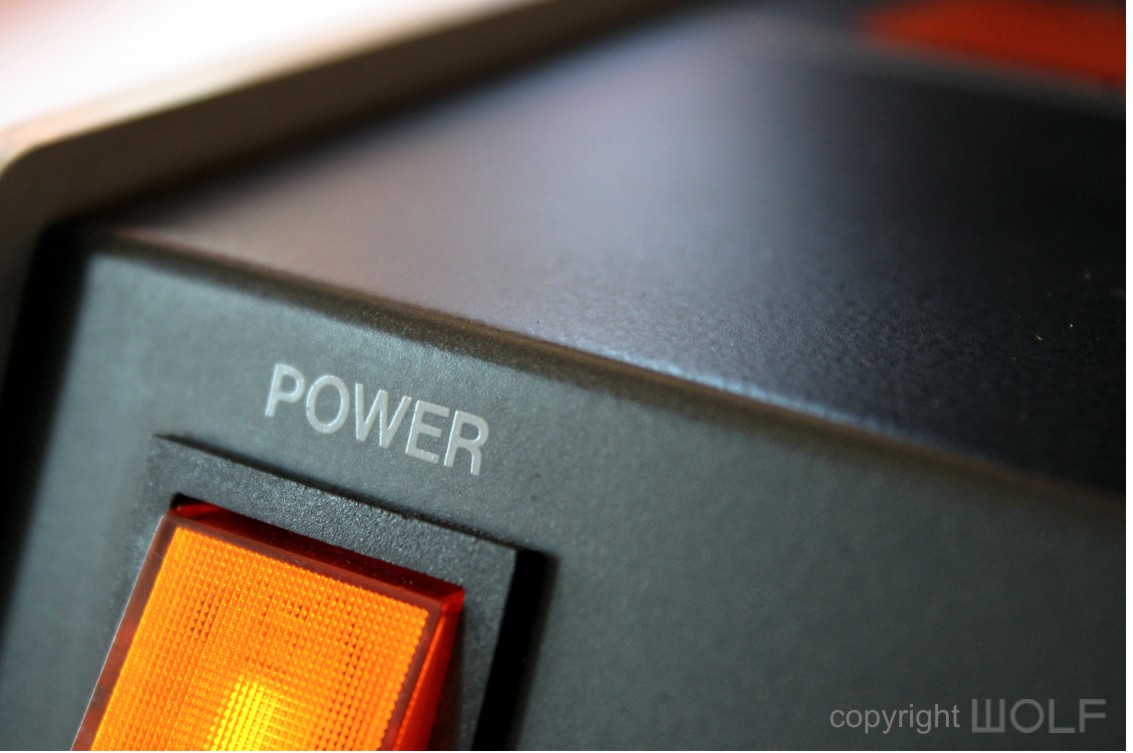 They don't make power buttons like this anymore.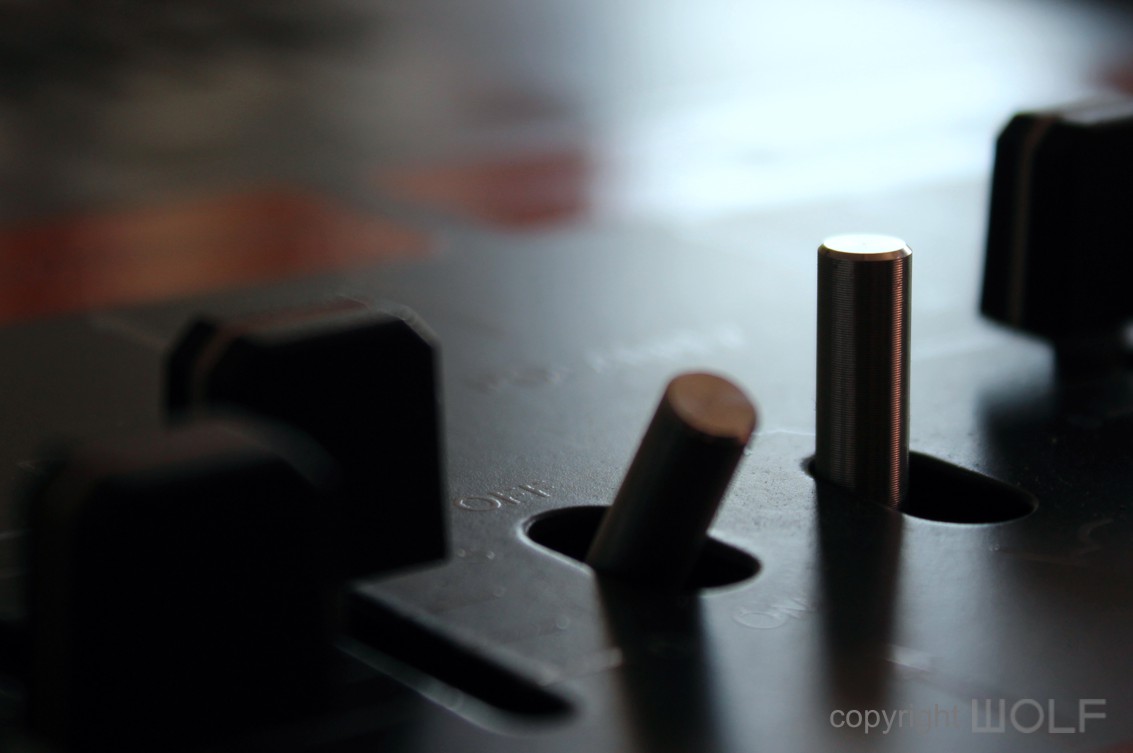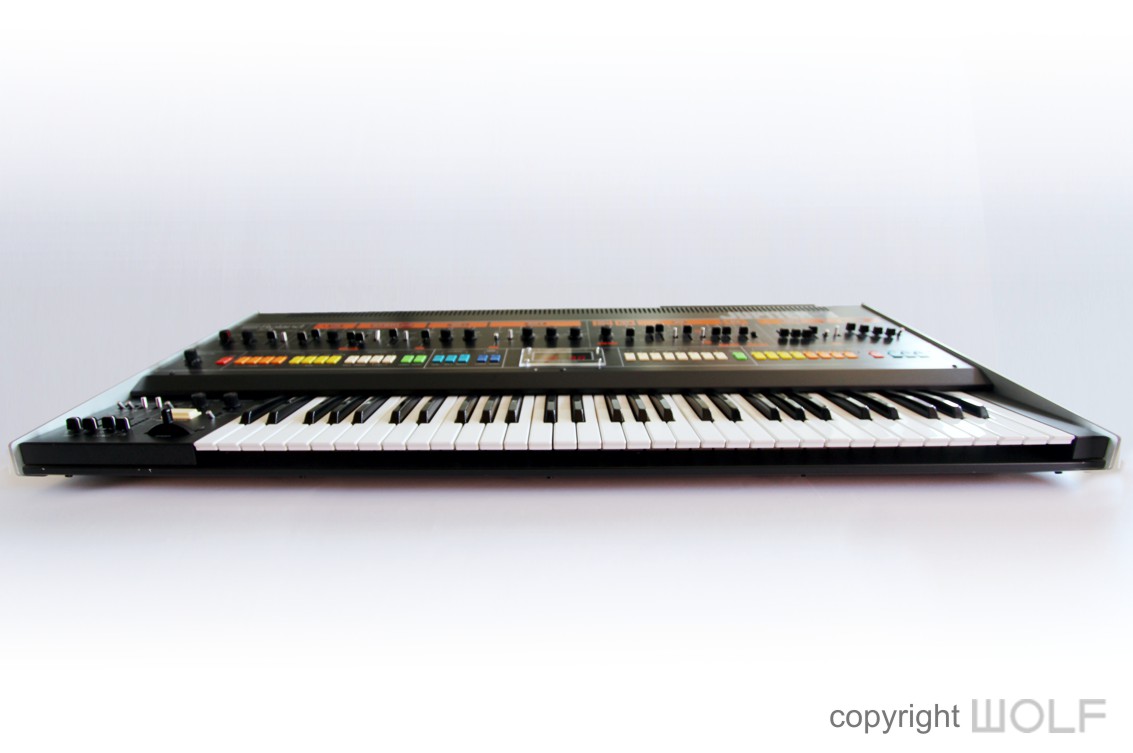 From this angle it looks almost slender.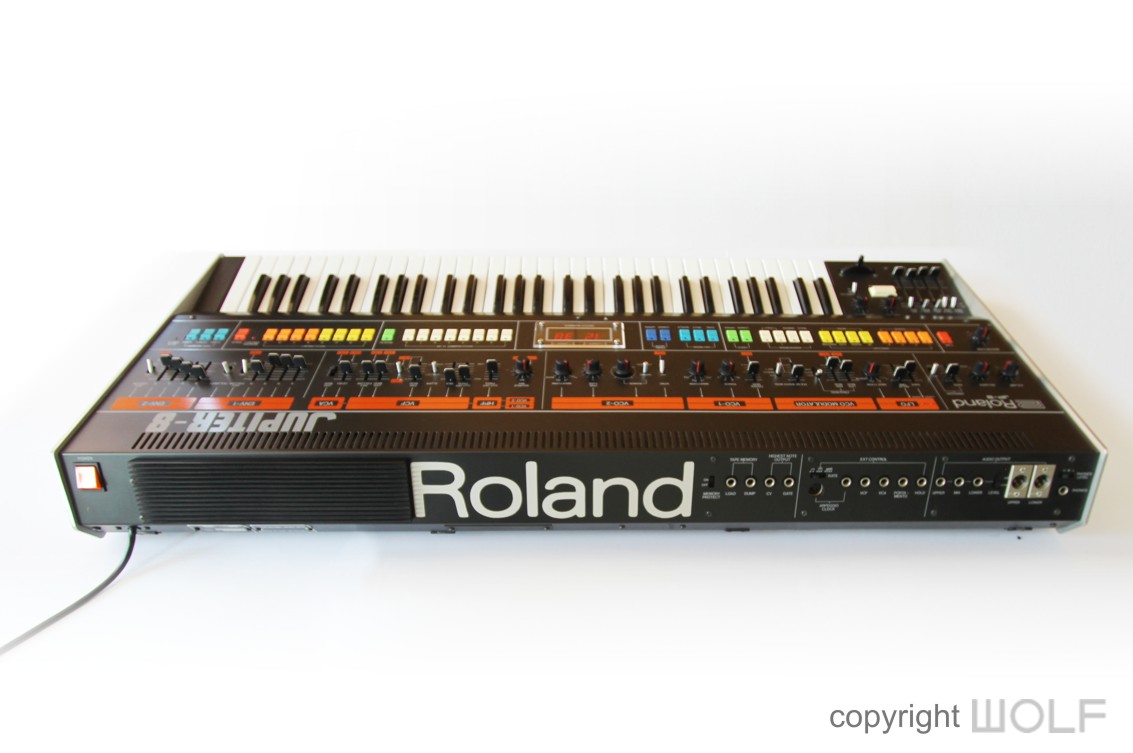 WORD OF THE WOLF
The Jupiter-8 is considered a "Holy Grail" and must have among collectors. It's not as rare as the mighty DX1, or a special/limited edition as the DX Centennial, but in terms of desirability it trumps both of them combined. We love the design because it looks and feels like a proper electronic machine with a 70's/80's vibe. As time goes on it's only going to look better, and even more retro. With function over form and visible screws placed where they just need to be, we don't think the original designers were even aware of how beautiful their creation was. If you happen to own one, you'll either want to keep it forever or consider making a good dollar now while the market is hot for them. If you're looking for one, then expect a tough and expensive ride ahead. Either way the experience of the Jupiter-8 is worth it!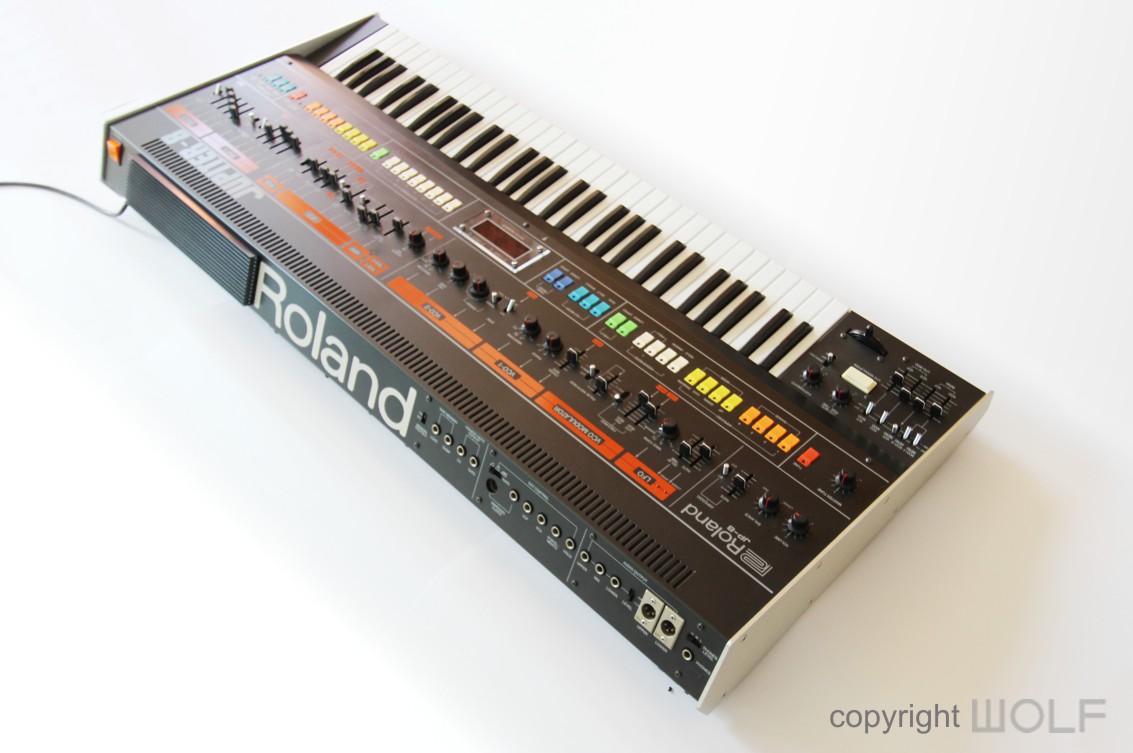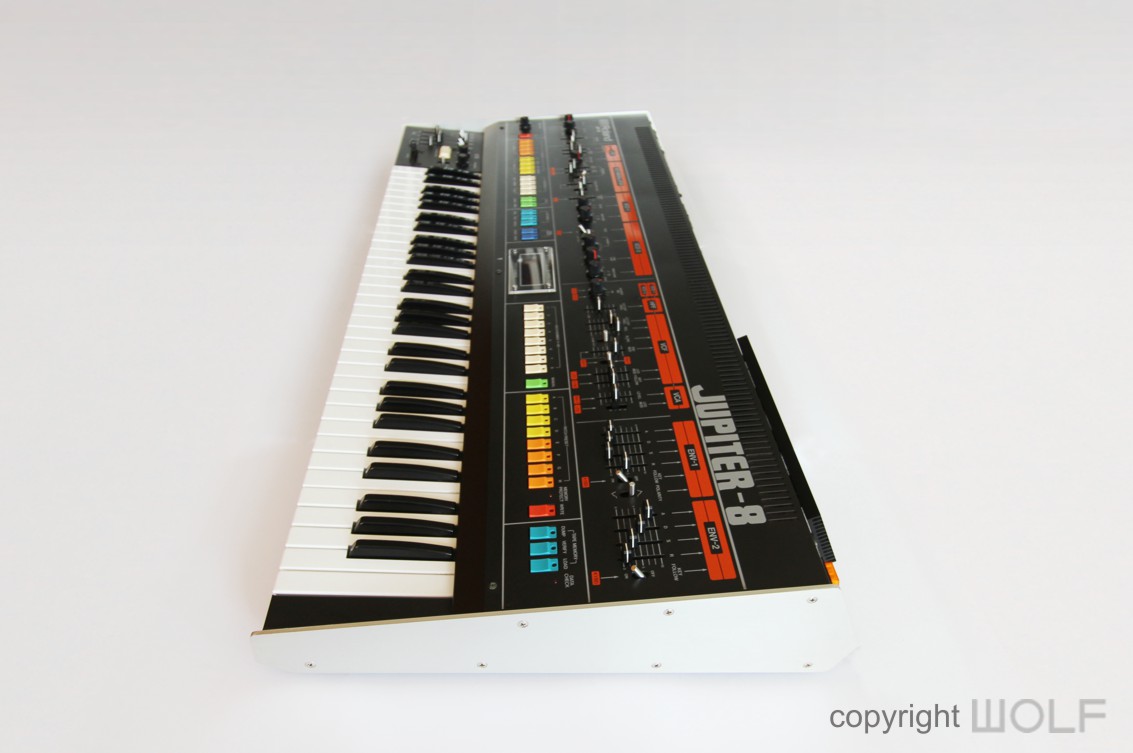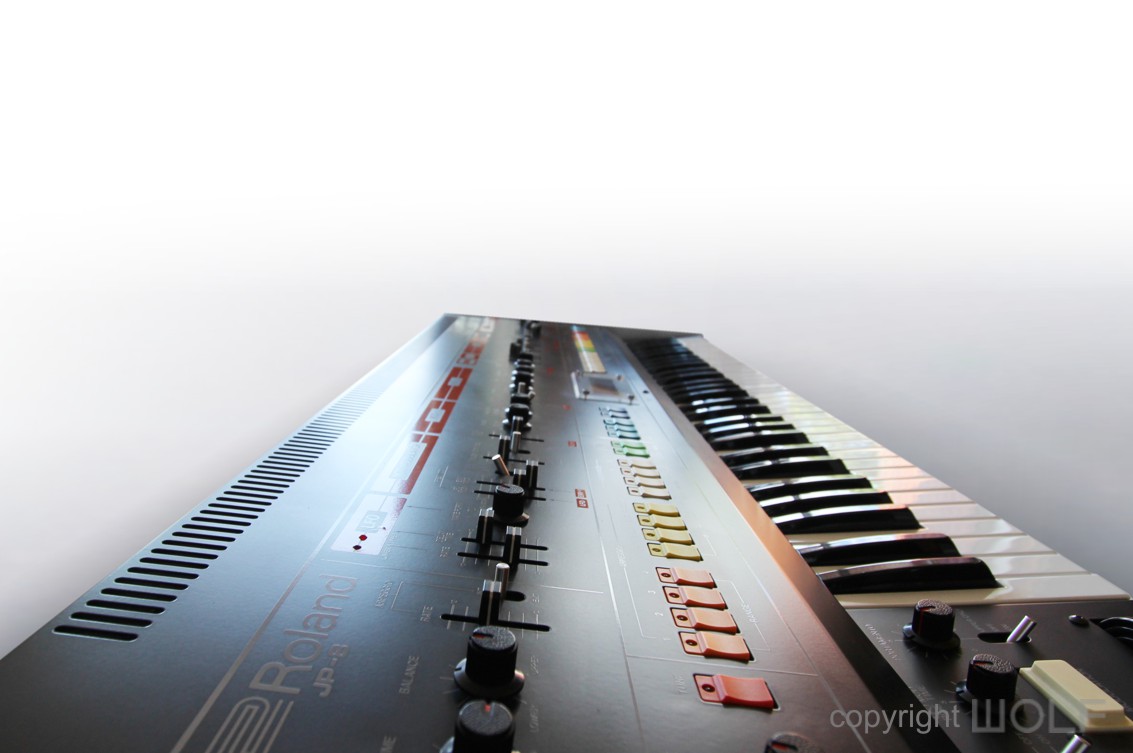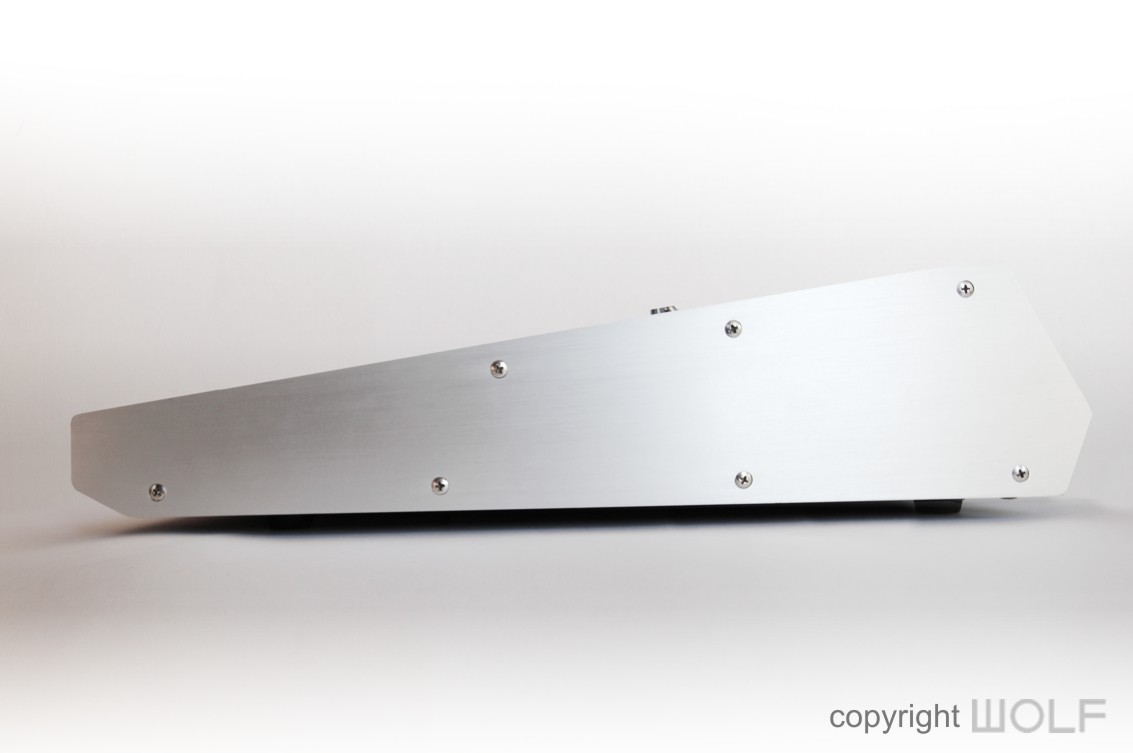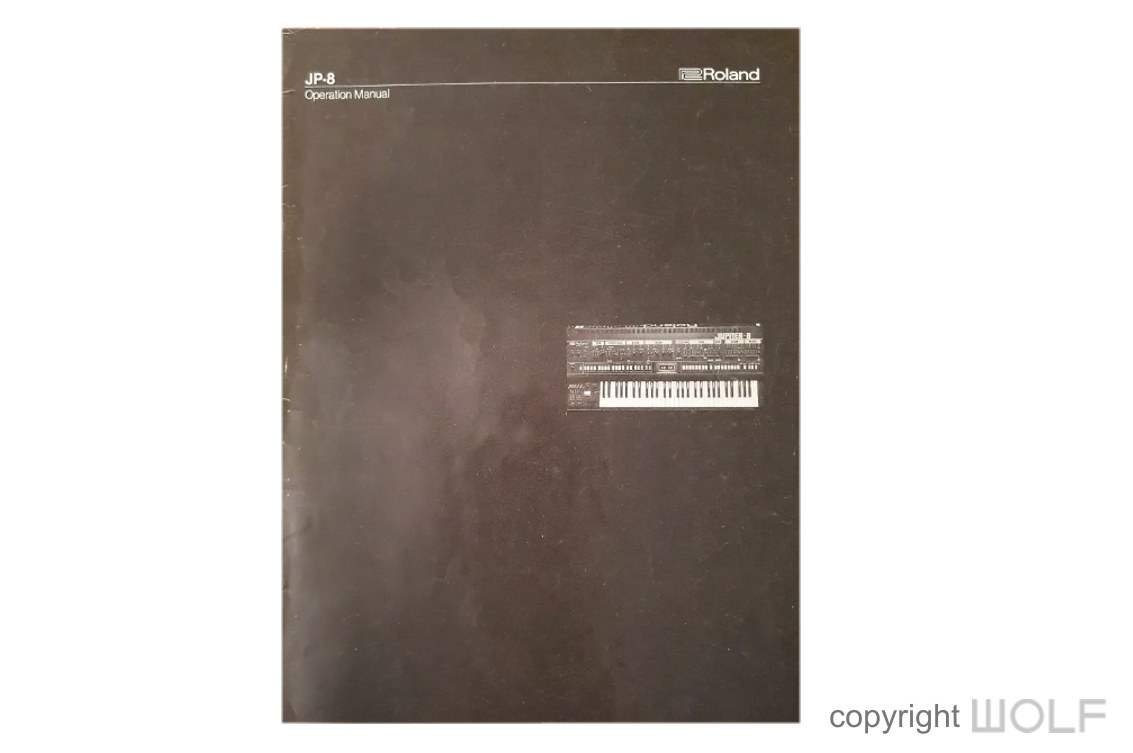 The original factory instruction manual is very rare and depending on condition can be worth many hundreds of dollars.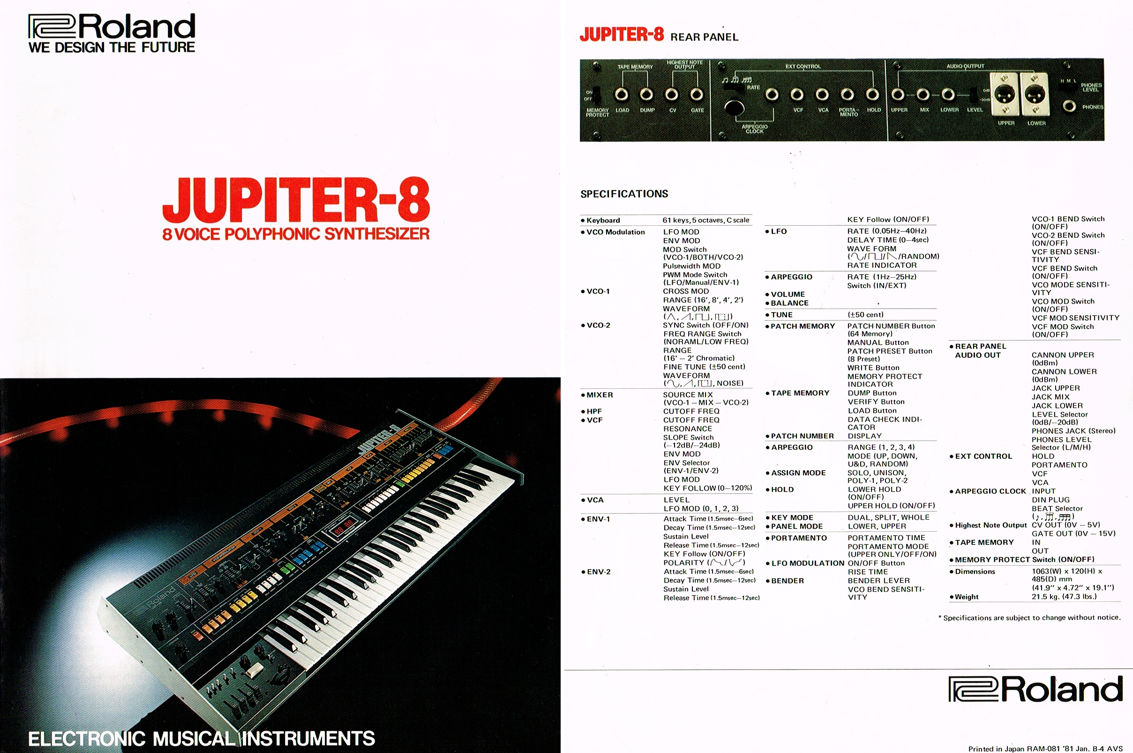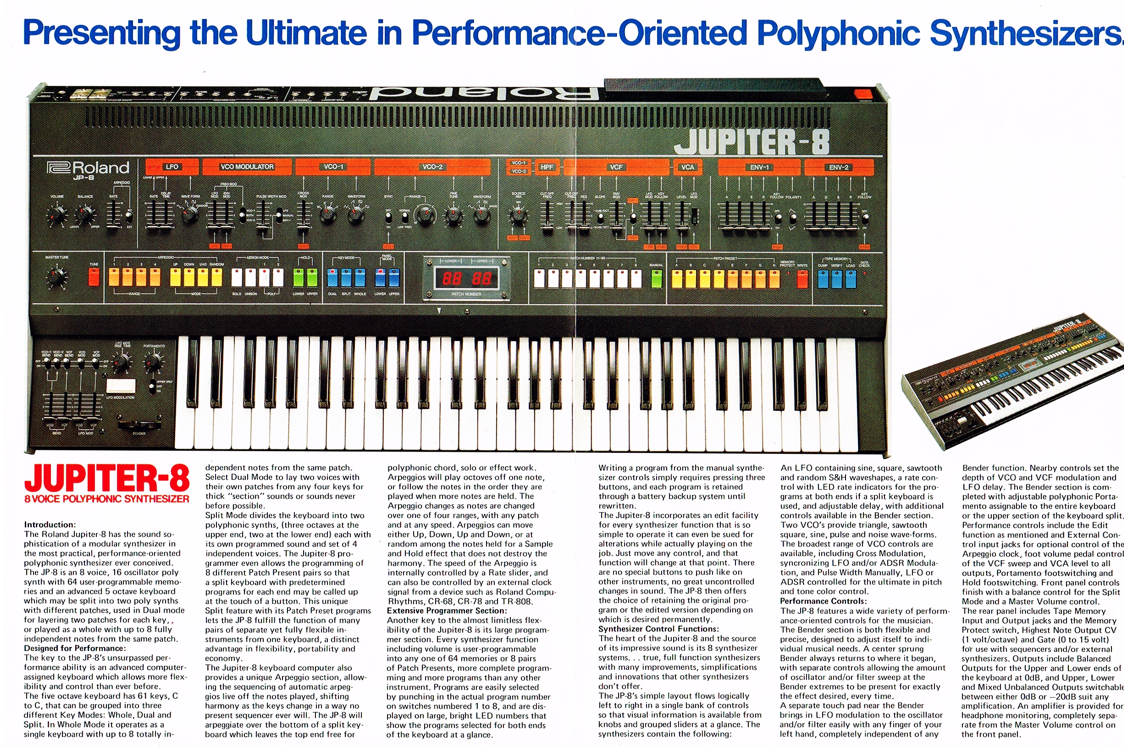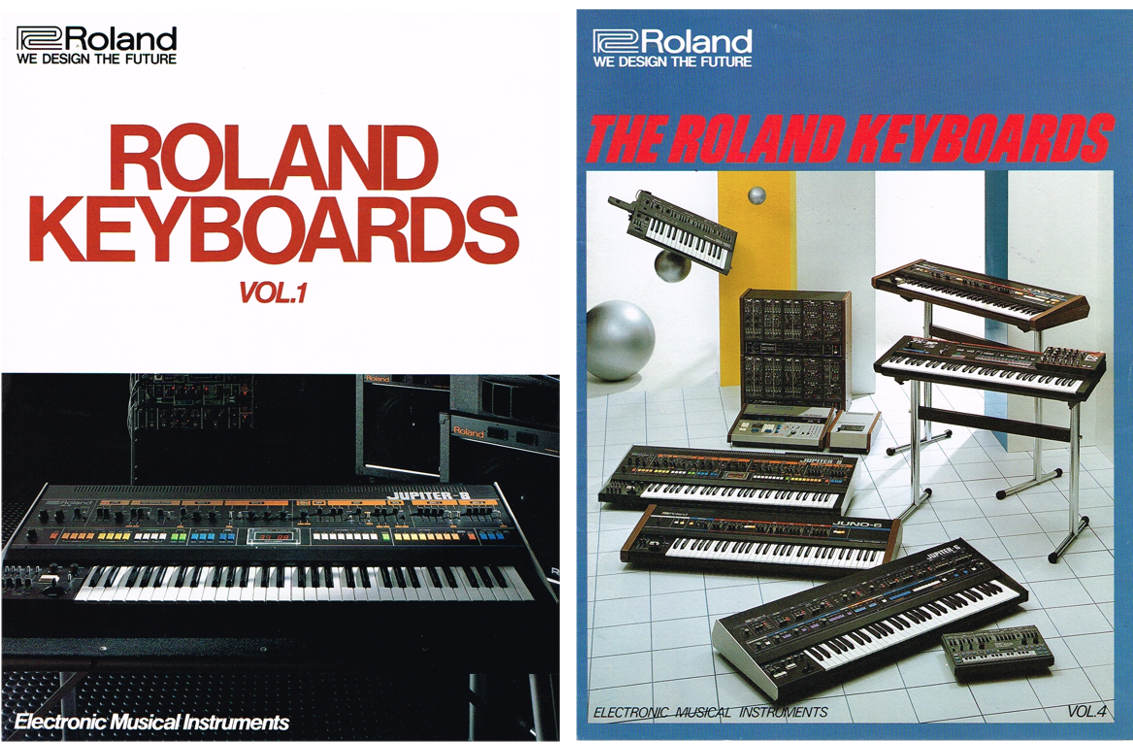 As the flagship model, the Jupiter 8 featured on many cover Roland's catalog covers.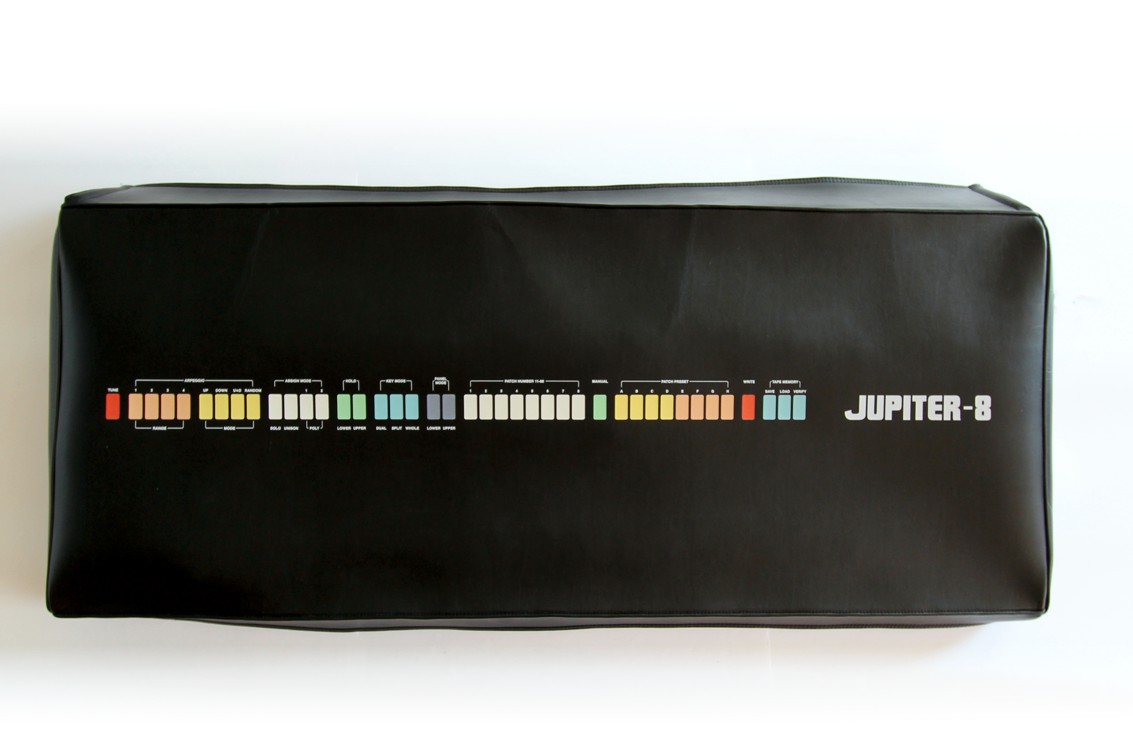 A nice aftermarket custom dust cover.
WOLF DESIGN EXCELLENCE SCORE = 8.3
Disclaimer
The information in this review is intended for informational or educational purposes to provide readers an understanding of how something may be seen from a certain design perspective. In this case it is from the view point of WOLF DESIGNS. As design is subjective this review should only be considered as an independent opinion. Information further to being of an opinion is provided to the best of our knowledge based on our own research at the time of doing the review. We cannot be held responsible for any inaccuracies or inconsistencies and reserve the right to change or update any content as appropriate.
The final responsibility of the design resides with the original manufacturer.