WOLF retro DESIGN  REVIEW. 1st May 2020
A retro review looks at products that are at least over ten years old from a present-day WOLF design perspective. While the technology and fashion of the period influence design, and are taken into consideration, great design ideas will transcend their eras to be timeless.
Interesting and factual information may be provided, but our review aims to deliver insight from the perspective of a designer's mind and eyes.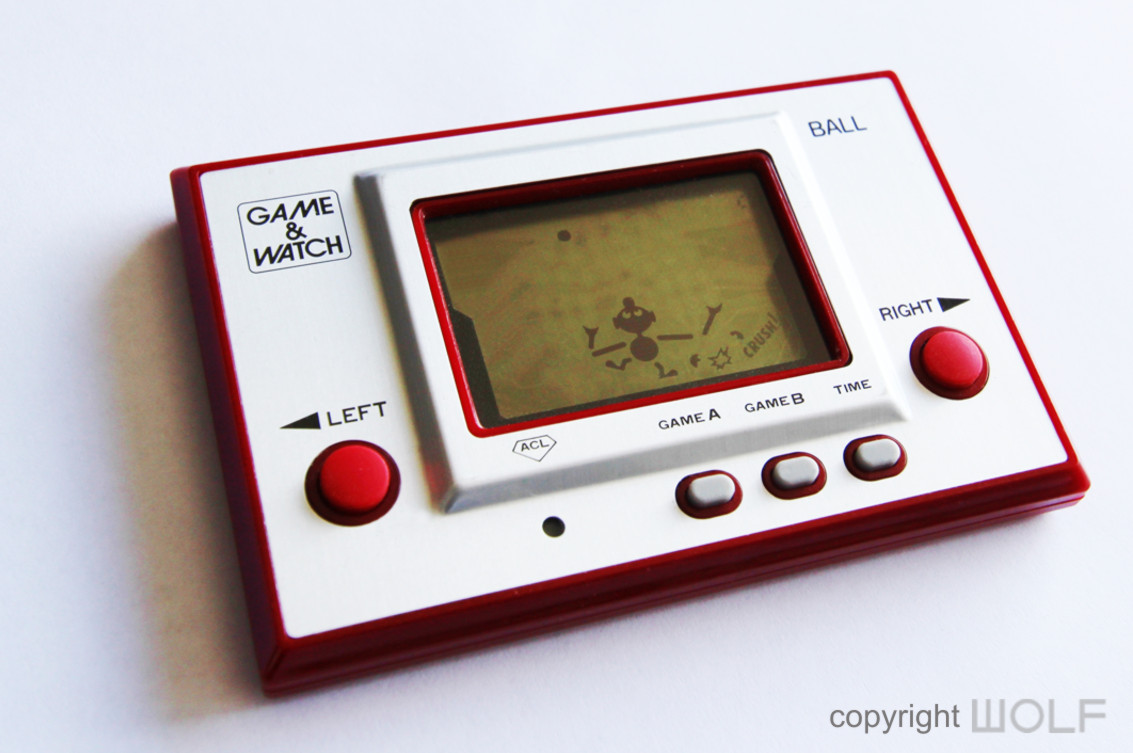 Introduction
Product Focus
As with most reviews the focus is on a products design and its evolution within its industry. The functioning systems and useability are not necessarily considered.
Product description
The Game & Watch series created by Nintendo was considered to be the beginning of hand held electronic gaming. Ball, was the very first game released in 1980.
Price and Availability.
This product took the World by storm and was the new must have gadget. As such they are always available on the second hand market, but finding a near mint one can be a challenge. Average ones go for between $50 to $100 US depending on condition. Mint ones with original box can be a few hundred dollars.
Additional information
Ball was the very first of a line of toy line that would eventually end in 1991 with over 60 different product variations. In 2010 Ball was reissued in celebration of its 30-year anniversary. The reissue should not be confused with the original although it looks almost identical.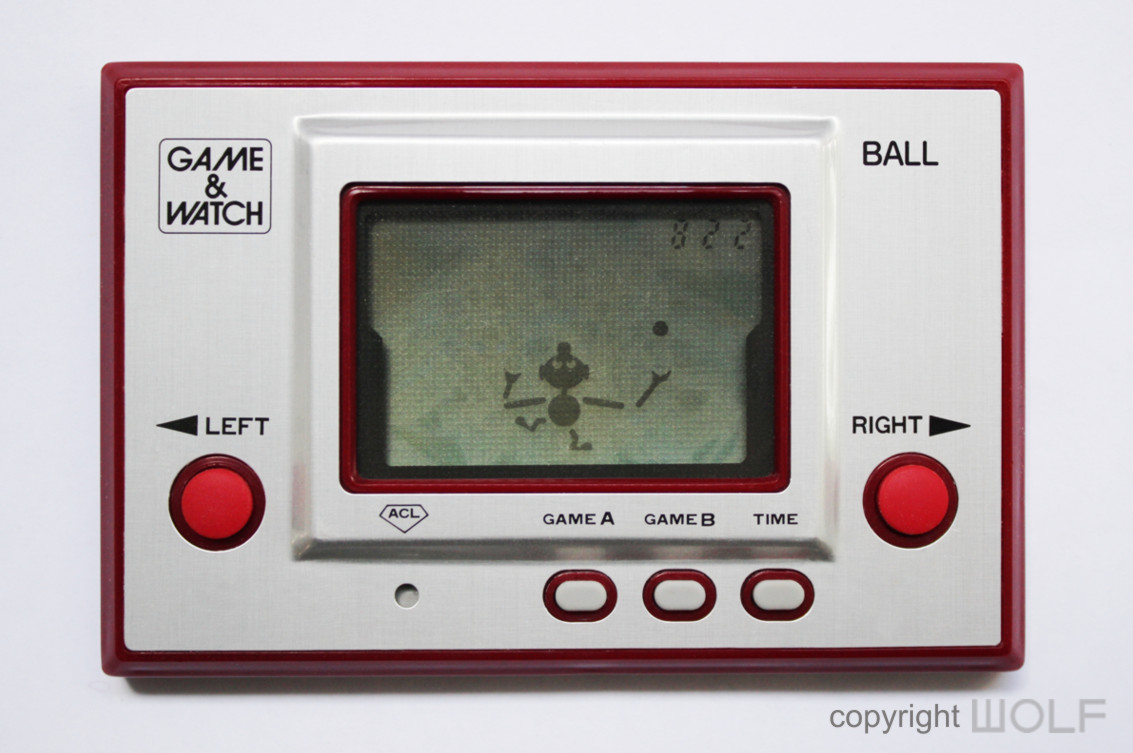 First impression/ Delight
If you didn't live through the eighties you would probably look at this and think it was just another old pocket calculator. The Liquid Crystal display gives it away as older technology. Otherwise you may be fooled into thinking it was a new hand held touch screen device. It is small, slender and simplistic in design with a sense of maturity about it. It appealed to both adults and kids and adults had the excuse that it was also a watch. Its compact design is impressive, even by todays standards. Imagine how it must have appeared in 1980? It was simply sensational and we all had to have one!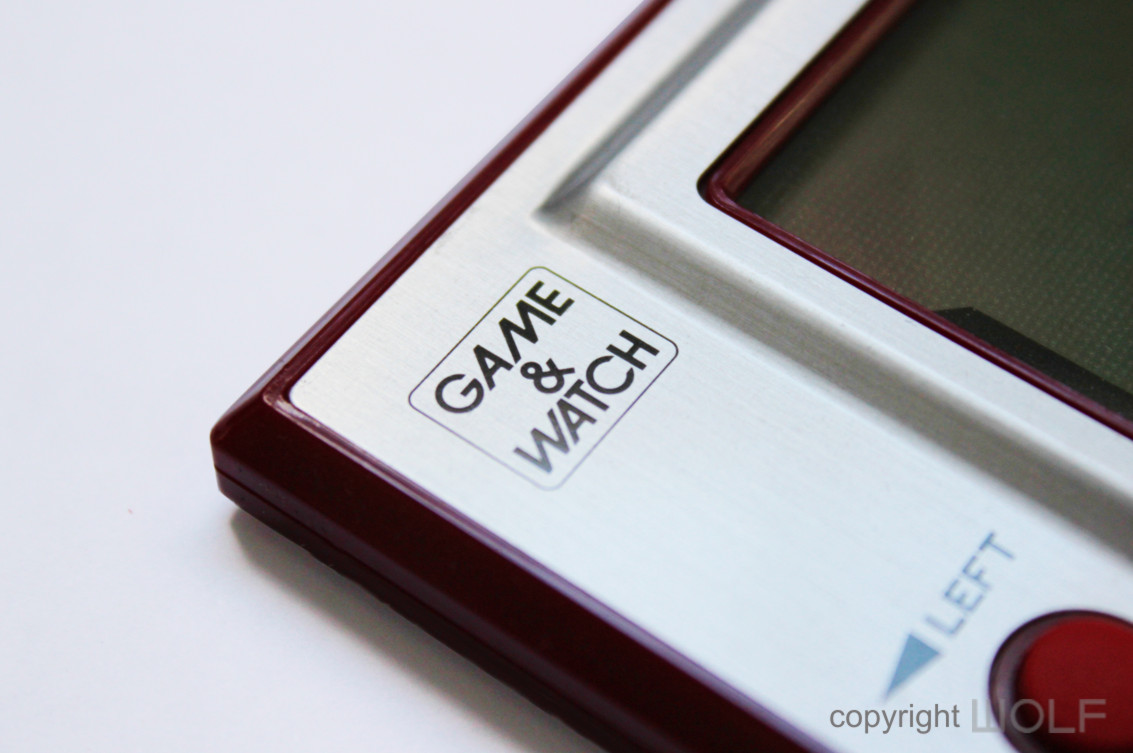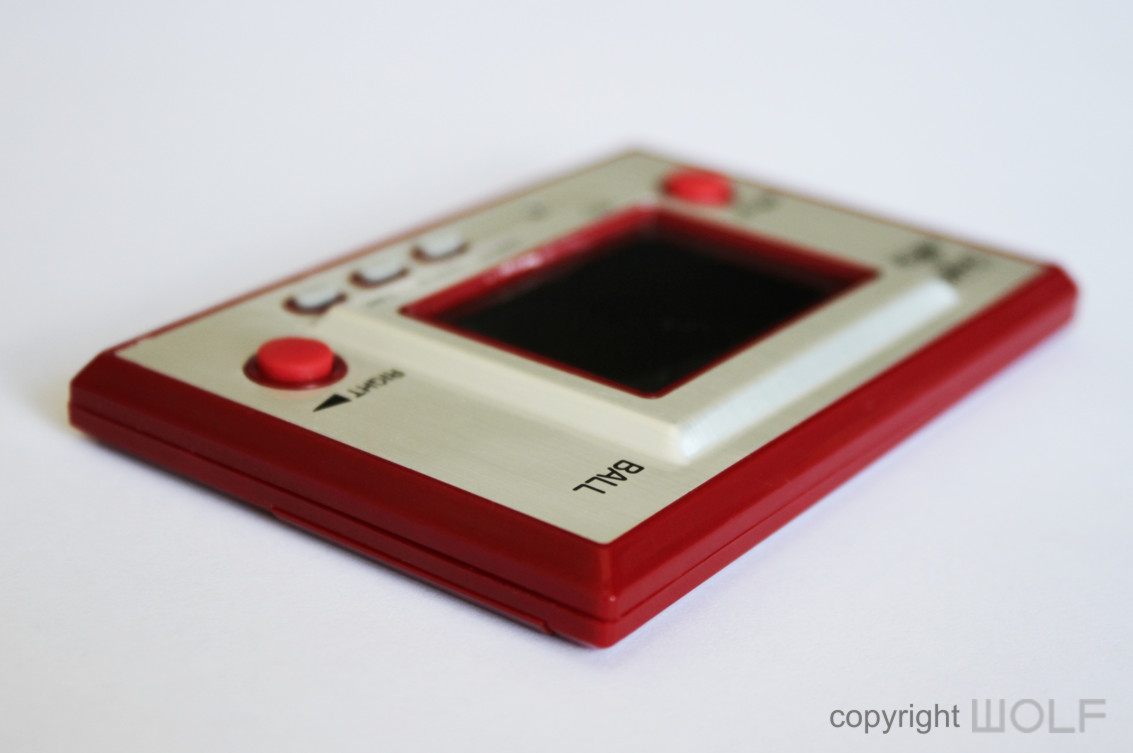 Exterior Design Review
The overall design consists of rectangles composed with curved 90-degree corners and bevels. The level of thought and detail with this is very sophisticated and results in a product that looks and feels smooth and slender. With no sharp edges it looks soft and is nice to touch.
The face is made of aluminium with a very lightly brushed finish. It protrudes gently to frame the display area. We like this retro touch of quality and class.
Then there are the controls that consist of a circular red button on either side of the screen and three smaller grey function buttons underneath the screen.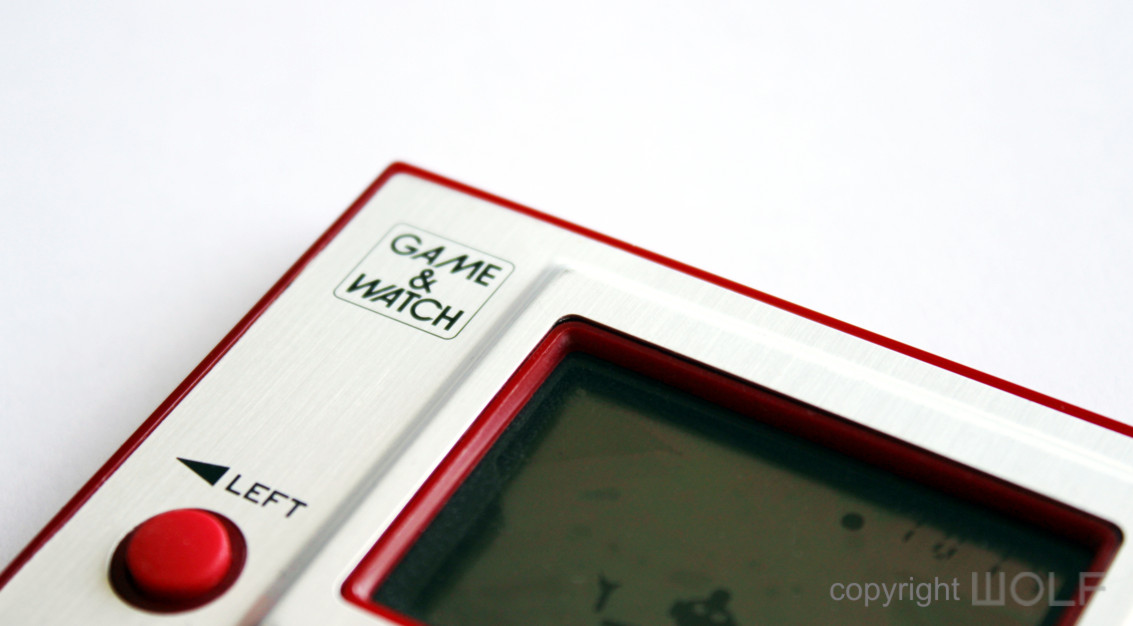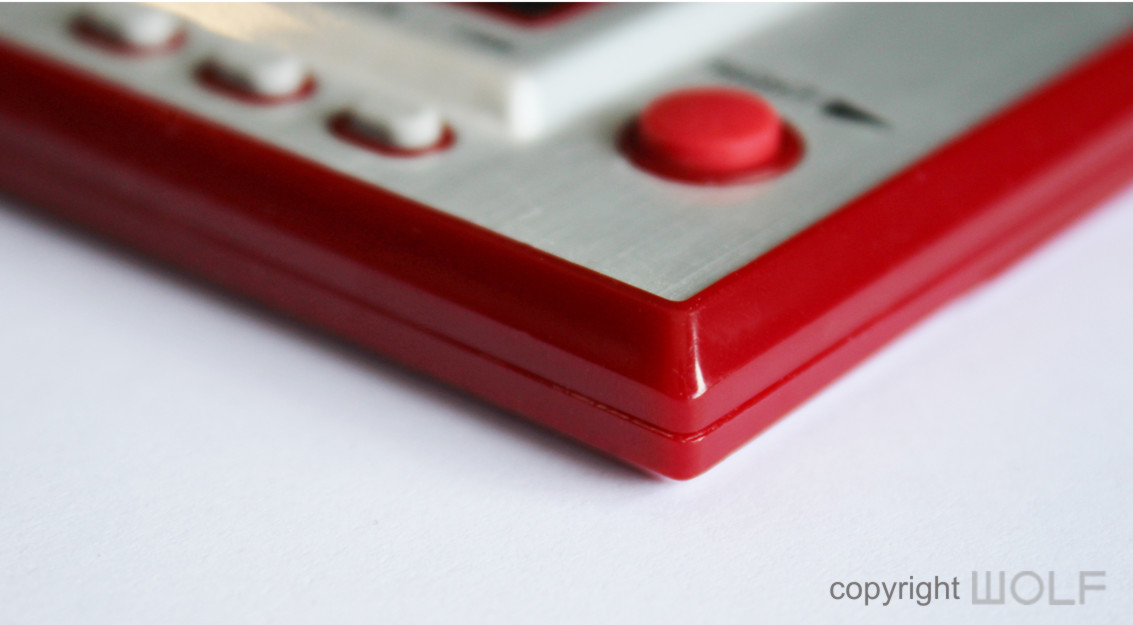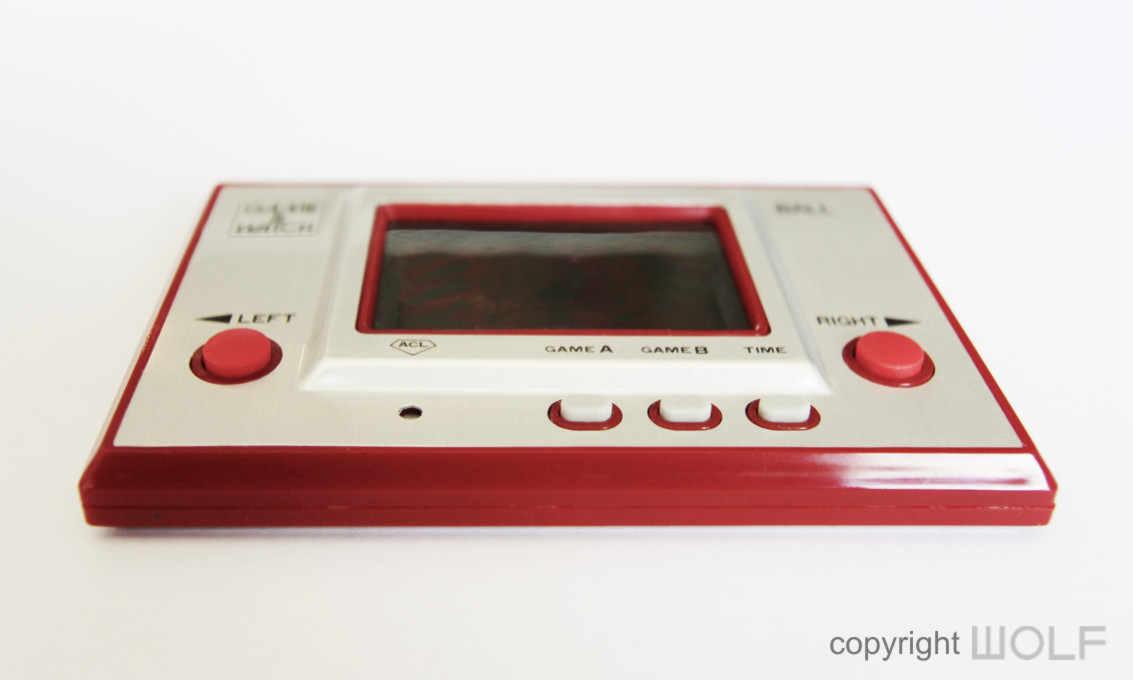 Craftmanship.
The casing is of a high-grade hard plastic which takes a bit of effort to scratch. The metal faceplate by contrast is thin and actually quite soft so while it looks great, it will scratch, scuff and dint easily. The buttons are made of a durable rubber and most of the ones we've seen still look as good as new.
Overall, this toy is very well assembled with only a few small screws visible from the rear. It is seamlessly put together with very fine shadow line detailing where one material meets with another.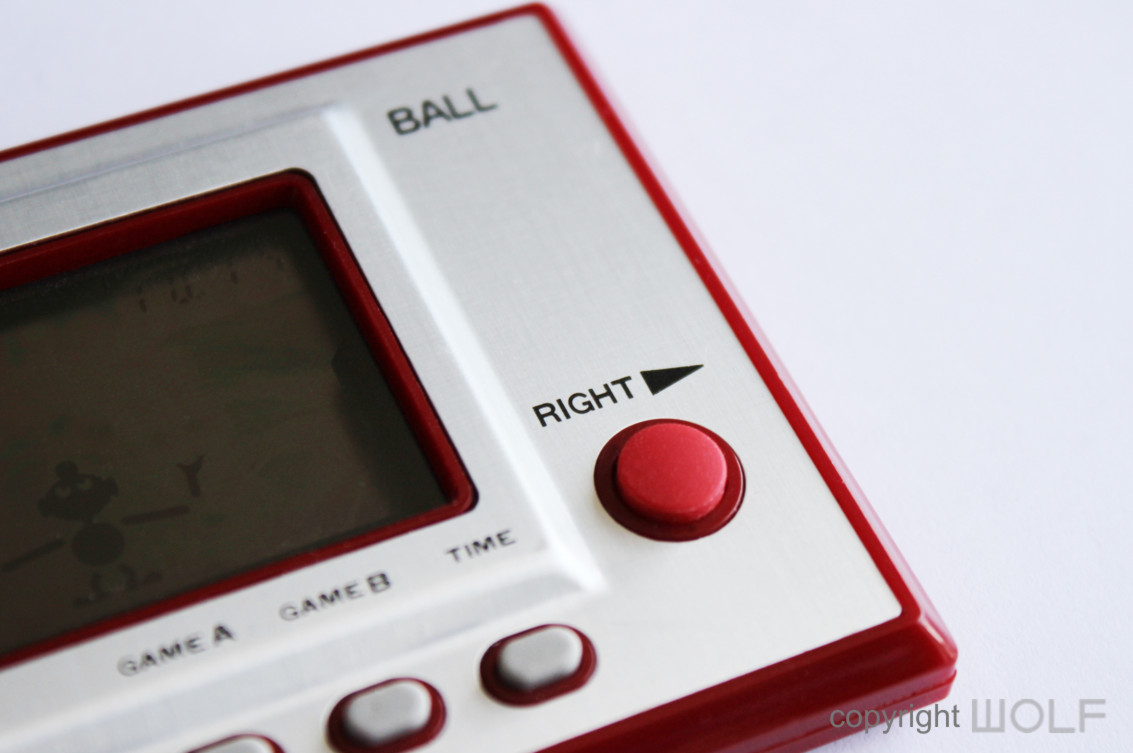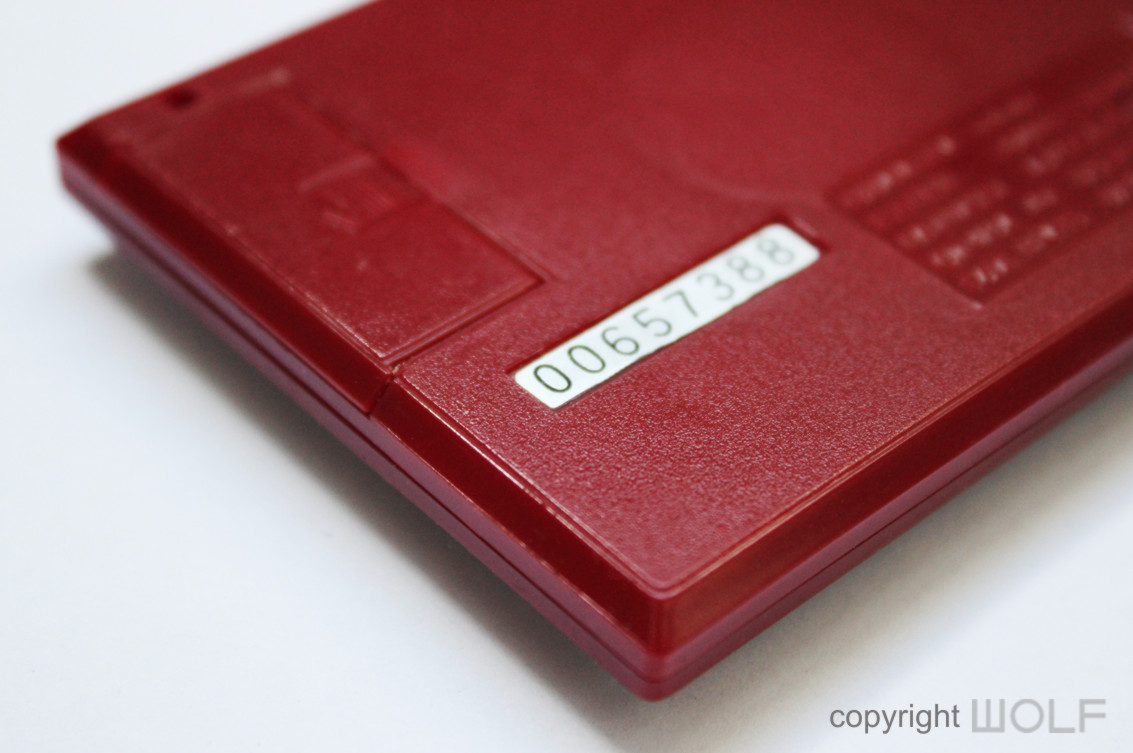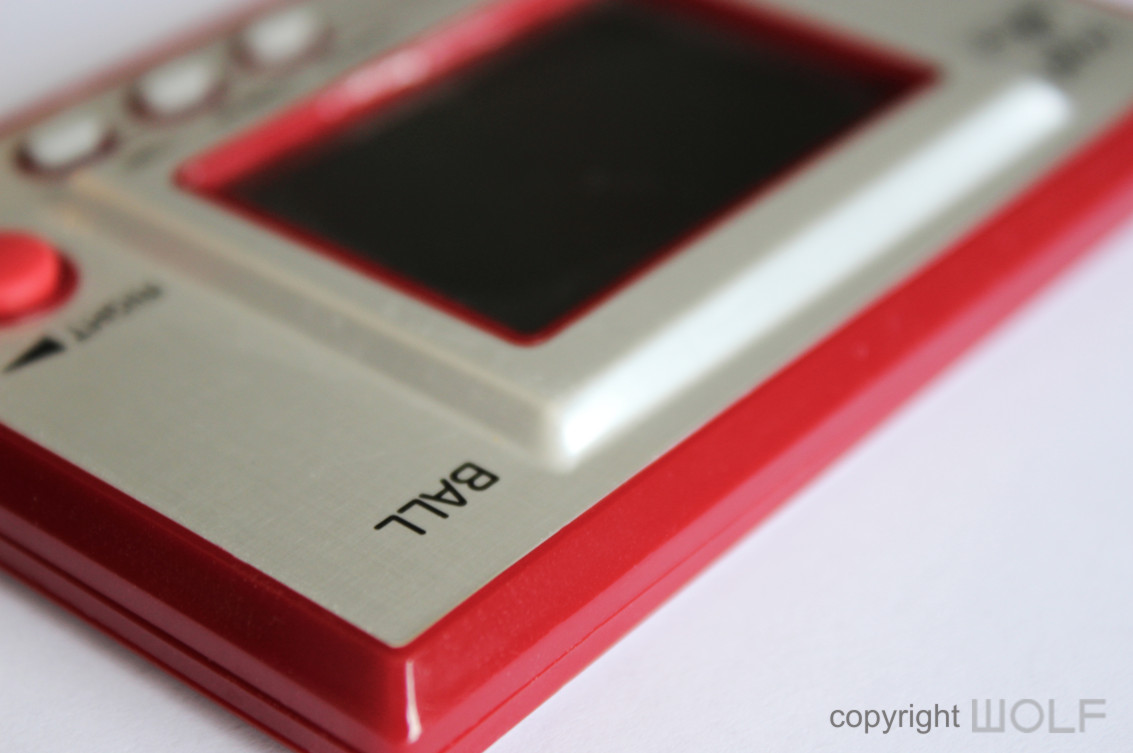 FUNCTION- Experience.
It was small back then and even by todays standard would be considered highly compact and portable. Devoid of sharp edges, it won't catch on anything and will slide easily into pockets. It feels nice in your hand and is just the right size to suit both children and adults.
The rubber buttons contrast nicely against the harder surfaces and feel nice to use. Later models introduced a small metal leg on the back that you could flip out and stand the game on its bottom edge.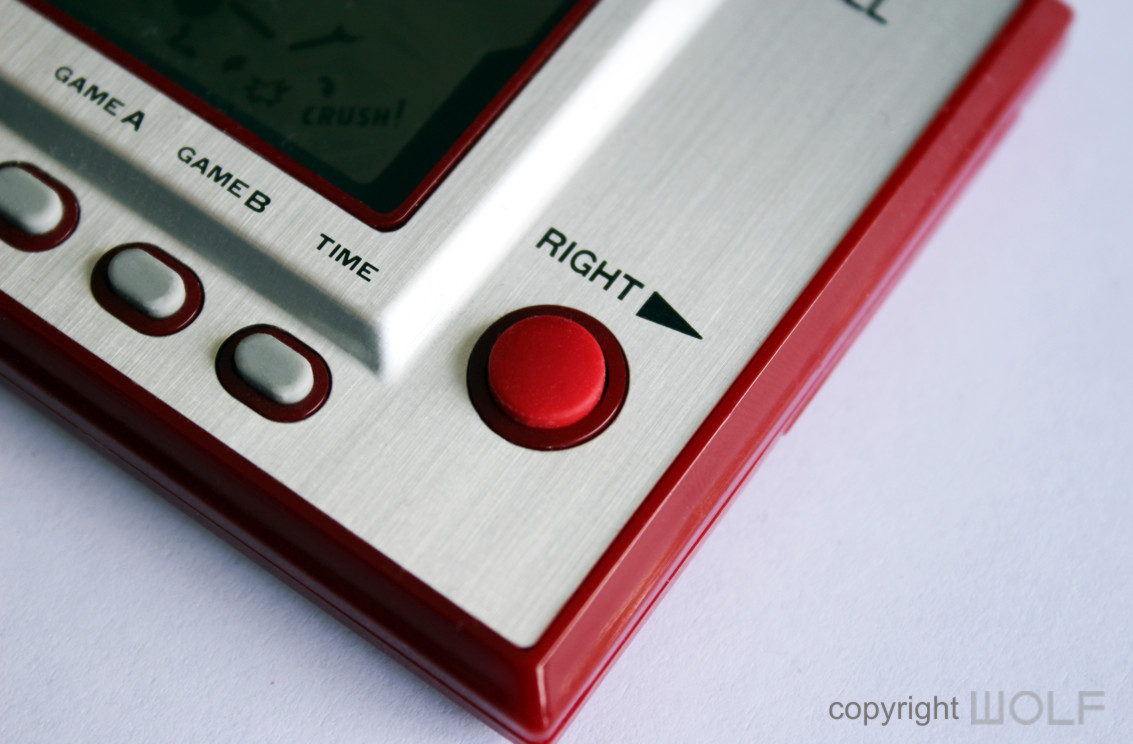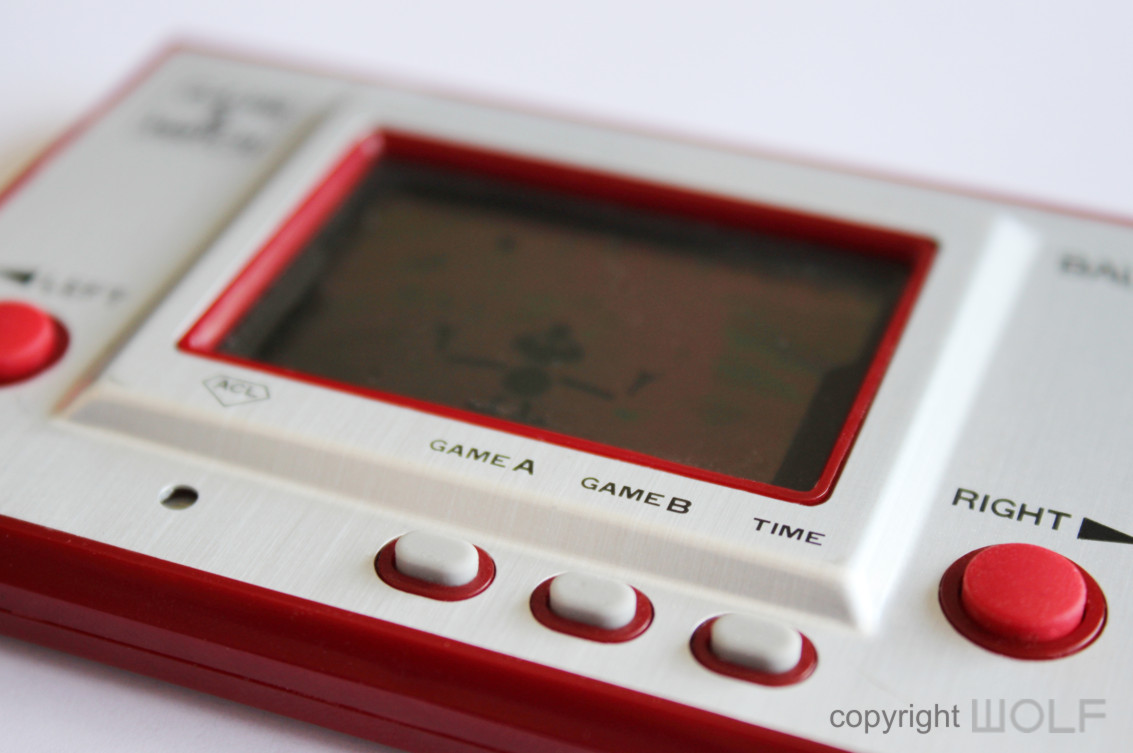 Desirability / Collectability and what to look for.
The Game & Watch toys have always been highly collectible, Perhaps even from the first day of release. There are many fans out there with the complete series from 1980 to 1991, all in mint condition with original boxes. If you're not that into it, you may want to settle for just a few of the most well-known versions. "Ball" is certainly iconic and has the honour of being the very first. A mint specimen is rare but a sound investment in our opinion.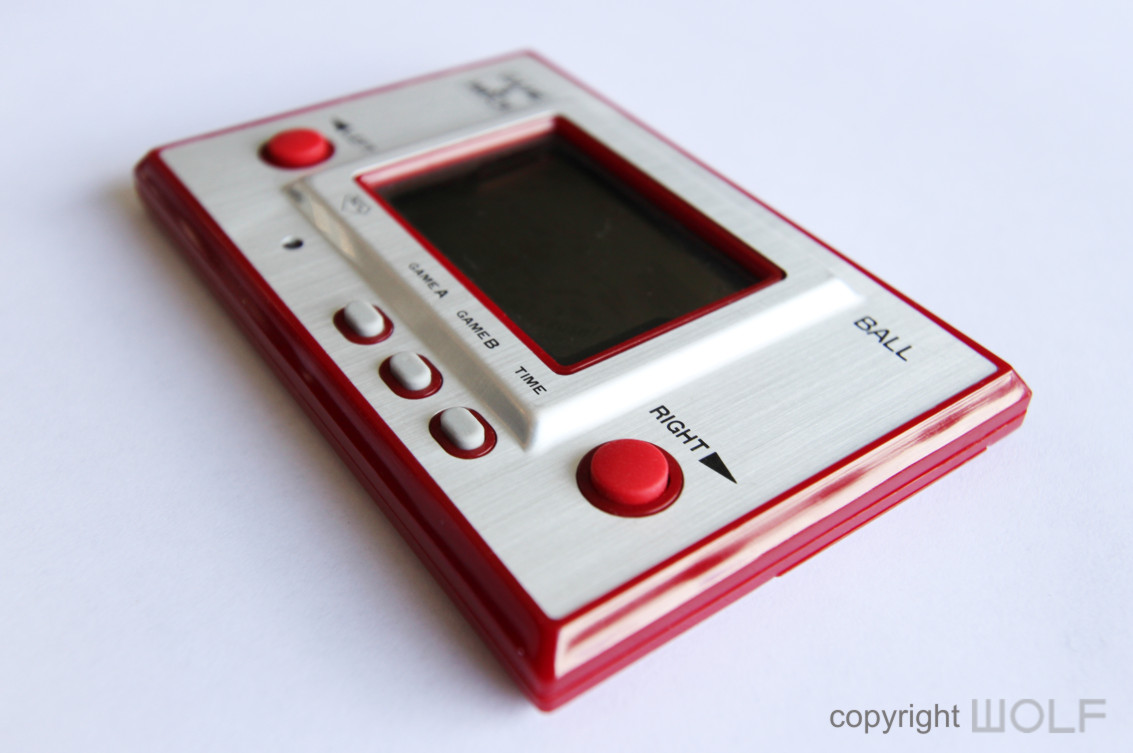 WORD OF THE WOLF
Although it's called a Game & Watch, It's really more of a game than a watch. It is beautifully detailed with very nice shape and corners. We recommend owning the original from 1980 rather than the 2010 reissue. We then suggest leaving it around for your visitors to stumble across and then marvel at its simplistic technology. Its amazing to think that people once sat with these on planes and played with them for hours on end.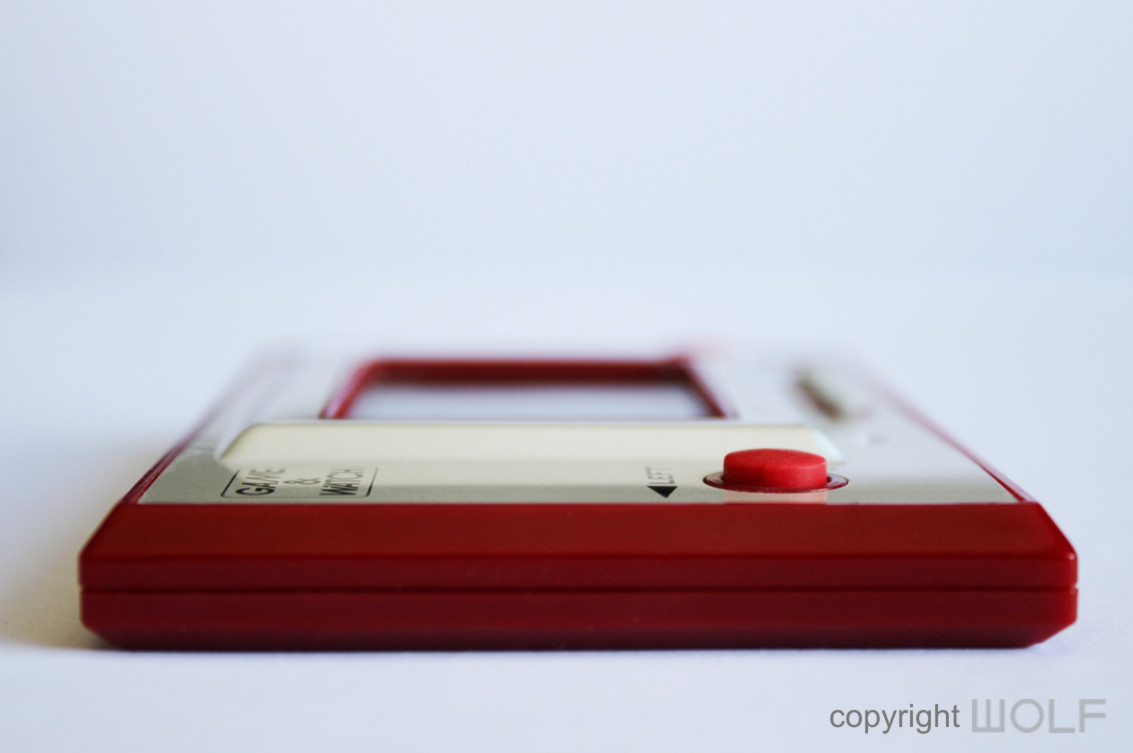 The WOLF Ball Game & Watch
The unit in this review was purchased locally in 2019, almost 40 years from when it was first released.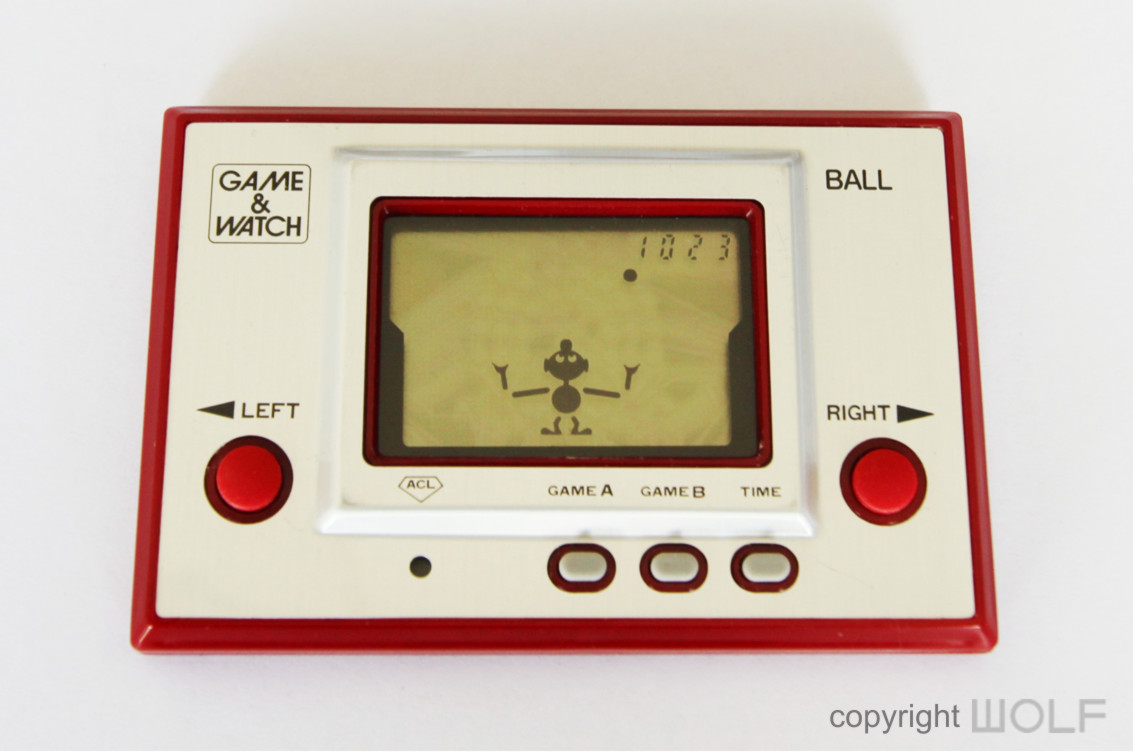 WOLF DESIGN EXCELLENCE SCORE = 8.2
Disclaimer
The information in this review is intended for informational or educational purposes to provide readers an understanding of how something may be seen from a certain design perspective. In this case it is from the view point of WOLF DESIGNS. As design is subjective this review should only be considered as an independent opinion. Information further to being of an opinion is provided to the best of our knowledge based on our own research at the time of doing the review. We cannot be held responsible for any inaccuracies or inconsistencies and reserve the right to change or update any content as appropriate.
The final responsibility of the design resides with the original manufacturer.