WOLF retro DESIGN  REVIEW. 16th February 2021
A retro review looks at products that are at least over ten years old from a present-day WOLF design perspective. While the technology and fashion of the period influence design, and are taken into consideration, great design ideas will transcend their eras to be timeless.
Interesting and factual information may be provided, but our review aims to deliver insight from the perspective of a designer's mind and eyes.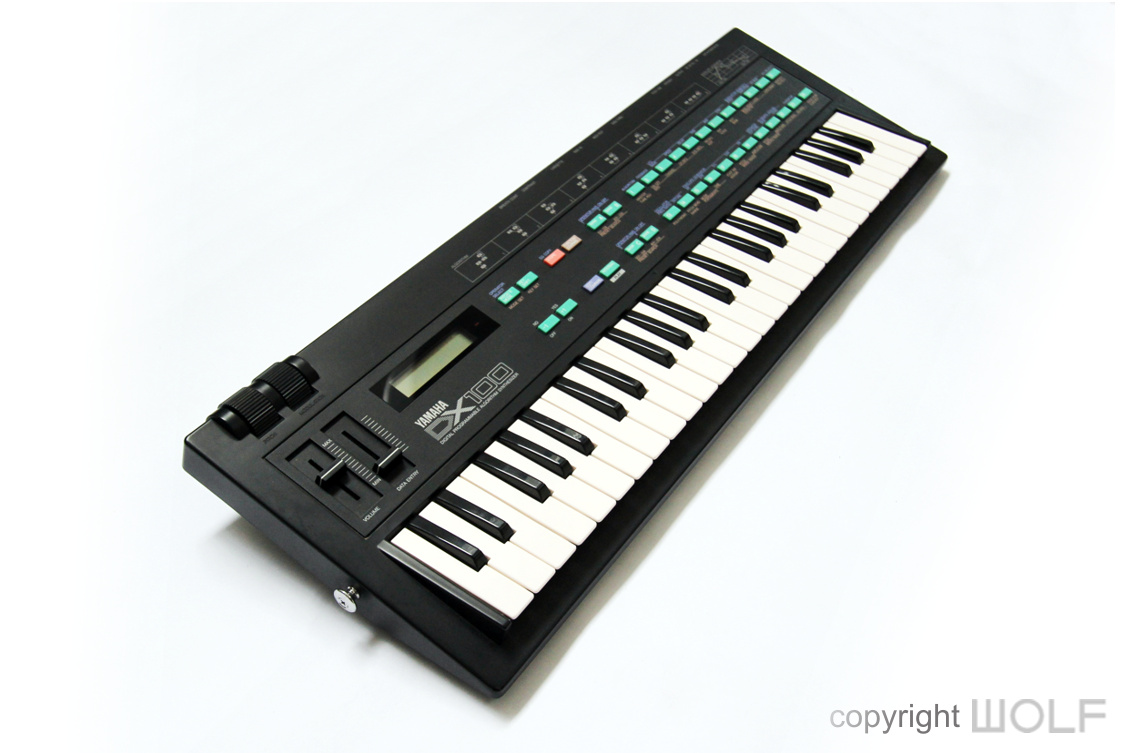 Is this Yamaha's smallest ever synthesizer?
Introduction
Product Focus
As with most Synthesizer reviews the focus is on the design and its evolution with the synthesizer. The functioning systems and sound quality are not necessarily considered.
Product description
The Yamaha DX100 was introduced in 1985 as a portable and affordable 4-operator synthesizer. With batteries and a set of headphones this was the synth to take in the car or on planes, a highly novel concept in the 1980s.
Price and Availability.
The DX100 was quite popular back in the day and you find them regularly for sale on the second hand market. Today they still have a strong following due to its compact size and retro sounds. A good one can fetch between $300 and $500.
Additional information
While mini keys in Yamaha synths were first seen in 1982 on the CS01 synthesizers, the DX100 was the first and only digital synthesizer with mini keys. It also had a shoulder strap intended for it to be mobile during performance as a Keytar.
Review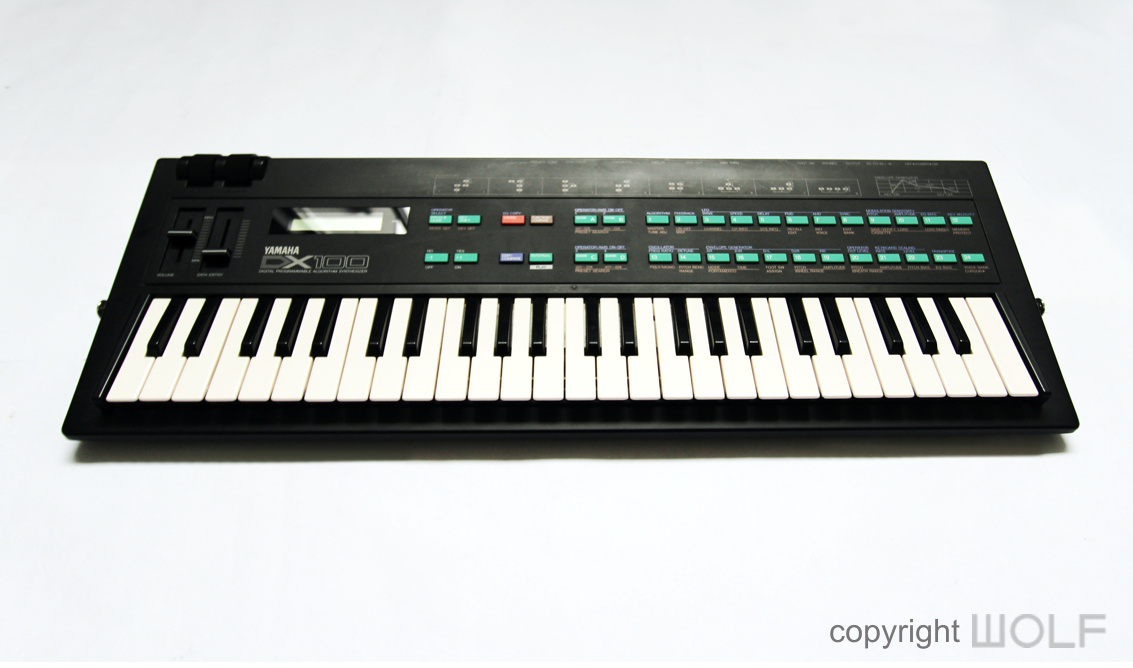 First impressions / Delight
We remember seeing this in the 1980s when still on sale new, and just as we thought then, it does look like a toy. With mini keys, lots of plastic and rubber buttons it certainly does not look professional, but is still a good design?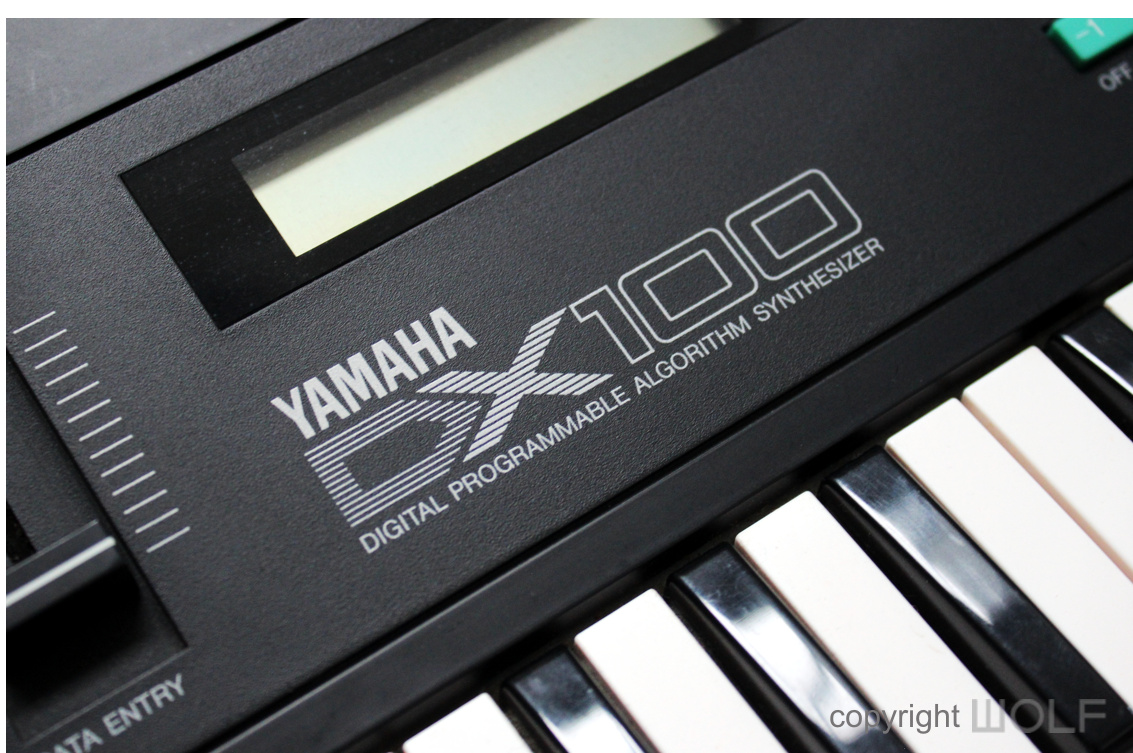 Exterior Design Review
With its black exterior the DX100 made a welcome change to all its bigger brown brothers. However, this is probably one synthesizer that could have looked good in other colours like white, red or even yellow?
The main face sits on an angle with the underside bevelling in to create a very thin overall look. This is particularly obvious when placed on a table. On the underside the geometry is interesting and we think might have been better as the top side. In our opinion the top side is disproportionate to the keyboard section and while we appreciate the efforts to make this keyboard compact it would have looked better with either wider end panels or a without the top section where the graphics are printed.
The case is a combination of smooth and grainy textured plastics. The bright aqua buttons are made of rubber which surprisingly do not feel cheap.
For some reason it looks as though it should have built in speakers but perhaps that would have pushed it into Yamaha's less professional Portatone family.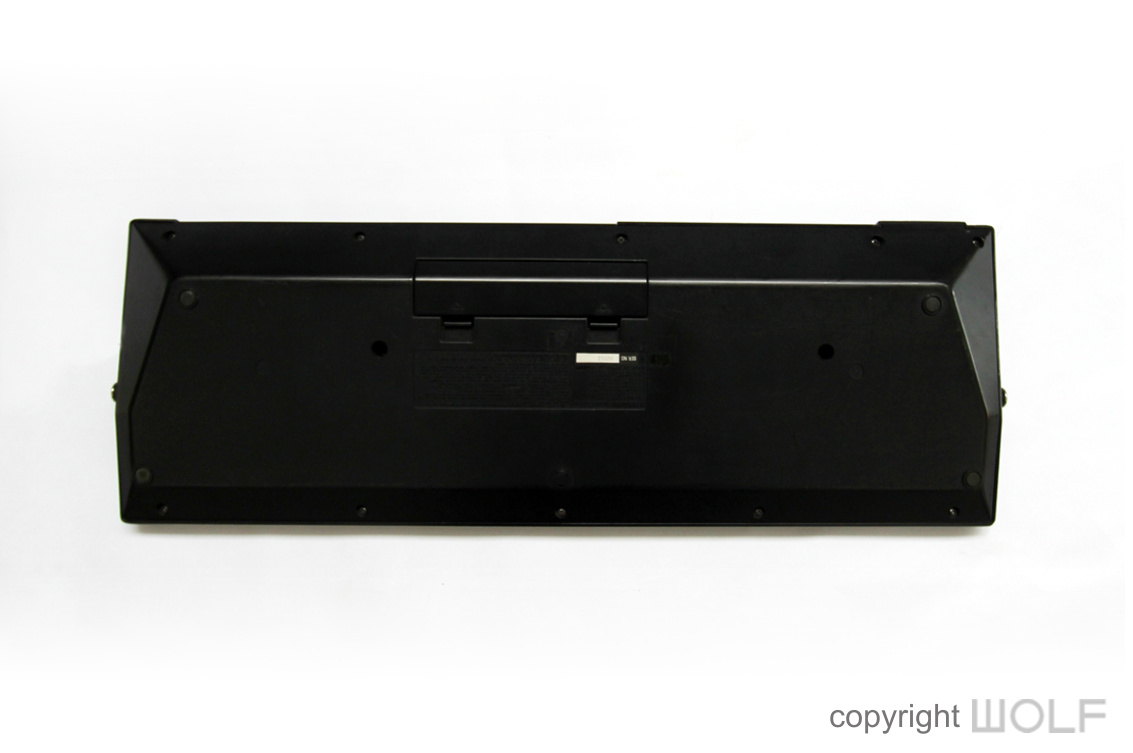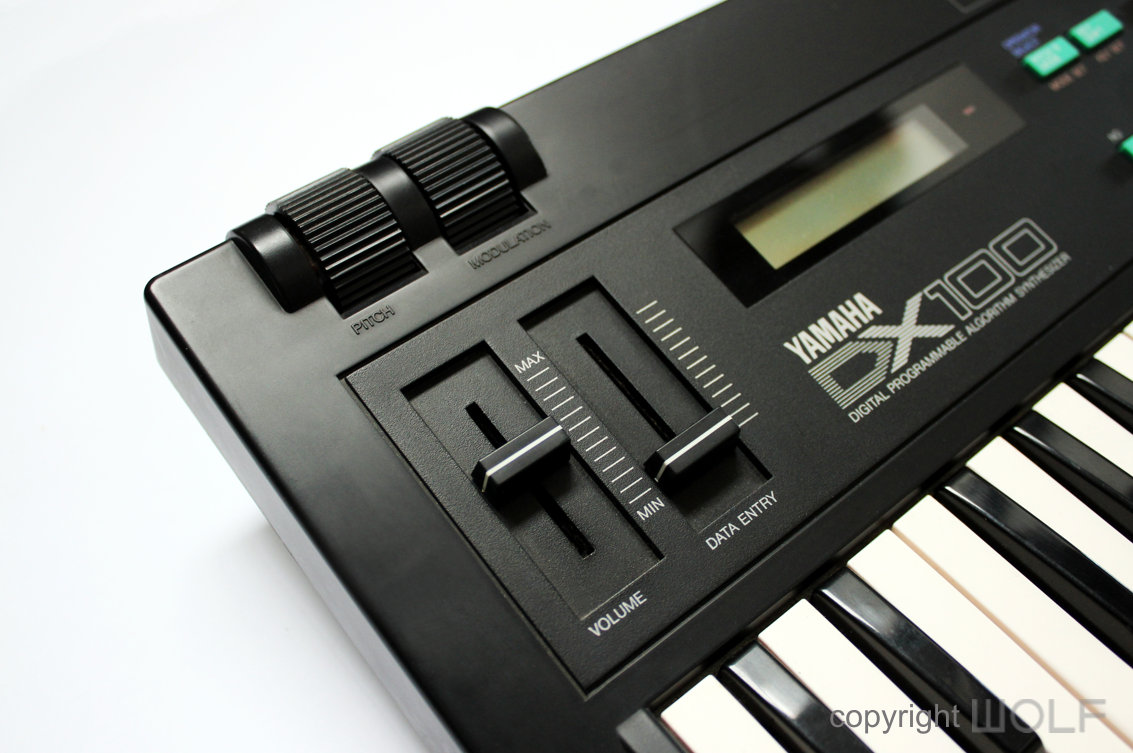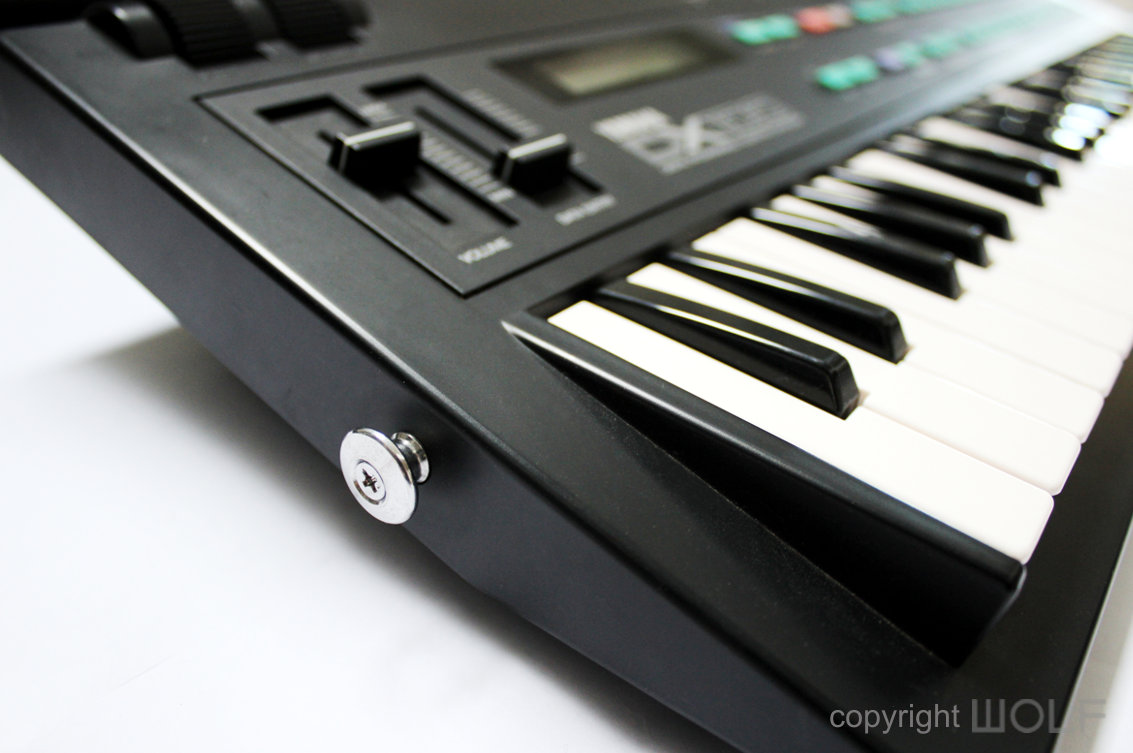 Craftmanship.
The DX100 is relatively well built for an amateur/toy instrument. Despite being made mostly out of plastics we've yet to see a damaged or broken one. The smooth surfaces do tend to scuff quite easily, and keyboards with a lot of use will have shiny patches on the surfaces and in the corners.
We have seen instances where the rubber buttons have discoloured, but in general they are quite tough as we have yet to see any with tears or breaks. The shape of this keyboard with its bevelled edges are worth noticing. They make the DX100 an easy synthesizer to hold and manoeuvre, especially if used as a Keytar.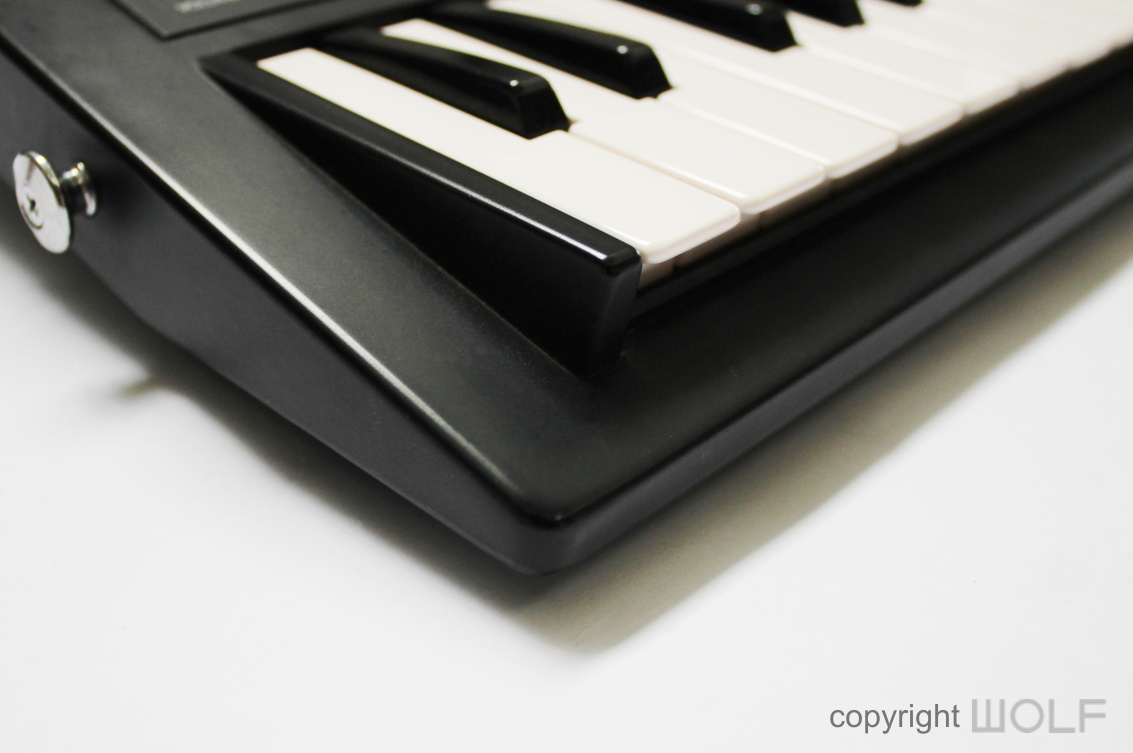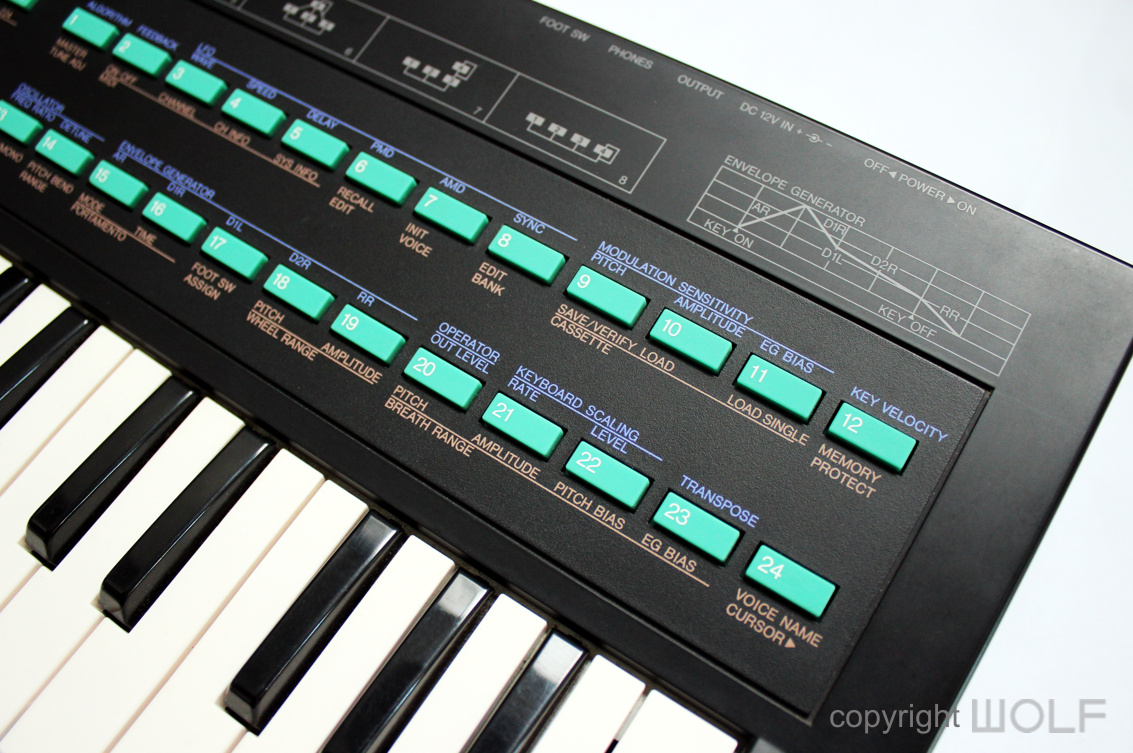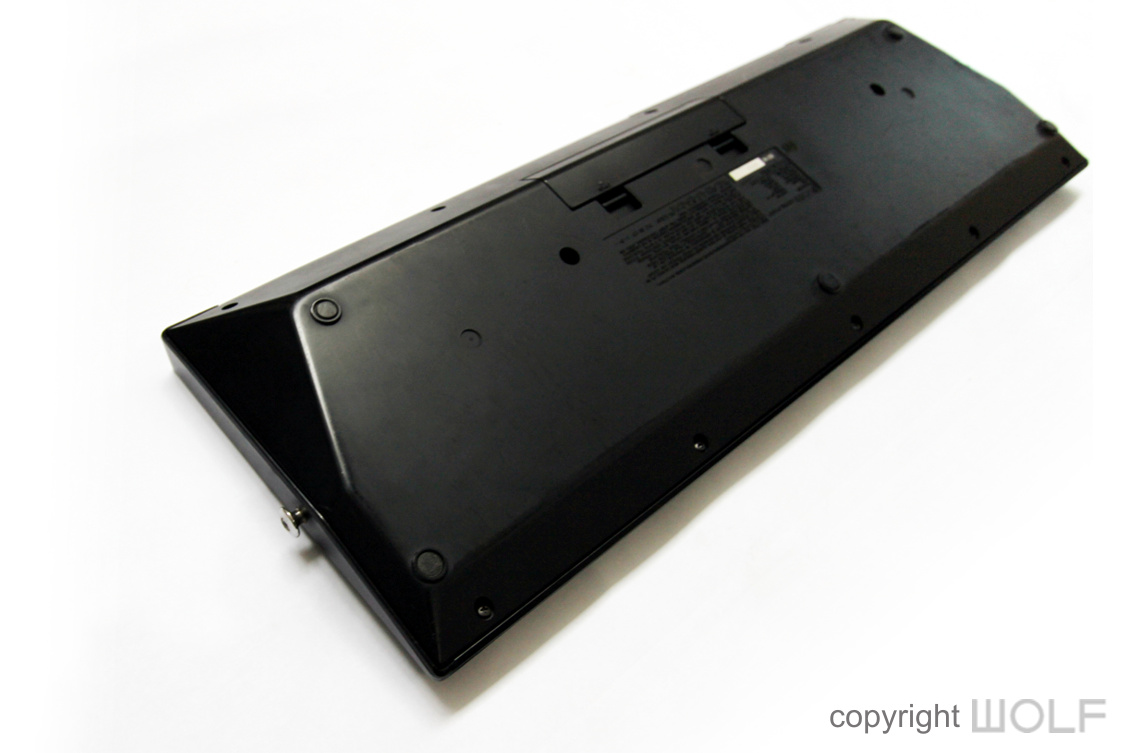 FUNCTION- Experience.
The way it sits on a flat surface is efficient but mini keys are always difficult to use, and not for the heavy/big handed. The wheels are clever but tricky to use though perhaps they work better with the DX100 strapped over you like a Keytar. We have not attached a strap and tried it as a Keytar.
The sliders are the only carry over component from other models and the screen is reasonable considering the overall proportions of this instrument. The buttons have fortunately escaped miniaturization and do feel nice to press.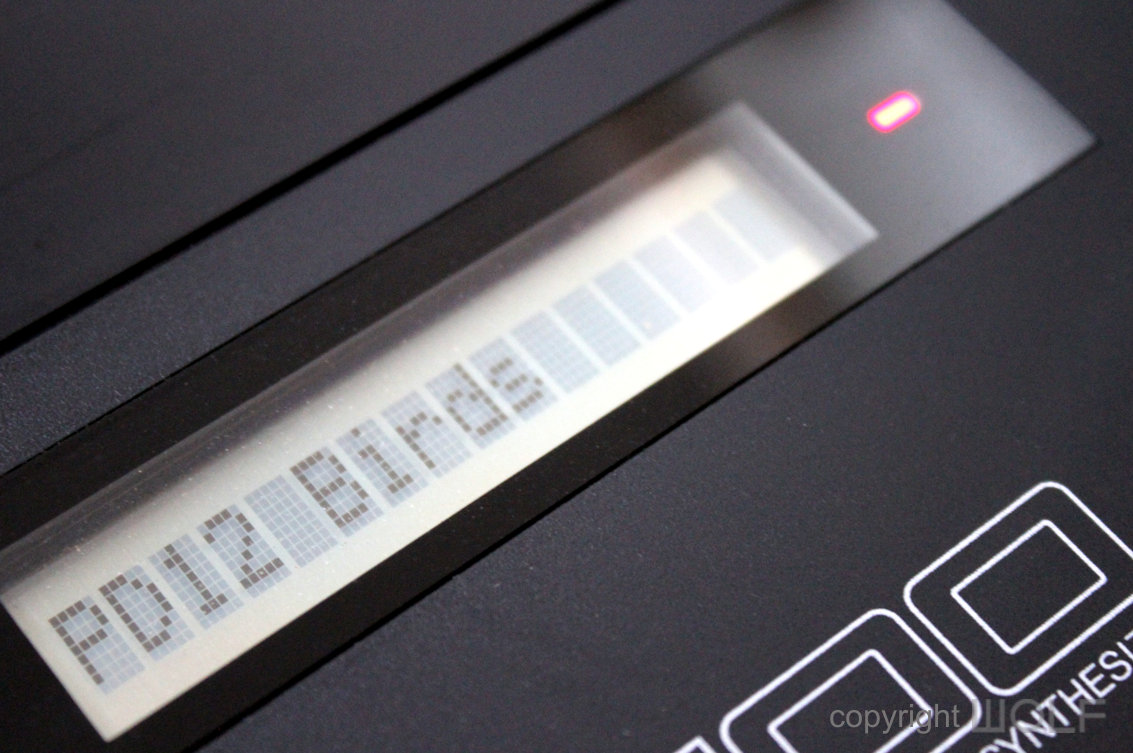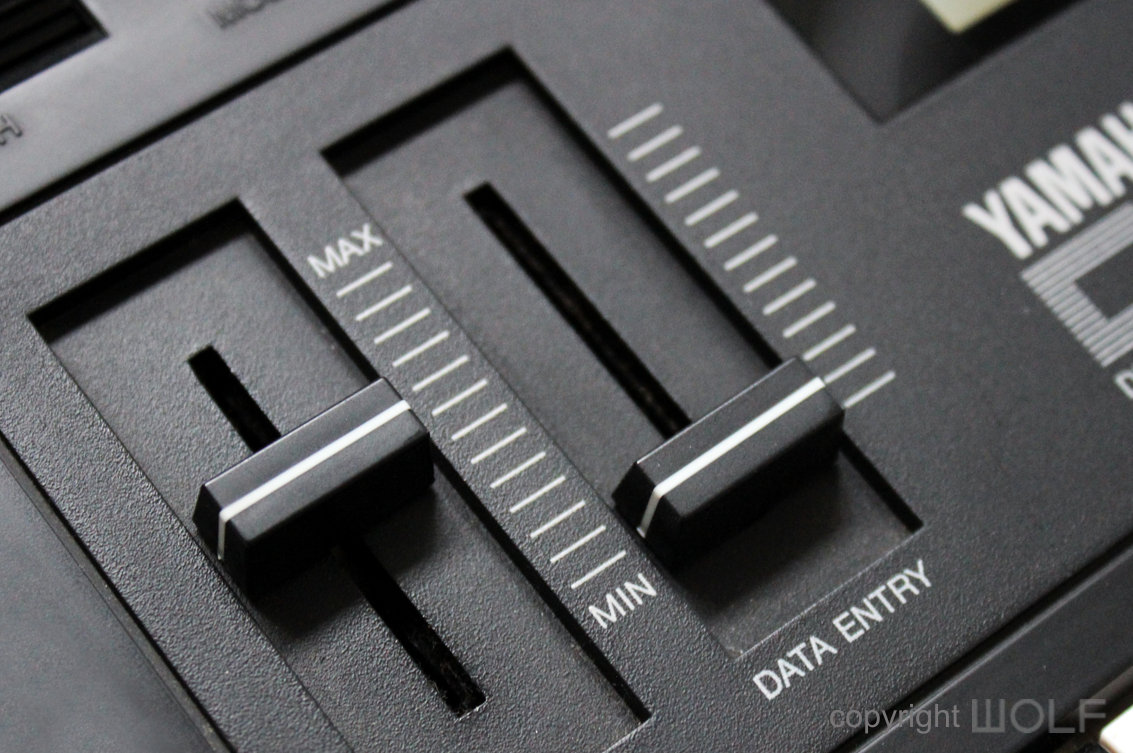 Desirability / Collectability
The DX100 is more cute than collectible but it's still a proper FM synthesizer so given it's unique size we expect that it will eventually be a collectible classic. For the moment it's still regarded as another old but novel synthesizer.
Because of its size many have survived with their original boxes which is quite cool. The original case is rare and even more so are the straps which seem to always be missing. A mint example with original case, box and strap is something worth considering if you ever come across one. It wont break the bank or take up too much space.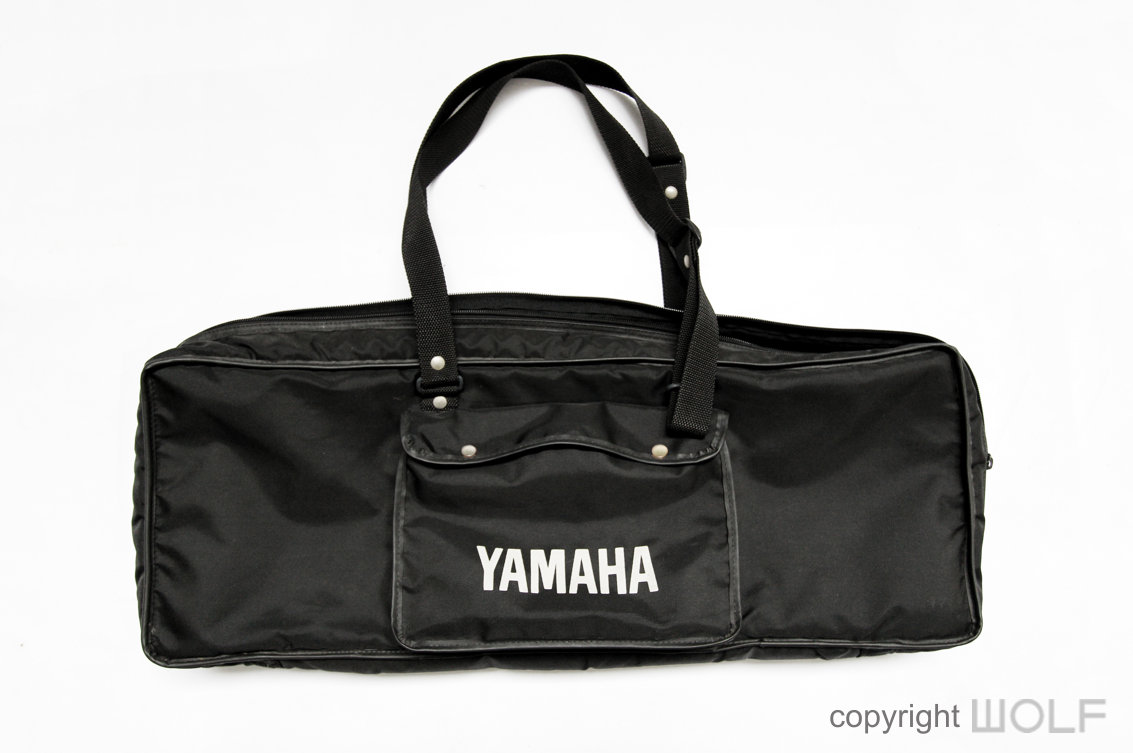 The factory soft case was simple with a pocket in the front for accessories.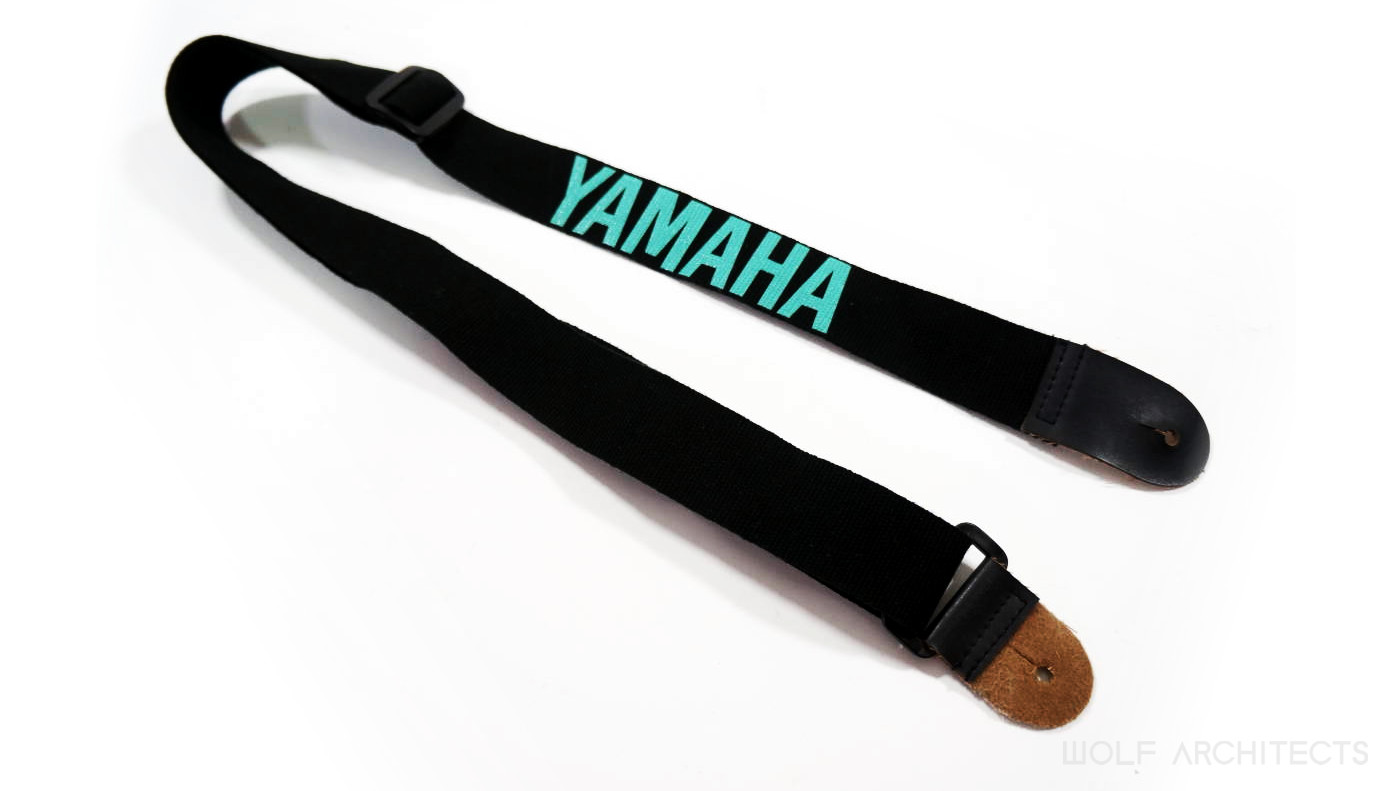 The DX100 could also be connected to a shoulder strap. We found this vintage Yamaha Strap in Japan which we believe is for the Yamaha SHS keyboards but it could well also be for the DX100.
WORD OF THE WOLF
We can't help but look for built-in speakers, as that's something that might have made the DX100 even more novel. We imagine that someone clever out there has modified one to have them. In our opinion mini keys look disproportionate. That together with a plastic case feels more like a toy and it's hard to pay high prices for a toy.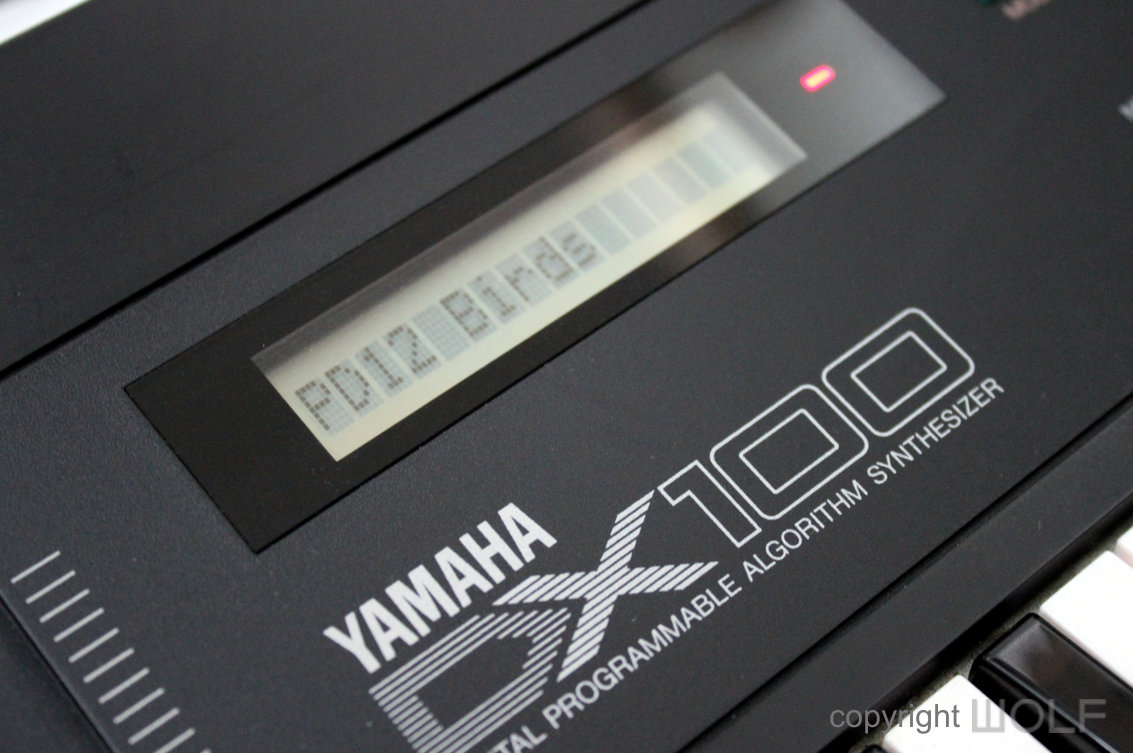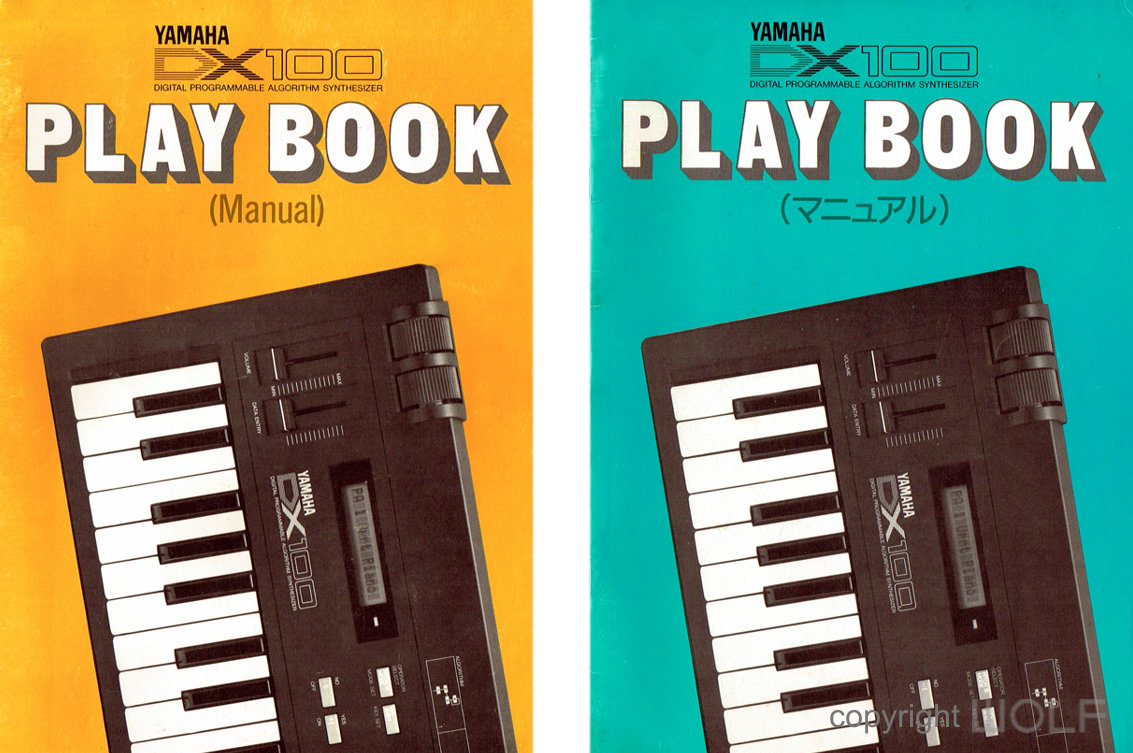 The DX100 came with Play Book manuals, the English ones had an orange cover and the Japanese ones had a turquoise coloured one.
In Japan the manuals for the DX100 had a different look.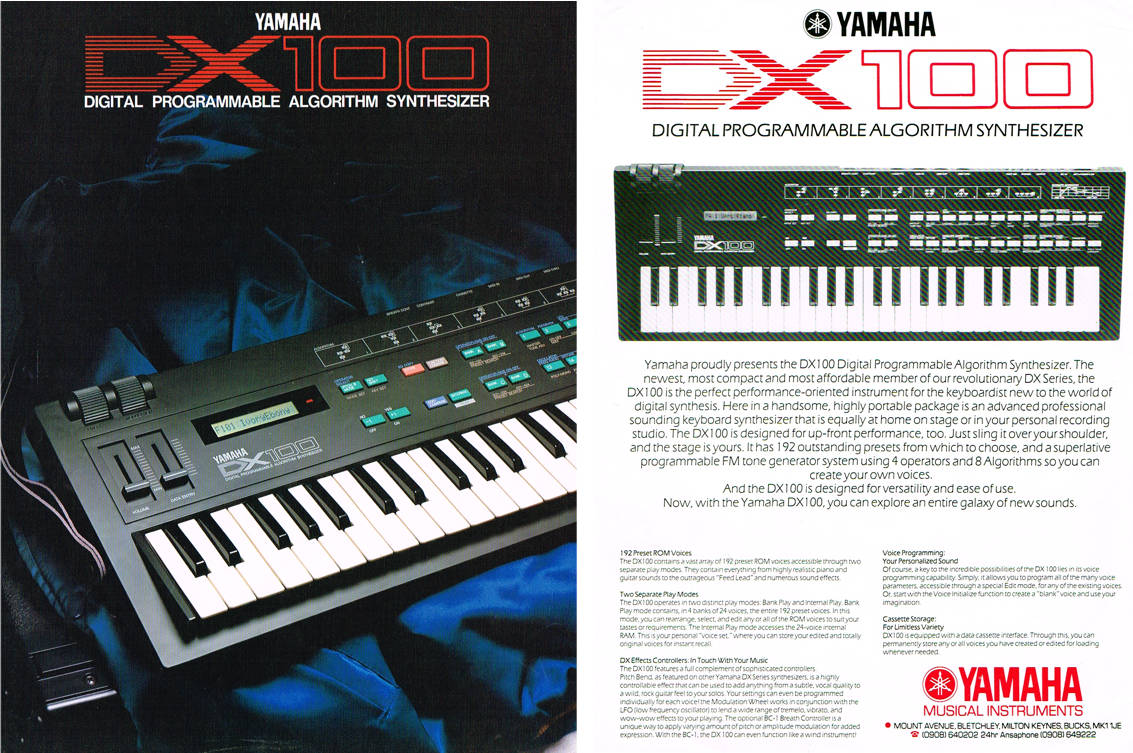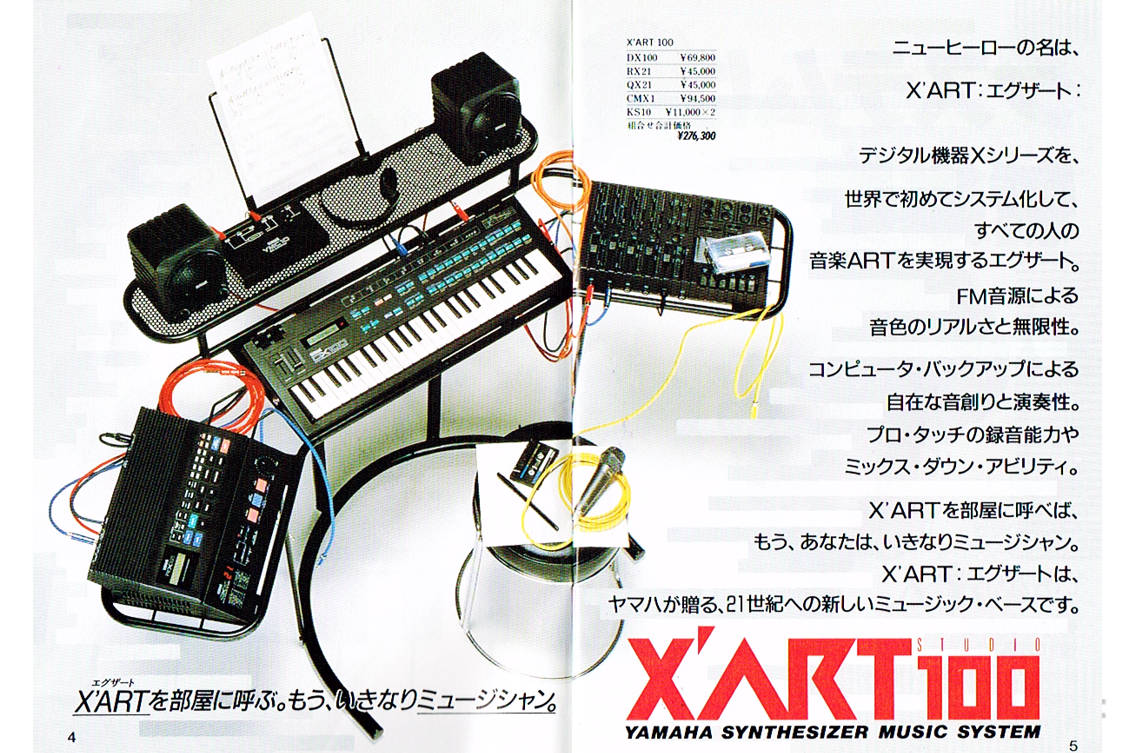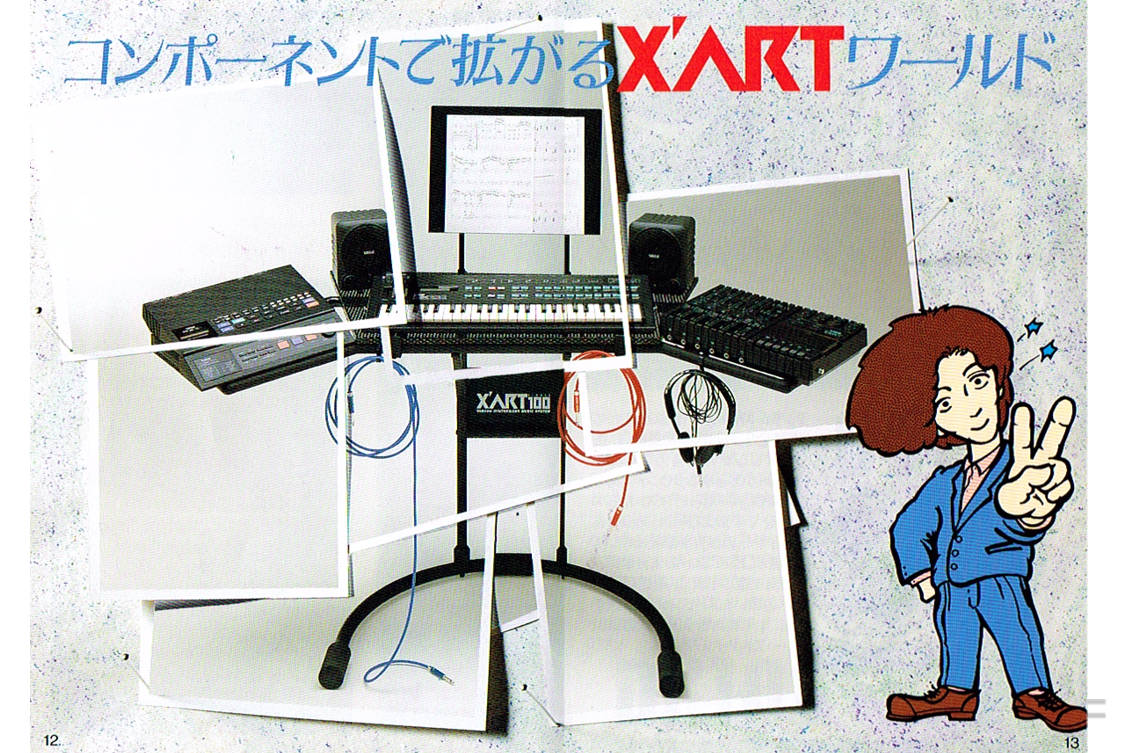 Yamaha designed and created a mini studio set up with the DX100 at the center and a pair of KS-10 speakers. It even had a purpose built stand called the LG-SMS20. In Japan they called it the X'ART Studio 100.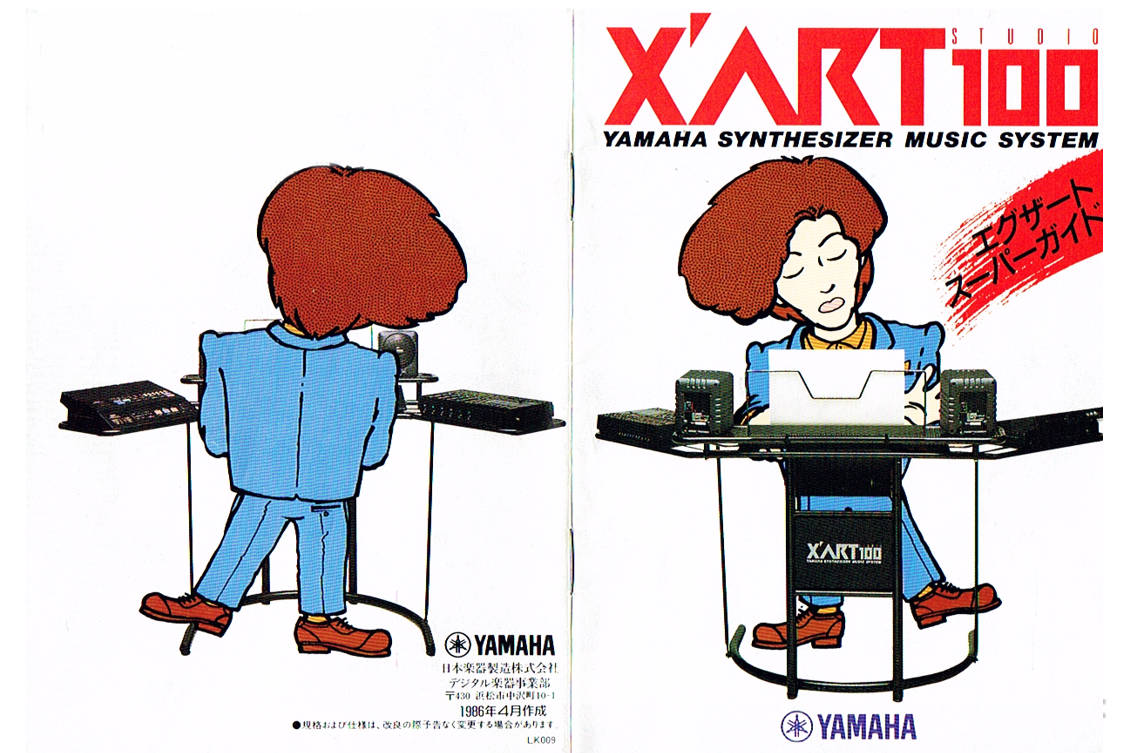 The X'ART Studio 100 was promoted in this mini brochure/booklet.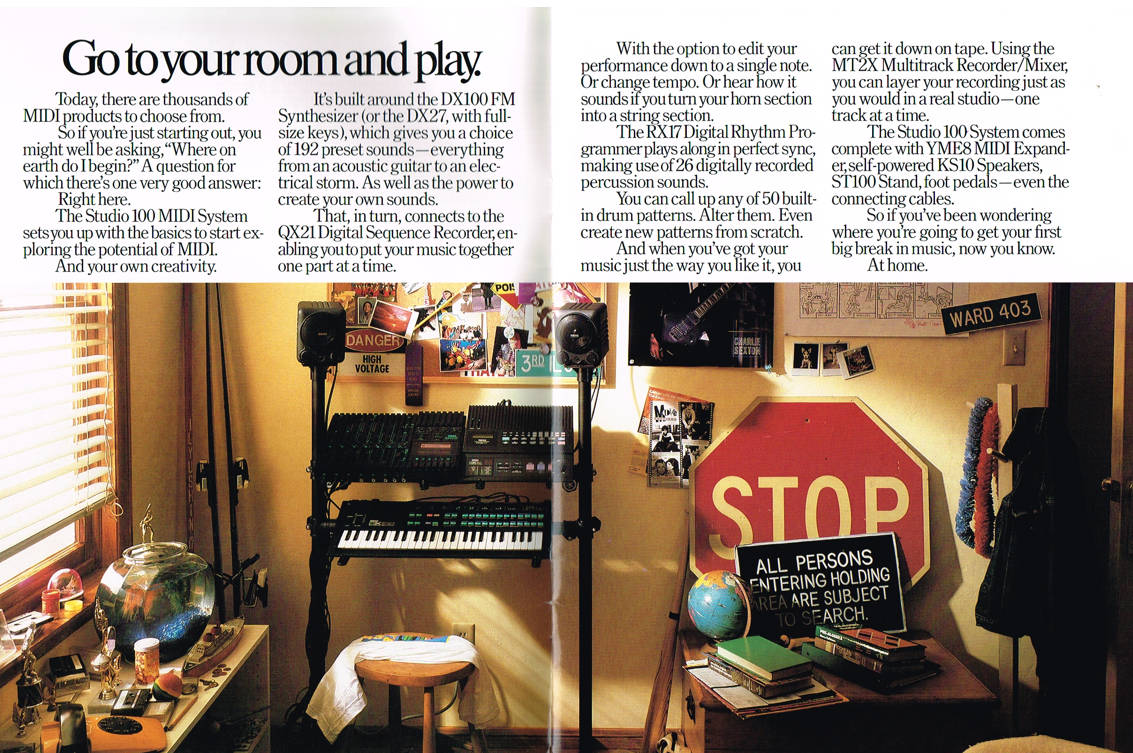 Home studio set up featuring the DX100 in another Yamaha Catalogue
WOLF DESIGN EXCELLENCE SCORE = 5.8
Disclaimer
The information in this review is intended for informational or educational purposes to provide readers an understanding of how something may be seen from a certain design perspective. In this case it is from the view point of WOLF DESIGNS. As design is subjective this review should only be considered as an independent opinion. Information further to being of an opinion is provided to the best of our knowledge based on our own research at the time of doing the review. We cannot be held responsible for any inaccuracies or inconsistencies and reserve the right to change or update any content as appropriate.
The final responsibility of the design resides with the original manufacturer.