WOLF DESIGN REVIEW. 22nd August 2022
In a small kiosk at a small corner in the heart of Bangkok's famous Siam Square are these delicious Thai deserts. Many including WOLF Architects, claim them to be the World's best!
 Interesting and factual information may be provided, but our review aims to deliver insight from the perspective of a WOLF designer's mind and eyes.
Introduction
Product description
The green Thai Pandan Cake is a unique snack like desert. In Thai it is called "Kanom Kroc Bai Tuey" The ones in this review are from the famous Siam Pandan stall in Siam Square, Bangkok.
Price & Availability.
The cakes in this review come from a small 3.5m x 3.5m stall located next to the Novotel Hotel in Siam Square. It has a sign that reads- "Kanom Kroc Bai Tuey Siam Square" (in small Thai text), and "Siam Pandan" (in large English text). The stall opens daily from 11am, except for on public holidays. A box of 9 green cakes sell for 50 Baht ($2 Aust) per box.
Additional information
The stall is roughly divided into two halves with the left side selling some very fresh seasonal fruits prepared into snack packs and kept cold on ice. The right side is where the green cakes are continuously baked and sold. They also sell a variety of other delicious Thai deserts but it is their green pandan cakes that people travel great distances to enjoy.
Review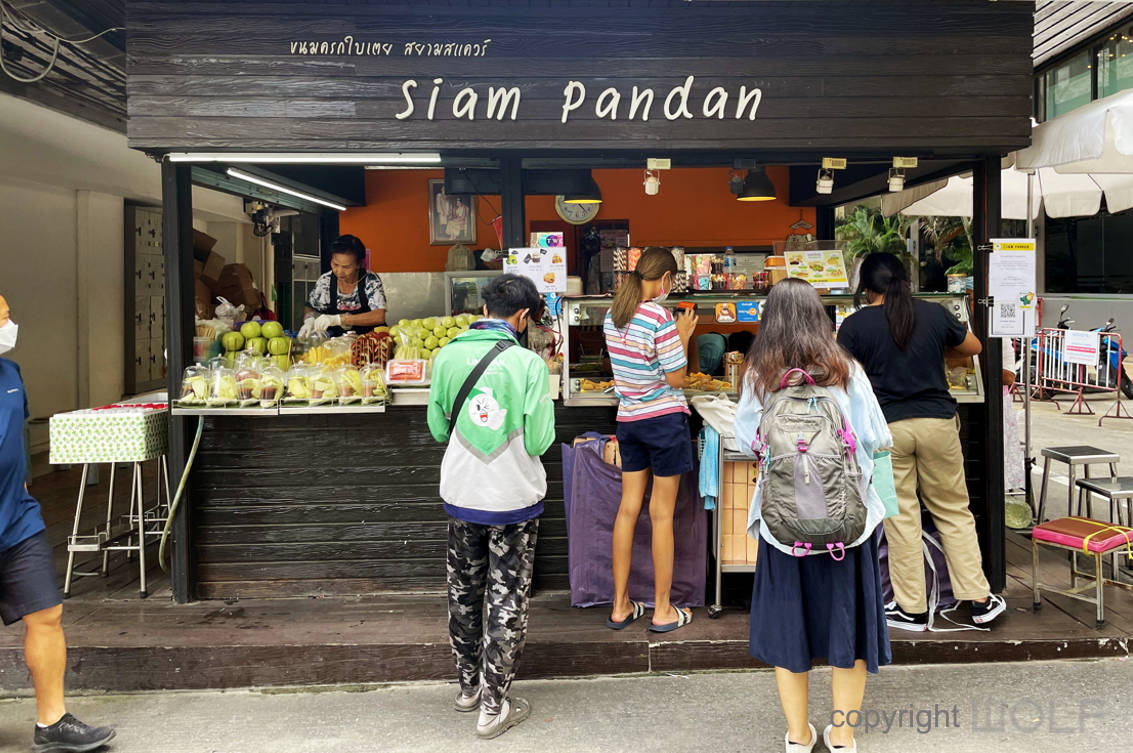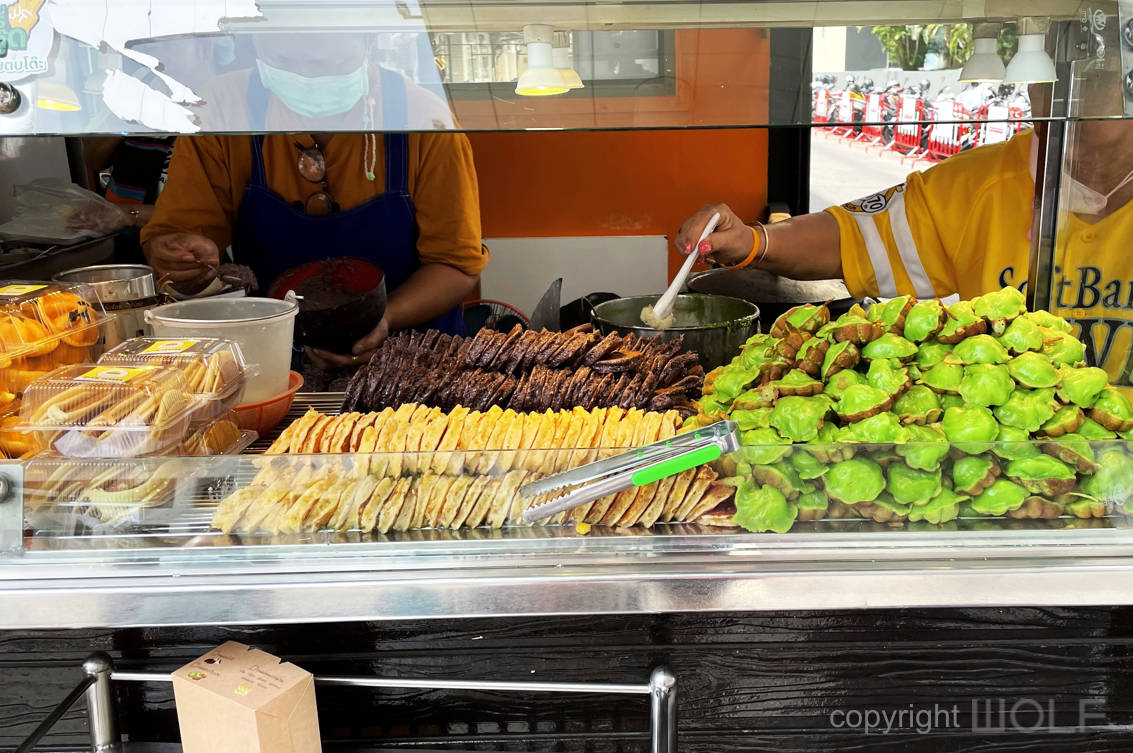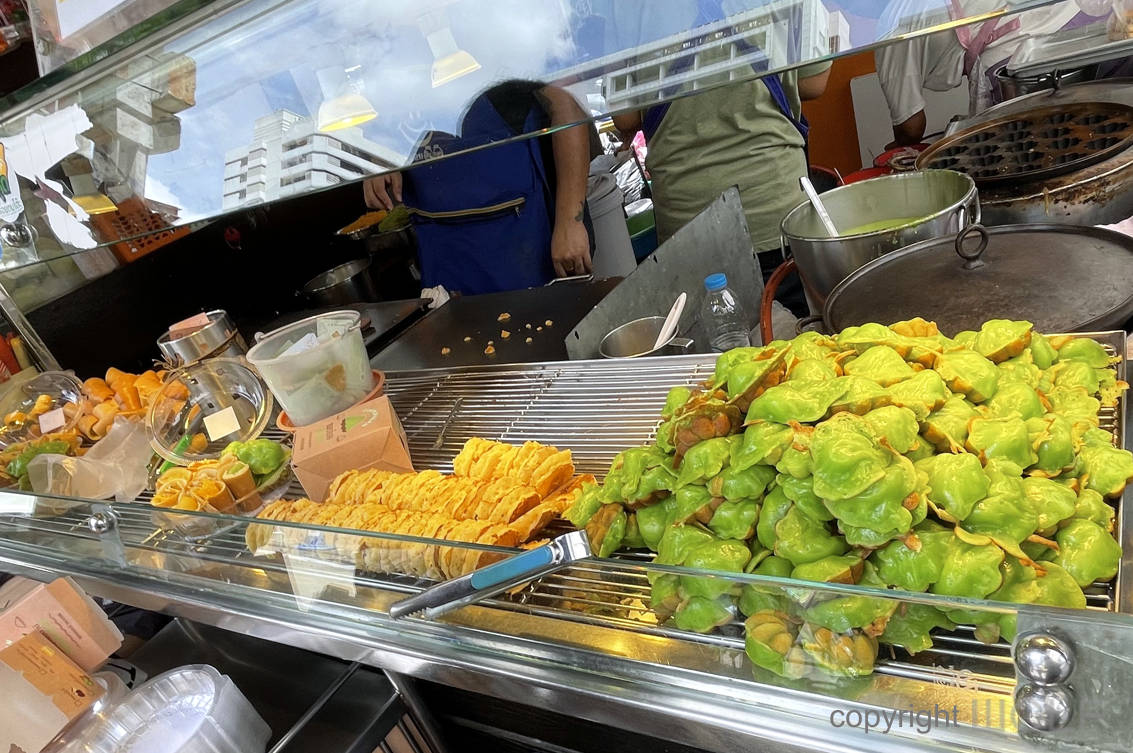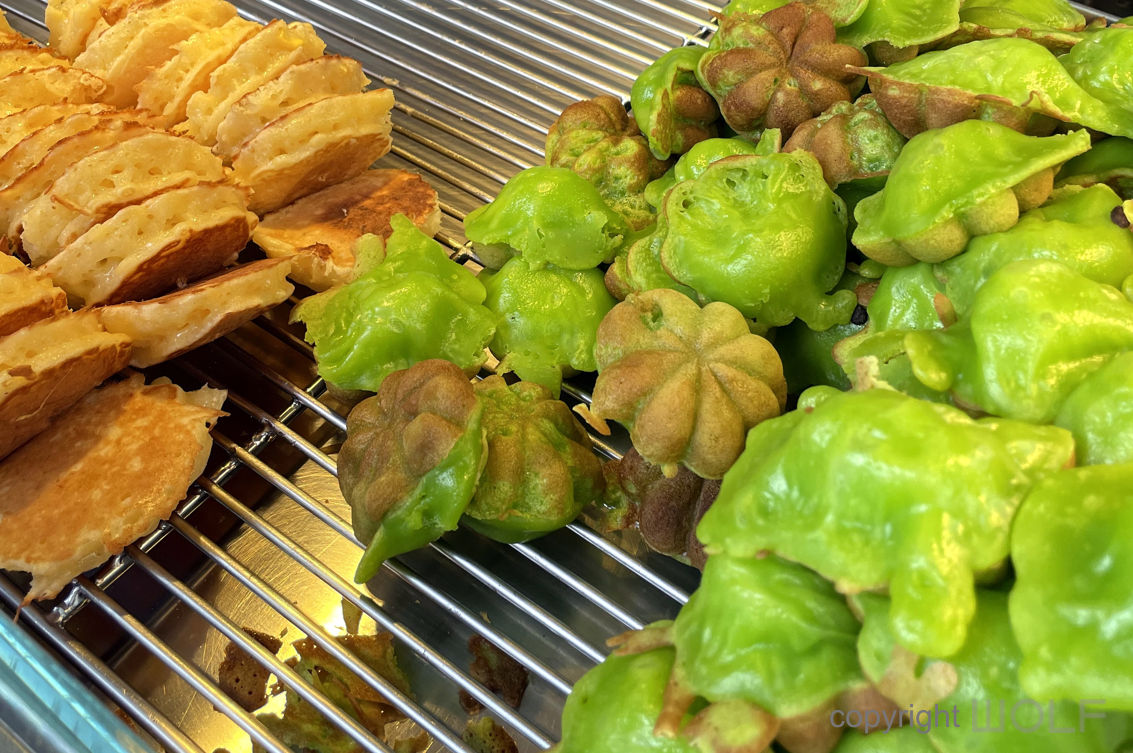 Sold alongside mini coconut based pancakes.
First impressions
It's hard to miss these since firstly they are bright green in colour, and secondly because they are often curiously piled in an impressive heap. If not for the mature part of us, it would be very tempting to put your hands into the pile and squish it all around as if it were play doe. These cakes look unique, fun and definitely enticing to taste.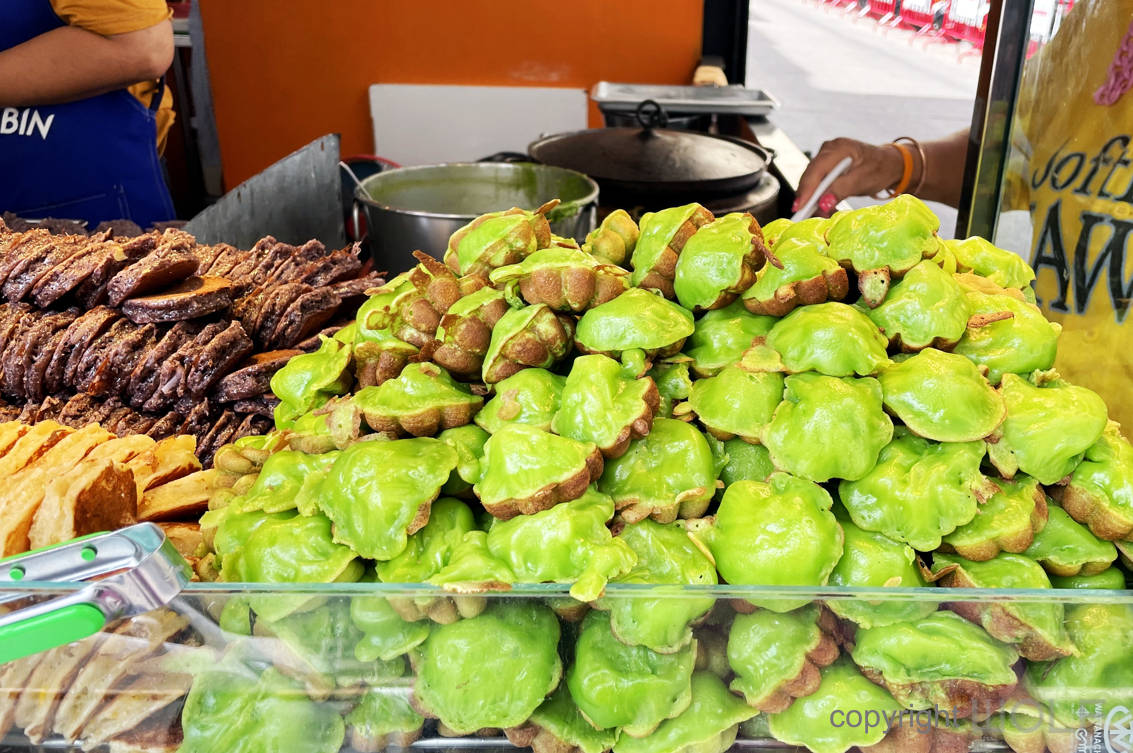 Packaging Design Review
A box of 9 cakes fit nicely into a small brown card board box. The lid features a very simple graphic of a green cake with two smaller cakes on either side. Together they almost resemble UFO's hovering above Thai writing. In a curved form above the main green cake are the words "SIAM PANDAN".
The box has a few ventilation holes at the rear to help prevent the cakes from going too soggy as a result of condensation since these cakes are often served piping hot.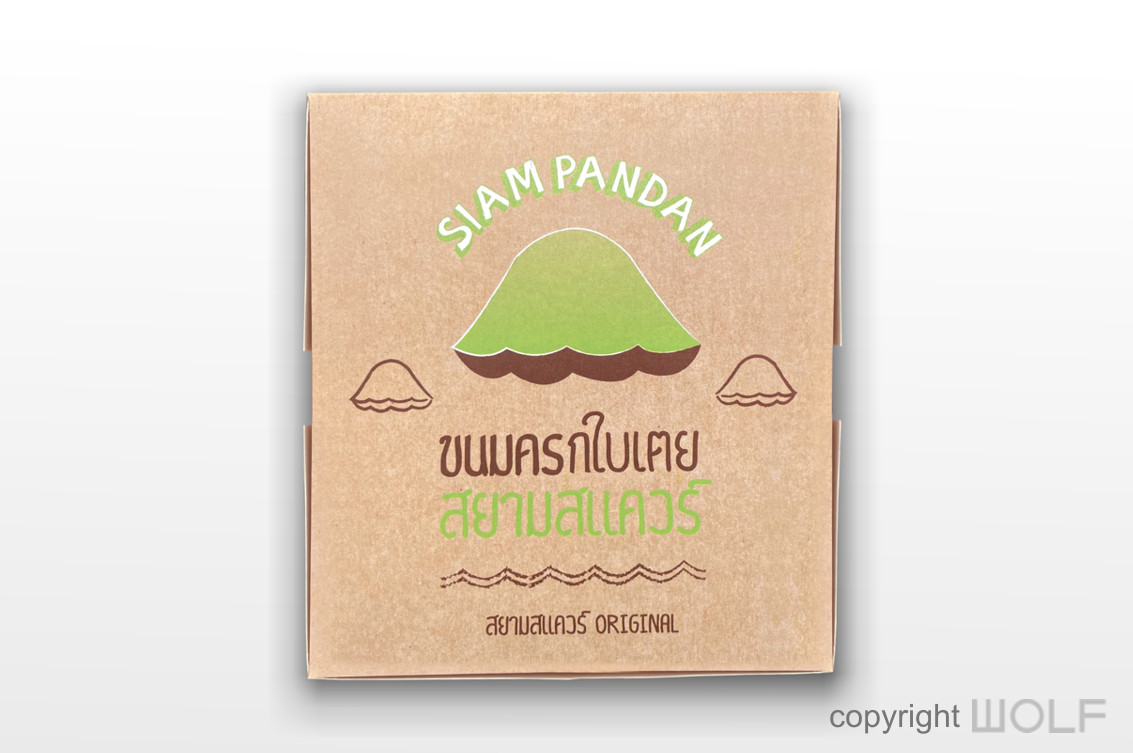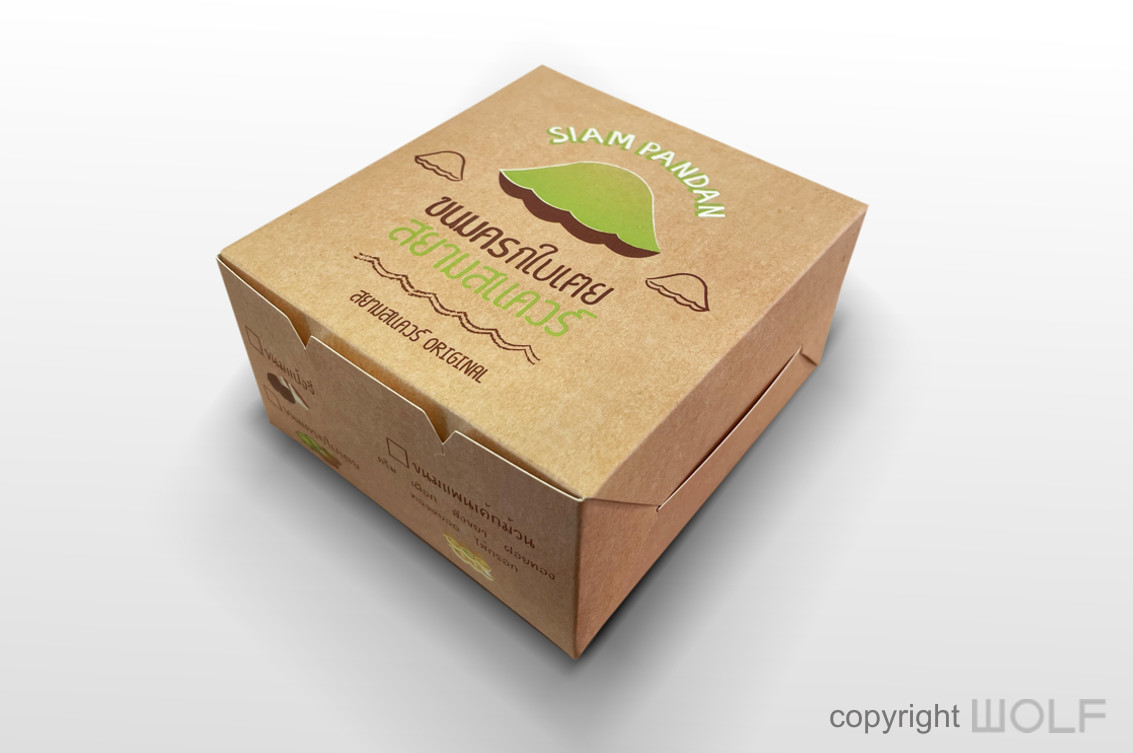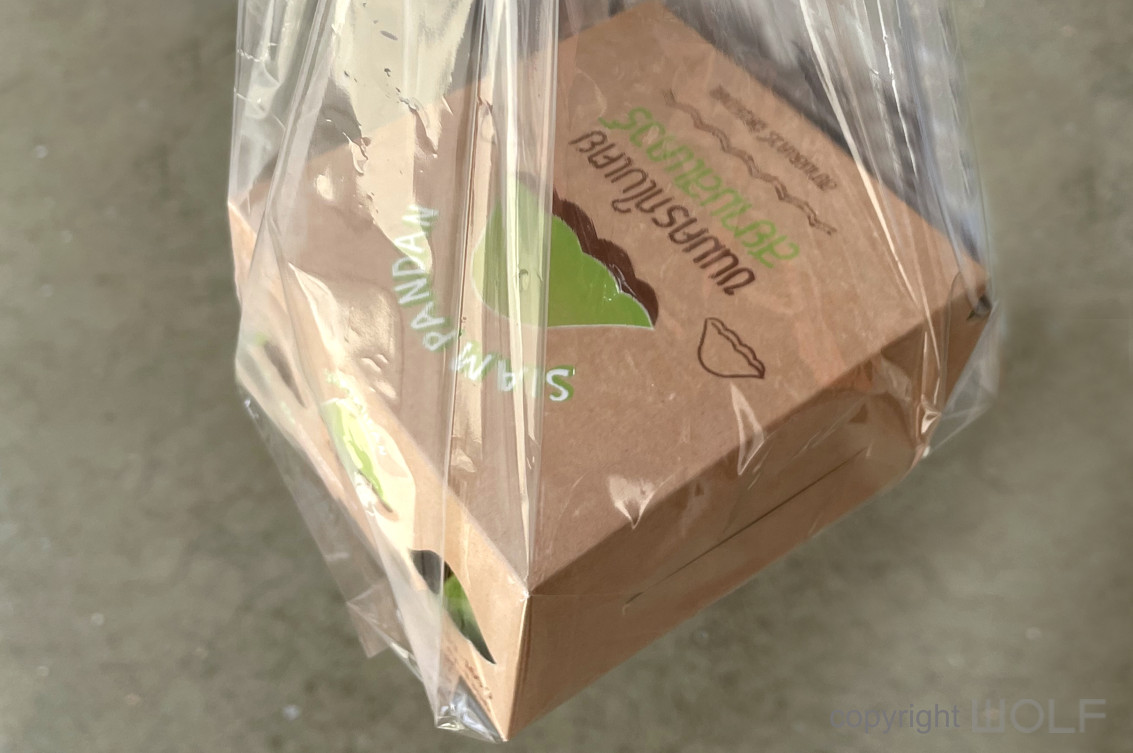 Further to the box a plastic bag is provided for carrying convenience. Be mindful that the bag will encourage condensation which in turn will make the cakes soggy, so don't keep them in the bag too long.
Product Design review
At approx. 3cm in diameter, each cake is a perfect bite size. The underside is shaped like a flower with 8 petals. The colour is green with crispy brown patches from where it was in contact with the hot mold. The top side is a shapeless green blob with a slight glossy sheen. From the top it almost looks like a mini green jelly fish.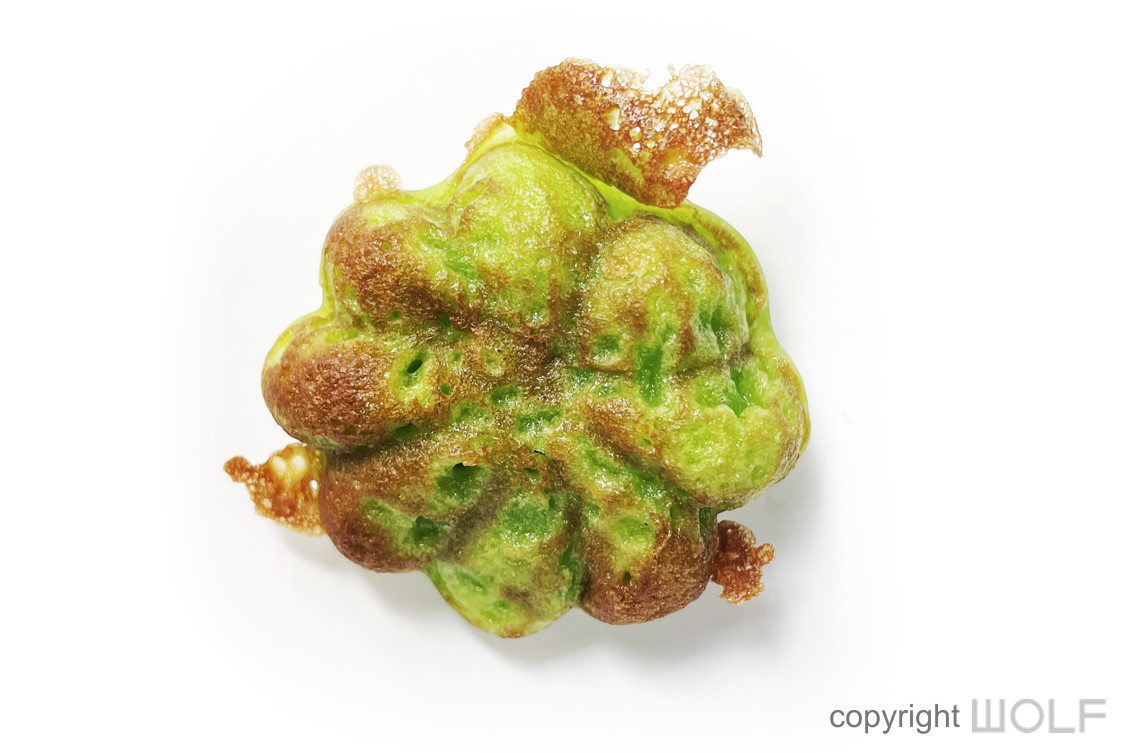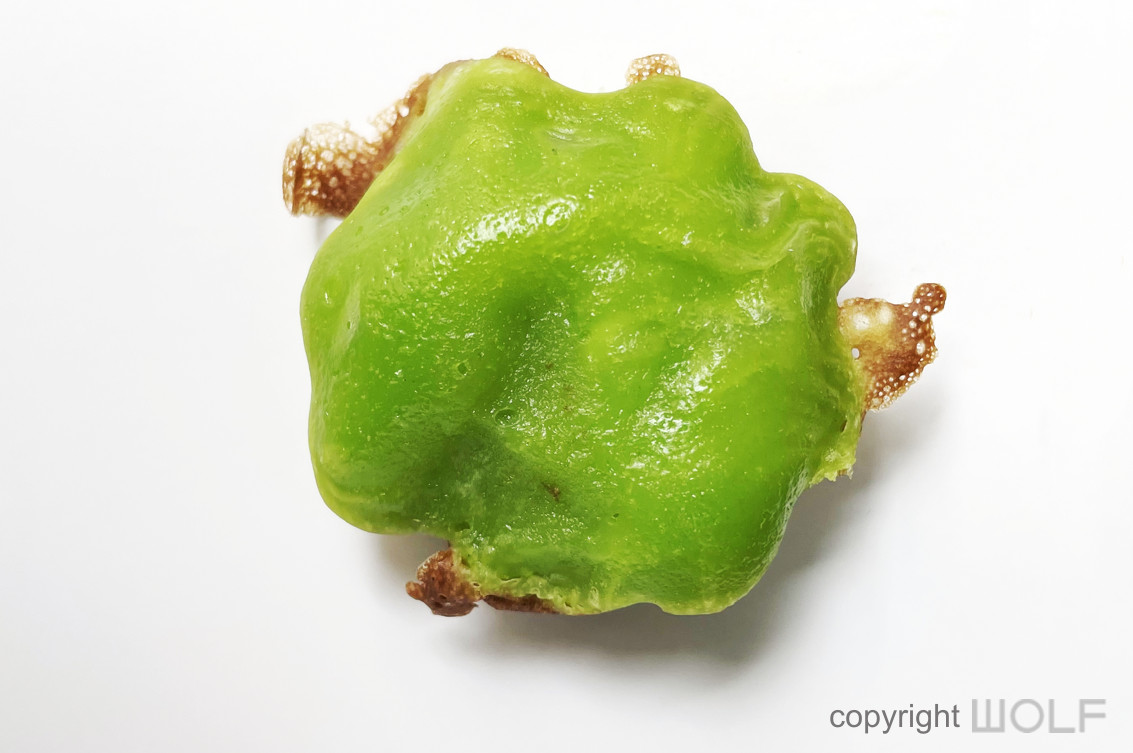 Flavour / Experience
The taste will appeal to most as it is not too sweet over powering. While its primary ingredient is the Pandan leaf, the pandan flavour is subtle. Perhaps more important than the taste is the texture. These cakes can be found throughout Bangkok but what separates these from others is their texture. Most others are a little more cake like, but these ones have a unique chewiness to them.
When hot they are soft. less chewy and some like to eat them that way. In our opinion they are better after they've had a chance to cool down to slightly above Bangkok air temperature. Although they can easily be eaten in one mouthful our suggestion is to take two. That way you can see and feel the unique texture that we believe make these cakes special.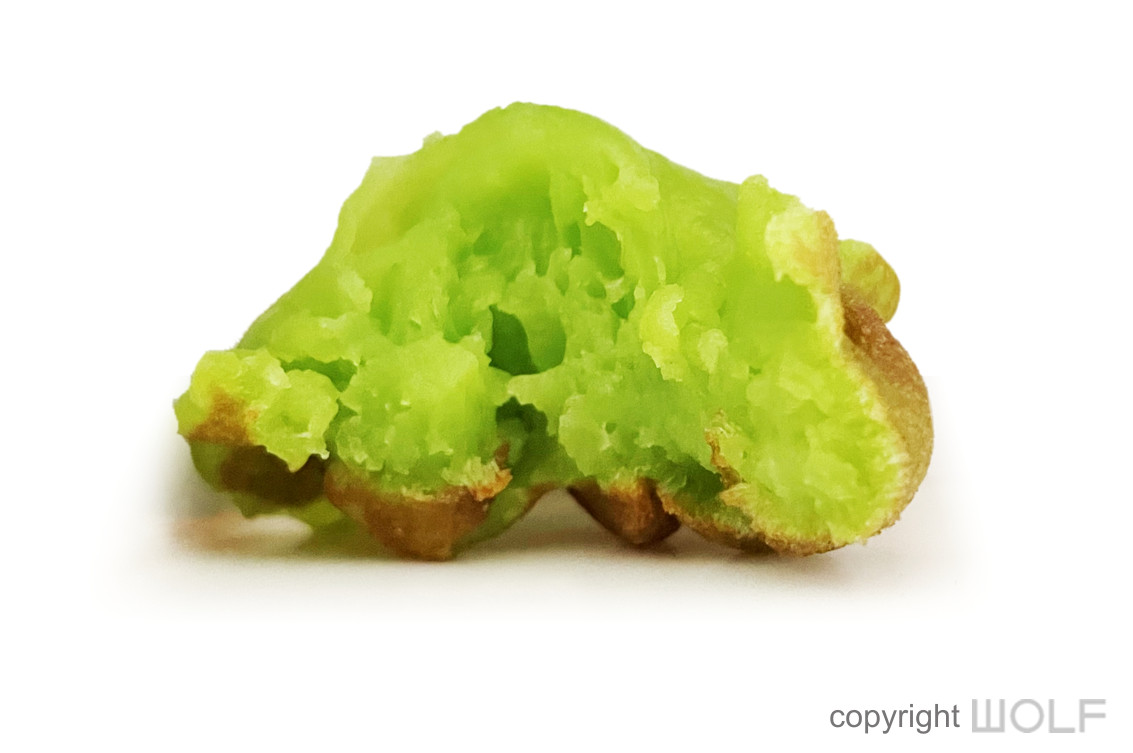 Air pockets inside that help make it fluffy but chewy.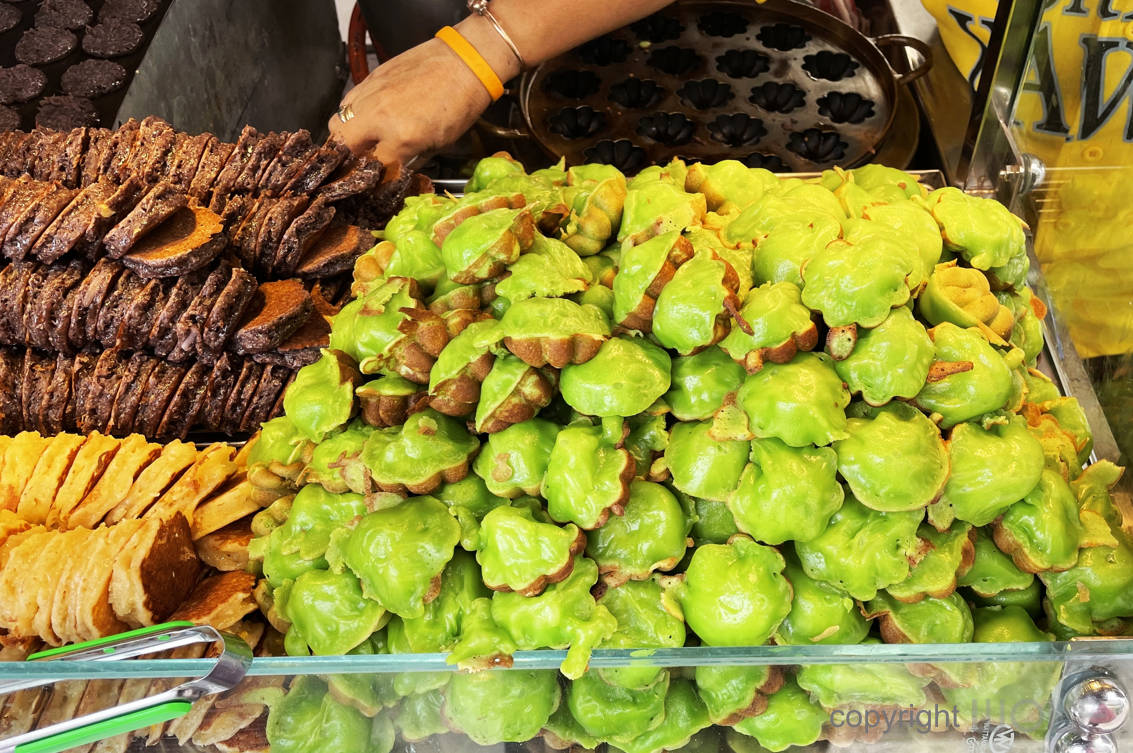 Desirability / Value for money
At 50 Baht per pack these are value for money but one box won't go far between two people. You can also ask for a mixed box which can include some of the other delicious and freshly baked treats.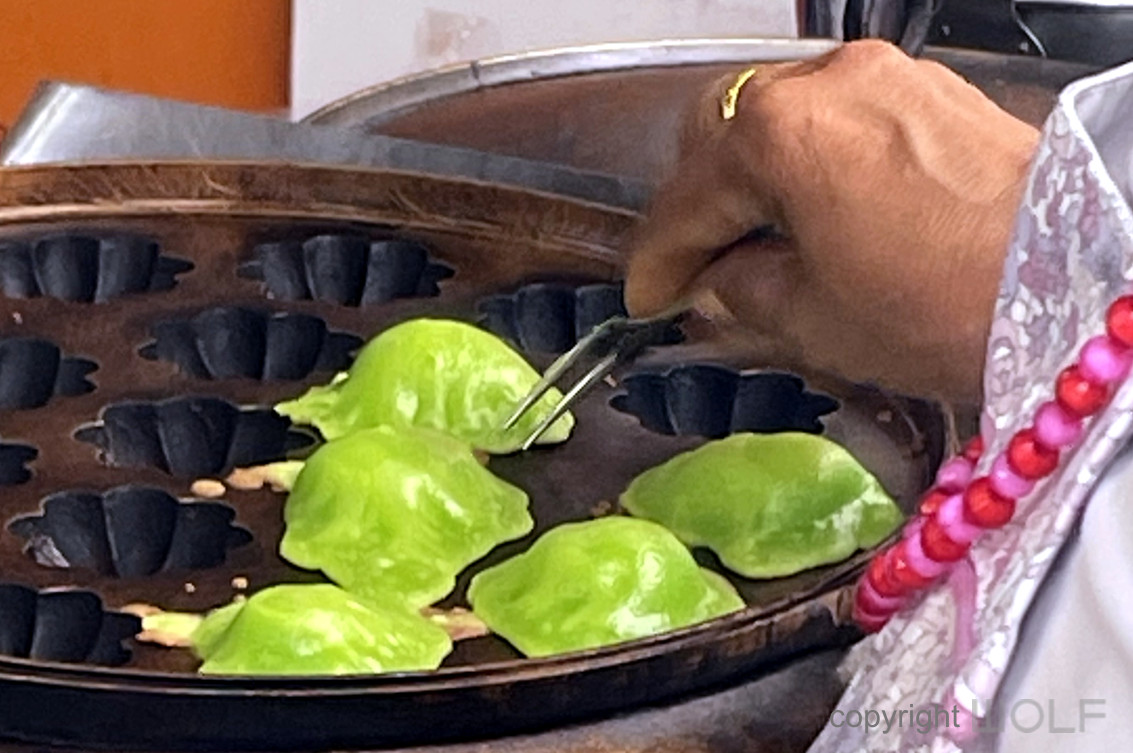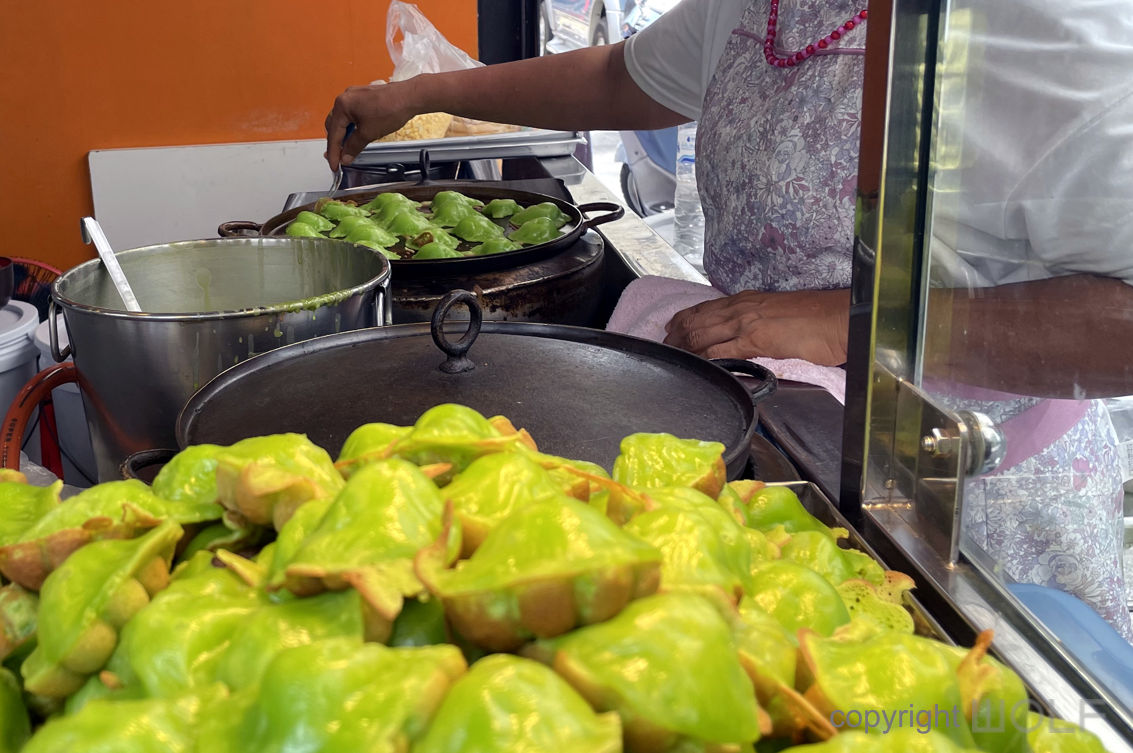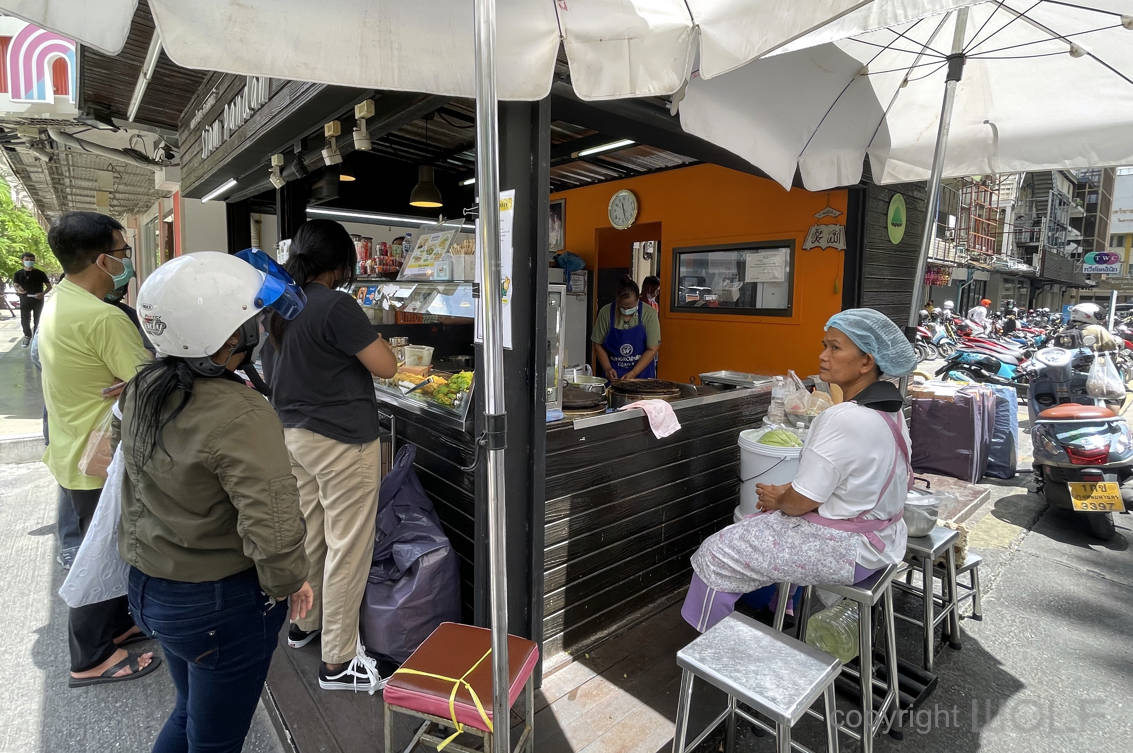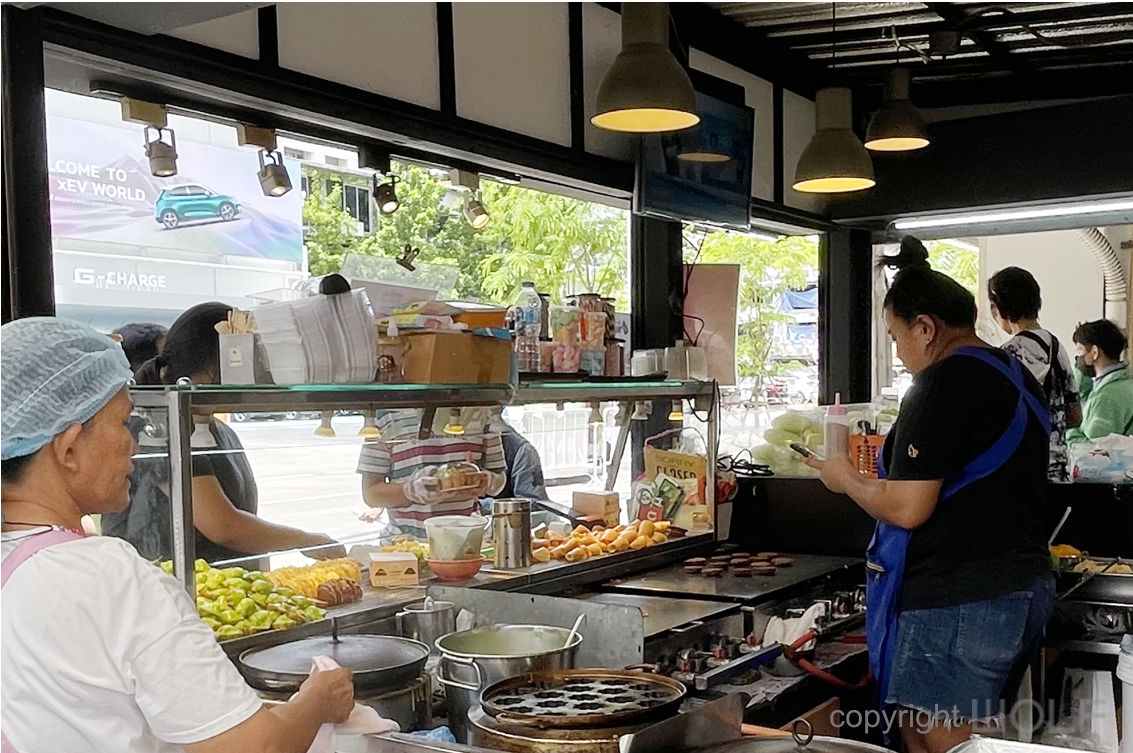 Continuous cooking, selling, buying and eating.
WORD OF THE WOLF
With a stall that is clean and cakes baked fresh at $2 Aust per box you'd be silly not to give it a go. It may not be everyone's cup of tea, but why not say you've sampled the best green pandan cakes in Thailand (according to WOLF). We also highly recommend trying some of the other treats while you're there. For a healthier alternative the fruits sold there are especially fresh and sweet.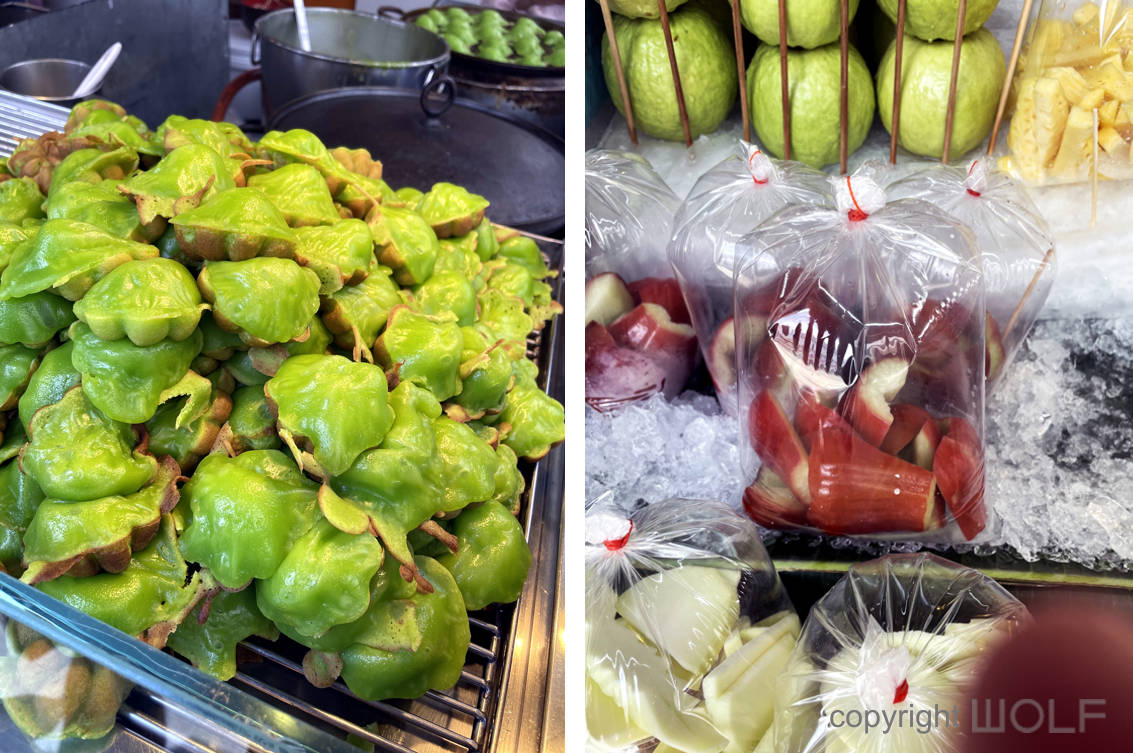 Left- How many yummy green cakes will you eat? Right- Rose apple is very refreshing!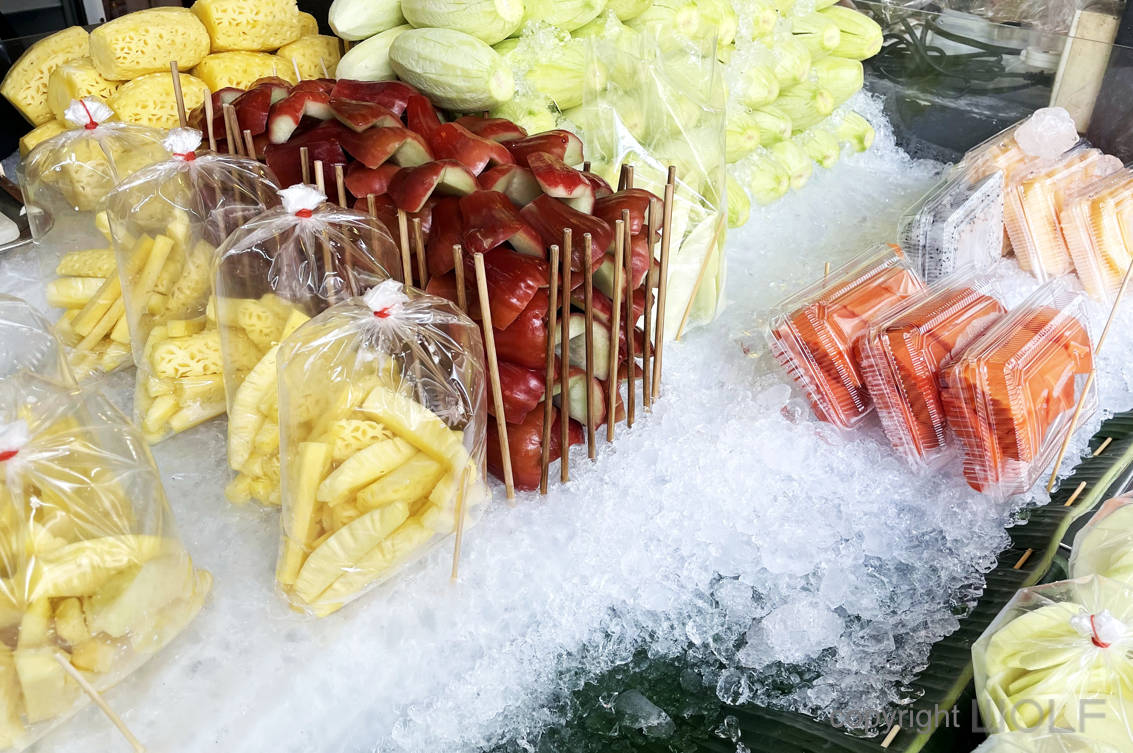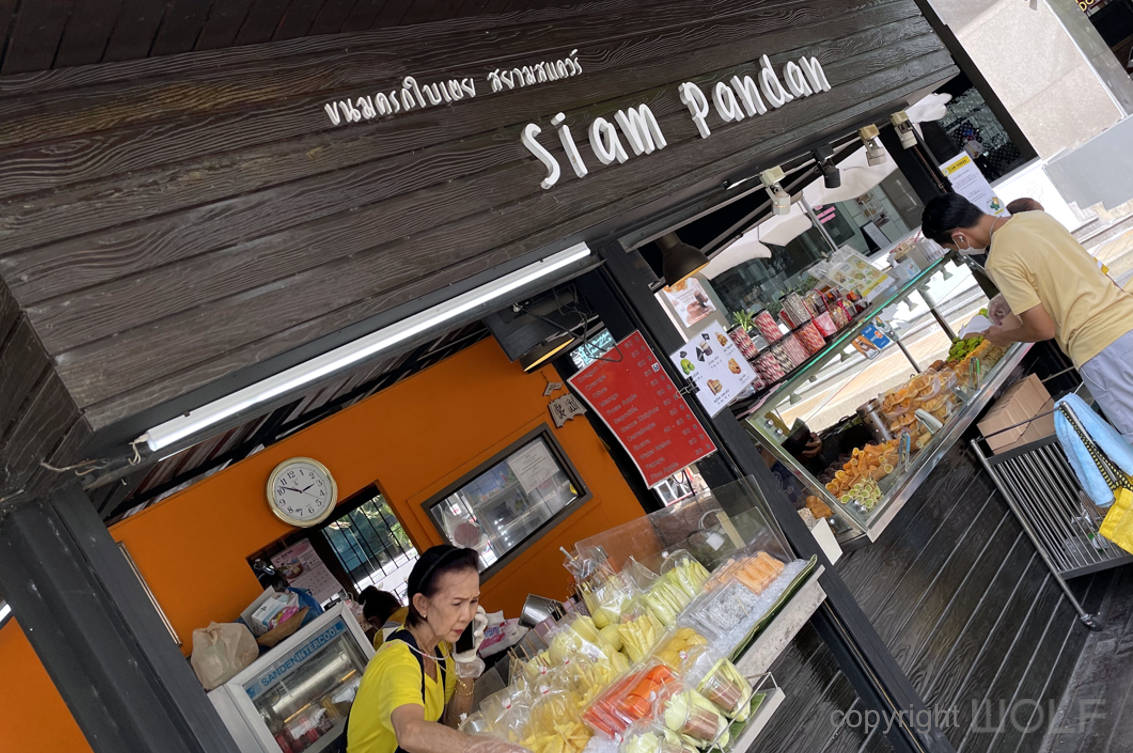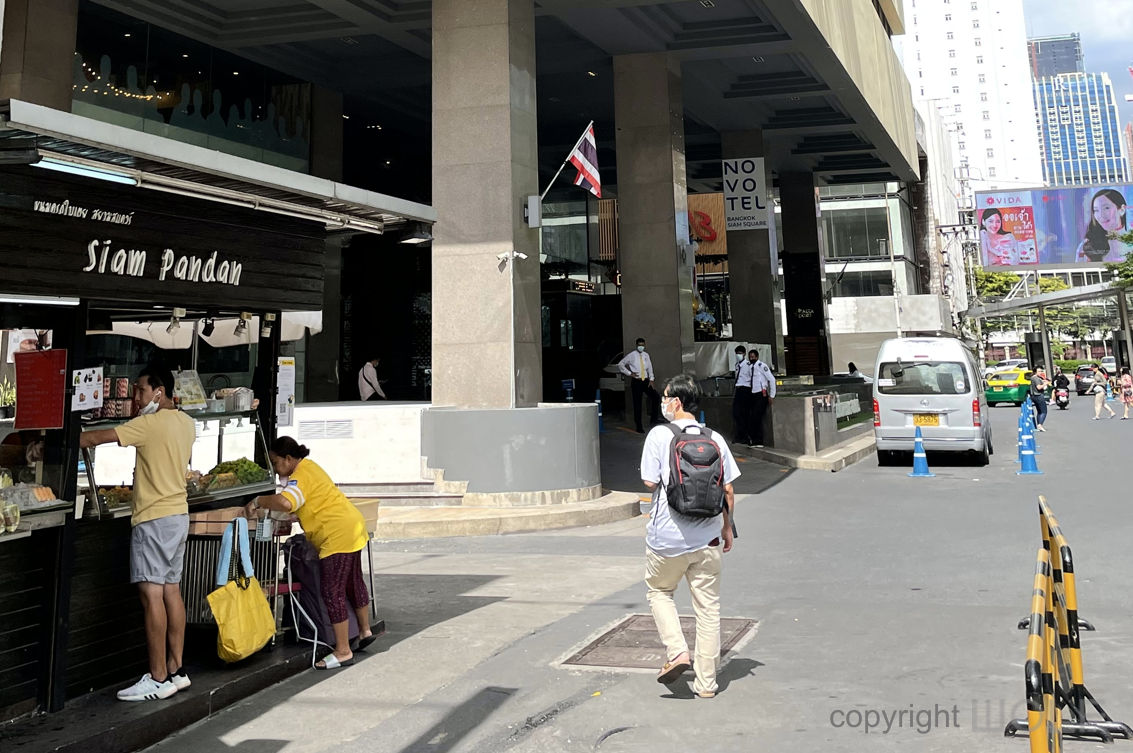 Next to the Novotel Hotel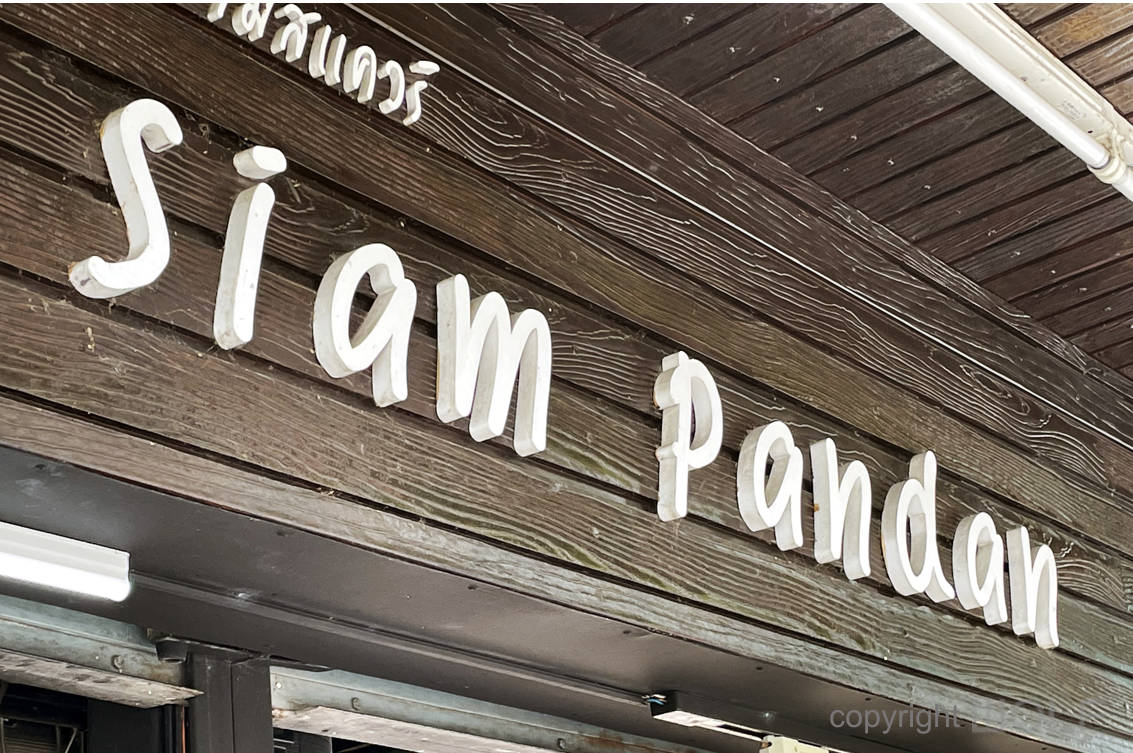 WOLF DESIGN EXCELLENCE SCORE = 7.3
Disclaimer
The information in this review is intended for informational or educational purposes to provide readers an understanding of how something may be seen from a certain design perspective. In this case it is from the view point of WOLF DESIGNS. As design is subjective this review should only be considered as an independent opinion. Information further to being of an opinion is provided to the best of our knowledge based on our own research at the time of doing the review. We cannot be held responsible for any inaccuracies or inconsistencies and reserve the right to change or update any content as appropriate.
The final responsibility of the design resides with the original manufacturer.