WOLF DESIGN retro REVIEW. 4th October 2017
A retro review looks at products that are at least over ten years old from a present-day design perspective. While the technology and fashion of an era can influence design, and are to be taken into consideration, a great design idea can transcend eras to be timeless.
Interesting and factual information may be provided, but our review attempts to discover any feelings, emotions or questions that arise from superior design. Our hope is to provide some insight into the eyes and mind of designers.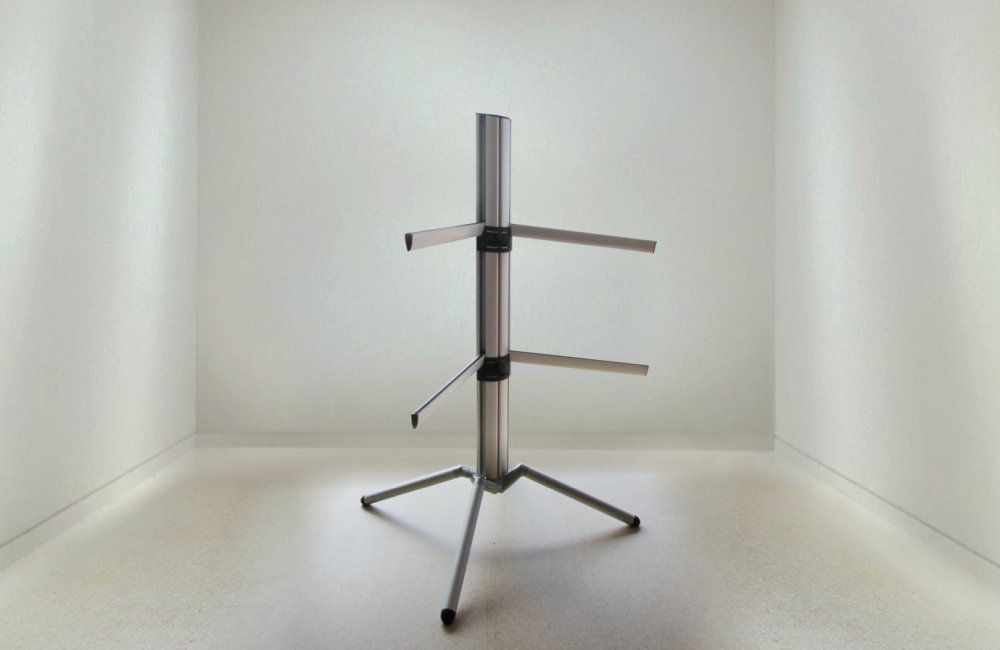 Hard to see from this angle but it does have four legs
INTRODUCTION
Product description.
The Konig & Meyer Spider Stand was designed for keyboards and portability. It came out around early 2000's and was one of the few stands at that time to have a central column design with protruding arm supports.
The stand is called the Spider because of its unique legs. This model was the first and original model available in either black or anodised aluminium. It was superseded around 2003 by the Spider Pro which looks very similar but with some additional feature enhancements.
Price and Availability.
At the time of this review this original stand appeared to have been discontinued and only available second hand on eBay or as new old stock out of Japan. Only the Spider Pro was available at retail outlets and depending on accessory options the prices started from several hundred dollars.
Additional information.
The Ultimate Apex stand had ruled for almost two decades as the preferred single column support type keyboard stand so the Spiders arrival was a refreshing alternative. There was also a smaller and slightly more affordable variation called the baby spider stand. The baby is almost identical in every way except that the central column is shorter and more for single keyboard use.
REVIEW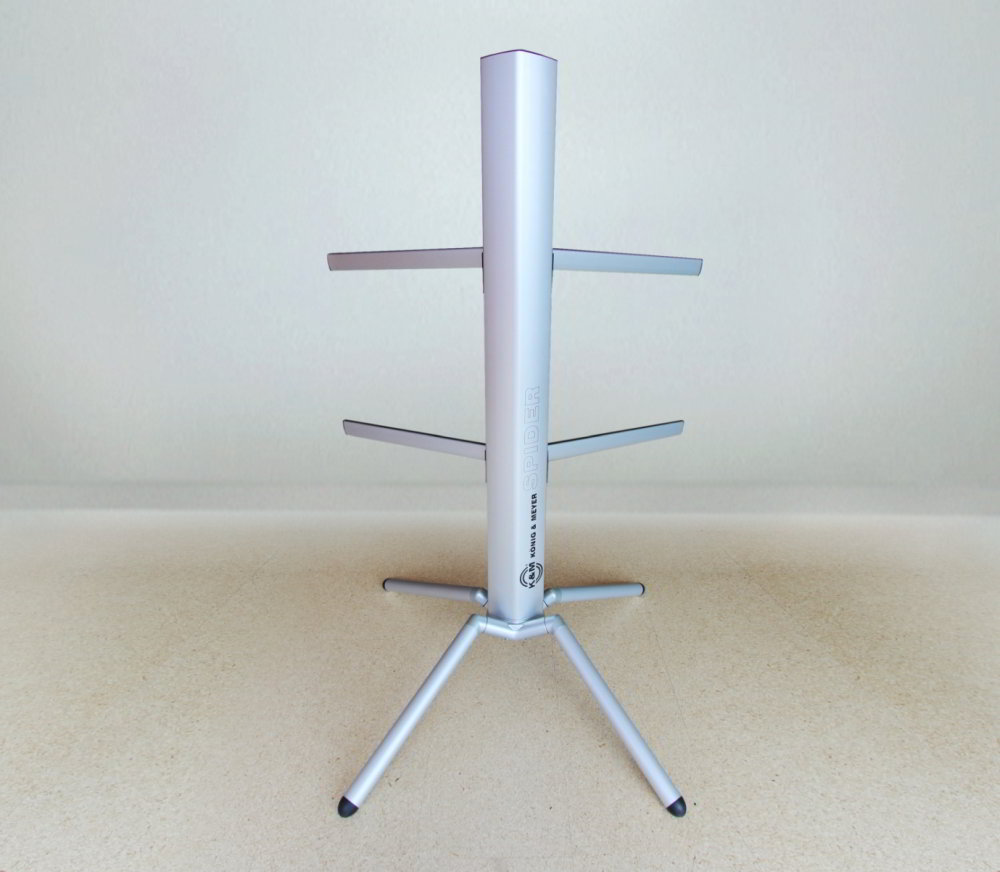 The Spider stand certainly looks different from most other keyboard stands on the market because of its four legs. On closer inspection one appreciates the overall roundness of the design that feels very sleek. It reads instantly as a quality designer product that is elegant and clever.
Exterior Design Review.
The taller stand in this review is very practical for tall keyboardists or if you want more than on keyboard. We think silver looks better and more interesting than the black variations since so many of other keyboard stands on the market are black. These days there aren't many synthesizers that are pure black in colour and silver will compliment most modern synthesizers. The anodised aluminium is smooth to touch a feels cool. There are no sharp angles or edges which add to the overall minimalist styling.
In our opinion the spider baby looks better proportionately, but with either model it's the legs that really draw your attention. The spider leg design creates good space under the main column for foot pedals and controllers.
Craftsmanship.
The build and materials are of high quality, and true to the reputation of German engineering. We particularly liked how the rubber grips on the arms are so neatly detailed into the aluminium. Likewise the rubber ends to the spider legs are very substantial and feel almost moulded onto the ends. The plastic used for the top cap of the main column and adjustable brackets are of a quality durable hard plastic.
Apart from the two screws that hold in the black plastic cover plate on top, the assembly is rather seamless.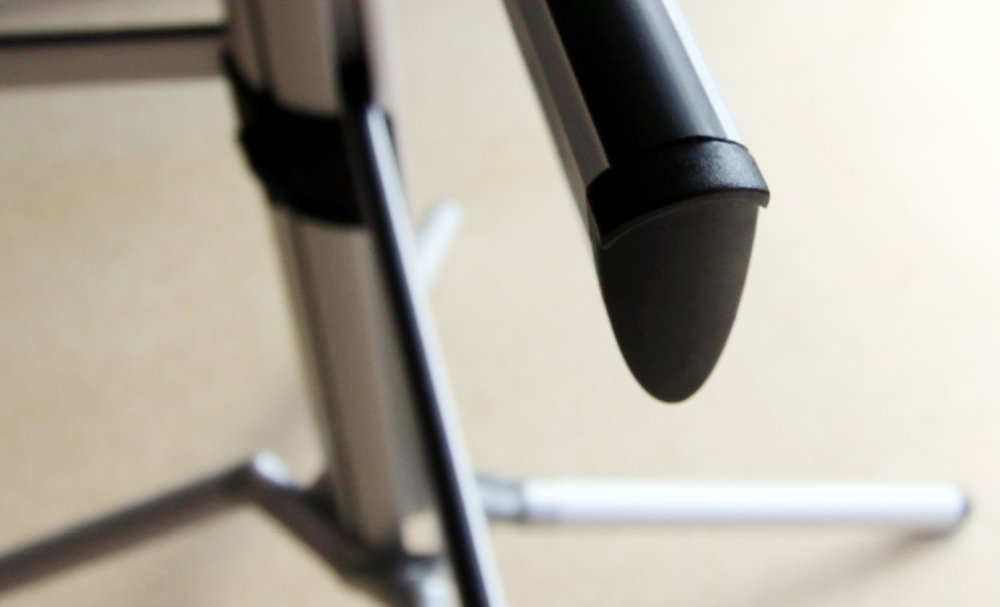 FUNCTION- Experience.
The spider legs that so differentiate this product from others is also unique from a practical storage perspective. Each leg rotates cleverly and easily in line with the central support column. Unlike other stands you don't have to remove the legs or arms, but the trade off is that it's not quite as compact and there is no handle to carry the stand once folded. Konig & Meyers do have a carry bag available as an optional accessory but it's not cheap.
The generous arm lengths will accommodate larger or wider keyboards. With four legs it's stable, sturdy and we felt confident that it would do its job well. The adjustable brackets have good sized levers positioned well for tightening and adjusting.
While we understand that you can buy additional arms to accommodate a third keyboard we would advise against it. When we placed 3 keyboards on the stand we noticed that it leaned further to the front and it was difficult to get to the controls of the lower keyboards.
On research we did find one incident reported online where a spider stand had collapsed on stage. It's still just anodised aluminium which is a relatively soft metal.

Desirability / Value for money.
Because of the higher retail price we don't think there were many of the original Spider stands produced and sold outside of Europe. The improved Spider Pro is more commonly found and readily available. We believe that the original Spider has good long term potential to be a collectable item. In fact at the time of this review the original Spider was selling as new old stock out of Japan at a significantly higher price than a new Spider Pro.
WORD OF THE WOLF.
The base piece from which each leg extends is really quite a remarkable piece of design and engineering. The spider stand is a clever stand and worth having for those with many synthesizers. However if you were to only have one stand for a keyboard or two we wouldn't say it's a slam dunk winner. There are now a number of single column type stands that are cheaper and able to do just about everything the Spider does though perhaps not as elegantly. The Spider Pro which superseded this stand made small but effective improvements such as extendable support arms and an upper bracket at an angle that makes the keyboard easier to use. Silver is definitely our choice for colour as it looks cleaner and doesn't show up scratches like the black ones do.
With a higher than average price tag it is a luxury high end product. It lacks an industrial feel and while that's not necessarily a terrible thing we don't think it lends itself to looking better with scratches and dents from gigs. It's more of a studio showpiece.
WOLF DESIGN EXCELLENCE SCORE = 7.0
Disclaimer
The information in this review is intended for informational or educational purposes to provide readers an understanding of how something may be seen from a certain design perspective. In this case it is from the view point of WOLF DESIGNS. As design is subjective this review should only be considered as an independent opinion. Information further to being of an opinion is provided to the best of our knowledge based on our own research at the time of doing the review. We cannot be held responsible for any inaccuracies or inconsistencies and reserve the right to change or update any content as appropriate.
The final responsibility of the design resides with the original manufacturer.