In review by WOLF DESIGNS. 22nd August 2017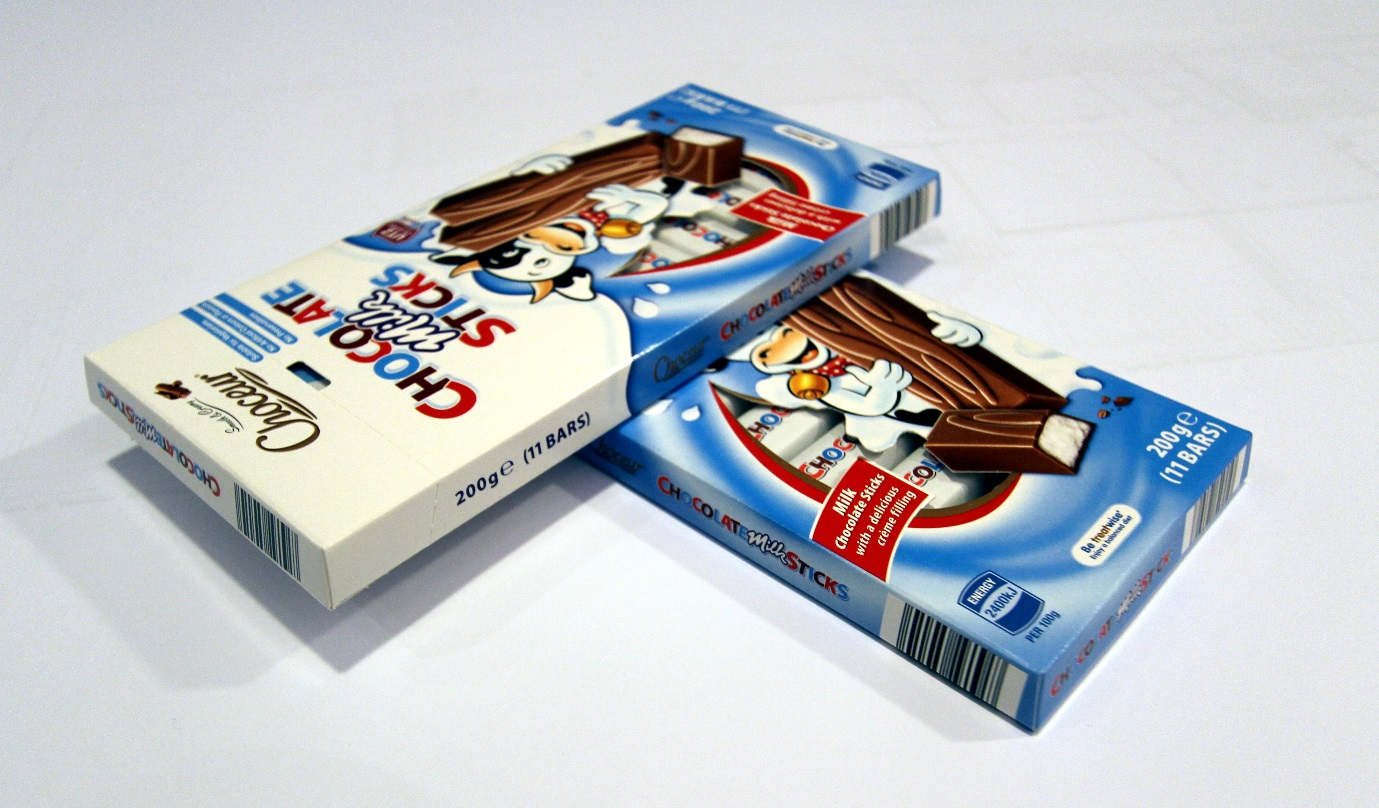 Product description.
200 grams of chocolate in the form of 11 individually wrapped sticks.
Price Availability.
In Melbourne, this product is only available through Aldi at $2.79 per 200g box (at the time of this review)
First impressions.
Our first impression was that this resembles Kinder surprise bars in both design and composition with a distinctive its white filling. Presuming the taste was similar it would in fact represent better value for money at $1.40 per 100g.
Packaging Review.
The box itself is in fact quite nice consisting of a slim box with bevelled sides. There is also a cut out window on the front that allows you to physically see at touch the bars within. Overall It feels substantial and well-made despite the 11 bars are not fitted perfectly snug inside and able to move around and rattle. There is good information on the box which mostly eludes to the product being wholesome (see additional information).
Graphically it seems aimed towards children with a cow hugging a pair of chocolate sticks. The predominant colours or blue and white give it a slight educational feel that might imply this as a children school snack. The individually wrapped bars certainly suggest it as a snack.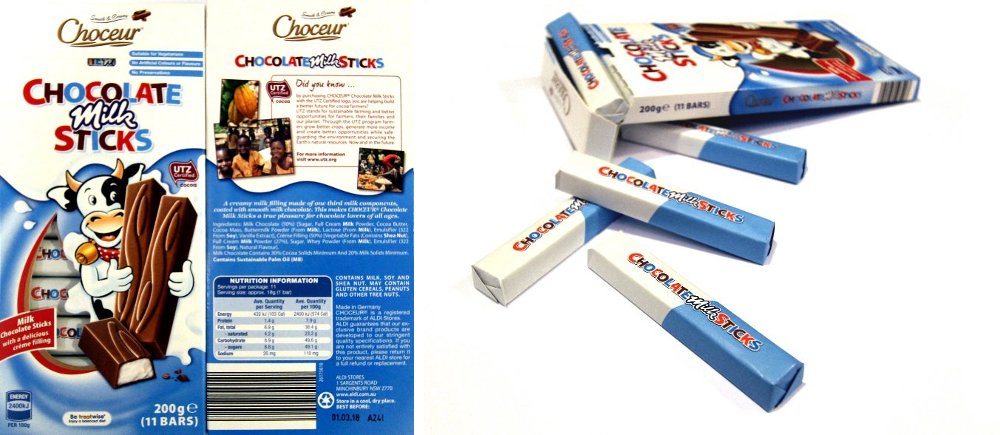 The flavour.
We were very impressed with this chocolate. It's very smooth and creamy despite a firm crisp exterior. It seems less sweet that its Kinder counterpart and according to the box has no artificial colours, flavours or preservatives.

Depending on mouth size it can take between 3- 5 bites to finish off one bar. In our review we found one piece to be just enough to for instant relief of those sugar cravings. However they are so delicious and easy to eat that a second and third one would not seem unreasonable.
Additional information.
Exploring the packaging further we learn that this chocolate is suitable for vegetarians with no artificial flavours, colours or preservatives. It is also UTZ certified and meant to represent sustainable farming and better opportunities for farmers.
The box description is as follows:
A creamy milk filling made up of one third milk components, coated with smooth milk chocolate. This makes CHOCEUR chocolate milk sticks a true pleasure for chocolate lovers of all ages.
With an emphasis on "milk" one could almost conceive this as being healthier than your average chocolate bar. Stating that it's for all ages helps us grownups to feel lees embarrassed for consuming what looks externally to be targeted at kids. There are also two other flavours available in the form of Strawberry and Cookie.
Verdict.
It's hard to fault this product and it has a price point that represents excellent value for money. Our only comment would be that the packaging does not lend itself to being consumed by grown-ups. That's not necessarily a terrible thing for chocoholics who don't need another chocolate on their menu but if you're looking for an affordable smooth and creamy taste then this is highly recommended.
WOLF DESIGN EXCELLENCE SCORE = 7.85
WORD OF THE WOLF
This Product was brought to our attention when Aldi opened its store in the Chadstone shopping centre. At that time, we enjoyed kinder chocolate bars and this product was presented to us as a cheaper alternative. Being sceptical of cheaper alternatives we sampled this product a little pessimistic that it could replace our regular supply of Kinder chocolates. To our amazement it was delicious and has since become our snack chocolate of choice.
With a packaging style aimed at kids your average adult is likely to overlook this unassuming product. Please don't, as these Aldi Chocolate Milk sticks achieved an WDE score of 7.85. This product is now a staple part of WOLF ARCHITECTS Australia. Not only is it consumed religiously as brain food for the practices team but is also served as a treat to clients.
Being renown for innovation and high end designs the product had to live up to the practices brand. Thus, a special display and dispenser was custom designed and built by Taras Wolf to improve presentation.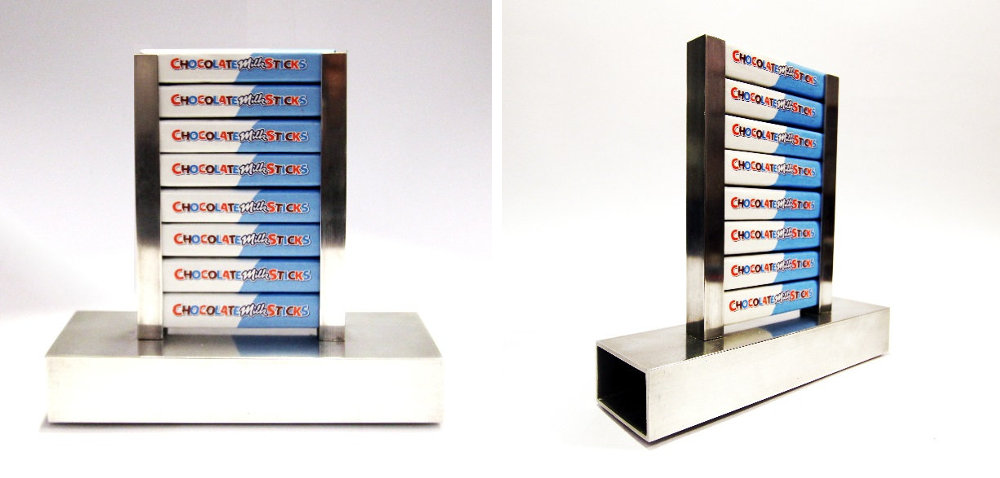 A polished anodised aluminium stand and dispenser was designed and hand made by architect Taras Wolf.
Next time you go into an Aldi store you should grab a box and try them out. We think the regular milk sticks are better than its Cookie and Strawberry counterparts. Let us know your thoughts and if you agree with our WOLF score.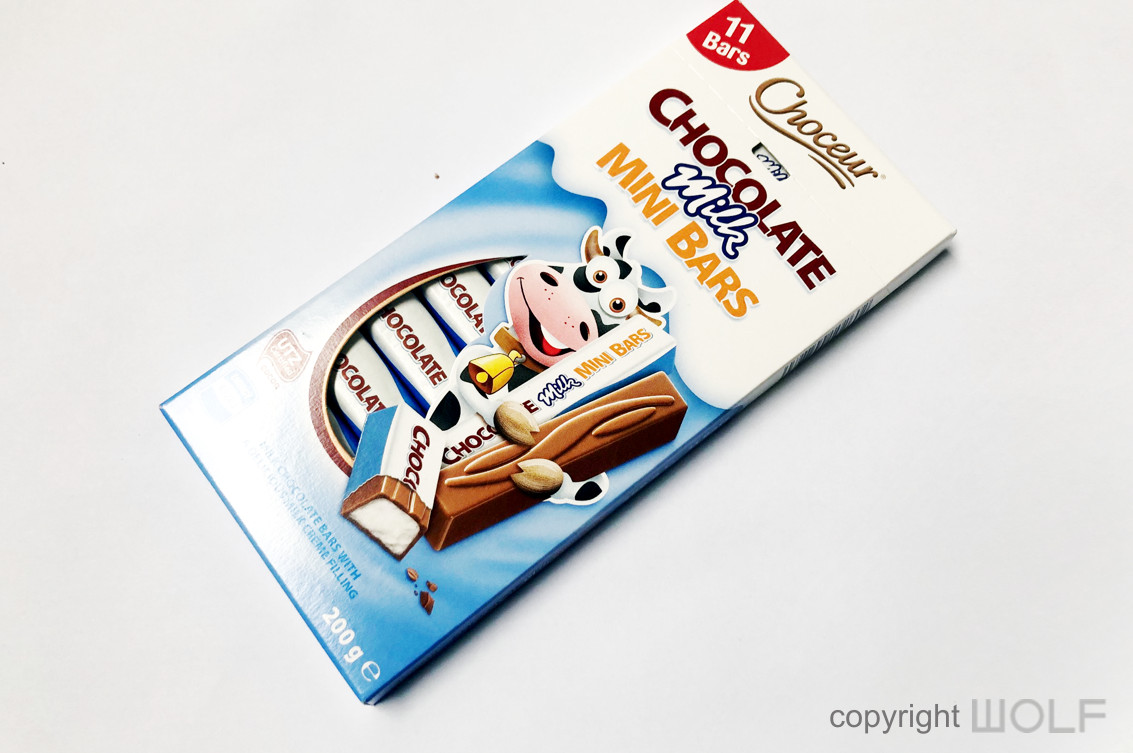 In September 2020 Australia saw a New design to the packaging. At the same time they re-branded the product to be Mill mini bars rather than Milk sticks.